Abstract
How to engage farmers that have limited formal education is at the foundation of environmentally-sound and equitable agricultural development. Yet there are few examples of curricula that support the co-development of knowledge with farmers. While transdisciplinary and participatory techniques are considered key components of agroecology, how to do so is rarely specified and few materials are available, especially those relevant to smallholder farmers with limited formal education in Sub-Saharan Africa. The few training materials that exist provide appropriate methods, such as compost making, but do not explain relationships and synergies between nutrition, social inequalities, climate change and agroecology. Some food sovereignty and agroecology courses aim at popular political education for those with more formal education. Here we describe the process of development of an innovative curriculum, which integrates agroecology, nutrition, climate change, gender and other dimensions of social equity across 2 weeks of training explicitly for smallholders in southern Africa with limited formal education. The curriculum is highly participatory; we use concepts in popular education, transformative and experiential-based learning, and theatre. It is also integrative; we link agroecology with climate change, human and soil nutrition, gender, and related components of social equity. Developed in partnership with Malawian farmers, community development experts and academics from five countries, the curriculum was piloted with 520 smallholder farming households in Malawi and Tanzania, and evaluated using qualitative techniques. Clashes of language, cultural norms, and terminology were as great of a challenge as agreeing on and conveying technical information, to weave into a coherent whole. However, farmers who participated in the curriculum training demonstrated high interest, comprehension of material and interest in immediate application to their lives.
Access options
Buy single article
Instant access to the full article PDF.
US$ 39.95
Tax calculation will be finalised during checkout.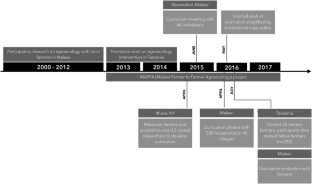 Abbreviations
HIV:

Human immunodeficiency virus

NGO:

Non-governmental organization

PAR:

Participatory action research

SFHC:

Soils, Food and Healthy Communities organization
References
Abusabha, Rayane, Jane Peacock, and Cheryl Achterberg. 1999. How to make nutrition education more meaningful through facilitated group discussions. Journal of the American Dietetic Association 99: 72–76. https://doi.org/10.1016/S0002-8223(99)00019-X.

Affleck, William, and Gretel, Pelto. 2012. Caregivers' responses to an intervention to improve young child feeding behaviors in rural Bangladesh: A mixed method study of the facilitators and barriers to change. Social Science & Medicine 75: 651–658. https://doi.org/10.1016/j.socscimed.2012.03.030.

Altieri, Miguel A. 1995. Agroecology: the science of sustainable agriculture. 2 ed. Boulder: Westview Press.

Arimond, Mary, Corinna Hawkes, Marie T. Ruel, Z. Sifri, R. Peter, J. L. Berti, Jan W. Leroy, L. R. Low, Brown, and Edward A. Frongillo. 2010. Agricultural interventions and nutrition: lessons from the past and new evidence. In Combating micronutrient deficiencies, eds. Brian Thompson, and Leslie Amoroso, 41–75. Rome: Food and Agricultural Organization (FAO).

Berti, P.R., Julia, Krasevec, and Sian, FitzGerald. 2004. A review of the effectiveness of agriculture interventions in improving nutrition outcomes. Public Health Nutrition. https://doi.org/10.1079/PHN2003595.

Bezner Kerr, Rachel. 2005. Food security in northern Malawi: Historical context and the significance of gender, kinship relations and entitlements. Journal of Southern African Studies 31: 53–74.

Bezner Kerr, Rachel. 2014. Lost and found crops: Agrobiodiversity, indigenous knowledge, and a feminist political ecology of sorghum and finger millet in northern Malawi. Annals of the Association of American Geographers 104 (3): 577–593. https://doi.org/10.1080/00045608.2014.892346.

Bezner Kerr, Rachel. 2017. Gender and agrarian inequalities: From global systems to household relations. In Agricultural systems: agroecology and rural development, eds. Sieglinde S. Snapp, and Barry Pound, 2nd ed., 333–370. Boston: Elsevier.

Bezner Kerr, Rachel, Sieglinde, Snapp, Lizzie, Shumba, Marko Chirwa, Lizzie Shumba and Rodgers Msachi. 2007. Participatory research on legume diversification with Malawian smallholder farmers for improved human nutrition and soil fertility. Experimental Agriculture 43 (4): 1–17. https://doi.org/10.1017/S0014479707005339.

Bezner Kerr, Rachel, Laifolo, Dakishoni and Lizzie, Shumba. 2008. We grandmothers know plenty': Breastfeeding, complementary feeding and the multifaceted role of grandmothers in Malawi. Social Science and Medicine 66 (5): 1095–1105.

Bezner Kerr, Rachel, Peter, R., Berti, and Lizzie Shumba. 2011. Effects of a participatory agriculture and nutrition education project on child growth in northern Malawi. Public Health Nutrition 14: 1466–1472. https://doi.org/10.1017/S1368980010002545.

Bezner Kerr, Rachel, Rodgers, Msachi, Laifolo Dakishoni, Lizzie Shumba, Zachariah Nkhonya, Peter R. Berti and Christine Bonatsos et al. 2012. Growing healthy communities: Farmer participatory research to improve child nutrition, food security and soils in Ekwendeni, Malawi. In Ecohealth research in practice: Innovative applications of an ecosystem approach to health, ed. Dominique F. Charron, 37–46. Ottawa/New York: IDRC/Springer.

Bezner Kerr, Rachel, Lizzie, Shumba, Laifolo, Dakishoni, Esther, Lupafya, Peter R. Berti and Sieglinde S., Snapp, et al. 2014. Participatory, agroecological and gender-sensitive approaches to improved nutrition: A case study in Malawi. Invited submission to the FAO Expert Meeting in November 2013, 'Nutrition-Sensitive Food and Agriculture Systems' in preparation for ICN + 21. http://www.fao.org/food/nutritional-policies-strategies/icn2/expert-papers.

Bezner Kerr, Rachel, Hanson, Nyantakyi-Frimpong, Esther, Lupafya, Laifolo, Dakishoni, Lizzie, Shumba, Isaac, Luginaah. 2016. Building resilience in African smallholder farming communities through farmer-led agroecological methods. In Climate change and agricultural development: Improving resilience through climate smart agriculture, agroecology and conservation, ed. Udaya Sekhar Nagothu, 109–130. London: Routledge.

Bezner Kerr, Rachel, Hanson, Nyantakyi-Frimpong, Esther, Lupafya, Lizzie, Shumba, Isaac, Luginaah, Laifolo, Dakishoni and Sieglinde S., Snapp. 2018. Knowledge politics in participatory climate change adaptation research on agroecology in Malawi. Renewal Agriculture and Food Systems, 33: 238-251.

Chinsinga, Blessings. 2011. Seeds and subsidies: The political economy of input programmes in Malawi. IDS Bulletin 42 (4): 59–68. https://doi.org/10.1111/j.1759-5436.2011.00236.x.

Chirwa, Ephraim W., & Andrew Dorward. 2013. Agricultural input subsidies: the recent Malawi experience. 1st ed. Oxford: Oxford University Press.

Chowa, Clodina, Chris Garforth, and Sarah Cardey. 2013. Farmer experience of pluralistic agricultural extension, Malawi. Journal of Agricultural Education and Extension 19 (2): 147–166.

Collins, Patricia Hill. 1991. Black feminist thought: Knowledge, consciousness, and the politics of empowerment. In Perspectives on gender 2. New York, NY: Routledge.

De Schutter, Olivier. 2013. United Nations Pecial Rapporteur for the Right to Food: Mission to Malawi from 12 to 22 July 2013-End of Mission Statement. Geneva, Switzerland: United Nations.

Drinkwater, Laurie E., and S. Sieglinde, Snapp. 2008.. Nutrients in agroecosystems: Rethinking the management paradigm. Advances in Agronomy 92: 163–186.

Ellis, Frank, and Elizabeth Manda. 2012. Seasonal food crises and policy responses: A narrative account of three food security crises in Malawi. World Development 40: 1407–1417. https://doi.org/10.1016/j.worlddev.2012.03.005.

Fals-Borda, Orlando, and Muhammad Anisur Rahman, eds. 1991. Action and knowledge: breaking the monopoly with participatory action- research. New York: Apex Press.

Freire, Paulo. 1970. Pedagogy of the oppressed. The political economy of development and underdevelopment: Translator: Myra Bergman Ramos, 557–575.

Funk, Chris, Michael D Dettinger, Joel C Michaelsen, James P Verdin, Molly E Brown, and Matthew Barlow, and Andrew Hoell. 2008. Warming of the Indian Ocean threatens eastern and southern African food security but could be mitigated by agricultural development. Proceedings of the National Academy of Sciences of the United States of America 105: 11081–11086.

Harding, Sandra G. 1986. The science question in feminism. Ithaca: Cornell University Press.

Hartsock, Nancy. 1999. Postmodernism and political change: Issues for feminist theory. Cultural Critique: 15. https://doi.org/10.2307/1354291.

Hassim, Shireen. 2009. After apartheid: Consensus, contention, and gender in South Africa's public sphere. International Journal of Politics, Culture, and Society. https://doi.org/10.1007/s10767-009-9076-6.

Kangalawe, Richard Y.M., Carl Christiansson, and Östberg Wilhelm Wilhelm. 2008. Changing land-use patterns and farming strategies in the degraded environment of the Irangi Hills, central Tanzania. Agriculture, Ecosystems & Environment 125: 33–47. https://doi.org/10.1016/j.agee.2007.10.008.

Kerr, David. 1995. African popular theatre: From postcolonial to the present. London: James Currey.

Knueppel, Danielle, Montague Demment, and Lucia Kaiser. 2010. Validation of the household food insecurity access scale in rural Tanzania. Public Health Nutrition 13: 360. https://doi.org/10.1017/S1368980009991121.

Lin, Brenda B. 2011. Resilience in agriculture through crop diversification: Adaptive management for environmental change. BioScience 61: 183–193. https://doi.org/10.1525/bio.2011.61.3.4.

Malawi. Ministry of Agriculture, Irrigation and Water Development. (MAIWD). 2015. Nutrition handbook for farmer field schools. Lilongwe: GPO. Print.

McCune, Nils, Juan Reardon, and Peter Rosset. 2014. Agroecological formación in rural social movements. Radical Teacher 98: 31–37. https://doi.org/10.5195/RT.2014.71.

McCune, Nils, Peter M. Rosset, Helda Morales, Tania Cruz Salazar and Antonio Saldívar Moreno. 2016. Mediated territoriality: rural workers and the efforts to scale out agroecology in Nicaragua. The Journal of Peasant Studies. https://doi.org/10.1080/03066150.2016.1233868.

McCune, Nils, Peter M. Rosset, Tania Cruz Salazar, Helda Morales, and Moreno Antonio Saldívar. 2017. The long road: Rural youth, farming and agroecological formación in Central America. Mind, Culture, and Activity. https://doi.org/10.1080/10749039.2017.1293690.

Meek, David. 2015. Learning as territoriality: the political ecology of education in the Brazilian landless workers' movement. The Journal of Peasant Studies 42: 1179–1200. https://doi.org/10.1080/03066150.2014.978299.

Meek, David, Peter, Rebecca Tarlau, Katharine, Bradley, Bruce, Ferguson, Lesli, Hoey, Helda, Morales, P., Rosset. 2017. Food sovereignty education across the Americas: Multiple origins, converging movements. Agriculture and Human Values. https://doi.org/10.1007/s10460-017-9780-1.

Méndez, V., Ernesto, Christopher M, Bacon, and Roseann Cohen. 2013. Agroecology as a transdisciplinary, participatory, and action-oriented approach. Agroecology & Sustainable Food Systems 37: 3–18.

Menza, Valeria and Claudia Probart. 2013. Eating well for good health: Lessons on nutrition and healthy diets. Rome: FAO.

Messina, J. P., B. Peter, S. Sieglinde Snapp. 2017. The myth of the Malawian farm input subsidy program. Nature Plants 3 (4): 17013. https://doi.org/10.1038/nplants.2017.13.

Mistry, Jayalaxshmi, and Andrea Berardi. 2016. Bridging indigenous and scientific knowledge. Science 352: 1274–1275. https://doi.org/10.1126/science.aaf1160.

Moncure, Shannon, and Charles Francis. 2011. Foundations of experiential education as applied to agroecology. NACTA Journal 55: 75–91.

Morrone, Vicki. 2017. Outreach for rural innovation. Agricultural systems: Agroecology and rural innovation for development. eds. Snapp, Sieglinde S. and Barry Pound. 2 ed., 407–439, Academic Press: Cambridge.

Moseley, William, Matthew Schnurr, and Rachel Bezner Kerr. 2015. Interrogating the technocratic (neoliberal) agenda for agricultural development and hunger alleviation in Africa. African Geographical Review, 1–7. https://doi.org/10.1080/19376812.2014.1003308.

Moyo, Boyson Henry Zondiwe and Dumisani Zondiwe Moyo. 2014. Indigenous knowledge perceptions and development practice in Northern Malawi: Indigenous knowledge and development. The Geographical Journal 180 (4): 392–401.

Msachi, Rodgers, Laifolo Dakishoni and Rachel Bezner Kerr. 2009. Soils, food and healthy communities: working towards food sovereignty in Malawi. Journal of Peasant Studies 36 (3): 700–706.

Mulwafu, Wapulumuka Oliver. 2015. Conservation song: A history of peasant-state relations and the environment in Malawi, 1860–2000. Environmental History 20 (2): 205–207. https://doi.org/10.1093/envhis/emv012.

Naples, Nancy A. 2013. Sustaining democracy: Localization, globalization, and feminist praxis. Sociological Forum 28: 657–681. https://doi.org/10.1111/socf.12054.

National Statistical Office (NSO) [Malawi] and ICF. 2017. Malawi demographic and health survey 2015-16. Zomba, Malawi, and Rockville, Maryland, USA. NSO and ICF.

Nyantakyi-Frimpong, Hanson, Catherine Hickey, Esther Lupafya, Laifolo Dakishoni, Rachel Bezner Kerr, Blessing Nyirenda, Zachariah Nkhonya, Mangani Katundu and George Gondwe. 2017. A farmer-to-farmer agroecological approach to addressing food security in Malawi. In Everyday Experts: How people's knowledge can transform the food system, eds. Tom Wakeford, Javier Sanchez-Rodriguez, Marina, Chang Christabel Buchanan and Colin Anderson, 119–134. Coventry: Center for Agroecology, Water and Resilience, Coventry University.

Okoth, James Robert, and Winfred Nalyongo. 2013. Facilitators' guide for running an agro pastoral field school: An adaptation to agro-pastoral setting. Uganda: FAO.

Østergaard, Edvin, Geir Lieblein, Tor Arvid Breland, and Charles Francis. 2010. Students learning qgroecology: Phenomenon-based education for responsible action. The Journal of Agricultural Education and Extension 16: 23–37. https://doi.org/10.1080/13892240903533053.

Patel, Raj, Rachel, Bezner Kerr, Lizzie Shumba, and Laifolo Dakishoni. 2015. Cook, eat, man, woman: understanding the New Alliance for Food Security and Nutrition, nutritionism and its alternatives from Malawi. The Journal of Peasant Studies 42: 21–44. https://doi.org/10.1080/03066150.2014.971767.

PATH and CARE. 2011. Infant and young child feeding and gender: A training manual for male group leaders. Washington, DC: PATH and CARE.

Peterman, Amber. 2011. Women's property rights and gendered policies: Implications for women's long-term welfare in rural Tanzania. Journal of Development Studies 47: 1–30. https://doi.org/10.1080/00220381003600366.

Popkin, Gabriel. 2016. Collaborations: Partners in knowledge. Nature 535: 581–582.

Qureshi, M., Elaz, John, Dixon and Mellissa, Wood. 2015. Public policies for improving food and nutrition security at different scales. Food Security, 7(2), 393–403. https://doi.org/10.1007/s12571-015-0443-z.

Reynolds, Kristin, and Nevin, Cohen. 2016. Beyond the kale: Urban agriculture and social justice activism in New York City. Athens: The University of Georgia Press.

Rosset, Peter Michael, Braulio, Machín Sosa, Adilén, María, Roque Jaime and Dana, Rocío, Ávila Lozano. 2011. The Campesino-to-Campesino agroecology movement of ANAP in Cuba: Social process methodology in the construction of sustainable peasant agriculture and food sovereignty. The Journal of Peasant Studies 38:161–191.

RWANMREC and PROMUNDO. 2014. Engaging men as fathers in gender equality, maternal and child health, caregiving and violence prevention. Washington D.C.: Rwanda Men's Resource Center, Kigali, Rwanda and Promundo-US.

Sloman, Annie. 2012. Using participatory theatre in international community development. Community Development Journal 47: 42–57. https://doi.org/10.1093/cdj/bsq059.

Snapp, Sieglinde, and K. L. Heong. 2003. Scaling up: participatory research and extension to reach more farmers. In Uniting science and participation: Managing natural resources for sustainable livelihoods, eds. Barry, Pound, Sieglinde, Snapp, Cynthia, McDougall and Ann, Braun, 67–87. UK: Earthscan and Canada: IRDC.

Snapp, Sieglinde S., J. Malcolm, Blackie, Robert A., Gilbert, Rachel, Bezner Kerr and Y. George Kanyama-Phiri. 2010. Biodiversity can support a greener revolution in Africa. Proceedings of the National Academy of Sciences 107: 20840–20845. https://doi.org/10.1073/pnas.1007199107.

SUSTAINET, E. A. 2010. Technical manual for farmers and field extension service providers: Farmer field school approach. Sustainable Agriculture Information Initiative, Nairobi, Kenya. http://www.sustainetea.org.

Tschakert, Petra, and Kathleen Dietrich. 2010. Anticipatory learning for climate change adaptation and resilience. Ecology and society 15:11.

UNICEF. 2013. The community infant and young child feeding counselling package. New York: UNICEF.

Werner, David and Bill, Bower. 1991. Helping health workers learn: A book of methods, aids, and ideas for instructors at the village level. 9th ed. Palo Alto: The Hesperian Foundation.

Wolfe, David W. 2013. Climate change solutions from the agronomy perspective. In Handbook of climate change and agroecosystems: Global and regional aspects and implications, Daniel Hillel, and Cynthia Rosenzweig, eds. ICP Series on Climate Change Impacts, Adaptation, and Mitigation vol. 2. Hackensack, New Jersey: World Scientific.

Zulu, Leo Charles. 2010. The forbidden fuel: Charcoal, urban woodfuel demand and supply dynamics, community forest management and woodfuel policy in Malawi. Energy Policy 38 (7): 3717–3730.
Acknowledgements
We gratefully acknowledge the Atkinson Center for a Sustainable Future at Cornell University for funding this unorthodox project. Farmer representatives from the Soils, Food and Healthy Communities organization and the Malawi Farmer to Farmer Agroecology project provided key input into the ideas that led to this article. The authors of curriculum include several who did not participate in this article: Laurie Drinkwater, Shupo Kumwenda, Joanne Thiessen Martens and Elias Mtinda, and some technical input from Vernon Kabambe, Elisa Mazuma, Ambonisegwe Mbwaga and Kelvin Mtei. We also acknowledge the trainers in Malawi and Tanzania who piloted the curriculum: Anita Chitaya, Tinkani Gondwe, Esther Kalonga, Esther Maona, Malumbo Mithi, Mwapi Mkandawire, Rodgers Msachi, Blessings Nyirenda, Zacharia Nkhonya, Pressings Moyo, Innocent Mhoni, Burton Gama,Tanazio Moses, Seliya Jabesi, Alice Gubudu,Lesita Malisawo, Maliseni Kenneth, Kennedy Salimbira, Edwin Kasamba Nyathi ,Christina Hara and Paul Nkhonjera. There are many Cornell University students who contributed to the curriculum: Eleanore Baughan, Ann Lei, Valerie Ota (sadly deceased), Julia Schaffer, Tessa Schneider, Evlyn Samuel, and Sarah Zipfel.
Additional information
Publisher's Note
Springer Nature remains neutral with regard to jurisdictional claims in published maps and institutional affiliations.
About this article
Cite this article
Bezner Kerr, R., Young, S.L., Young, C. et al. Farming for change: developing a participatory curriculum on agroecology, nutrition, climate change and social equity in Malawi and Tanzania. Agric Hum Values 36, 549–566 (2019). https://doi.org/10.1007/s10460-018-09906-x
Accepted:

Published:

Issue Date:
Keywords
Critical food systems education

Agroecology

Transdisciplinary

Food sovereignty

Gender

Critical pedagogy