Abstract
Homegardens are traditional food systems that have been adapted over generations to fit local cultural and ecological conditions. They provide a year-round diversity of nutritious foods for smallholder farming communities in many regions of the tropics and subtropics. In southwestern Uganda, homegardens are the primary source of food, providing a diverse diet for rural marginalized poor. However, national agricultural development plans as well as economic and social pressures threaten the functioning of these homegardens. The implications of these threats are difficult to evaluate, because the structure and functions of the homegardens are not well understood. The aim of the study was to identify patterns and influencing factors in the diversity of homegardens by documenting the floristic diversity and its interactions with spatial, environmental and socio-economic factors. A geographically and socially focused assessment of floristic diversity in 102 randomly selected homegardens in three districts of southwest Uganda was conducted along a deforestation gradient following a human ecology conceptual framework and testing multiple quantitative hypotheses regarding the above mentioned factors. A merged mixed-method approach was followed to provide context and feedback regarding quantitative findings. Results show a high total richness of 209 (mean 26.8 per homegarden) crop species (excluding weeds and ornamentals) dominated by food species, which constituted 96 percent of individuals and 44 percent of all species. Forest-edge homegardens maintained higher plant diversity compared to homegardens in deforested areas and near degraded wetlands. Multiple linear regression models indicated elevation, location, homegarden size, distance to market, additional land ownership (outside the homegarden) and livestock ownership as significant predictors of crop diversity. Cluster analysis of species densities revealed four garden types: 'diverse tree gardens', 'small forest-edge gardens', 'large, old, species-rich gardens', and 'large, annual-dominated herb gardens', with 98% correct classification. Location, elevation, and garden size were also important determinants in the cluster assignment. We conclude that the diversity of the studied homegardens may be changing as part of adaptive traditional practices and in response to external drivers. The identified patterns illustrate the importance of homegardens for rural livelihoods and may offer some ways to support farmers to maintain these systems as relevant mechanisms for development in Uganda.
This is a preview of subscription content, log in to check access.
Access options
Buy single article
Instant access to the full article PDF.
US$ 39.95
Price includes VAT for USA
Subscribe to journal
Immediate online access to all issues from 2019. Subscription will auto renew annually.
US$ 99
This is the net price. Taxes to be calculated in checkout.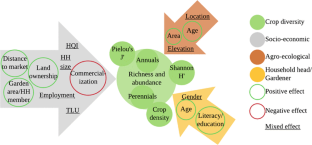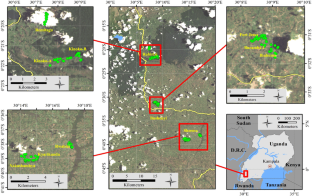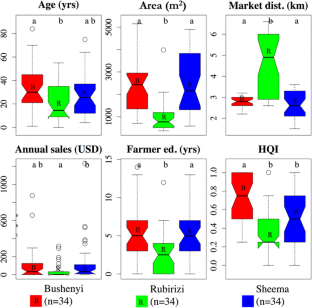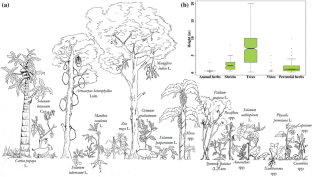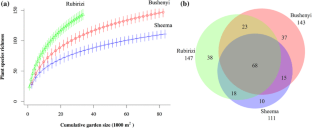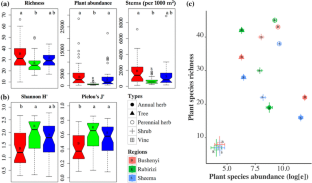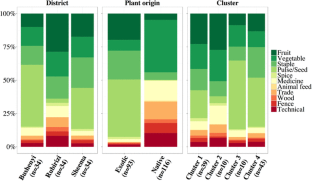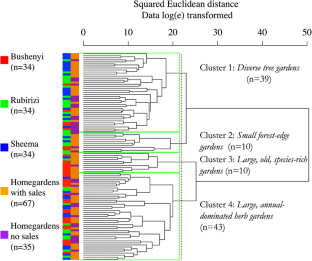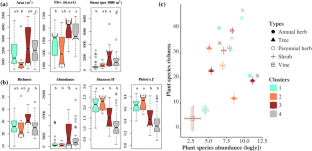 Abbreviations
HH:

Household

HQI:

House Quality Index

LDA:

Linear discriminant analysis

J′:

Pielou's measure of species evenness

H′:

Shannon Diversity index

SDR:

Summed dominance ratio

TLU:

Tropical Livestock Units
References
Abebe, T., K. F. Wiersum, F. J. J. M. Bongers, and F. Sterck. 2006. Diversity and dynamics in homegardens of southern Ethiopia. In Tropical homegardens: A time-tested example of sustainable agroforestry, eds. B. M. Kumar, and P. K. R. Nair, 123–142. Dordrecht: Springer.

Altieri, M. A. 2002. Agroecology: The science of natural resource management for poor farmers in marginal environments. Agriculture, Ecosystems & Environment 93 (1–3): 1–24.

Anderson, M. 2015. The role of knowledge in building food security resilience across food system domains. Journal of Environmental Studies and Sciences 5 (4): 543–559.

Bekunda, M. A., and P. L. Woomer. 1996. Organic resource management in banana-based cropping systems of the Lake Victoria Basin, Uganda. Agriculture, Ecosystems & Environment 59 (3): 171–180.

Bernholt, H., K. Kehlenbeck, J. Gebauer, and A. Buerkert. 2009. Plant species richness and diversity in urban and peri-urban gardens of Niamey, Niger. Agroforestry Systems 77 (3): 159–179.

Buyinza, M. 2009. Land-use intensity in the tree cropping homesteads in Kamuli, Eastern Uganda. Agricultural Journal 4 (2): 46–51.

Chen, Y. C., C. F. Wu, and S. H. Lin. 2014. Mechanisms of forest restoration in landslide treatment areas. Sustainability 6 (10): 6766–6780.

Claus, W., U. Ligges, K. Luebke, and N. Raabe. 2005. klaR analyzing German business cycles. In Data analysis and decision support, eds. D. Baier, R. Decker, and L. Schmidt-Thieme, 335–343. Berlin: Springer.

Coomes, O. T., and N. Ban. 2004. Cultivated plant species diversity in home gardens of an Amazonian peasant village in northeastern Peru. Economic Botany 58 (3): 420–434.

Creswell, J. W., and V. L. P. Clark. 2011. Designing and conducting mixed methods research. London: Sage Publishing.

Cuanalo, D. L. C., E. Heriberto, M. Guerra, and R. Rogelio. 2008. Homegarden production and productivity in a Mayan community of Yucatan. Human Ecology 36 (3): 423–433.

Eilu, G., J. Obua, J. K. Tumuhairwe, and C. Nkwine. 2003. Traditional farming and plant species diversity in agricultural landscapes of south-western Uganda. Agriculture, Ecosystems & Environment 99 (1–3): 125–134.

FAO. 2014. FAO GEOnetwork [vector data set]. http://www.fao.org/geonetwork. Accessed 27 June 2015.

Fernandes, E. C. M., A. Oktingati, and J. Maghembe. 1985. The Chagga homegardens: A multistoried agroforestry cropping system on Mt. Kilimanjaro (Northern Tanzania). Agroforestry Systems 2: 73–86.

Galluzzi, G., P. Eyzaguirre, and V. Negri. 2010. Home gardens: Neglected hotspots of agro-biodiversity and cultural diversity. Biodiversity Conservation 19: 3635–3654.

Gebauer, J., E. Luedeling, K. Hammer, M. Nagieb, and A. Buerkert. 2007. Mountain oases in northern Oman: An environment for evolution and in situ conservation of plant genetic resources. Genetic Resources and Crop Evolution 54 (3): 465–481.

Gessler, M., and U. Hodel. 2010. A case study of key species in Southern Vietnam; Farmer classification and management of agrobiodiversity in home gardens. In Home gardens and agrobiodiversity, eds. P. B. Eyzaguirre, and O. F. Linares, 215–233. Washington: Smithsonian Institution Press.

Gold, C. S., E. B. Karamura, A. Kiggundu, F. Bagamba, and A. M. K. Abera. 1999. Geographic shifts in the highland cooking banana (Musa spp., group AAA-EA) production in Uganda, Int. International Journal of Sustainable Development & World Ecology 6 (1): 45–59.

Goode, P. M. 1989. Edible plants of Uganda: The value of wild and cultivated plants as food. Rome: Food and Agriculture Organization (FAO).

Hemp, A. 2006. The banana forests of Kilimanjaro: Biodiversity and conservation of the Chagga homegardens. Biodiversity Conservation 15 (4): 1193–1217.

Hlavac, M. 2015. Stargazer: Well-formatted regression and summary statistics tables [R package version 5.2.]. http://CRAN.R-project.org/package=stargazer. Accessed 13 Feb 2016.

Howard, P. 2003. The major importance of 'minor' resources: Women and plant biodiversity. London: International Institute for Environment and Development.

Huai, H., and A. Hamilton. 2009. Characteristics and functions of traditional homegardens: A review. Frontiers of Biology in China 4 (2): 151–157.

IFPRI. 2016. Food security portal. http://www.foodsecurityportal.org/uganda. Accessed 3 Mar 2016.

Jacobi, J., S. L. Mathez-Stiefel, H. Gambon, S. Rist, and M. Altieri. 2017. Whose knowledge, whose development? Use and role of local and external knowledge in agroforestry projects in Bolivia. Journal of Environmental Management 59 (3): 464–476.

Jahnke, H. E., G. Tacher, P. Kiel, and D. Rojat. 1988. Livestock production in tropical Africa, with special reference to the tsetse-affected zone. Nairobi: International Livestock Research Institute.

Kehlenbeck, K., and B. L. Maass. 2006. Are tropical homegardens sustainable? Some evidence from Central Sulawesi, Indonesia, In Tropical homegardens: A time-tested example of sustainable agroforestry, eds. B. M. Kumar, and P. K. R. Nair, 339–354. Dordrecht: Springer.

Kehlenbeck, K., H. S. Arifin, and B. Maass. 2007. Plant diversity in homegardens in a socio-economic and agro-ecological context. In Stability of tropical rainforest margins, eds. T. Tscharntke, C. Leuschner, M. Zeller, E. Guhardja, and A. Bidin, 297–319. Berlin: Springer.

Kindt, R., and R. Coe. 2005. Tree diversity analysis. Nairobi: World Agroforestry Centre (ICRAF).

Konczacki, J. M., and Z. Konczacki. 1977. An economic history of tropical Africa: Volume one: The pre-colonial period. London: Routledge.

Korning, J., and K. Thomsen. 1994. A new method for measuring tree height in tropical rain forest. Journal of Vegetation Science 5 (1): 139–140.

Kumar, B. M., and P. K. R. Nair. 2004. The enigma of tropical homegardens. Agroforestry Systems 61 (1): 135–152.

Moreno-Black, G., P. Somnasang, and S. Thamathawan. 1996. Cultivating continuity and creating change: Women's home garden practices in northeastern Thailand. Agriculture and Human Values 13 (3): 3–11.

Murtagh, F., and P. Legendre. 2014. Ward's hierarchical agglomerative clustering method: which algorithms implement Ward's criterion? Journal of Classification 31 (3): 274–295.

Nair, P. K. R. 2006. Whither homegardens. In Tropical homegardens: A time-tested example of sustainable agroforestry, eds. B. M. Kumar, and P. K. R. Nair, 355–370. Dordrecht: Springer.

Ng'endo, M., G. B. Keding, S. Bhagwat, and K. Kehlenbeck. 2015. Variability of on-farm food plant diversity and its contribution to food security: A case study of smallholder farming households in Western Kenya. Agroecology and Sustainable Food Systems 39 (10): 1071–1103.

Norfolk, O., M. P. Eichhorn, and F. Gilbert. 2013. Traditional agricultural gardens conserve wild plants and functional richness in arid South Sinai. Basic and Applied Ecology 14: 659–669.

NPA. 2007. Uganda Vision 2040. Kampala: Ugandan National Planning Authority (NPA).

Nyamukuru, A., A. Nabatanzi, S. Mpiira, and J. R. S. Tabuti. 2015. Locally preferred woody species and their management in Kiruhura and Arua districts, Uganda. Ethnobotany Research and Applications 14: 49–61.

Oduol, P. A., and J. R. W. Aluma. 1990. The banana (Musa spp.)—Coffee robusta: Traditional agroforestry system of Uganda. Agroforestry Systems 11 (3): 213–226.

Oksanen, J., F. G. Blanchet, R. Kindt, P. Legendre, P. R. Minchin, R. B. O'Hara, G. L. Simpson, P. Solymos, M. H. H. Stevens, and H. Wagner. 2016. Vegan: Community ecology package [R package version 2.3-3]. http://CRAN.R-project.org/package=vegan. Accessed 13 Feb 2016.

Pinard, F., E. Joetzjer, R. Kindt, and K. Kehlenbeck. 2014. Are coffee agroforestry systems suitable for circa situm conservation of indigenous trees? A case study from Central Kenya. Biodiversity Conservation 23 (2): 467–495.

Pohlert, T. 2014. The pairwise multiple comparison of mean ranks package (PMCMR) [R package version 4.1]. http://CRAN.R-project.org/package=PMCMR. Accessed 13 Feb 2016.

Quisumbing, A. R., R. Meinzen-Dick, T. L. Raney, A. Croppenstedt, J. A. Behrman, and A. Peterman. 2014. Gender in agriculture: Closing the knowledge gap, 444. Dordrecht: Springer.

R Core Team. 2015. R: A language and environment for statistical computing [R version 3.2.3 "Wooden Christmas Tree"]. https://www.R-project.org/. Accessed 13 Feb 2016.

Rambo, A. T. 1983. Conceptual approaches to human ecology. Hawaii: East-West Environment and Policy Institute, Honolulu.

Ryota, S., and S. Hidetoshi. 2015. pvclust: Hierarchical clustering with P-values via multiscale bootstrap resampling [R package version 2.0-0]. http://CRAN.R-project.org/package=pvclust. Accessed 13 Feb 2016.

Scales, B. R., and S. J. Marsden. 2008. Biodiversity in small-scale tropical agroforests: A review of species richness and abundance shifts and the factors influencing them. Environmental Conservation 35 (2): 160–172.

Schneider, J. 2010. Toward an analysis of home garden cultures. On the use of sociocultural variables in home garden studies. In Home gardens and agrobiodiversity, eds. P. B. Eyzaguirre, and O. F. Linares, 41–55.

Tabuti, J. R. S. 2012. Important woody plant species, their management and conservation status in Balawoli Sub-county, Uganda. Ethnobotany Research and Applications 10: 269–286.

Tabuti, J. R. S., V. B. Muwanika, M. Z. Arinaitwe, and T. Ticktin. 2011. Conservation of priority woody species on farmlands: A case study from Nawaikoke sub-county, Uganda. Applied Geography 31 (2): 456–462.

Tripathi, L., M. Mwangi, S. Abele, V. Aritua, W.K. Tushemereirwe, and R. Bandyopadhyay. 2009. Xanthomonas wilt: A threat to banana production in East and Central Africa. Plant Disease Journal 93 (5): 440–451.

Turner, A. G. 2003. Sampling strategies: Handbook on designing of household sample surveys, 44. Geneva: United Nations Statistics Division.

UBOS. 2014. National population and housing census 2014. Kampala: Uganda Bureau of Statistics (UBOS).

UBOS and ICF. 2012. Uganda demographic and health survey 2011. Calverton: Uganda Bureau of Statistics (UBOS), MEASURE DHS, ICF International Inc.

UNMA. 2016. Uganda national meteorological authority. https://www.unma.go.ug/. Accessed 13 Oct 2016.

van Breugel, P., R. Kindt, J. P. B. Lillesø, M. Bingham, S. Demissew, C. Dudley, I. Friis, F. Gachathi, J. Kalema, F. Mbago, H. N. Moshi, J. Mulumba, M. Namaganda, H. J. Ndangalasi, C. K. Ruffo, M. Védaste, R. Jamnadass, and L. Graudal. 2015. Potential natural vegetation map of Eastern Africa (Burundi, Ethiopia, Kenya, Malawi, Rwanda, Tanzania, Uganda and Zambia). Version 2.0. http://vegetationmap4africa.org. Accessed 09 Mar 2016.

Vayda, A. P. 1983. Progressive contextualization: Methods for research in human ecology. Human Ecology 11 (3): 265–281.

Venables, W. N., and B. D. Ripley. 2002. Modern applied statistics with S-PLUS. New York: Springer.

Weidmann, N. B., J. Ketil Rød, and L.-E. Cederman. 2010. Representing ethnic groups in space: A new dataset. Journal of Peace Research 47 (4): 491–499.

WFP. 2006. Comprehensive food security and vulnerability analyses (CFSVA) Uganda. Rome: World Food Programme (WFP), Vulnerability Analysis and Mapping Branch.

Whitney, C. W., S. M. Vang, G. Lê Hồng, V. V. Can, K. Barber, and T. T. Lanh. 2016. Learning with elders: Human ecology and ethnobotany explorations in northern and central Vietnam. Human Organization 75 (1): 71–86.

Whitney, C. W., J. R. S. Tabuti, O. Hensel, C.-H. Yeh, J. Gebauer, and E. Luedeling. 2017. Homegardens and the future of food and nutrition security in southwest Uganda. Agricultural Systems 154: 133–144.

Whyte, M. A., and D. Kyaddondo. 2006. 'We are not eating our own food here: Food security and the cash economy in Eastern Uganda. Land Degradation and Development 17 (2): 173–182.

Wiehle, M., S. Goenster, J. Gebauer, S. A. Mohamed, A. Buerkert, and K. Kehlenbeck. 2014. Effects of transformation processes on plant species richness and diversity in homegardens of the Nuba Mountains, Sudan. Agroforestry Systems 88 (3): 539–562.

Wilkinson, L. 2011. Venneuler: Venn and Euler diagrams [R package version 1.1-1]. http://CRAN.R-project.org/package=venneuler. Accessed 13 Feb 2016.

Young, G. L. 1974. Human ecology as an interdisciplinary concept: A critical inquiry. Advances in Ecological Research 8: 1–105.
Acknowledgements
This study was part of the subproject 4, work package 2 (031A247B) within the collaborative research project "Reduction of Post-Harvest Losses and Value Addition in East African Food Value Chains" (RELOAD) of the initiative "GlobE—Research for the Global Food Supply" of the German Federal Ministry of Education and Research (BMBF). Ethical and legal permission for the work was granted by the Ugandan National Council for Science and Technology (registration number: A 477), the President's Office and the local Regional District Coordinators and Chief Administrative Officers of Bushenyi, Rubirizi and Sheema, and facilitated by Dr. Joseph Bahati of Makerere University. We are particularly grateful to the many farmers, village chairpersons and community members who participated as respondents and supported the work, as well as offering food, housing, information and good company throughout the research. Mr. Daniel Mulindwa helped with specimen collection. Dr. Mary Namaganda and Ms. Olivia Wanyana Maganyi of the Makerere University Department of Botany helped facilitate plant identification. Ms. Carolyne Nakaketo provided field support and artistic impressions of the work (cf. Fig. 5).
Annex
Annex
See Table 6.
About this article
Cite this article
Whitney, C.W., Luedeling, E., Tabuti, J.R.S. et al. Crop diversity in homegardens of southwest Uganda and its importance for rural livelihoods. Agric Hum Values 35, 399–424 (2018). https://doi.org/10.1007/s10460-017-9835-3
Accepted:

Published:

Issue Date:
Keywords
Agrobiodiversity

Human ecology

Smallholder farmers

Traditional farming