Abstract
Controversies in food and agriculture abound, with many portrayed as conflicts between polarized viewpoints. Framing such controversies as dichotomies, however, can at times obscure what might be a plurality of views and potential common ground on the subject. We used Q methodology to explore stakeholders' views about pesticide safety, agricultural worker exposure, and human health concerns in the tree fruit industry of central Washington State. Using a purposive sample of English and Spanish-speaking agricultural workers, industry representatives, state agencies, educators, and advocates (n = 41), participants sorted 45 statements on pesticide use and perceived human safety risks in the tree fruit industry in 2011. We used PQMethod 2.33 statistical software program to identify viewpoints, based on differences between how participants sorted the statements. The results revealed three distinct viewpoints among 38 sorters that explained 52 percent of the variance. The viewpoints included the: (1) skeptics (n = 22) who expressed concern over the environmental and human health impacts of pesticide use; (2) acceptors (n = 10) who acknowledged inherent risks for using pesticides but saw the risks as known, small and manageable; and (3) incrementalists (n = 6) who prioritized opportunities to introduce human capital and technological improvements to increase agricultural worker safety. We then brought representatives with these different viewpoints together to analyze the results of the Q study, and to brainstorm mutually acceptable improvements to health and safety in tree fruit orchards. In describing and analyzing this case study, we argue that Q methodology can serve as one potentially effective tool for collaborative work, in this case facilitating a process of orchard safety improvements despite perceived stakeholder polarization.
This is a preview of subscription content, log in to check access.
Access options
Buy single article
Instant access to the full article PDF.
US$ 39.95
Tax calculation will be finalised during checkout.
Subscribe to journal
Immediate online access to all issues from 2019. Subscription will auto renew annually.
US$ 79
Tax calculation will be finalised during checkout.
Notes
1.

Readers can email the corresponding author for a copy of the post-sort questionnaire.

2.

Readers can email the corresponding author for a copy of the factor interpretation crib sheets.

3.

Readers can email the corresponding author for a copy of the factor interpretation crib sheets showing these comparisons.

4.

Particular thanks to an anonymous reviewer for this insight.
References
Aerni, P. 2005. Attitudes in the public debates on agricultural biotechnology in developing countries. The African technology development forum.

Aerni, P., and T. Bernauer. 2006. Stakeholder attitudes toward GMOs in the Philippines, Mexico, and South Africa: The issue of public trust. World Development 34 (3): 557–575.

Alavanja, M.C., M. Dosemeci, C. Samanic, J. Lubin, C.F. Lynch, C. Knott, J. Barker, J.A. Hoppin, D.P. Sandler, J. Coble, K. Thomas, and A. Blair. 2004. Pesticides and lung cancer risk in the agricultural health study cohort. American Journal of Epidemiology 160: 876–885.

Angelopulo, G. 2009. Q methodology and the measurement of subjectivity in corporate brand perception. South African Journal of Business Management 40(3): 21–33.

Arcury, T.A., S.A. Quandt, and G.B. Russell. 2002. Pesticide safety among farmworkers: Perceived risk and perceived control as factors reflecting environmental justice. Environmental Health Perspectives 110(S2): 233–240.

Ashley, B., J. Hollows, S. Jones, and B. Taylor. 2004. Food and cultural studies. London: Routledge.

Beck, U. 1992. Risk society: Towards a new modernity. London: SAGE Publications Ltd.

Berger, P.L., and T. Luckmann. 1966. The social construction of reality: A treatise in the sociology of knowledge. London: Penguin Books.

Best, J. 2012. Social problems. New York: W.W. Norton & Company.

Biltekoff, C. 2013. Eating right in America: The cultural politics of food and health. Durham: Duke University Press.

Brown, S.R. 1980. Political subjectivity: Applications of Q methodology in political science. New Haven: Yale University Press.

Bryson, J.M., and B.C. Crosby. 1992. Leadership for the common good: Tackling public problems in a shared-power world. San Francisco: Jossey-Bass Publishers.

Cabrera, N.L., and J.O. Leckie. 2009. Pesticide risk communication, risk perception, and self-protective behaviors among farmworkers in California's Salinas Valley. Hispanic Journal of Behavioral Sciences 31 (2): 258–272.

Carney, R.E., ed. 1971. Risk taking behavior: Concepts, methods, and applications to smoking and drug abuse. Springfield: Charles C. Thomas.

CDC. 1999. Framework for program evaluation in public health. Morbidity and mortality weekly report, Centers for Disease Control 48 (RR-11).

Davis, C.H., and C. Michelle. 2011. Q methodology in audience research: Bridging the qualitative/quantitative 'divide'? Participations: Journal of Audience and Reception Studies 8(2): 559–593.

Eden, S., A. Donaldson, and G. Walker. 2005. Structuring subjectivities? Using Q methodology in human geography. Area 37(4): 413–422.

EPA n.d. Worker protection standard. 40CFR170. U.S. Environmental Protection Agency. http://www.access.gpo.gov/nara/cfr/waisidx_10/40cfr170_10.html. Accessed 24 Jan 2011.

Evans, J.H. 2003. Have Americans' attitudes become more polarized?: An update. Social Science Quarterly 81(1): 71–90.

Evans, G., and A. Need. 2002. Explaining ethnic polarization over attitudes towards minority rights in Eastern Europe: A multilevel analysis. Social Science Research 31: 653–680.

EWG. 2015. EWG's 2015 shopper's guide to pesticides in produce. Environmental Working Group. http://www.ewg.org/foodnews/summary.php. Accessed 8 April 2015.

Fairweather, J.R., and S.R. Swaffield. 2002. Visitors' and locals' experiences of Rotorua, New Zealand: An interpretative study using photographs of landscapes and Q method. The International Journal of Tourism Research 4(4): 283–297.

Fiorina, M.P. 2010. Culture war? The myth of a polarized America (3rd edition). Harlow: Pearson Longman.

Flynn, J., P. Slovic, and C.K. Mertz. 1994. Gender, race, and perception of environmental health risks. Risk Analysis 14(6): 1101–1108.

Gabor, M.R. 2013. Q methodology (Q factor analysis): Particularities and theoretical considerations for marketing data. International Journal of Arts and Commerce 2(4): 116–126.

Globalwise and Belrose Inc. 2014. The Washington apple industry: updated evaluation of contributions to the state economy and the important role of exports. http://fruitgrowersnews.com/downloads/2012/WAC_Econ_ImpactReport_Final_082912.pdf. Accessed 16 July 2014.

Guthman, J. 2011. Weighing in: Obesity, food justice, and the limits of capitalism. Berkeley and Los Angeles: University of California Press.

Gwartney-Gibbs, P.A., and D.H. Lach. 1991. Sex differences in attitudes toward nuclear war. Journal of Peace Research 28: 161–176.

Halfacre-Hitchcock, A., D. McCarthy, T. Burkett, and A. Carvajal. 2006. Latino migrant farmworkers in lowcountry South Carolina: A demographic profile and an examination of pesticide risk perception and protection in two pilot case studies. Human Organization 65(1): 55–71.

Hansen, H. 2014. Talking about pesticides: Responding to myths, rumors, and fears. Washington Friends of Farms and Forests. http://www.wafriends.org/. Accessed 13 April 2016.

Hofmann, J.N., J. Crowe, J. Postma, V. Ybarra, and M.C. Keifer. 2009. Perceptions of environmental and occupational health hazards among agricultural workers in Washington State. American Association of Occupational Health Nurses Journal 57 (9): 359–371.

Hohn, E. 2010. Survey of residents of northwest orchard community shows high levels of perceived pesticide risk and lack of pesticide training. MCN Streamline 16 (4): 4–5.

Huggins, T.J., R. Peace, S.R. Hill, D.M. Johnston, and A.C. Muñiz. 2015. Politics of practical and academic knowledge: A Q-method analysis of gauging community disaster resilience. Journal of Contingencies and Crisis Management 23(4): 246–256.

Hunter, W.C. 2013. Understanding resident subjectivities toward tourism using Q method: Orchid Island, Taiwan. Journal of Sustainable Tourism 21(2): 331–354.

Johnson, B.B., and L. Waishwell. 2014. Q method can identify diverse perspectives on 'helpful' information on cancer clusters and inform risk communication generally. Journal of Risk Research 17(9): 1125–1145.

Julier, A. 2008. The political economy of obesity: The fat pay all. In Food and culture: A reader (2nd edition), ed C. Counihan and P. Van Esterik, 482–499. New York: Routledge.

Kaltenthaler, K., and W.J. Miller. 2012. The polarized American: Views on humanity and the sources of hyper-partisanship. American Behavioral Scientist 56(12): 1718–1734.

Kandel, W.A., and K.M. Donato. 2009. Does unauthorized status reduce exposure to pesticides? Evidence from the national agricultural workers survey. Work and Occupations 36 (4): 367–399.

Karcher, B.C., J.O. Balswick, and I.E. Robinson. 1981. Empiricism, symbolic realism, and the mystique of the extreme. The Sociological Quarterly 22(1): 93–103.

Keifer, M., M.K. Salazar, and C. Connon. 2009. An exploration of Hispanic workers' perspectives about risks and hazards associated with orchard work. Family and Community Health 32(1): 34–47.

Kramer, B., P. de Hegedus, and V. Gravidus. 2003. Evaluating a dairy herd improvement project in Uruguay to test and explain Q methodology. AIAEE Proceedings of the 19th Annual Conference. https://www.aiaee.org/attachments/article/1205/Kramer341.pdf. Accessed 11 Oct 2016.

Liebman, A.K., and W. Augustave. 2010. Agricultural health and safety: Incorporating the worker perspective. Journal of Agromedicine 15(3): 192–199.

Liebman, A.K., P.M. Juarez, C. Leyva, and A. Corona. 2007. A pilot program using promotoras de salud to educate farmworker families about the risks from pesticide exposure. Journal of Agromedicine 12(2): 33–43.

Marquez, E.C., and K.S. Schafer (with G. Aldern and K. VanderMolen). 2016. Kids on the frontline: How pesticides are undermining the health of rural children. Oakland: Pesticide Action Network of North America. http://www.panna.org/resources/kids-frontline. Accessed 30 May 2016.

Martin, B. and E. Richards. 1995. Scientific knowledge, controversy, and public decision making. In Handbook of science and technology studies, eds. S. Jasanoff, G.E. Markle, J.C. Petersen, and T. Pinch, 506–526. London: Sage.

Mattson, D.J., S.G. Clark, K.L. Byrd, S.R. Brown, and B. Robinson. 2011. Leaders' perspectives in the Yellowstone to Yukon conservation initiative. Policy Sciences 4: 103–133.

Mayer, B., J. Flocks, and P. Monaghan. 2010. The role of employers and supervisors in promoting pesticide safety behavior among Florida farmworkers. American Journal of Industrial Medicine 53: 814–824.

Murphy-Greene, C., and L.A. Leip. 2006. Assessing the effectiveness of executive order 12898: Environmental justice for all? Public Administration Review 62(6): 679–687.

NASS. 1998. Agricultural chemical usage—1997 fruits summary. USDA National Agricultural Statistics Service. Ag Ch 1(98), July 1998.

NASS. 2008. Agricultural chemical usage—2007 field crop summary. USDA National Agricultural Statistics Service. Ag Ch 1(08). May 2008.

NASS. 2012. Table 35: Specified fruits and nuts by acres: 2012 and 2007. 2012 Census of Agriculture. USDA National Agricultural Statistics Service. http://www.agcensus.usda.gov/Publications/2012/Full_Report/Volume_1,_Chapter_1_State_Level/Washington/st53_1_039_039.pdf. Accessed 16 July 2014.

Nisbet, M.C. 2005. The competition for worldviews: Values, information, and public support for stem cell research. International Journal of Public Opinion Research 17(1): 90–112.

Nisbet, M.C., and R.K. Goidel. 2007. Understanding citizen perceptions of science controversy: Bridging the ethnographic survey research design. Public Understanding of Science 16: 421–440.

Oekel, B.K. 2009. Q methodology and modern marketing research: Part I: fundamentals of the science of subjectivity. Davis Brand Capital.

Olofsson, A., and S. Rashid. 2011. The white (male) effect and risk perception: Can equality make a difference? Risk Analysis 31(6): 1016–1032.

Previte, J., B. Pini, and F. Haslam-McKenzie. 2007. Q methodology and rural research. Sociologia Ruralis 47(2): 135–147.

Quandt, S.A., T.A. Arcury, C.K. Austin, and R.M. Saavedra. 1998. Farmworker and farmer perceptions of farmworker agricultural chemical exposure in North Carolina. Human Organization 57(3): 359–368.

Robbins, P., and R. Krueger. 2000. Beyond bias? The promise and limits of Q method in human geography. Professional Geographer 52 (4): 636–648.

Roberts, N. 2000. Wicked problems and network approaches to resolution. International Public Management Review 1(1): 1–19.

Rohlman, D. 2010. Neurobehavioral assessment of pesticide exposure in children. Unpublished data from pesticide survey. Hood River: Oregon State University.

Rozalia, G.M. 2008. Q factor analysis (Q-methodology) as data analysis technique. Annals of the University of Oradea, Economic Science Series 17 (4): 871–876.

Said, E. 1978. Orientalism. New York: Pantheon Books.

Savage, I. 1993. Demographic influences on risk perceptions. Risk Analysis 13(4): 413–420.

Schmolck, P. 2013. PQ method software (2.33). General Public License, Munich. http://schmolck.userweb.mwn.de/qmethod/. Accessed 15 Oct 2013.

Sjoberg, L., and B.M. Drottz-Sjoberg. 1993. Attitudes toward nuclear waste. Rhizikon research report no. 12. Stockholm: Center for Risk Research.

Slovic, P. 1997. Public perception of risk. Journal of Environmental Health 59(9): 22–24.

Slovic, P., Kraus, N. N., Lappe, H., Letzel, H., and Malmfors, T. 1989. Risk perception of prescription drugs: Report on a survey in Sweden. Pharm Med 4: 43–65.

Snyder, K. 2004. Risk perception and resource security for female agricultural workers. Research in Economic Anthropology 23: 271–292.

Steelman, T.A., and L.A. Maguire. 1999. Understanding participant perspectives: Q methodology in national forest management. Journal of Policy Analysis and Management 18(3): 361–388.

Stephenson, W. 1953. The study of behavior: Q-technique and its methodology. Chicago: University of Chicago Press.

Stroud, N.J. 2010. Polarization and partisan selective exposure. Journal of Communication 60: 556–576.

Tesser, A., and M.C. Conlee. 1975. Some effects of time and thought on attitude polarization. Journal of Personality and Social Psychology 31(2): 262–270.

Thompson, B., G. Coronado, K. Puschel, and E. Allen. 2001. Identifying constituents to participate in a project to control pesticide exposure in children of farmworkers. Environmental Health Perspectives 109(S3): 443–448.

UW PNASH. 2010. Unpublished data from expert working group. Seattle: University of Washington Pacific Northwest Agricultural Safety and Health center.

Washington Friends of Farms and Forests. 2013. Mission. http://www.wafriends.org/. Accessed 30 May 2016.

Washington State Farmworker Housing Trust. 2008. Key facts: Washington's farmworkers. http://www.farmworkerhousingtrust.org/needs_fact2.html. Accessed 19 Jan 2011.

Watts, S., and P. Stenner. 2012. Doing Q methodology: Theory, method and interpretation. London: Sage.

WSU. 2010. Unpublished data from pesticide recertification classes. Washington State University-Tree Fruit Research and Education Center. http://pmtp.wsu.edu/downloads/TurningPoint_Nov-Mar.pdf. Accessed 24 Jan 2011.

Zhang, P., H. Lingard, N. Blismas, R. Wakefield, and B. Kleiner. 2015. Work-health and safety-risk perceptions of construction-industry stakeholders using photograph-based Q methodology. Journal of Construction Engineering and Management 141(5): 1–13.
Acknowledgements
Thanks go to Maureen Gullen for assistance in data analysis and representation for this study, to Diane Montgomery for assistance in identifying the most appropriate factor solution, to Jerry Shannon, Diane Montgomery, and Alice Julier for comments on an earlier draft of this paper, to four anonymous reviewers for invaluable feedback, and to the pesticide safety stakeholder working group for comments on the pesticide Q study results and analysis. This study was funded by CDC/NIOSH Award 5 U54 OH007544 to the University of Washington Pacific Northwest Agricultural Safety and Health Center (with subcontract to Washington State University).
Ethics declarations
Conflict of interest
The authors declare that they have no conflict of interest.
Appendices
Appendix 1
Q sort distribution board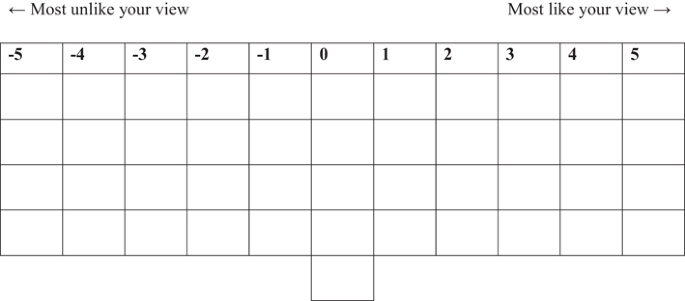 Appendix 2
Statement rankings by factor
| Statements | Factor 1 | Factor 2 | Factor 3 |
| --- | --- | --- | --- |
| 1. I worry that people don't take the risks of pesticides seriously because they don't understand the long-term effects of pesticides on their health | 5 | −3 | 5 |
| 2. I don't think anybody really knows what all of these pesticides are doing to our environment | 5 | 0 | 2 |
| 3. Unlike many people, I believe that if there is any possibility of a pesticide harming the environment or human health, that chemical shouldn't be used even if it's not yet absolutely proven scientifically to be harmful | 1 | −5 | 0 |
| 4. I am convinced that people are afraid of pesticides basically because they don't know enough about the pesticides themselves | 0 | 5 | 0 |
| 5. It frustrates me that the public simply does not understand how agriculture works today | 0 | 5 | −2 |
| 6. I don't know why people get so worried about pesticide use in orchards—there are good systems in place for monitoring pesticide illness and they indicate really low levels of exposure | −3 | 3 | 1 |
| 7. I don't trust official assessments of pesticide health risks—they're measured by exposure to a single chemical, but pesticides are typically used in formulations (mixed with other chemicals) | 2 | −3 | −4 |
| 8. I'm not naïve enough to believe that all pesticides are safe | 4 | 3 | −4 |
| 9. I can tell by the odor whether or not a pesticide is dangerous | −5 | −5 | −5 |
| 10. I believe that scientists receiving industry funding tend to be biased towards industry interests even in cases where the industry sponsor does not actively pressure the researcher | 2 | −4 | −3 |
| 11. I don't have any questions about which chemicals are safe and which are not—the science of pesticide safety is has been clearly studied | −4 | −1 | −2 |
| 12. Many of the pesticides we use now are very targeted—they're not broad-spectrum neurological toxins so short of being a fungus or bacteria, they're not going to have much effect on you | −3 | 4 | 0 |
| 13. I am tired of all the regulation around agricultural pesticides | −3 | −1 | −2 |
| 14. I don't think it makes sense to worry too much about pesticide drift—pesticides are so diluted by the time they're used that they're not going to hurt you | −5 | −4 | −5 |
| 15. I'm all for workplace safety, but without pesticides, you just can't produce the safe, nutritious, affordable food that consumers deserve | −1 | 5 | 2 |
| 16. I worry about children's exposure to pesticides (even in utero) because it can lower their IQ | 4 | −4 | 1 |
| 17. It frustrates me that literacy, cultural, time, and language barriers get in the way of appropriate pesticide safety training for workers | 4 | 1 | −5 |
| 18. No matter what people say, I know that pesticide drift is very common | 2 | 3 | −2 |
| 19. What pesticide handlers need to be safe in my opinion is more label information in Spanish | 2 | 1 | 3 |
| 20. I think there should be a program whereby all pesticide applicators, when they go out to spray, are given refresher explanations on what chemicals they are using, what the labels say, and how they should be used | 4 | 0 | 2 |
| 21. I know that pesticide applicators, because they're spraying all the time, understand pesticide safety—but not everyone else knows what's going on, and that can make things risky | −1 | 0 | 3 |
| 22. It frustrates me to no end that the health dangers of pesticides are grossly overstated by politicians using the issue as a political vehicle | −2 | 2 | −1 |
| 23. In my experience, tree fruit workers receive plenty of pesticide safety training | −2 | 1 | −1 |
| 24. I feel very comfortable with how well pesticide handlers know how to read and follow pesticide labels | −4 | −2 | 2 |
| 25. I wish managers would do a better job of reminding pesticide handlers about maintaining a safe workplace | 3 | 1 | 3 |
| 26. If there were clear and open communication within orchards, pesticide safety would be less of an issue | 0 | 2 | 4 |
| 27. I think growers and managers are generally good listeners, responsive to their workers' concerns—but workers have to be willing to talk to them if they are worried | −1 | 3 | 3 |
| 28. What I think supervisors need is training in human resource management—how to be more effective and more efficient, with the skills and abilities to communicate things to their employees | 3 | 4 | 5 |
| 29. I think a big problem in the system is that pesticide safety varies so much by orchard—some enforce safety procedures really well and implement a culture of safety while others don't | 5 | 4 | 1 |
| 30. I hate when pesticide handlers don't get enough time to decontaminate personal protective equipment | 3 | −1 | −3 |
| 31. To me it's simple—as long as people follow regulations and don't go into sprayed blocks, there is no safety risk | −2 | −2 | −4 |
| 32. In my opinion, the tree fruit industry overprotects its workers | −5 | −3 | −5 |
| 33. I can hardly believe how much safer orchards are now than they were 5–10 years ago | 0 | 5 | 4 |
| 34. For me, industry self-regulation is the best way to addressing environmental problems like pesticide safety | −5 | 0 | −1 |
| 35. To me, pesticide handling is only risky when applicators don't wear the proper personal protective equipment | −3 | 0 | 4 |
| 36. I don't understand why pesticides that can be replaced by less toxic alternatives are still registered | 1 | −5 | 0 |
| 37. I don't think that growers would train workers on pesticide safety unless it were regulated | 3 | −2 | −1 |
| 38. In my experience, posting signs for re-entry intervals is not effective—many places keep their signs up all year, so you can't rely on them | 1 | 2 | 1 |
| 39. I'm tired of this overwhelming focus on pesticide safety—there are simply way more pressing safety issues in orchards today | −2 | −1 | −3 |
| 40. I trust that the USDA and EPA wouldn't allow pesticides to be used that aren't safe for humans | −4 | 2 | 5 |
| 41. I believe there's inherent risk involved in working with pesticides, no matter what precautions are taken | 5 | 4 | −3 |
| 42. Improving pesticide safety is simple—all it needs is for the tree fruit industry to step up and put some money behind it | −1 | −5 | 5 |
| 43. I believe that true safety comes not from worker protections but from engineering workers out of the loop | 0 | −4 | 4 |
| 44. I'd like growers to spray less toxic pesticides, but the cost of them is getting out of control, especially for family farmers | 1 | −2 | 0 |
| 45. To me, pesticide safety has become a non-issue—employers already have to address it for food safety certification | −4 | −3 | −4 |
About this article
Cite this article
Lehrer, N., Sneegas, G. Beyond polarization: using Q methodology to explore stakeholders' views on pesticide use, and related risks for agricultural workers, in Washington State's tree fruit industry. Agric Hum Values 35, 131–147 (2018). https://doi.org/10.1007/s10460-017-9810-z
Accepted:

Published:

Issue Date:
Keywords
Q methodology

Pesticide safety

Polarization

Stakeholders