Abstract
"Golden Rice" has played a key role in arguments over genetically modified (GM) crops for many years. It is routinely depicted as a generic GM vitamin tablet in a generic plant bound for the global South. But the release of Golden Rice is on the horizon only in the Philippines, a country with a storied history and complicated present, and contested future for rice production and consumption. The present paper corrects this blinkered view of Golden Rice through an analysis of three distinctive "rice worlds" of the Philippines: Green Revolution rice developed at the International Rice Research Institute (IRRI) in the 1960s, Golden Rice currently being bred at IRRI, and a scheme to promote and export traditional "heirloom" landrace rice. More than mere seed types, these rices are at the centers of separate "rice worlds" with distinctive concepts of what the crop should be and how it should be produced. In contrast to the common productivist framework for comparing types of rice, this paper compares the rice worlds on the basis of geographical embeddedness, or the extent to which local agroecological context is valorized or nullified in the crop's construction. The Green Revolution spread generic, disembedded high-input seeds to replace locally adapted landraces as well as peasant attitudes and practices associated with them. The disembeddedness of Golden Rice that boosts its value as a public relations vehicle has also been the main impediment in it reaching farmers' fields, as it has proved difficult to breed into varieties that grow well specifically in the Philippines. Finally, and somewhat ironically, IRRI has recently undertaken research and promotion of heirloom seeds in collaboration with the export scheme.
Access options
Buy single article
Instant access to the full article PDF.
US$ 39.95
Tax calculation will be finalised during checkout.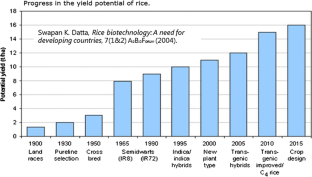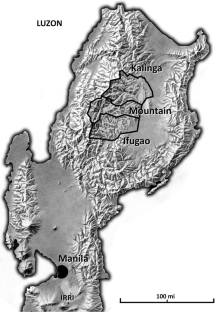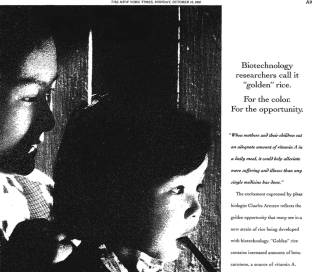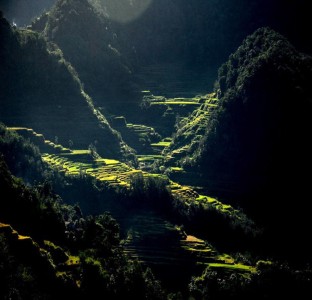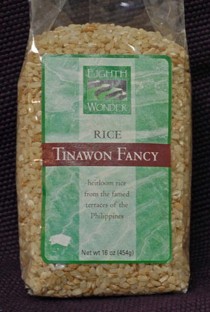 Notes
1.

Most terms for the technology are contested, but genetically modified here simply refers to incorporation of recombinant DNA. GMO refers to a genetically modified organism.

2.

Breeders and researchers in Viet Nam, India, and Bangladesh are also working with Golden Rice, but release is not on the horizon in any of these countries.

3.

IRRI (see Fig. 2) collaborates with PhilRice—the Philippine Rice Research Institute—in the Golden Rice development and testing.

4.

The rice sector in the Philippines is unusual in other respects outside the scope of this paper. Despite being a major rice producer, it is also one of the world's largest importers of rice. It is also home to particularly advanced participatory breeding schemes for rice (Sievers-Glotzbach 2014).

5.

For example, NERICA varieties, much heralded by breeders, have not been taken up with enthusiasm (Kijima et al. 2011).

6.

Note too that none of the improvements anticipated in 2004 have come to pass. The "New Plant Type," portrayed as a stage of progress already achieved, was incapable of out-yielding the best indica rice varieties (Peng et al. 2008); no transgenic rice varieties have yet been approved for commercial planting; and C4 rice (a proposed plant transformed to have a radically more efficient photosynthetic process) is a speculative product still far from potential release (Normile 2006; von Caemmerer et al. 2012). Datta expected that by 2015 breeders would be designing new crop varieties from scratch, but this remains a distant prospect (Cheung 2014; Long et al. 2015).

7.

8.

CIMMYT and IRRI are two of the network of 14 breeding and agricultural research centers comprising the Consultative Group on International Agricultural Research (CGIAR).

9.

Also known as "early" varieties, this mainly meant photoperiod-insensitive plants that could be used for more than one cropping cycle per year.

10.

11.

This disembedding was reduced somewhat by placeless elite strains being distributed to other research centers where they were crossbred with other varieties. Well after the Green Revolution, IRRI breeders became more interested in non-ideotype breeding, as discussed below.

12.

In Mexico, Borlaug had gone a step beyond ideal field conditions to outright rigged demonstrations in which conventional varieties were fertilized so heavily they fell over (Cullather 2010, p. 191).

13.

Monsanto has been eager to take credit for Golden Rice (Stone 2011b), although it neither funded nor conducted research on Golden Rice. It did waive some of its patent rights on a promoter gene used in early experiments, but this gene has long since been replaced.

14.

There are two publications specifically on potential impacts of Golden Rice in the Philippines. One of these (Zimmermann and Qaim 2004) includes no actual information about the Philippines beyond a few outdated countrywide health statistics. The other (Dawe et al. 2002) is an empirical study of VAD levels in an area where rice is neither a major crop nor a dominant starch in local diets.

15.

Field trials of Golden Rice are also planned for Bangladesh and Indonesia, but commercial release in these countries appears to be much farther off.

16.

The normal method of creating a GM crop is to (1) engineer a genetic construct containing one or more genes for desired traits, and then (2) expose cells from the target plant to an agent capable of inserting the construct into the cells' DNA. Each instance where the construct is successfully integrated into the target cell DNA is a unique "transformation event." Transformed cells are then selected and grown into whole plants that can be bred conventionally. There are several different Golden Rice 2 (GR2) transformation events; at least one is located in an exon and one in an intron associated with root development (Dubock 2014, p. 81).

17.

The javanica subspecies is now often classified as the tropical variant of the japonica subspecies.

18.

19.

The rice is certified organic by the Organic Certification Center of the Philippines, but since OCCP standards are not yet recognized internationally, it is only labeled organic in the Philippines.

20.

21.

CHRP growers produce yields of 2.8–3.8 MT/ha of unmilled rice. Elite rice cultivars such as China's Y Liangyou 900 achieve yields approaching 15 MT/ha. in ideal conditions (Cheung 2014).
References
AllowGoldenRiceNow.org. 2015. http://www.allowgoldenricenow.org. Accessed 22 March 2016.

Beachy, R.N. 2003. Editorial: IP policies and serving the public. Science 299: 473.

Borlaug, N.E. 1972. Breeding wheat for high yield, wide adaptation, and disease resistance. In Rice breeding, ed. IRRI, 581–589. Los Baños: International Rice Research Institute.

Bowen, S. 2011. The importance of place: Re-territorialising embeddedness. Sociologia Ruralis 51: 325–348.

Bradsher, K., and A. Martin. 2008. World's poor pay price as crop research is cut. New York Times, 18 May.

Bray, F. 1994. Agriculture for developing nations. Scientific American 271: 30.

Brooks, S. 2008. Global science, public goods? Tracing international science policy processes in rice biofortification. Brighton: Institute of Development Studies, University of Sussex.

Brooks, S. 2010. Rice biofortification: lessons for global science and development. London: Earthscan.

Brooks, S. 2011. Living with materiality or confronting asian diversity? The case of iron-biofortified rice research in the Philippines. East Asian Science, Technology, and Society 5: 173–188.

Brooks, S. 2013. Biofortification: Lessons from the Golden Rice project. Food Chain 3: 77–88.

Charles, D. 2001. Lords of the harvest: Biotech, big money, and the future of food. Cambridge: Perseus.

Cheung, F. 2014. Yield: The search for the rice of the future. Nature 514: S60–S61.

Cronon, W. 1991. Nature's metropolis: Chicago and the great west. New York: W.W. Norton and Company.

Cullather, N. 2003. Parable of seeds: The Green Revolution in the modernizing imagination. In The transformation of Southeast Asia: International perspectives on decolonization, ed. M. Frey, R.W. Pruessen, and T.T. Yong, 257–267. London: Routledge.

Cullather, N. 2004. Miracles of modernization: The Green Revolution and the apotheosis of technology. Diplomatic History 28: 227–254.

Cullather, N. 2010. The hungry world: America's cold war battle against poverty in Asia. Cambridge: Harvard University Press.

Datta, S.K. 2004. Rice biotechnology: A need for developing countries. AgBioForum 7(1–2): 31–35.

Dawe, D., R. Robertson, and L. Unnevehr. 2002. Golden rice: What role could it play in alleviation of vitamin A deficiency? Food Policy 27: 541–560.

Dawe, D., and L. Unnevehr. 2007. Crop case study: GMO Golden Rice in Asia with enhanced Vitamin A benefits for consumers. AgBioForum 10: 154–160.

Domoguen, R.L. 2011. Cordillera losing its heirloom rice varieties. Sun Star. Baguio, 28 Feb.

Donald, C.M. 1968. The breeding of crop ideotypes. Euphytica 17: 385–403.

Dowd-Uribe, B. 2014. Engineering yields and inequality? How institutions and agro-ecology shape Bt cotton outcomes in Burkina Faso. Geoforum 53: 161–171.

Dowd-Uribe, B., D. Glover, and M. Schnurr. 2014. Seeds and places: The geographies of transgenic crops in the global south. Geoforum 53: 145–148.

Druguet, A. 2010. From the invention of landscapes to the construction of territories: The terraces of the Ifugaos (Philippines) and the Cevenols (France). PhD thesis, Anthropology, National Museum of Natural History.

Dubock, A. 2014. The present status of Golden Rice. Journal of Huazhong Agricultural University 33: 69–84.

DuPuis, E.M., and D. Goodman. 2005. Should we go "home" to eat? Toward a reflexive politics of localism. Journal of Rural Studies 21: 359–371.

Eighth Wonder. 2015. http://www.heirloomrice.com/index.php?p=project. Accessed 22 March 2016.

Eisenstein, M. 2014. Biotechnology: Against the grain. Nature 514: S55–S57.

Enserink, M. 2008. Tough lessons from golden rice. Science 320: 468–471.

Evans, N., C. Morris, and M. Winter. 2002. Conceptualizing agriculture: A critique of post-productivism as the new orthodoxy. Progress in Human Geography 26: 313–332.

Evenson, R.E. 2004. Food and population: D. Gale Johnson and the Green Revolution. Economic Development and Cultural Change 52: 543–569.

Evenson, R.E., and D. Gollin. 2003. Assessing the impact of the Green Revolution, 1960 to 2000. Science 300: 758–762.

Evenson, R.E., and D. Gollin. 1997. Genetic resources, international organizations, and improvement in rice varieties. Economic Development and Cultural Change 45: 471–500.

Food and Nutrition Research Institute. nd. Seventh national nutrition survey 2008–2009. Department of Science and Technology (Philippines).

Glover, D. 2010. The corporate shaping of GM crops as a technology for the poor. Journal of Peasant Studies 37: 67–90.

Golden Rice Project. nd. Testing the performance of Golden Rice. http://www.goldenrice.org/Content2-How/how8_tests.php. Accessed 22 March 2016.

Granovetter, M. 1985. Economic action and social structure: the problem of embeddedness. American Journal of Sociology 91: 481–510.

Guthman, J. 2004. Agrarian dreams: The paradox of organic farming in California. Berkeley: University of California Press.

Guthman, J., et al. 2007. Commentary on teaching food: Why I am fed up with Michael Pollan et al. Agriculture and Human Values 24: 261–264.

Haas, J.D., J.L. Beard, L.E. Murray-Kolb, A.M. del Mundo, A. Felix, and G.B. Gregorio. 2005. Iron-biofortified rice improves the iron stores of nonanemic Filipino women. The Journal of Nutrition 135: 2823–2830.

Hansen, M. 2013. Golden Rice myths. GMWatch website. http://gmwatch.org/index.php/news/archive/2013/15023-golden-rice-myths. Accessed 22 March 2016.

Harris, E. 2009. Neoliberal subjectivities or a politics of the possible? Reading for difference in alternative food networks. Area 41: 55–63.

Harris, E. 2010. Eat Local? Constructions of place in alternative food politics. Geography Compass 4: 355–369.

Harwood, J. 2015. Global visions vs. local complexity: Experts wrestle with the problem of development. In Rice: Global networks and new histories, ed. F. Bray, P.A. Coclanis, E.L. Fields-Black, and D. Schäfer, 41–55. New York: Cambridge University Press.

Haskell, M.J. 2012. The challenge to reach nutritional adequacy for vitamin A: β-carotene bioavailability and conversion—evidence in humans. The American Journal of Clinical Nutrition 96: 1193S–1203S.

Holloway, L., and M. Kneafsey. 2004. Producing–consuming food: closeness, connectedness, and rurality. In Geographies of rural cultures and societies, ed. L. Holloway, and M. Kneafsey. London: Ashgate.

IRRI. nd. Why is Golden Rice needed in the Philippines since vitamin A deficiency is already decreasing? IRRI website. http://irri.org/golden-rice/faqs/why-is-golden-rice-needed-in-the-philippines-since-vitamin-a-deficiency-is-already-decreasing. Accessed 22 March 2016.

IRRI. 1977. IR8 and beyond. Los Baños: International Rice Research Institute.

IRRI. 2014a. What is the status of the Golden Rice project coordinated by IRRI? IRRI website. http://irri.org/golden-rice/faqs/what-is-the-status-of-the-golden-rice-project-coordinated-by-irri. Accessed 22 March 2016.

IRRI. 2014b. When will Golden Rice be available to farmers and consumers? IRRI website. http://irri.org/golden-rice/faqs/when-will-golden-rice-be-available-to-farmers-and-consumers. Accessed 22 March 2016.

IRRI. 2015. Heirloom rice: people place purpose (video). https://www.youtube.com/watch?v=blU9b3cQvoY. Accessed 22 March 2016.

ISAAA. 2014. The global status of commercialized biotech/GM Crops: 2014 (Brief No. 49). Ithaca: The International Service for the Acquisition of Agri-biotech Applications.

Kijima, Y., K. Otsuka, and D. Sserunkuuma. 2011. An inquiry into constraints on a Green Revolution in Sub-Saharan Africa: The case of NERICA Rice in Uganda. World Development 39: 77–86.

Kloppenburg Jr, J.R. 1991. Social theory and the de/reconstruction of agricultural science: Local knowledge for an alternative agriculture. Rural Sociology 56: 519–548.

Krock, B. 2009. Researchers look to enriched crops to solve childhood malnutrition. In Researchers look to enriched crops to solve childhood malnutrition. Student Life (Washington University), 28 Sept.

Kudlu, C., and G.D. Stone. 2013. The trials of genetically modified food: Bt eggplant and Ayurvedic Medicine in India. Food Culture and Society 16: 21–42.

Laborte, A.G., K. de Bie, E.M. Smaling, P.F. Moya, A.A. Boling, and M.K. Van Ittersum. 2012. Rice yields and yield gaps in Southeast Asia: Past trends and future outlook. European Journal of Agronomy 36: 9–20.

Lambrecht, B. 2001. Dinner at the new gene cafe: how genetic engineering is changing what we eat, how we live, and the global politics of food. New York: St. Martins Press.

Licnachan, E. 2015. Response from community stakeholders. Symposium on the Ifugao Rice Terraces. National Museum, Manila, Philippines, 18 June 2015.

Lobell, D.B., K.G. Cassman, and C.B. Field. 2009. Crop yield gaps: Their importance, magnitudes, and causes. Annual Review of Environment and Resources 34: 179–204.

Long, S.P., A. Marshall-Colon, and X. Zhu. 2015. Meeting the global food demand of the future by engineering crop photosynthesis and yield potential. Cell 161: 56–66.

Lotus Foods. 2015. Products. http://www.lotusfoods.com/index.php/products/. Accessed 22 March 2016.

Maat, H., and D. Glover. 2012. Alternative configurations of agricultural experimentation. In Contested agronomy: agricultural research in a changing world, ed. J. Sumberg, and J. Thompson, 131–145. London: Routledge.

Mann, C. 2012. 1493: Uncovering the New World Columbus created. New York: Vintage Books.

McAfee, K. 2003. Neoliberalism on the molecular scale. Economic and genetic reductionism in biotechnology battles. Geoforum 34: 203–219.

Medina, J. 2013. FilAms urged to buy Philippine heirloom rice. Inquirer.net, 1 Oct. http://business.inquirer.net/145403/filams-urged-to-buy-philippine-heirloom-rice. Accessed 22 March 2016.

Montgomery, J.D. 1998. Toward a role-theoretic conception of embeddedness. Journal of Sociology 104: 92–125.

Morris, C., and J. Kirwan. 2011. Ecological embeddedness: an interrogation and refinement of the concept within the context of alternative food networks in the UK. Journal of Rural Studies 27: 322–330.

Murdoch, J., T. Marsden, and J. Banks. 2000. Quality, nature, and embeddedness: Some theoretical considerations in the context of the food sector. Economic Geography 76: 107–125.

Nestle, M. 2001. Genetically engineered "Golden" Rice unlikely to overcome vitamin A deficiency. Journal of the American Dietetic Association 101: 289–290.

Niblio, S.R. 1995. War, diplomacy, and development: The United States and Mexico, 1938–1954. Wilmington: Scholarly Resources.

Normile, D. 2006. Consortium aims to supercharge rice photosynthesis. Science 313: 423.

Ohnuki-Tierney, E. 1993. Rice as self: Japanese identities through time. Princeton: Princeton University Press.

Otsuka, K., F. Gascon, and S. Asano. 1994. "Second-generation" MVs and the evolution of the Green Revolution: the case of Central Luzon, 1966–1990. Agricultural Economics 10: 283–295.

Peng, S., G.S. Khush, P. Virk, Q. Tang, and Y. Zou. 2008. Progress in ideotype breeding to increase rice yield potential. Field Crops Research 108: 32–38.

Pénicaud, C., N. Achir, C. Dhuique-Mayer, M. Dornier, and P. Bohuon. 2011. Degradation of β-carotene during fruit and vegetable processing or storage: Reaction mechanisms and kinetic aspects: A review. Fruits 66: 417–440.

Philippines Department of Health. nd. Micronutrient program. http://www.doh.gov.ph/micronutrient-program. Accessed 22 March 2016.

Polanyi, K., C. Arensberg, and H. Pearson. 1957. Trade and market in the early empires. New York: Free Press.

Qaim, M., and D. Zilberman. 2003. Yield effects of genetically modified crops in developing countries. Science 299: 900–902.

RAFI. 2000. Golden Rice and Trojan Trade Reps: A case study in the public sector's mismanagement of intellectual property. RAFI Communique 66, Sept/Oct 2000. http://www.etcgroup.org/sites/www.etcgroup.org/files/publication/305/01/com_goldenrice.pdf. Accessed 22 March 2016.

Retraction Watch. 2015. Golden rice paper pulled after judge rules for journal. 30 July 2015. http://retractionwatch.com/2015/07/30/golden-rice-paper-pulled-after-judge-rules-for-journal/. Accessed 22 March 2016.

Richards, P. 2004. Private versus public? Agenda-setting in international agro-technologies. In Agribusiness and society: Corporate responses to environmentalism, market opportunities and public regulation, ed. K. Jansen, and S. Vellema, 261–284. London: Zed.

Richards, P. 1997. Toward an African Green Revolution? An anthropology of rice research in Sierra Leone. In The ecology of practice: studies of food crop production in sub-Saharan West Africa, ed. A.E. Nyerges, 201–252. Amsterdam: Gordon and Breach.

Schurman, R., and W.A. Munro. 2010. Fighting for the future of food: Activists versus agribusiness in the struggle over biotechnology. Minneapolis: University of Minnesota Press.

Sekimoto, S., and L. Augustin-Jean. 2012. An export niche in the Philippines: The commodification of a speciality rice in Ifugao Province. In Geographical indications and international agricultural trade: The challenge for Asia, eds. L. Augustin-Jean, H. Ilbert, and N. Saavedra-Rivano, 181–203. Palgrave Macmillan.

Shiva, V. 2000–1. World in a grain of rice. The Ecologist Dec–Jan. 30:9.

Sievers-Glotzbach, S. 2014. Reconciling intragenerational and intergenerational environmental justice in Philippine agriculture: the MASIPAG farmer network. Ethics Policy and Environment 17: 52–68.

Soleri, D., D.A. Cleveland, G. Glasgow, S.H. Sweeney, F. Aragón Cuevas, M.R. Fuentes, and H. Ríos. 2008. Testing assumptions underlying economic research on transgenic food crops for Third World farmers: Evidence from Cuba, Guatemala, and Mexico. Ecological Economics 67: 667–682.

Stein, A.J., H.P.S. Sachdev, and M. Qaim. 2006. Potential impact and cost-effectiveness of Golden Rice. Nature Biotechnology 24: 1200–1201.

Stone, G.D. 2002. Both sides now: Fallacies in the genetic-modification wars, implications for developing countries, and anthropological perspectives. Current Anthropology 43: 611–630.

Stone, G.D. 2011a. Field versus farm in warangal: Bt cotton, higher yields, and larger questions. World Development 39: 387–398.

Stone, G.D. 2011b. Golden Rice, soon. Or not. FieldQuestions blog. http://fieldquestions.com/2011/05/30/golden-rice-soon-or-not/. Accessed 22 March 2016.

Stone, G.D. 2015. Biotechnology, schismogenesis, and the demise of uncertainty. Journal of Law and Policy 47: 29–49.

Tang, G., Y. Hu, S. Yin, Y. Wang, G.E. Dallal, M.A. Grusak, and R.M. Russell. 2012. b-Carotene in Golden Rice is as good as b-carotene in oil at providing vitamin A to children. American Journal of Clinical Nutrition 96:658–664 [Retracted, August 2015].

Tripp, R. 1996. Biodiversity and modern crop varieties: sharpening the debate. Agriculture and Human Values 13: 48–63.

von Caemmerer, S., W.P. Quick, and R.T. Furbank. 2012. The development of C4 rice: Current progress and future challenges. Science 336: 1671–1672.

Wesseler, J., S. Kaplan, and D. Zilberman. 2014. The cost of delaying approval of Golden Rice. Agricultural and Resource Economics Update 17(3): 1–3.

Winter, M. 2003. Embeddedness, the new food economy, and defensive localism. Journal of Rural Studies 19: 23–32.

Witt, H., R. Patel, and M. Schnurr. 2006. Can the poor help GM Crops? Technology, representation, and cotton in the Makhathini Flats, South Africa. Review of African Political Economy 109: 497–513.

Woods, M. 2002–3. Food for thought: The biopiracy of Jasmine and Basmati rice. Albany Law Journal of Science and Technology 13:123–143.

Wright, A. 1984. Innocents abroad: American agricultural research in Mexico. In Meeting expectations of the land, ed. W. Jackson, et al., 135–151. Berkeley: North Point Press.

Ye, X., S. Al-Babili, A. Kloti, J. Zhang, P. Lucca, P. Beyer, and I. Potrykus. 2000. Engineering the provitamin A (beta-carotene) biosynthetic pathway into (carotenoid-free) rice E. Science 287: 303.

Zimmermann, R., and M. Qaim. 2004. Potential health benefits of Golden Rice: A Philippine case study. Food Policy 29: 147–168.
Acknowledgments
Major funding for this research came from the John Templeton Foundation initiative, "Can GM Crops Help to Feed the World?" Additional funds came from the ESRC STEPS Centre at Sussex University, UK. For assistance and insights we are grateful to Bruce Tolentino and Nollie Vera Cruz of IRRI; Marlon Martin and Jacy Moore of SITMo; Stephen Acabado of UCLA; Jovy Camso of Mountain Province Agriculture Department; Vicky Garcia, Mary Hensley, and Jimmy Lingayo of the CHRP; Tony La Viña of Ateneo School of Government; Tony Alfonso formerly of PhilRice; Amber Heckelman of University of British Columbia; Priscilla Stone of S.I.T.; and two anonymous referees.
About this article
Cite this article
Stone, G.D., Glover, D. Disembedding grain: Golden Rice, the Green Revolution, and heirloom seeds in the Philippines. Agric Hum Values 34, 87–102 (2017). https://doi.org/10.1007/s10460-016-9696-1
Accepted:

Published:

Issue Date:
Keywords
Rice

Seeds

Genetically modified crops

Golden Rice

Green Revolution

Landraces

Breeding

Heirloom crops