Abstract
Agricultural intensification, now commonly referred to as sustainable intensification, is presented in development discourse as a key means to simultaneously improve food security and reduce rural poverty without harming the environment. Taking a village in Laos as a case study, we show how government agencies and farmers could perceive the idea of agricultural intensification differently. The study illustrates how farmers with the opportunities for groundwater use typically choose to grow vegetables and high valued cash crops rather than intensify rice production. This contrasts with government and donor supported efforts to promote rice intensification as a means to increase food security and reduce rural poverty. The article's main message is that farmers' differing strategies are related to a variety of household characteristics and that farmers' strategies should be central to the current discussion on sustainable intensification.
This is a preview of subscription content, log in to check access.
Access options
Buy single article
Instant access to the full article PDF.
US$ 39.95
Price includes VAT for USA
Subscribe to journal
Immediate online access to all issues from 2019. Subscription will auto renew annually.
US$ 99
This is the net price. Taxes to be calculated in checkout.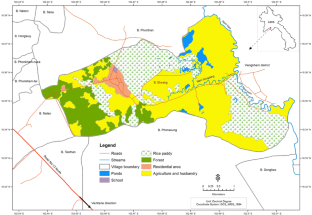 Notes
1.

In 2005 donors accounted for 75 % of total capital expenditure, compared to 18 % 5 years earlier. Still, following the same trend, donors fund accounted for 70 % of total investment in agricultural and forestry sector in 2010, with two-thirds of the funds invested in irrigation systems construction and rehabilitation and rural road construction (GoL 2010a).

2.

While rice fields make up the entire farm area for most small farming households, some households (usually medium and large) also own additional land they use to raise cattle and cultivate high valued cash crops.

3.

The commercialization trend is also evident in the way all farmers have replaced buffaloes with small tractors to prepare land for planting. While the change is also related with the cheaper price of tractors, farmers' decisions to shift from buffaloes to tractors is driven mainly by the lack of agricultural labor to take care of their buffaloes.

4.

See also Röling and van de Fliert (1994) on the central positioning of farmers' strategies to increase the effectiveness of extension services towards farmer participation and empowerment.
Abbreviations
AMP:

Agricultural master plan

GoL:

Government of Laos

MAF:

Ministry of agriculture and forestry
References
Amin, S. 2011. Food sovereignty: A struggle for convergence in diversity. In Food movements unite! strategies to transform our food systems, ed. E. Holt-Gimenez, ix. Oakland, CA: Food First Books.

Baulcombe, D., I. Crute, B. Davies, J. Dunwell, M. Gale, J. Jones, J. Pretty, and W. Sutherland. 2009. Reaping the benefits: Science and the sustainable intensification of global agriculture. RS Policy Document. London: The Royal Society.

Bernstein, H. 2008. Agrarian questions from transition to globalization. In Peasants and globalization: Political economy, rural transformation, and the agrarian question, ed. H. Akram Lodhi, and C. Kay, 239–261. London: Routledge.

Bernstein, H. 2004. Changing before our very eyes: Agrarian questions and the politics of land in capitalism today. Journal of Agrarian Change 4(1–2): 190–225.

Bertini, C., and D. Glickman. 2008. Renewing American leadership in the fight against global hunger and poverty. The Chicago initiative on global agricultural development. Chicago: Chicago Council on Global Affairs.

Blankinship, D.G. 2012. Gates defend focus on high-tech agriculture. Associated Press 24: 12–22.

Bonanno, A. 1991. The restructuring of the agricultural and food system: Social and economic equity in the reshaping of the agrarian question and the food question. Agriculture and Human Values 8(4): 72–82.

Bouahom, B., L. Douangsavanh, and J. Rigg. 2004. Building sustainable livelihoods in Laos: Untangling farm from non-farm, progress from distress. Geoforum 35(2004): 607–619.

Burawoy, M. 1991. The extended case method. In Ethnography unbound: Power and resistance in the modern metropolis, ed. M. Burawoy, 271–287. Berkeley, CA: University of California Press.

Byres, T.J. 1996. Capitalism from above and capitalism from below. An essay in comparative political economy. London: Macmillan.

Campbell, B.M., P. Thornton, R. Zougmore, P. van Asten, and L. Lipper. 2014. Sustainable intensification: What is its role in climate smart agriculture? Current Opinion in Environmental Sustainability 8: 39–43.

Cassman, K.G., and P.L. Pingali. 1995. Intensification of irrigated rice systems: Learning from the past to meet future challenges. GeoJournal 35(3): 299–305.

Collier, P. 2008. The politics of hunger: How illusion and greed fan the food crisis. Foreign Affairs 187: 67–79.

Conforti, P. 2010. Looking ahead in world food and agriculture. Rome: FAO.

Conway, G. 2001. The doubly green revolution: Balancing food, poverty, and environmental needs in the 21st century? In Tradeoffs or synergies?, ed. D.R. Lee, and C.B. Barrett, 17–33. Wallingford, UK: CAB International.

Conway, G. 1997. The doubly Green revolution. UK: Penguin books.

Das, R.J. 2002. The green revolution and poverty: A theoretical and empirical examination of the relation between technology and society. Geoforum 33: 55–72.

Davies, W.P. 2003. An historical perspective from the green revolution to the gene revolution. Nutrition Reviews 61(6): 124–134.

Evenson, R.E., and D. Gollin. 2003. Assessing the impact of the green revolution, 1960 to 2000. Science 300(5620): 758–762.

FAO. 2011. The state of food insecurity in the world: How does international price volatility affect domestic economies and food security?. http://www.fao.org/docrep/014/i2330e/.

FAO. 1990. Sustainable intensification of rice production for food security in the near future. A summary report.

FAO, World Bank, and IRRI. 2012. Lao's people democratic republic rice policy study.

Feder, G., R.E. Just, and D. Zilberman. 1985. Adoption of agricultural innovations in developing countries: A survey. Economic development and cultural change. http://www.jstor.org/stable/1153228.

Feder, G., and D.L. Umali. 1993. The adoption of agricultural innovation: A review. Technological Forecasting and Social Change 43(3–4): 215–239.

Freebairn, D. 1995. Did the green revolution concentrate incomes? A quantitative study of research reports. World Development 23: 265.

Garnett, T., M.C. Appleby, A. Balmford, I.J. Bateman, T.G. Benton, P. Bloomer, B. Burlingame, M. Dawkins, L. Dolan, D. Fraser, M. Herrero, I. Hoffmann, P. Smith, P.K. Thornton, C. Toulmin, S.J. Vermeulen, and H.C. Godfray. 2013. Sustainable intensification in agriculture: Premises and policies. Science 341(6141): 33–34.

Government of Laos. 2010a. Laos' seventh national socio-economic development plan (2011–2015).

Government of Laos. 2010b. Strategy for agricultural development 2011–2020. Sector framework vision and goals: Agriculture and forestry for sustainable development, food, and income security. Ministry of agriculture and forestry: Final draft 15 Sep 2010.

Government of Laos. 2004. National growth and poverty eradication strategy.

Harris, J. 1991. The green revolution in North Arcot: Economic trends, household mobility, and the politics of an awkward class. In The green revolution reconsidered, ed. P.B. Hazell, and C. Ramaswamy, 57–84. Baltimore: The John Hopkins University Press.

Harris, J. 1988. Capitalism and peasant production: The green revolution in India. London: Routledge.

Hazell, P.B.R. 2009. The Asian green revolution. IFPRI discussion paper 00911. November 2009. Washington, DC: IFPRI.

Holt-Gimenez, E., and M. Altieri. 2013. Agroecology, food sovereignty, and the new green revolution. Agroecology and Sustainable Food Systems 37(1): 90–102.

Holt-Gimenez, E., R. Patel, and A. Shattuck. 2009. Food rebellions! Crisis and the hunger for justice. Oakland, CA: Food First Books.

Hüsken, F., and B. White. 1989. Java: Social differentiation, food production, and agrarian control. In Agrarian transformations: Local processes and the state in Southeast Asia, ed. G. Hart, A. Turton, and B. White, 235–265. Berkeley, CA: University of California Press.

Johannsen, S.S., and P. Armitage. 2010. Agricultural practice and the effects of agricultural land use on water quality. Freshwater Forum 28: 45–59.

Khush, G. 1999. Green revolution: Preparing for the 21st century. Genome 42: 646–655.

Lee, D. 2005. Agricultural sustainability and technology adoption: Issues and policies for developing countries. American Journal of Agricultural Economics 87(5): 1325–1334.

Long, N. 2001. Development sociology: Actor perspectives. London: Routledge.

Loos, J., D.J. Abson, M.J. Chappell, J. Hanspach, F. Mikulcak, M. Tichit, and J. Fischer. 2014. Putting meaning back into sustainable intensification. Frontiers in Ecology and the Environment 12: 356–361.

MAF (Ministry of Agriculture and Forestry). 2014. Agriculture strategy 2025 and vision 2030. Vientiane Capital.

MAF (Ministry of Agriculture and Forestry). 2013. Mid-term report of agriculture and forestry development plan 2011–2015. Vientiane Capital.

McClung, C.R. 2014. Making hunger yield. Science 344(6185): 699–700.

Manivong, V., R. Cramb, and J. Newby. 2014. Rice and remittances: Crop intensification versus labor migration in Southern Laos. Human Ecology 42(3): 367–379.

Meena, R.N., L. Yadav, Y.K. Ghilotia, and R.K. Meena. 2013. Food security and agricultural sustainability: An impact of Green Revolution. Environment and Ecology 31(2C): 1190–1197.

Mollinga, P.P. 1998. On the waterfront: Water distribution, technology, and agrarian change in a south Indian canal irrigation system. Ph.D. thesis, Wageningen University, the Netherlands.

Mosse, D. 2004. Is good policy unimplementable? Reflections on the ethnography of aid policy and practice. Development and Change 35(4): 639–671.

Newby J.C., V. Manivong, and R.A. Cramb. 2013. Intensification of lowland rice-based farming systems in Laos in the context of diversified rural livelihoods. Paper presented at the 57th AARES Annual Conference, Sydney, Australia, 5–8 Feb 2013.

OECD. 2001. Adoption of technologies for sustainable farming systems. Wageningen Workshop Proceedings, Wageningen, 4–7 July 2000.

Ogada, M.J., G. Mwabu, and D. Muchai. 2014. Farm technology adoption in Kenya: A simultaneous estimation of inorganic fertilizer and improved maize variety adoption decisions. Agricultural and food economics doi: 10.1186/s40100-014-0012-3.

Patel, R. 2013. The long green revolution. Journal of Peasant Studies 40(1): 1–63.

Patnaik, U. 1986. The agrarian question and the development of capitalism in India. Economic and Political Weekly 21(8): 781–793.

Pretty, J., C. Toulmin, and S. Williams. 2011. Sustainable intensification in African agriculture. International Journal of Agricultural Sustainability 9(1): 5–24.

Rigg, J. 2006. Land, farming, livelihoods, and poverty: Rethinking the links in the rural South. World Development 34(1): 180–202.

Röling, N., and E. van de Fliert. 1994. Transforming extension for sustainable agriculture: The case of integrated pest management in rice in Indonesia. Agriculture and Human Values 11(2–3): 96–108.

Sackloham, S., and E. Baudran. 2005. Using agrarian system analysis to understand agriculture. In Improving livelihoods in the uplands of Lao PDR, 218–225. Vientiane: NAFRI, NAFES, and NUoL.

Snyder, K.A., and B. Cullen. 2014. Implications of sustainable agricultural intensification for family farming in Africa: Anthropological perspectives. Anthropological Notebooks 20(3): 9–29.

Stevenson, J.R., N. Villoria, D. Byerlee, T. Kelley, and M. Maredia. 2013. Green revolution research saved an estimated 18 to 27 million hectares from being brought into agricultural production. Proceedings of the National Academy of Sciences 110(21): 8363–8368.

Struik, P.C., T.W. Kuyper, L. Brussaard, and C. Leeuwis. 2014. Deconstructing and unpacking scientific controversies in intensification and sustainability: Why the tensions in concepts and values? Current Opinion in Environmental Sustainability 8: 80–88.

Vanlauwe, B., D. Coyne, J. Gochowski, S. Hauser, J. Huising, C. Masso, G. Nziguheba, M. Schut, and P. van Asten. 2014. Sustainable intensification and the African smallholder farmer. Current Opinion in Environmental Sustainability 8: 15–22.

Von Braun, J. 2007. The world food situation: New driving forces and required actions. Washington DC: IFPRI.

White, B., and G. Wiradi. 1989. Agrarian and non-agrarian bases of inequality in nine Javanese villages. In Agrarian transformations: Local processes and the state in southeast Asia, ed. G. Hart, A. Turton, and B. White, 266–302. Berkeley, CA: University of California Press.

Winarno, Y.T. 1995. State intervention and farmer creativity: Integrated pest management among rice farmers in Subang, West Java. Agriculture and Human Values 12(4): 47–57.

Winders, B. 2009. The vanishing free market: The formation and spread of the British and US food regimes. Journal of Agrarian Change 9: 315–344.

Wittman, H.K., A.A. Desmarais, and N. Wiebe. 2010. Food sovereignty: Reconnecting food, nature, and community. Oakland, CA: Food First Books.

World Bank. 2007. World development report 2008: Agriculture for development. Washington DC: The World Bank.

Yesuf, M., and G. Kohlin. 2008. Market imperfections and farm technology adoption decision: A case study from the highland of Ethiopia. Environment for Development Discussion Paper Series, March 2008.

Yin, R.K. 1994. Case study research: Design and methods. London/New Delhi: Sage Publication/Thousand Oaks.
Acknowledgments
We would like to thank the Australian Center for International Agricultural Research (ACIAR) for their financial support to the International Water Management Institute to conduct this study under the ACIAR Project LWR/2010/81: Enhancing the resilience and productivity of rainfed dominated systems in Lao PDR through sustainable groundwater use. This project contributes to the CGIAR Research Programs on Water, Land, and Ecosystems (WLE) and Climate Change Agriculture and Food Security (CCAFS). We would like to thank Paul Pavelic for overall project support, Florence Milan, Singkham Lueyeevang, and Leexong Leebouapao for their support in baseline survey, and Ms. Chantha Souvannaxayyavong and Ms. Chon Chanthasean from respectively the District Agriculture and Forestry Office (DAFO) and the Ekxang village authority for logistic support in the field. The study design, data collection, analysis, and interpretation of the result were undertaken exclusively by the authors.
About this article
Cite this article
Suhardiman, D., Giordano, M., Leebouapao, L. et al. Farmers' strategies as building block for rethinking sustainable intensification. Agric Hum Values 33, 563–574 (2016). https://doi.org/10.1007/s10460-015-9638-3
Accepted:

Published:

Issue Date:
Keywords
Rice intensification

Agricultural groundwater use

Farming strategies

Laos