Abstract
Innovative forms of green urban architecture aim to combine food, production, and design to produce food on a larger scale in and on buildings in urban areas. It includes rooftop gardens, rooftop greenhouses, indoor farms, and other building-related forms (defined as "ZFarming"). This study uses the framework of sustainability to understand the role of ZFarming in future urban food production and to review the major benefits and limitations. The results are based on an analysis of 96 documents published in accessible international resources. The analysis shows that ZFarming has multiple functions and produces a range of non-food and non-market goods that may have positive impacts on the urban setting. It promises environmental benefits resulting from the saving and recycling of resources and reduced food miles. Social advantages include improving community food security, the provision of educational facilities, linking consumers to food production, and serving as a design inspiration. In economic terms it provides potential public benefits and commodity outputs. However, managing ZFarming faces several challenges. For some applications, the required technologies are known but have not been used or combined in that way before; others will need entirely new materials or cultivation techniques. Further critical aspects are the problem of high investment costs, exclusionary effects, and a lack of acceptance. In conclusion, ZFarming is seen as an outside-the-box solution which has some potential in generating win–win scenarios in cities. Nevertheless, ZFarming practices are not in and of themselves sustainable and need to be managed properly.
This is a preview of subscription content, log in to check access.
Access options
Buy single article
Instant access to the full article PDF.
US$ 39.95
Price includes VAT for USA
Subscribe to journal
Immediate online access to all issues from 2019. Subscription will auto renew annually.
US$ 99
This is the net price. Taxes to be calculated in checkout.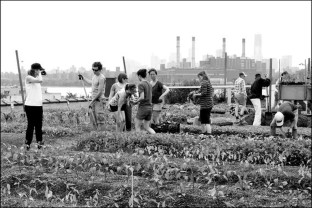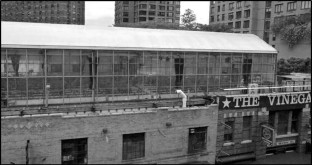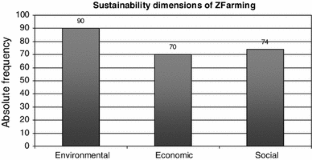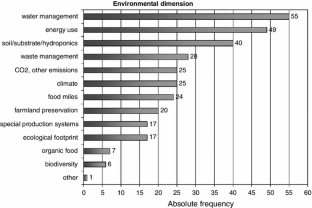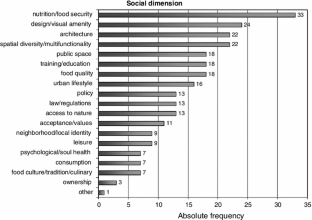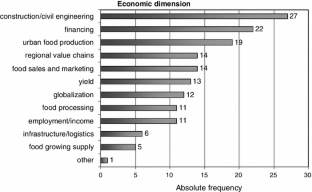 Abbreviations
BIA:

Building-integrated agriculture

CEA:

Controlled environment agriculture

CPUL:

Continuous productive urban landscape

ZFarming:

Zero-acreage farming
References
Ackerman, K. 2011. The potential for urban agriculture in New York City: Growing capacity, food security, and green infrastructure. New York: Urban Design Lab, Earth Institute, Columbia University.

Alberta Agriculture and Rural Development. 2012. Pest and disease management in commercial greenhouses. http://www.agriculture.alberta.ca. Accessed 7 Nov 2012.

Altieri, M.A., N. Companioni, K. Cañizares, C. Murphy, P. Rosset, M. Bourque, and C.I. Nicholls. 1999. The greening of the "barrios": Urban agriculture for food security in Cuba. Agriculture and Human Values 16(2): 131–140.

American Planning Association (APA). 2007. Policy guide on community and regional food planning. Washington D.C.: APA.

Astee, L.Y., and N.T. Kishnani. 2010. Building integrated agriculture: Utilising rooftops for sustainable food crop cultivation in Singapore. Journal of Green Building 5(2): 105–113.

Bass, B., and B. Baskaran. 2001. Evaluating rooftop and vertical gardens as an adaptation strategy for urban areas. NRCC Report 46737. Institute for Research in Construction, National Research Council Canada.

Block, D.R., N. Chávez, E. Allen, and D. Ramirez. 2012. Food sovereignty, urban food access, and food activism: Contemplating the connections through examples from Chicago. Agriculture and Human Values 29(2): 203–215.

Blyth, A., and L. Menagh. 2006. From rooftop to restaurant. A university cafe fed by a rooftop garden, 50–54. Fall: The Canadian Organic Grower.

Bohn, K., and A. Viljoen. 2011. The edible city: Envisioning the continuous productive urban landscape (CPUL). Field Journal 4(1): 149–161.

Born, B., and M. Purcell. 2006. Avoiding the local trap: Scale and food systems in planning research. Journal of Planning Education and Research 26(2): 195–207.

Bosschaert, T. 2008. Large scale urban agriculture. Rotterdam: Except Integrated Sustainability Netherlands. http://www.except.nl/en/#.en.articles.91-large-scale-urban-agriculture. Accessed 14 Nov 2012.

Brock, A. 2008. Room to grow: Participatory landscapes and urban agriculture at NYU. New York: New York University.

Bryld, E. 2003. Potentials, problems, and policy implications for urban agriculture in developing countries. Agriculture and Human Values 20(1): 79–86.

Callebaut, V. 2009. Dragonfly, a metabolic farm for urban agriculture. Space Magazine 488: 42–45.

Caplow, T. 2009. Building integrated agriculture: Philosophy and practice. In Urban futures 2030: Urban development and urban lifestyles of the future, ed. Heinrich Böll Foundation, 54–58. Berlin, Germany: Heinrich-Böll-Stiftung.

Castleton, H.F., V. Stovin, S.B.M. Beck, and J.B. Davinson. 2010. Green roofs: Building energy savings and the potential for retrofit. Energy and Buildings 42(10): 1582–1591.

Cohen, N., K. Reynolds, and R. Sanghvi. 2012. Five borough farm: Seeding the future of urban agriculture in New York City. New York: Design Trust for Public Space.

Delor, M. 2011. Current state of building-integrated agriculture, its energy benefits and comparison with green roofs—summary. Sheffield, U.K.: University of Sheffield.

Despommier, D. 2008. Cities dream of a second agricultural revolution. Space Magazine 488: 103–105.

Despommier, D. 2009. The rise of vertical farms. Scientific American 301(5): 80–87.

Despommier, D. 2010. The vertical farm: Feeding the world in the 21 st Century. New York: Thomas Dunne Books.

Despommier, D. 2011. The vertical farm: Controlled environment agriculture carried out in tall buildings would create greater food safety and security for large urban populations. Journal of Consumer Protection and Food Safety 6(2): 233–236.

De Wilt, J.G., and T. Dobbelaar. 2005. Agroparks: The concept, the responses, the practice. Utrecht, The Netherlands: InnovationNetwork.

De Zeeuw, H. 2011. Cities, climate change and urban agriculture. Urban Agriculture Magazine 25: 39–42.

Dubbeling, M. 2011. Integrating urban agriculture in the urban landscape. Urban Agriculture Magazine 25: 43–46.

Ellingsen, E. 2008. Pyramid farm. Space Magazine 488: 118–119.

Ellingsen, E.C., and D. Despommier. 2008. The vertical farm—the origin of a 21st century architectural typology. CTBUH Journal 2008(3): 26–34.

Engelhard, B. 2010. Rooftop to tabletop: Repurposing urban roofs for food production. Masters Thesis. University of Washington.

Food and Agriculture Organization (FAO). 2011. FAO statistical yearbook 2010. Rome: FAO.

Food and Agriculture Organization (FAO). 2012. FAO's views on bioenergy. http://www.fao.org/bioenergy/47280/en/. Accessed 7 Nov 2012.

Fernandez, A., and S. Ortega. 2008. Coastal fog tower. Space Magazine 488: 120–121.

Germer, J., J. Sauerborn, F. Asch, J. de Boer, J. Schreiber, G. Weber, and J. Müller. 2011. Skyfarming an ecological innovation to enhance global food security. Journal of Consumer Protection and Food Safety 6(2): 237–251.

Ghosh, S. 2004. Food production in cities. Acta Horticulturae 643: 233–239.

Gorgolewski, M., J. Komisar, and J. Nasr. 2011. Carrot city: Creating places for urban agriculture. New York: The Monacelli Press.

Graber, A., A. Schoenborn, and R. Junge. 2011. Closing water, nutrient and energy cycles within cities by urban farms for fish and vegetable Production. International Water Association Newsletter 37: 37–41.

Graff, G. 2008. Sky farm. Space Magazine 488: 116–117.

Graff, G. 2009. A greener revolution: An argument for vertical farming. Plan Canada 49(2): 49–51.

Guenther, D. 2008. Center for urban agriculture. Space Magazine 488: 114–115.

Guthman, J. 2003. Fast food/organic food: Reflexive tastes and the making of 'yuppie chow'. Social & Cultural Geography 4(1): 45–58.

Guthman, J. 2008. Bringing good food to others: Investigating the subjects of alternative food practice. Cultural Geographies 15(4): 431–447.

Hidaka, K., D. Yasutake, E. Ito, S. Imai, and M. Kitano. 2008. Innovative cultivation of vegetables on vertically moving beds controlled by double seesaw mechanics. Acta Horticulturae 801: 1205–1210.

Hill, D.R. 2009. Green roofs design: The landscape architecture of intensive green roofs in urban settings. Master's Thesis. Florida A&M University.

Hui, S.C.M. 2011. Green roof urban farming for buildings in high-density urban cities. In Paper presented at World green roof conference, 18–21 Mar, Hainan, China.

Islam, K.M.S. 2004. Rooftop gardening as a strategy of urban agriculture for food security: The case of Dhaka City, Bangladesh. Acta Horticulturae 643: 241–247.

International Union for Conservation of Nature (IUCN). 2006. The future of sustainability: Re-thinking environment and development in the twenty-first century. Report of the IUCN Renowned Thinkers Meeting, 29–31 Jan 2006.

Jacobs, C. 2008. Vertical farm. Space Magazine 488: 110–111.

Köhler, M., W. Wiartalla, and R. Feige. 2007. Interaction between PV-systems and extensive green roofs. In Proceedings of the fifth annual greening rooftops for sustainable communities conference, 29 Apr–1 May 2007, Minneapolis, MN. Toronto: Green Roofs for Healthy Cities.

Komisar, J., J. Nasr, and M. Gorgolewski. 2009. Designing for food and agriculture: Recent explorations at Ryerson University. Open House International 34(2): 61–70.

Kortright, R. 2001. Evaluating the potential of green roof agriculture: A demonstration project. Unpublished paper. Trent University, Peterborough, Ontario.

Kurasek, B. 2008. Living skycraper. Space Magazine 488: 112–113.

Lee-Smith, D., and G. Prain. 2006. Understanding the links between agriculture and health. Focus 13, Brief 13. Washington, D.C.: International Food Policy Research Institute.

Linsley, B., and T. Caplow. 2008. Sustainable urban agriculture. Urban Land 2008(1): 52–55.

Lock, K., and H. de Zeeuw. 2001. Health risks associated with urban agriculture. In Annotated bibliography on urban agriculture, ed. W. Bruinsma, and W. Hertog. Leusden, The Netherlands: ETC-Urban Agriculture Programme.

Lovell, S.T. 2010. Multifunctional urban agriculture for sustainable land use planning in the United States. Sustainability 2(8): 2499–2522.

McBride, J. 1994. Rooftop greenhouse provides nutrition answers. Agricultural Research 42(5): 12–15.

Mendes, W. 2008. Implementing social and environmental policies in cities: The case of food policy in Vancouver, Canada. International Journal of Urban and Regional Research 32(4): 942–967.

Mougeot, L.J.A. 2000. Urban agriculture: Definition, presence, potentials and risks, and policy challenges. Cities Feeding People Series Report 31. Ottawa: International Development Research Centre.

Nelkin, J., and T. Caplow. 2007. Floating hydroponics in the Big Apple. Growing Edge 18(4): 38–40.

Nelkin, J.B., and T. Caplow. 2008. Sustainable controlled environment agriculture for urban areas. Acta Horticulturae 801: 449–456.

Nelms, C., A. Russell, and B. Lence. 2005. Assessing the performance of sustainable technologies for building projects. Canadian Journal of Civil Engineering 32(1): 114–128.

Nowak, M. 2004. Urban agriculture on the rooftop. Senior Honors Thesis. Cornell University.

Pothukuchi, K., and J.L. Kaufman. 1999. Placing the food system on the urban agenda: The role of municipal institutions in food systems planning. Agriculture and Human Values 16(2): 213–224.

Puri, V., and T. Caplow. 2009. How to grow food in the 100% renewable city: Building-integrated agriculture. In 100% renewable: Energy autonomy in action, ed. P. Droege, 229–241. London: Earthscan.

Raja, S., C. Ma, and P. Yadav. 2008. Beyond food deserts: Measuring and mapping racial disparities in neighborhood food environments. Journal of Planning Education and Research 27: 469–482.

Rödiger, M.S. 2009. Commercial urban agriculture: An option for European Cities?. Brusells, Belgium: Vrije Universiteit Brussel.

Rodriguez, O. 2009. London rooftop agriculture: A preliminary estimate of productive potential. M.Arch. Dissertation. Welsh School of Architecture.

Roman, H.T. 2010. Rooftop garden design challenge. Technology and Engineering Teacher 70(1): 16–18.

Sartoux, P. 2008. The arable city. Space Magazine 488: 123.

Sartoux, P., and A. Rosenstiehl. 2008. Ecological tower. Space Magazine 488: 106–107.

Sauerborn, J. 2011. Skyfarming: An alternative to horizontal croplands. Resource: Engineering and Technology for a Sustainable World 18(1): 19.

Säumel, I., I. Kotsyuk, M. Hölscher, C. Lenkereit, F. Weber, and I. Kowarik. 2012. How healthy is urban horticulture in high traffic areas? Trace metal concentrations in vegetable crops from plantings within inner city neighbourhoods in Berlin, Germany. Environmental Pollution 165: 124–132.

Schäfer, R. 1996. Jardin Atlantique. Garten und Landschaft 106: 16–22.

van der Schans, J.W. 2010. Urban agriculture in the Netherlands. Urban Agriculture Magazine 24: 40–42.

Smit, J., J. Nasr, and A. Ratta. 1996. Urban agriculture: Food, jobs and sustainable cities. New York: UNDP.

Steel, C. 2009. Hungry city: How food shapes our lives. London: Vintage Books.

Stierand, P. 2008. Food and the city: The relevance of the food system for urban development. Original title (German): Stadt und Lebensmittel: Die Bedeutung des städtischen Ernährungssystems für die Stadtentwicklung. Dissertation. Faculty of Spatial Planning, Technical University of Dortmund.

Lawrence, J. 1996. Urban agriculture: The potential of rooftop gardening. Toronto: York University.

Todd, N.J., and J. Todd. 1994. From eco-cities to living machines: Principles of ecological design. Berkeley, CA: North Atlantic Books.

UNFCCC. 2010. United Nations Framework Convention on Climate Change. http://unfccc.int. Accessed 23 Aug 2011.

United Nations. 1987. Brundtland Report: Report of the World Commission on Environment and Development: Our Common Future. http://www.un-documents.net/our-common-future.pdf. Accessed 14 Nov 2012.

United Nations. 2004. World population to 2300. New York: Department of Economic and Social Affairs, United Nations.

Vogel, G. 2008. Upending the traditional farm. Science 319: 752–753.

Weber, C.L., and H.S. Matthews. 2008. Food-miles and the relative climate impacts of food choices in the United States. Environmental Science and Technology 42(10): 3508–3513.

Wilson, G. 2002. Can urban rooftop microfarms be profitable? Urban Agriculture Magazine 7: 22–24.

Wilson, G. 2004. Why urban rooftop microfarms are needed for sustainable Australian cities. Australia: Network Publishing Pty Ltd.

Woetzel, J. 2011. China's cities in the sky. http://whatmatters.mckinseydigital.com/ Accessed 23 Aug 2011.

Wong, N.H., D.K.W. Cheong, H. Yan, J. Soh, C.L. Ong, and A. Sia. 2003a. The effects of rooftop garden on energy consumption of a commercial building in Singapore. Energy and Buildings 35(4): 353–364.

Wong, N.H., S.F. Tay, R. Wong, C.L. Ong, and A. Sia. 2003b. Life cycle cost analysis of rooftop gardens in Singapore. Building and Environment 38: 499–509.

Yeang, K., and M. Guerra. 2008. Building integrated food production. Architectural Design 78(6): 128–131.

Yuen, B., and W.N. Hien. 2005. Resident perceptions and expectations of rooftop gardens in Singapore. Landscape and Urban Planning 73(4): 263–276.

Zande, R.V. 2006. The advantages of a rooftop garden and other things. International Journal of Art & Design Education 25(2): 205–216.

ZinCo. 2012. Planning guide: Solar energy and green roofs. http://www.zinco-greenroof.com. Accessed 7 Nov 2012.
Acknowledgments
We appreciate the time and effort that the editor and reviewers have taken to comment on our paper and we want to thank them for their useful suggestions concerning our manuscript. Funding from the Federal Ministry of Education and Research, Germany (BMBF) has supported this work (funding code FKZ 16I1619). The Leibniz Centre for Agricultural Landscape Research (ZALF) is institutionally funded by the Federal Ministry of Food, Agriculture and Consumer Protection (BMELV) and the Ministry for Science, Research and Culture of the State of Brandenburg (MWFK).
About this article
Cite this article
Specht, K., Siebert, R., Hartmann, I. et al. Urban agriculture of the future: an overview of sustainability aspects of food production in and on buildings. Agric Hum Values 31, 33–51 (2014). https://doi.org/10.1007/s10460-013-9448-4
Accepted:

Published:

Issue Date:
Keywords
Food system

Urban innovation

Multifunctional landscape

Integrated building

Rooftop greenhouse

Zero acreage

Sustainability

ZFarming