Abstract
Food security is a fundamental element of community health. Informal house-lot food growing, by providing convenient access to diverse varieties of affordable and nutritious produce, can provide an important support for community food security. In this exploratory assessment of the contribution home food gardening makes to community food security, in-depth interviews were conducted with gardeners in two contrasting neighborhoods in Toronto, Canada. A typology of food gardeners was developed, and this qualitative understanding of residential food production was then assessed from a community food security perspective. It was found that growing food contributes to food security at all income levels by encouraging a more nutritious diet. The sustainability of household food sourcing and gardeners' overall health and well-being also increased with food production. Secure access to suitable land to grow food and gardening skills were the most significant barriers found to residential food production.
Access options
Buy single article
Instant access to the full article PDF.
US$ 39.95
Tax calculation will be finalised during checkout.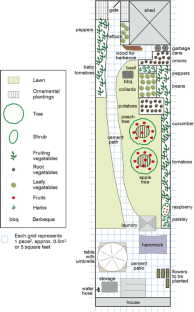 Notes
1.

While animal husbandry could plausibly occur as part of home food production, there are numerous restrictions on the production of food from animals in many North American cities, and as a result animal farming in the city is rare and often illicit.

2.

Pseudonyms are used to refer to the gardeners interviewed.
References
Akbari, H., M. Pomerantz, and H. Taha. 2001. Cool surfaces and shade trees to reduce energy use and improve air quality in urban areas. Solar Energy 70(3): 295–310.

Anderson, M.D., and J.T. Cook. 1999. Community food security: Practice in need of theory? Agriculture and Human Values 16: 141–150.

Baker, L.E. 2002. Seeds of our city: Case studies from eight diverse gardens in Toronto. Toronto: FoodShare.

Baker, L., J. Huh, and A.M. Brose. 2003. Rich harvest. Alternatives 29(1): 21.

Ban, N., and O.T. Coomes. 2004. Home gardens in Amazonian Peru: Diversity and exchange of planting material. Geographical Review 94(3): 348–367.

Bhatti, M. 2006. "When I'm in the garden I can create my own paradise": Homes and gardens in later life. The Sociological Review 54(2): 318–341.

Blair, D., C.C. Giesecke, and S. Sherman. 1991. A dietary, social, and economic evaluation of the Philadelphia urban gardening project. Journal of Nutrition Education 23(4): 161–167.

Bunce, M., and J. Maurer. 2005. Prospects for agriculture in the Toronto region: The farmer perspective. Toronto: Neptis Foundation.

Christie, M.E. 2004. Kitchenspace, fiestas, and cultural reproduction in Mexican house-lot gardens. Geographical Review 94(3): 368–390.

City Farmer. 2002. City dwellers are growing food in surprising numbers! http://www.cityfarmer.org/40percent.html. Accessed 8 October 2008.

City of Toronto. 2008. Toronto neighborhood profiles. http://www.toronto.ca/demographics/neighbourhoods.htm. Accessed 23 November 2008.

Companioni, N., Y.O. Hernandez, E. Paez, and C. Murphy. 2002. The growth of urban agriculture. In Sustainable agriculture and resistance: Transforming food production in Cuba, ed. F. Funes, L. Garcia, M. Bourque, N. Perez, and P. Rosset, 220–236. Oakland: Food First Books.

Corbin, J., and A. Strauss. 1990. Grounded theory research: Procedures, canons, and evaluative criteria. Qualitative Sociology 13(1): 3–21.

Curtis, S. 2004. Health and inequality: Geographical perspectives. London: Sage Publications.

Dawson, J., J. Sheeshka, D.C. Cole, D. Kraft, and A. Waugh. 2008. Fishers weigh in: Benefits and risks of eating Great Lakes fish from the consumer's perspective. Agriculture and Human Values 25: 349–364.

DeLind, L.B., and P.H. Howard. 2008. Safe at any scale? Food scares, food regulation, and scaled alternatives. Agriculture and Human Values 25: 301–317.

Dubois, L. 2006. Food, nutrition, and population health: From scarcity to social inequalities. In Healthier societies: From analysis to action, ed. J. Heymann, C. Hertzman, M.L. Barer, and R.G. Evans, 135–172. New York: Oxford University Press.

Eisenhardt, K.M. 2002. Building theories from case study research. In The qualitative researcher's companion, ed. A.M. Huberman, and M.B. Miles, 5–35. Thousand Oaks: Sage Publications.

FAO (United Nations Food and Agriculture Organization). 2008. World food day. http://www.fao.org/getinvolved/worldfoodday/en/. Accessed 13 October 2008.

Forkes, J. 2007. Nitrogen balance for the urban food metabolism of Toronto, Canada. Resources, Conservation and Recycling 52: 74–94.

Gaynor, A. 2006. Harvest of the suburbs: An environmental history of growing food in Australian Cities. Crawley: University of Western Australia Press.

Hamm, M.W., and A.C. Bellows. 2003. Community food security and nutrition educators. Journal of Nutrition Education and Behaviour 35(1): 37–43.

Head, L., P. Muir, and E. Hampel. 2004. Australian backyard gardens and the journey of migration. Geographical Review 94(3): 326–347.

Health Canada. 2007. Canadian community health survey cycle 2.2, nutrition (2004): Income-related household food security in Canada. Ottawa: Health Canada.

Hunt, J.D., and J. Wolschke-Bulmahn. 1993. The vernacular garden. Washington: Dumbarton Oaks Research Library and Collection.

Kimber, C.L. 2004. Gardens and dwelling: People in vernacular gardens. The Geographical Review 94(3): 263–283.

Klindienst, P. 2006. The earth knows my name: Food, culture, and sustainability in the gardens of ethnic Americans. Boston: Beacon Press.

Levkoe, C.Z. 2006. Learning democracy through food justice movements. Agriculture and Human Values 23: 89–98.

Mariola, M.J. 2008. The local industrial complex? Questioning the link between local foods and energy use. Agriculture and Human Values 25: 193–196.

Miles, M.B., and A.M. Huberman. 1994. Qualitative data analysis: An expanded sourcebook, 2nd ed. Thousand Oaks: Sage Publications.

Milligan, C., A. Gatrell, and A. Bingley. 2004. "Cultivating health": Therapeutic landscapes and older people in northern England. Social Science and Medicine 58: 1781–1793.

Morison, J.I.L., N.R. Baker, P.M. Mullineaux, and W.J. Davies. 2008. Improving water use in crop production. Philosophical Transactions of the Royal Society B 363: 639–658.

Morland, K., S. Wing, and A. Roux. 2002. The contextual effect of the local food environment on residents' diets. American Journal of Public Health 92(11): 1761–1767.

Morton, L.W., E.A. Bitto, M.J. Oakland, and M. Sand. 2008. Accessing food resources: Rural and urban patterns of giving and getting food. Agriculture and Human Values 25: 107–119.

Mougeot, L.J.A. 2005. Agropolis: The social, political, and environmental dimensions of urban agriculture. Ottawa: International Development Research Centre.

Petts, J. 2005. The economics of urban and peri-urban agriculture. In Continuous productive urban landscapes: Designing urban agriculture for sustainable cities, ed. A. Viljoen, K. Bohn, and J. Howe, 65–77. Oxford: Architectural Press.

Pollan, M. 1991. Second nature: A gardener's education. New York: Atlantic Monthly Press.

Pothukuchi, K., and J.L. Kaufman. 1999. Placing the food system on the urban agenda: The role of municipal institutions in food systems planning. Agriculture and Human Values 16: 213–224.

RRFSS (Rapid Risk Factor Surveillance System). 2007. RRFSS Query System. http://www.rrfss.on.ca/query/index.php. Accessed 29 November 2008.

Schellenberg, G. 2004. Immigrants in Canada's census metropolitan areas. Catalogue no. 89-613-MIE-No. 003. Ottawa: Statistics Canada.

Statistics Canada. 2007a. CANSIM Table 105-0501: Canadian community health survey indicator profile. Ottawa: Statistics Canada.

Statistics Canada. 2007b. Households and the environment 2006, Catalogue no. 11-526-XIE. Ottawa: Statistics Canada.

Statistics Canada. 2008. Census tract profiles, 2006 census. Catalogue no. 92-597-XWE. Ottawa: Statistics Canada.

Taylor, S.J., and R. Bogdan. 1998. Introduction to qualitative research methods: A guidebook and resource, 3rd ed. New York: Wiley.

Thomasson, D.A. 1994. Montserrat kitchen gardens: Social functions and development potential. Caribbean Geography 5(1): 20–31.

Trinh, L.N., J.W. Watson, N.N. Huec, N.N. Ded, N.V. Minh, P. Chuf, B.R. Sthapit, and P.B. Eyzaguirre. 2003. Agrobiodiversity conservation and development in Vietnamese home gardens. Agriculture, Ecosystems & Environment 97: 317–344.

Wakefield, S., F. Yeudall, C. Taron, J. Reynolds, and A. Skinner. 2007. Growing urban health: Community gardening in South-East Toronto. Health Promotion International 22(2): 92–101.

Warner Jr., S.B. 1987. To dwell is to garden: A history of Boston's community gardens. Boston: Northeastern University Press.

Watts, M., and D. Goodman. 1997. Metabolism: Nature, culture, and industry in fin-de-siècle agro-food systems. In Globalizing food: Agrarian questions and global restructuring, ed. D. Goodman, and M. Watts, 1–32. London: Routeledge.

Westmacott, R. 1992. African-American gardens and yards in the rural South. Knoxville: University of Tennessee Press.

White, R. 2002. Building the ecological city. Cambridge: Woodhead Publishing.

WHO (World Health Organization). 2009. Food security. http://www.who.int/trade/glossary/story028/en/. Accessed 21 June 2009.

Wilson, A. 1992. The culture of nature: North American landscape from Disney to the Exxon Valdez. Cambridge: Blackwell.

Winklerprins, A. 2002. House-lot gardens in Santarém, Pará, Brazil: Linking rural with urban. Urban Ecosystems 6: 43–65.

Xuereb, M. 2005. Food miles: Environmental implications of food imports to waterloo region. Waterloo: Region of Waterloo Public Health.
Acknowledgments
We thank the participants in this study for sharing their experiences and opening their gardens to us. Our thanks also go to the Centre for Urban Health Initiatives for its generous financial support, and to Saron Ghebressellassie, the project research assistant, for her hard work and good company.
About this article
Cite this article
Kortright, R., Wakefield, S. Edible backyards: a qualitative study of household food growing and its contributions to food security. Agric Hum Values 28, 39–53 (2011). https://doi.org/10.1007/s10460-009-9254-1
Accepted:

Published:

Issue Date:
Keywords
Home gardening

Household food production

Urban agriculture

Community food security