Abstract
Theoretical understanding of what motivates clinician researchers has met with some success in launching research careers, but it does not account for professional identification as a factor determining sustained research engagement over the long-term. Deeper understanding of clinicians' research-related motivation may better foster their sustained research engagement post-training and, by extension, the advancement of medicine and health outcomes. This study used an integrated theoretical framework (Social Cognitive Career Theory and Professional Identity Formation) and appreciative inquiry to explore the interplay of professional identification and research context in shaping post-training research success narratives. To foreground professional identification, 19 research-active clinicians and 17 basic scientists served as interviewees. A multi-institutional, multi-national design was used to explore how contextual factors shape external valuation of research success. The findings suggest that research-active clinicians do not identify as the career scientists implied by the modern physician-scientist construct and the goal of many clinician research-training programs. Their primary identification as care providers shapes their definition of research success around extending their clinical impact; institutional expectations and prevailing healthcare concerns that value this aim facilitate their sustained research engagement. Integrated developmental and organizational interventions adaptive to research context and conducive to a wider range of medical inquiry may better leverage clinicians' direct involvement in patient care and advance progress toward human health and well-being.
Access options
Buy single article
Instant access to the full article PDF.
US$ 39.95
Tax calculation will be finalised during checkout.
Subscribe to journal
Immediate online access to all issues from 2019. Subscription will auto renew annually.
US$ 79
Tax calculation will be finalised during checkout.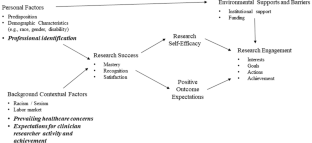 References
Ajjawi, R., Crampton, P. E. S., & Rees, C. E. (2018). What really matters for successful research environments? A realist synthesis. Medical Education, 52, 936–950.

Bakken, L. L., Byars-Winston, A., Gundermann, D. M., Ward, E. C., Slattery, A., King, A., et al. (2010). Effects of an educational intervention on female biomedical scientists' research self-efficacy. Advances in Health Sciences Education, 15, 167–183.

Bakken, L. L., Byars-Winston, A., & Wang, M. F. (2006). Viewing clinical research career development through the lens of cognitive theory. Advances in Health Sciences Education, 11, 91–110.

Bensken, W. P., Nath, A., & Heiss, J. D. (2019). Future directions of training physician-scientists: reimagining and remeasuring the workforce. Academic Medicne, 94(5), 659–663.

Bierer, S. B., Prayson, R. A., & Dannefer, E. F. (2015). Association of research self-efficacy with medical student career interests, specialization, and scholarship: A case study. Advances in Health Sciences Education, 20(2), 339–354.

Boyd, N. M., & Bright, D. S. (2007). Appreciative inquiry as a mode of action research for community psychology. Journal of Community Psychology, 35(8), 1019–1036.

Braun, V., & Clarke, V. (2006). Using thematic analysis in psychology. Qualitative Research in Psychology, 3(2), 77–101.

Byars-Winston, A., Gutierrez, B., Topp, S., & Carnes, M. (2011). Integrating theory and practice to increase scientific workforce diversity: A framework for career development in graduate research training. Life Sciences Education, 10(4), 357–367.

Centers for Disease Control and Prevention (CDC): Global health—Pakistan. (2017a). https://www.cdc.gov/globalhealth/countries/pakistan/default.htm. Retrieved May 20, 2019.

Centers for Disease Control and Prevention (CDC): Leading causes of death. (2017b). https://www.cdc.gov/nchs/fastats/leading-causes-of-death.htm. Retrieved May 20, 2019.

Coleman, M. M., Blatt, B., & Greenberg, L. (2012). Preparing students to be academicians: A national student-led summer program in teaching, leadership, scholarship, and academic medical career-building. Academic Medicine, 87(12), 1734–1741.

Ganetsky, R. D. (2017). Becoming a physician-scientist: A view looking up from base camp. Academic Medicine, 92(10), 1373–1374.

Hall, A. K., Mills, S. L., & Lund, P. K. (2017). Clinician-investigator training and the need to pilot new approaches to recruiting and retaining this workforce. Academic Medicine, 92(10), 1382–1389.

Harding, C. V., Akabas, M. H., & Andersen, O. S. (2017). History and outcomes of 50 years of physician-scientist training in medical scientist training programs. Academic Medicine, 92(10), 1390–1398.

Kluijtmans, M., de Haan, E., Akkerman, S., & van Tartwijk, J. (2017). Professional identity in clinician-scientists: Brokers between care and science. Medical Education, 51, 645–655.

Lent, R. W., Brown, S. D., & Hackett, G. (2002). Social cognitive career theory. In D. Brown & Associates (Eds.), Career choice and development (4th ed., pp. 255–311). San Francisco: Jossey-Bass.

Lingard, L., Zhang, P., & Strong, M. (2017). Strategies for supporting physician-scientists in faculty roles: A narrative review with key informant consultations. Academic Medicine, 92(10), 1421–1428.

Loftus, S. (2018). Thinking like a scientist and thinking like a doctor. Medical Science Educator, 28, 251–254.

Ludmerer, K. M. (1999). Time to heal: American medical education from the turn of the century to the era of managed care. New York: Oxford University Press.

McKinney, R. E., Jr. (2017). The daunting career of the physician-investigator. Academic Medicine, 92(10), 1368–1370.

Mervis, J. (2017). Data check: Federal share of basic research hits new low. Science, 355(6329), 1005.

Monrouxe, L. V. (2010). Identity, identification and medical education: Why should we care? Medical Education, 44, 40–49.

Moy, R. H. (1979). Critical values in medical education. New England Journal of Medicine, 301(13), 694–697.

Mullikin, E. A., Bakken, L. L., & Betz, N. E. (2007). Assessing research self-efficacy in physician-scientists: The clinical research appraisal inventory. Journal of Career Assessment, 15(3), 367–387.

O'Sullivan, P. S., Niehaus, B., Lockspeiser, T. M., & Irby, D. M. (2009). Becoming an academic doctor: Perceptions of scholarly careers. Medical Education, 43, 335–341.

Steinman R. A., Proulx, C. N., & Levine, A. S. (2020). The highly structured Physician Scientist Training Program (PSTP) for medical students at the University of Pittsburgh. Academic Medicine, online ahead of print.

Reissman, C. K. (2005). Narrative analysis. In N. Kelly, C. Horrocks, K. Milnes, B. Roberts, & D. Robinson (Eds.), Narrative, memory, & everyday life (pp. 1–7). Huddersfield: University of Huddersfield.

Rosenblum, N. D., Kluijtmans, M., & ten Cate, O. (2016). Professional identity formation and the clinician-scientist: A paradigm for a clinical career combining two distinct disciplines. Academic Medicine, 91(12), 1612–1617.

Salata, R. A., Geraci, M. W., Rockey, D. C., Blanchard, M., Brown, N. J., Cardinal, L. J., et al. (2018). U.S. physician-scientist workforce in the 21st century: Recommendations to attract and sustain the pipeline. Academic Medicine, 93(4), 565–573.

Skinnider, M. A., Twa, D. D. W., Squair, J. W., Rosenblum, N. D., Lukac, C. D., & The Canadian MD/PhD Program Investigation Group. (2018). Predictors of sustained research involvement among MD/PhD programme graduates. Medical Education, 52, 536–545.

Tiyuri, A., Saberi, B., Miri, M., Shahrestanaki, E., Bayat, B. B., & Salehiniya, H. (2018). Research self-efficacy and its relationship with academic performance in postgraduate students of Tehran University of Medical Sciences in 2016. Journal of Educational and Health Promotion, 7, 11.

Wasser, J. D., & Bresler, L. (1996). Working in the interpretive zone: Conceptualizing collaboration in qualitative research teams. Educational Research, 25(5), 5–15.

Weggemans, M. M., Friesen, F. M., Kluijtmans, M., Prakken, B., ten Cate, O., Woods, N. N., et al. (2019). Critical gaps in understanding the clinician-scientist workforce: Results of an international expert meeting. Academic Medicine, 94(10), 1448–1454.

Yang, V. W. (2006). The future of physician-scientists: Demise or opportunity? Gastroenterology, 131, 697–698.
Ethics declarations
Conflict of interest
The authors declare that they have no conflict of interest.
Ethics approval
This study was performed in accordance with the ethical standards as laid down in U.S. Federal Policy for the Protection of Human Subjects ('Common Rule') and in the 1964 Declaration of Helsinki and its later amendments. This study was approved by the Southern Illinois University School of Medicine Institutional Review Board (protocol #16-608) and the Aga Khan University Ethical Review Committee (#4677-BBS-ERC-17).
Additional information
Publisher's Note
Springer Nature remains neutral with regard to jurisdictional claims in published maps and institutional affiliations.
About this article
Cite this article
Cianciolo, A.T., Mitzelfelt, J., Ghareeb, A. et al. Physician-scientist or basic scientist? Exploring the nature of clinicians' research engagement. Adv in Health Sci Educ (2020). https://doi.org/10.1007/s10459-020-09988-5
Received:

Accepted:

Published:
Keywords
Appreciative inquiry

Clinician research

Physician-scientist

Professional identity

Research motivation

Social cognitive career theory