Abstract
Disabled people are underrepresented within healthcare professions, although their participation has potential benefits for them personally, and for broader society. Disabled peoples' participation in healthcare professions is limited by assumptions about disability. Little research explores how healthcare professions can be organized to support disabled peoples' employment. Within a critical realist paradigm influenced by grounded theory, this study used interviews to explore the experiences of 56 disabled healthcare clinicians and students, and advance a conceptual taxonomy of disability experience within healthcare professions. Participants describe their experiences of disability in the healthcare professional context in terms of characteristics and dimensions of disability—how characteristics interact with factors within healthcare training and practice environments. We profile two particularly salient dimensions of the disability experience: visibility and onset of disability. These are developed to describe complexity and specificity of the experiences of individuals negotiating the healthcare context. Among participants there is extensive heterogeneity related to the experience of disability in healthcare professional contexts. Despite some having similar disability characteristics, no two individuals experience the same combination of characteristics and dimensions of disability. Given the complexity of experiences for disabled healthcare professionals/students, a taxonomy for conceptualizing this experience is presented. Readers are encouraged to consider the taxonomy through which they might conceptualize individual, embodied, and socially embedded experiences of disabled healthcare professionals and students. Stakeholders involved in healthcare professions and education should consider this shift in perspective, with a view to increasing access of disabled people to health professional practice.
This is a preview of subscription content,
to check access.
Access this article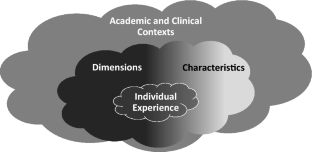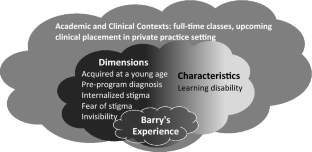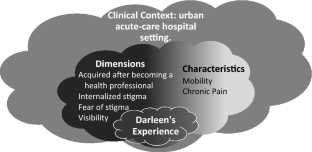 Notes
To protect participant identities, names have been changed, and details are compilations of various individuals.
References
Agocs, C. (2002). Canada's employment equity legislation and policy, 1987-2000: The gap between policy and practice. International Journal of Manpower,23, 256–276. https://doi.org/10.1108/01437720210432220.

Andre, K., & Manson, S. (2004). Students with disabilities undertaking clinical education experience. Collegian,11(4), 26–30. https://doi.org/10.1016/S1322-7696(08)60471-0.

Brown, K., James, C., & MacKenzie, L. (2006). The practice placement education experience: An Australian pilot study exploring the perspectives of health professional students with a disability. British Journal of Occupational Therapy,69(1), 31–37. https://doi.org/10.1177/030802260606900106.

Bulk, L. Y., Easterbrook, A., Roberts, E., Groening, M., Murphy, S., Lee, M., et al. (2017). 'We are not anything alike': Marginalization of health professionals with disabilities. Disability & Society,32(5), 615–634. https://doi.org/10.1080/09687599.2017.1308247.

Charmaz, K. (1990). "Discovering" chronic illness: Using grounded theory. Social Science and Medicine,30(11), 1161–1172. https://doi.org/10.1016/0277-9536(90)90256-R.

Collin, C., Lafontaine-Émond, I., & Pang, M. (2013). Persons with disabilities in the Canadian Labour Market: An overlooked talent pool. Ottawa: Canada Library of Parliament.

Easterbrook, A., Bulk, L. Y., Ghanouni, P., Lee, M., Opini, B., Roberts, E., et al. (2015). The legitimization process of students with disabilities in Health and Human Service educational programs in Canada. Disability & Society,30(10), 1505–1520. https://doi.org/10.1080/09687599.2015.1108183.

Easterbrook, A., Bulk, L. Y., Jarus, T., Hahn, B., Ghanouni, P., Lee, M., et al. (2019). University gatekeepers' use of the rhetoric of citizenship to relegate the status of students with disabilities in Canada. Disability & Society,34(1), 1–23.

Fletcher, A. J. (2017). Applying critical realism in qualitative research: Methodology meets method. International Journal of Social Research Methodology,20(2), 181–194. https://doi.org/10.1080/13645579.2016.1144401.

Floersch, J., Longhofer, J. L., Kranke, D., & Townsend, L. (2010). Integrating thematic, grounded theory and narrative analysis: A case study of adolescent psychotropic treatment. Qualitative Social Work: Research and Practice,9(3), 407–425. https://doi.org/10.1177/1473325010362330.

Francis, N. J., Salzman, A., Polomsky, D., & Huffman, E. (2007). Accommodations for a student with a physical disability in a professional physical therapist education program. Journal of Physical Therapy Education,21(2), 60–65.

Gable, A. S. (2014). Disability theorising and real-world educational practice: A framework for understanding. Disability & Society,29(1), 86–100. https://doi.org/10.1080/09687599.2013.776485.

Hafferty, F. W., & Gaufberg, E. (2013). The hidden curriculum. In Dent, J. A., Harden, R. M., & Hunt, D (Eds.), A practical guide for medical teachers. Elsevier health sciences.

Hughes, B. (2007). Being disabled: Towards a critical social ontology for disability studies. Disability & Society,22(7), 673–684. https://doi.org/10.1080/09687590701659527.

Hutcheon, E., & Wolbring, G. (2012). Voices of "disabled" post secondary students: Examining higher education "disability" policy using an ableism lens. Journal of Diversity in Higher Education,5(1), 39–49.

Hyman, I., Mercado, R., Galabuzi, G. E., & Patychuk, D. (2011). A critical review of social exclusion and inclusion indicators: Implications for the development of a canadian framework. Immigrant Integration: Research Implications for Future Policy, 85–102.

Jongbloed, L. (2003). Disability policy in Canada an overview. Journal of Disability Policy Studies,13(4), 203–209. https://doi.org/10.1177/104420730301300402.

Lingard, L., & Haber, R. J. (1999). Teaching and learning communication in medicine: A rhetorical approach. Academic Medicine: Journal of the Association of American Medical Colleges,74(5), 507–510. https://doi.org/10.1097/00001888-199905000-00015.

Linton, S. (1998). Claiming disability: Knowledge and identity. New York: NYU Press.

Mahood, S. C. (2011). Medical education: Beware the hidden curriculum. Canadian Family Physician,57, 983–985.

Meeks, L. M, & Jain, N. R. (2018). Accessibility, inclusion, and action in medical education: Lived experiences of learners and physicians with disabilities. Assocation of American Medical Colleges.

O'Brien, B. C., Harris, I. B., Beckman, T. J., Reed, D. A., & Cook, D. A. (2014). Standards for reporting qualitative research: A synthesis of recommendations. Academic Medicine,89(9), 1245–1251. https://doi.org/10.1097/ACM.0000000000000388.

Oliver, M. (1993). Re-defining disability: A challenge to research. In J. Swain, V. Finkelstein, S. French, & M. Oliver (Eds.), Disabling barriers—enabling environments (pp. 61–67). London, UK: Sage.

Parr, S. (2013). Integrating critical realist and feminist methodologies: Ethical and analytical dilemmas. International Journal of Social Research Methodology,18(2), 193–207.

Patton, M. Q. (2002). Qualitative research & evaluation methods (3rd ed.). Thousand Oaks, California: Sage Publications.

Reindal, S. M. (2008). A social relational model of disability: A theoretical framework for special needs education? European Journal of Special Needs Education,23(2), 135–146. https://doi.org/10.1080/08856250801947812.

Rimmerman, A., & Araten-Bergman, T. (2005). Legislation of handicapped rights and its implementation in Israel—trends and future directions. Social Security Journal,69, 11–31.

Shakespeare, T. (2013). Disability rights and wrongs revisited. Abingdon-on-Thames: Routledge.

Shakespeare, T., Iezzoni, L. I., & Groce, N. E. (2009). Disability and the training of health professionals. Lancet,374(9704), 1815–1816. https://doi.org/10.1016/S0140-6736(09)62050-X.

Shier, M., Graham, J. R., & Jones, M. E. (2009). Barriers to employment as experienced by disabled people: A qualitative analysis in Calgary and Regina. Canada. Disability & Society,24(1), 63–75. https://doi.org/10.1080/09687590802535485.

Shrewsbury, D. (2015). Disability and participation in the professions: Examples from higher and medical education. Disability & Society,30(1), 87–100. https://doi.org/10.1080/09687599.2014.982785.

Shrewsbury, D., Mogensen, L., & Hu, W. (2018). Problematizing medical students with disabilities: A critical policy analysis. MedEdPublish,7(1), 1–15. https://doi.org/10.15694/mep.2018.0000045.1.

Siebers, T. (2008). Disability theory. Ann Arbor, MI: University of Michigan Press. https://doi.org/10.3998/mpub.309723.

Spirito Dalgin, R., & Bellini, J. (2008). Invisible disability disclosure in an employment interview. Rehabilitation Counseling Bulletin,52(1), 6–15. https://doi.org/10.1177/0034355207311311.

Statistics Canada. (2007). Labour force survey, CANSIM table 282-0008.

The U.S. Equal Employment Opportunity Commission. (2011). Questions and answers about health care workers and the Americans with Disabilities Act.

Thomas, C. (2004). Rescuing a social relational understanding of disability. Scandinavian Journal of Disability Research,6(1), 22–36. https://doi.org/10.1080/15017410409512637.

Titchkosky, T. (2010). The not-yet-time of disability in the bureaucratization of university life. Disability Studies Quarterly. https://doi.org/10.18061/dsq.v30i3/4.1295.

von Schrader, S., Malzer, V., & Bruyère, S. (2014). Perspectives on disability disclosure: The importance of employer practices and workplace climate. Employee Responsibilities and Rights Journal,26(4), 237–255. https://doi.org/10.1007/s10672-013-9227-9.

Waldschmidt, A. (2010). Who is normal? Who is deviant? 'Normality' and 'Risk' in genetic diagnostics and counseling. In L. Tremain (Ed.), Foucault and the government of disability (pp. 191–207). Ipswich; Ann Arbor: University of Michigan Press.

Winter, J. A. (2003). The development of the disability rights movement as a social problem solver. Disability Studies Quarterly,23(1), 2. https://doi.org/10.18061/dsq.v23i1.399.

Yeowell, G., Rooney, J., & Goodwin, P. C. (2018). Exploring the disclosure decisions made by physiotherapists with a specific learning difficulty. Physiotherapy (United Kingdom),104(2), 203–208. https://doi.org/10.1016/j.physio.2017.10.003.
Additional information
Publisher's Note
Springer Nature remains neutral with regard to jurisdictional claims in published maps and institutional affiliations.
About this article
Cite this article
Bulk, L.Y., Tikhonova, J., Gagnon, J.M. et al. Disabled healthcare professionals' diverse, embodied, and socially embedded experiences. Adv in Health Sci Educ 25, 111–129 (2020). https://doi.org/10.1007/s10459-019-09912-6
Received:

Accepted:

Published:

Issue Date:

DOI: https://doi.org/10.1007/s10459-019-09912-6
Keywords