Abstract
Competency-based assessment is placing increasing emphasis on the direct observation of learners. For this process to produce valid results, it is important that raters provide quality judgments that are accurate. Unfortunately, the quality of these judgments is variable and the roles of factors that influence the accuracy of those judgments are not clearly understood. One such factor is first impressions: that is, judgments about people we do not know, made quickly and based on very little information. This study explores the influence of first impressions in an OSCE. Specifically, the purpose is to begin to examine the accuracy of a first impression and its influence on subsequent ratings. We created six videotapes of history-taking performance. Each video was scripted from a real performance by six examinee residents within a single OSCE station. Each performance was re-enacted with six different actors playing the role of the examinees and one actor playing the role of the patient and videotaped. A total of 23 raters (i.e., physician examiners) reviewed each video and were asked to make a global judgment of the examinee's clinical abilities after 60 s (First Impression GR) by providing a rating on a six-point global rating scale and then to rate their confidence in the accuracy of that judgment by providing a rating on a five-point rating scale (Confidence GR). After making these ratings, raters then watched the remainder of the examinee's performance and made another global rating of performance (Final GR) before moving on to the next video. First impression ratings of ability varied across examinees and were moderately correlated to expert ratings (r = .59, 95% CI [−.13, .90]). There were significant differences in mean ratings for three examinees. Correlations ranged from .05 to .56 but were only significant for three examinees. Rater confidence in their first impression was not related to the likelihood of a rater changing their rating between the first impression and a subsequent rating. The findings suggest that first impressions could play a role in explaining variability in judgments, but their importance was determined by the videotaped performance of the examinees. More work is needed to clarify conditions that support or discourage the use of first impressions.
This is a preview of subscription content, log in to check access.
Access options
Buy single article
Instant access to the full article PDF.
US$ 39.95
Price includes VAT for USA
Subscribe to journal
Immediate online access to all issues from 2019. Subscription will auto renew annually.
US$ 99
This is the net price. Taxes to be calculated in checkout.
Notes
1.

The term first impression is being used as a general term to refer to not only first impressions, but also thin slice judgements and zero acquaintance judgments.
References
AERA, APA, & NCME. (2014). Standards for educational and psychological testing (pp. 11–31). Washington, DC: American Educational Research Association.

Ambady, N. (2010). The perils of pondering: Intuition and thin slice judgments. Psychological Inquiry, 21(4), 271–278.

Ambady, N., Bernieri, F., & Richeson, J. (2000). Toward a histology of social behavior: Judgmental accuracy from thin slices of the behavioral stream. Advances in Experimental Social Psychology, 32, 201–271.

Ames, D. R., Kammrath, L. K., Suppes, A., & Bolger, N. (2010). Not so fast: The (not-quite-complete) dissociation between accuracy and confidence in thin-slice impressions. Personality and Social Psychology Bulletin, 36(2), 264–277.

Barrick, M. R., Swider, B. W., & Stewart, G. L. (2010). Initial evaluations in the interview: Relationships with subsequent interviewer evaluations and employment offers. The Journal of Applied Psychology, 95(6), 1163–1172.

Borkenau, P., & Liebler, A. (1992). Trait inferences: Sources of validity at zero acquaintance. Journal of Personality and Social Psychology, 62(4), 645–657.

Bown, M. H., Regehr, G., & Reznick, R. (1996). The effect of early performance on examiners' marking patterns during an oral examination. Academic Medicine, 71(1), s73–s75.

Burdick, M. P., & Schoffstall, J. (1995). Observation of emergency medicine residents at the bedside: How often does it happen. Academic Emergency Medicine, 2(10), 909–913.

Carney, D., Colvin, C., & Hall, J. (2007). A thin slice perspective on the accuracy of first impressions. Journal of Research in Personality, 41(5), 1054–1072.

Cooper, W. H. (1981). Ubiquitous halo. Psychological Bulletin, 90(2), 218–244.

Croskerry, P. (2009). Clinical cognition and diagnostic error: Applications of a dual process model of reasoning. Advances in Health Sciences Education, 14, 27–35.

Dougherty, T. W., Turban, D. B., & Callender, J. C. (1994). Confirming first impressions in the employment interview: A field study of interview behaviour. Journal of Applied Psychology, 5(5), 659–665.

Evans, J. S. B. T. (2008). Dual-processing accounts of reasoning, judgment, and social cognition. Annual Review of Psychology, 59, 255–278.

Funder, D. C. (1987). Errors and mistakes: Evaluating the accuracy of social judgment. Psychological Bulletin, 101(1), 75–90.

Govaerts, M. J. B., Schuwirth, L. W. T., Van der Vleuten, C. P. M., & Muijtjens, A. M. M. (2011). Workplace-based assessment: Effects of rater expertise. Advances in Health Sciences Education, 16(2), 151–165.

Harris, M., & Garris, C. (2008). You never get a second chance to make a first impression. In N. Ambady & J. Skowronski (Eds.), First impressions (pp. 147–168). New York: Guilford Press.

Holmboe, E. S., Sherbino, J., Long, D. M., Swing, S. R., & Frank, J. R. (2010). The role of assessment in competency-based medical education. Medical Teacher, 32(8), 676–682.

Kahneman, D. (2011). Thinking, fast and slow. Canada: Doubleday.

Lopes, L. L. (1991). The rhetoric of irrationality. Theory and Psychology, 1(1), 65–82.

Macan, T. H., & Dipboye, R. L. (1990). The relationship of interviewer's preinterview impressions to selection and recruitment outcomes. Personnel Psychology, 43(4), 745–768.

Martin, J. A., Reznick, R., Rothman, A., Tamblyn, R., & Regehr, G. (1996). Who should rate candidates in an objective structured clinical examination? Academic Emergency Medicine, 71(2), 170–175.

Murphy, K. R., Jako, R. A., & Anhalt, R. L. (1993). Nature and consequences of halo error: A critical analysis. Journal of Applied Psychology, 78(2), 218–225.

Norman, G. R. (2009). Dual processing and diagnostic errors. Advances in Health Sciences Education, 14(1), 37–49.

Pelgrim, E. A., Kramer, A. W., Mokkink, H. G., & Van der Vleuten, C. P. M. (2012). The process of feedback in workplace-based assessment: Organisation, delivery, continuity. Medical Education, 46(6), 604–612.

Rannelli, L., Coderre, S., Paget, M., Woloschuk, W., Wright, B., & Mclaughlin, K. (2014). How do medical students form impressions of the effectiveness of classroom teachers? Medical Education, 48(8), 831–837.

Smith, H. J., Archer, D., & Costanzo, M. (1991). Just a hunch?: Accuracy and awareness in person perception. Journal of Nonverbal Behavior, 15(1), 3–18.

Touchie, C., Humphrey-Murto, S., Ainslie, M., Myers, K., & Wood, T. J. (2010). Two models of raters in a structured oral examination: Does it make a differnece? Advances in Health Sciences Education, 15(1), 97–108.

Williams, R. G., Dunnington, G. L., Mellinger, J. D., & Klamen, D. L. (2015). Placing constraints on the use of the ACGME milestones: A commentary on the limitations of global performance ratings. Academic Medicine, 90(4), 404–407.

Wood, T. J. (2014). Exploring the role of first impressions in rater-based assessments. Advances in Health Sciences Education, 19(3), 409–427.

Yaphe, J., & Street, S. (2003). How do examiners decide?: A qualitative study of the process of decision making in the oral examination component of the MRCGP examination. Medical Education, 37(9), 764–771.
Acknowledgements
This research was supported in part by a research grant from the Department of Medicine, University of Ottawa. The authors would like to acknowledge Lesley Ananny, Sarah Lynch, and Meredith Mackay for their help on this study as well as the Department of Innovation in Medical Education. In addition, the authors would like to thank the anonymous reviewers for their kind suggestions.
Appendix: Rating scales used in the study
Appendix: Rating scales used in the study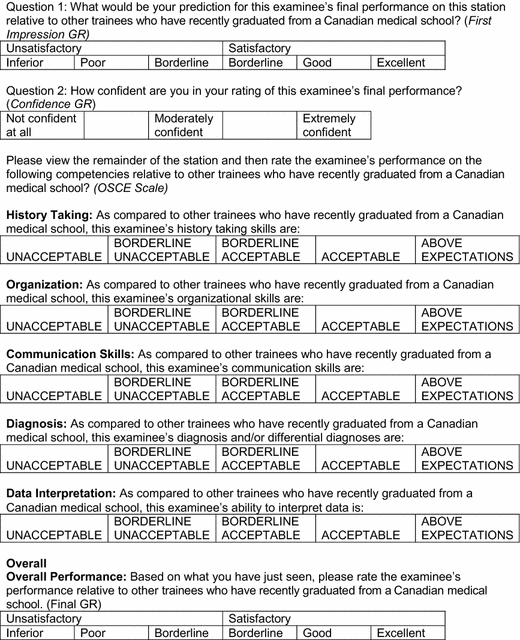 About this article
Cite this article
Wood, T.J., Chan, J., Humphrey-Murto, S. et al. The influence of first impressions on subsequent ratings within an OSCE station. Adv in Health Sci Educ 22, 969–983 (2017). https://doi.org/10.1007/s10459-016-9736-z
Received:

Accepted:

Published:

Issue Date:
Keywords
Rater cognition

First impression

OSCE

Rater-based assessment