Abstract
There are various educational methods used in anatomy teaching. While three dimensional (3D) visualization technologies are gaining ground due to their ever-increasing realism, reports investigating physical models as a low-cost 3D traditional method are still the subject of considerable interest. The aim of this meta-analysis is to quantitatively assess the effectiveness of such models based on comparative studies. Eight studies (7 randomized trials; 1 quasi-experimental) including 16 comparison arms and 820 learners met the inclusion criteria. Primary outcomes were defined as factual, spatial and overall percentage scores. The meta-analytical results are: educational methods using physical models yielded significantly better results when compared to all other educational methods for the overall knowledge outcome (p < 0.001) and for spatial knowledge acquisition (p < 0.001). Significantly better results were also found with regard to the long-retention knowledge outcome (p < 0.01). No significance was found for the factual knowledge acquisition outcome. The evidence in the present systematic review was found to have high internal validity and at least an acceptable strength. In conclusion, physical anatomical models offer a promising tool for teaching gross anatomy in 3D representation due to their easy accessibility and educational effectiveness. Such models could be a practical tool to bring up the learners' level of gross anatomy knowledge at low cost.
Access options
Buy single article
Instant access to the full article PDF.
US$ 39.95
Tax calculation will be finalised during checkout.
Subscribe to journal
Immediate online access to all issues from 2019. Subscription will auto renew annually.
US$ 79
Tax calculation will be finalised during checkout.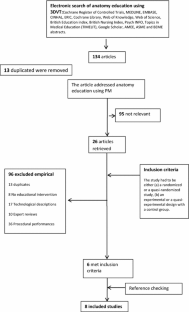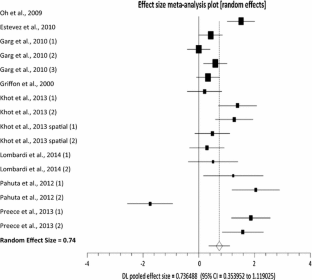 References
Bhangu, A., Boutefnouchet, T., et al. (2010). A three-year prospective longitudinal cohort study of medical students' attitudes toward anatomy teaching and their career aspirations. Anatomical Sciences Education, 3, 184–190.

Chan, L. K., & Cheng, M. M. (2011). An analysis of the educational value of low-fidelity anatomy models as external representations. Anatomical Sciences Education, 4, 256–263.

Cottam, W. W. (1999). Adequacy of medical school gross anatomy education as perceived by certain postgraduate residency programs and anatomy course directors. Clinical Anatomy, 12, 55–65.

Das, S., & Mitchell, P. (2013). Comparison of three aids for teaching lumbar surgical anatomy. British Journal of Neurosurgery, 27, 475–478.

Estevez, M. E., Lindgren, K. A., et al. (2010). A novel three-dimensional tool for teaching human neuroanatomy. Anatomical Sciences Education, 3, 309–317.

Fasel, J. H., Bader, C., et al. (1999). Anatomy teaching for medical undergraduates: General practice as a guideline? The brain. Clinical Anatomy, 12, 115–119.

Fitzgerald, J. E., White, M. J., et al. (2008). Are we teaching sufficient anatomy at medical school? The opinions of newly qualified doctors. Clinical Anatomy, 21, 718–724.

Garg, A., Haley, H. L., et al. (2010). Modern moulage: Evaluating the use of 3-dimensional prosthetic mimics in a dermatology teaching program for second-year medical students. Archives of Dermatology, 146, 143–146.

Garg, A. X., Norman, G. R., Eva, K. W., et al. (2002). Is there any real virtue of virtual reality? The minor role of multiple orientations in learning anatomy from computers. Academic Medicine, 77, S97–S99.

Garg, A., Norman, G. R., et al. (1999). Do virtual computer models hinder anatomy learning? Academic Medicine, 74, S87–S89.

Garg, A. X., Norman, G., et al. (2001). How medical students learn spatial anatomy. The Lancet, 357, 363–364.

General Medical Council. (2009). Tomorrow's doctors: Outcomes and standards, for undergraduate medical education. Regulating doctors, ensuring good medical practice (3rd ed.). London, UK: General Medical Council.

Griffon, D. J., Cronin, P., et al. (2000). Evaluation of a hemostasis model for teaching ovariohysterectomy in veterinary surgery. Veterinary Surgery, 29, 309–316.

Harden, R. M., Grant, J., et al. (2000). Best evidence medical education. Advances in Health Sciences Education: Theory and Practice, 5, 71–90.

Higgins, J. P. T., & Green, S. (Eds.), (2011). Cochrane handbook for systematic reviews of interventions. Version 5.1.0. The Cochrane Collaborations, Oxford, UK. http://www.cochrane-handbook.org. Accessed July 13, 2014.

Higgins, J. P., Thompson, S. G., et al. (2003). Measuring inconsistency in meta-analyses. BMJ, 6(327), 557–560.

Hilbelink, A. J. (2007). The effectiveness and user perception of 3-dimensional digital human anatomy in an online undergraduate anatomy laboratory, Doctorate of philosophy dissertation, (p. 194). Orlando, FL: University of South Florida.

Issenberg, S. B., McGaghie, W. C., et al. (2005). Features and uses of high-fidelity medical simulations that lead to effective learning: A BEME systematic review. Medical Teacher, 27, 10–28.

Khot, Z., Quinlan, K., et al. (2013). The relative effectiveness of computer-based and traditional resources for education in anatomy. Anatomical Sciences Education, 6, 211–215.

Kirkpatrick, D. L. (1998). Evaluating training programs: The four levels (2nd ed., p. 289). San Francisco, CA: Berrett-Koehler Publishers.

Levinson, A. J., Weaver, B., et al. (2007). Virtual reality and brain anatomy: Arandomised trial of e-learning instructional designs. Medical Education, 41, 495–501.

Lombardi, S. A., Hicks, R. E., et al. (2014). Are all hands-on activities equally effective? Effect of using plastic models, organ dissections, and virtual dissections on student learning and perceptions. Advances in Physiology Education, 38, 80–86.

Moher, D., Liberati, A., PRISMA Group, et al. (2009). Preferred reporting items for systematic reviews and meta-analyses: The PRISMA statement. PLoS Medicine, 6, e1000097.

Moore, A. E., Zhang, J., et al. (2012). Iatrogenic nerve injury in a national no-fault compensation scheme: An observational cohort study. International Journal of Clinical Practice, 66, 409–416.

Moxham, B. J., Shaw, H., et al. (2011). The future of clinical anatomy. European Journal of Anatomy, 15, 29–46.

Naaz, F. (2012). Learning from graphically integrated 2D and 3D representations improves retention of neuroanatomy, Doctorate of philosophy dissertation, (p. 76). Louisville, KY: University of Louisville. http://digital.library.louisville.edu/cdm/singleitem/collection/etd/id/2422/rec/12. Accessed July 3, 2014.

Oh, C. S., Kim, J. Y., et al. (2009). Learning of cross-sectional anatomy using clay models. Anatomical Sciences Education, 2, 156–159.

Pahuta, M. A., Schemitsch, E. H., et al. (2012). Virtual fracture carving improves understanding of a complex fracture: A randomized controlled study. Journal of Bone and Joint Surgery. American Volume, 19(94), e182.

Preece, D., Williams, S. B., et al. (2013). "Let's get physical": Advantages of a physical model over 3D computer models and textbooks in learning imaging anatomy. Anatomical Sciences Education, 6, 216–224.

Seixas-Mikelus, S. A., Adal, A., et al. (2010). Can image-based virtual reality help teach anatomy? Journal of Endourology, 24, 629–634.

Simonsen, A. R., Duncavage, J. A., et al. (2012). Malpractice in head and neck surgery: A review of cases. Otolaryngology: Head and Neck Surgery, 147, 69–73.

Smith, J. A. (2005). Can anatomy teaching make a comeback? ANZ Journal of Surgery, 75, 93.

Somville, F. J., van Sprundel, M., et al. (2010). Analysis of surgical errors in malpractice claims in Belgium. Acta Chirurgica Belgica, 110, 11–18.

Steinert, Y., Mann, K., et al. (2006). A systematic review of faculty development initiatives designed to improve teaching effectiveness in medical education: BEME Guide No. 8. Medical Teacher, 28, 497–526.

Sugand, K., Abrahams, P., et al. (2010). The anatomy of anatomy: A review for its modernization. Anatomical Sciences Education, 3, 83–93.

Tibrewal, S. (2006). The anatomy knowledge of surgical trainees: The trainer's view. Annals of the Royal College of Surgeons of England, 88, S240–S242.

Waters, J. R., Van Meter, P., et al. (2005). Cat dissection vs. sculpting human structures in clay: An analysis of two approaches to undergraduate human anatomy laboratory education. Advances in Physiology Education, 29, 27–34.

Waterston, S. W., & Stewart, I. J. (2005). Survey of clinicians' attitudes to the anatomical teaching and knowledge of medical students. Clinical Anatomy, 18, 380–384.

Yammine, K., & Violato, C. (2014). A meta-analysis of the educational effectiveness of three-dimensional visualization technologies in teaching anatomy. Anatomical Sciences Education,. doi:10.1002/ase.1510.
About this article
Cite this article
Yammine, K., Violato, C. The effectiveness of physical models in teaching anatomy: a meta-analysis of comparative studies. Adv in Health Sci Educ 21, 883–895 (2016). https://doi.org/10.1007/s10459-015-9644-7
Received:

Accepted:

Published:

Issue Date:
Keywords
Anatomy

Education

Physical model

Meta-analysis