Abstract
The practice of medicine involves inherent ambiguity, arising from limitations of knowledge, diagnostic problems, complexities of treatment and outcome and unpredictability of patient response. Research into doctors' tolerance of ambiguity is hampered by poor conceptual clarity and inadequate measurement scales. We aimed to create and pilot a measurement scale for tolerance of ambiguity in medical students and junior doctors that addresses the limitations of existing scales. After defining tolerance of ambiguity, scale items were generated by literature review and expert consultation. Feedback on the draft scale was sought and incorporated. 411 medical students and 75 foundation doctors in Exeter, UK were asked to complete the scale. Psychometric analysis enabled further scale refinement and comparison of scale scores across subgroups. The pilot study achieved a 64 % response rate. The final 29 item version of the Tolerance of Ambiguity in Medical Students and Doctors (TAMSAD) scale had good internal reliability (Cronbach's α 0.80). Tolerance of ambiguity was higher in foundation year 2 doctors than first, third and fourth year medical students (−5.23, P = 0.012; −5.98, P = 0.013; −4.62, P = 0.035, for each year group respectively). The TAMSAD scale offers a valid and reliable alternative to existing scales. Further work is required in different settings and in longitudinal studies but this study offers intriguing provisional insights.
Access options
Buy single article
Instant access to the full article PDF.
USD 39.95
Price excludes VAT (USA)
Tax calculation will be finalised during checkout.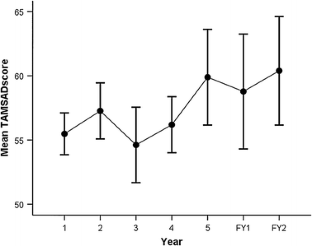 References
American Educational Research Association, American Psychological Association, National Council on Measurement in Education. (1999). Standards for educational and psychological testing. Washington, DC: American Educational Research Association.

Benbassat, J., Baumal, R., Chan, S., & Nirel, N. (2011). Sources of distress during medical training and clinical practice: Suggestions for reducing their impact. Medical Teacher, 33(6), 486–490.

Bovier, P., & Perneger, T. (2007). Stress from uncertainty from graduation to retirement—a population-based study of Swiss physicians. Journal of General Internal Medicine, 22(5), 632–638.

Budner, S. (1962). Intolerance of ambiguity as a personality variable. Journal of Personality, 30(1), 29–50.

Cohen, J. (1988). Statistical power analysis for the behavioural sciences. London: Lawrence Erlbaum Associates.

Cooke, G., Doust, J., & Steele, M. (2013). A survey of resilience, burnout, and tolerance of uncertainty in Australian general practice registrars. BMC Medical Education, 13, 2.

Deforge, B., & Sobal, J. (1991). Intolerance of ambiguity among family practice residents. Family Medicine, 23(6), 466–468.

Downing, S. (2003). Validity: On the meaningful interpretation of assessment data. Medical Education, 37, 830–837.

Field, A. (2005). Discovering statistics using SPSS (2nd ed.). Beverley Hills, CA: Sage.

Furnham, A., & Ribchester, T. (1995). Tolerance of ambiguity: A review of the concept, its measurement and applications. Current Psychology, 14(3), 179.

Geller, G. (2013). Tolerance for ambiguity: An ethics-based criterion for medical student selection. Academic Medicine, 88(5), 581–584.

Geller, G., Faden, R., & Levine, D. (1990). Tolerance for ambiguity among medical students: Implications for their selection, training and practice. Social Science and Medicine, 31(5), 619–624.

Geller, G., Tambor, E., Chase, G., & Holtzmann, N. (1993). Measuring physicians' tolerance for ambiguity and its relationship to their reported practices regarding genetic testing. Medical Care, 31(11), 989–1001.

Gerrity, M. S., DeVellis, R. F., & Earp, J. A. (1990). Physicians' reactions to uncertainty in patient care. A new measure and new insights. Medical Care, 28(8), 724–736.

Greco, V., & Roger, D. (2002). Uncertainty, stress and health. Personality and Individual Differences, 34(6), 1057–1068.

Hammer, D., & Elby, A. (2002). On the form of a personal epistemology. In B. Hofer & P. Pintrich (Eds.), Personal epistemology: The psychology of beliefs about knowledge and knowing (pp. 169–190). Mahwah, NJ: Erlbaum.

Hancock, J., & Mattick, K. (2012). Increasing students' tolerance of ambiguity: The need for caution. Academic Medicine, 87(7), 834.

Knight, L., & Mattick, K. (2006). When I first came here, I thought medicine was black and white: Making sense of medical students' ways of knowing. Social Science and Medicine, 63(4), 1084–1096.

Lim, M. (2003). Who is being difficult? Addressing the determinants of difficult patient-physician relationships. Virtual Mentor, 5(4). Retrieved June 13, 2013, from http://virtualmentor.ama-assn.org/003/04/jdsc-0304.html.

Luther, V. P., & Crandall, S. J. (2011). Commentary: Ambiguity and uncertainty: Neglected elements of medical education curricula? Academic Medicine, 86(7), 799–800.

Norton, R. (1975). Measurement of ambiguity tolerance. Journal of Personality Assessment, 39(6), 607–619.

Oppenheim, A. N. (2008). Questionnaire design, interviewing and attitude measurement. London: Continuum.

Perry, W. (1968). Forms of intellectual and ethical development in the college years—a scheme. New York: Holt, Rinehart and Winston.

Polanyi, M. (1966). The tacit dimension. London: Routledge.

Royal College Psychiatrists. (2013). CT1 personal specification. Retrieved March 24, 2013, from; http://www.rcpsych.ac.uk/pdf/CT1%20Psych-person%20spec-August%202013-approved.pdf.

Sidanius, J. (1988). Intolerance of ambiguity, conservatism and racism: Whose fantasy, whose reality? A reply to Ray. Political Psychology, 9, 309–316.

Stanley, J. (1971). Educational measurement (2nd edn). Washington, DC: American Council on Education.

TAMSAD recruitment video. Retrieved June 13, 2013, from; http://www.youtube.com/watch?v=uQEANkFzfq4&feature=youtu.be.

Wayne, S., Dellmore, D., Serna, L., Jerabek, R., Timm, C., & Kalishman, S. (2011). The association between intolerance of ambiguity and decline in medical students attitudes toward the underserved. Academic Medicine, 86(7), 877–882.
Acknowledgments
We would like to thank everybody who contributed towards each stage of this study. Our eight medical education colleagues who contributed towards initial item creation, the ten medical students and foundation doctors in Exeter who took part in the initial study pilot and the medical students and foundation doctors in Exeter who completed the TAMSAD questionnaire.
Appendix
Appendix
See Table 4.
About this article
Cite this article
Hancock, J., Roberts, M., Monrouxe, L. et al. Medical student and junior doctors' tolerance of ambiguity: development of a new scale. Adv in Health Sci Educ 20, 113–130 (2015). https://doi.org/10.1007/s10459-014-9510-z
Received:

Accepted:

Published:

Issue Date:

DOI: https://doi.org/10.1007/s10459-014-9510-z
Keywords
Ambiguity

Epistemology

Medical education

Tolerance

Uncertainty