Abstract
Learning manual skills is a fundamental part of health care education, and motor, sensory and cognitive learning processes are essential aspects of professional development. Simulator training has been shown to enhance factors that facilitate motor and cognitive learning. The present study aimed to investigate the students' experiences and thoughts about their learning through simulation skills training. The study was designed for an educational setting at a clinical skills centre. Ten third-year undergraduate nursing students performed urethral catheterisation, using the virtual reality simulator UrecathVision™, which has haptic properties. The students practised in pairs. Each session was videotaped and the video was used to stimulate recall in subsequent interviews. The interviews were analysed using qualitative content analysis. The analysis from interviews resulted in three themes: what the students learn, how the students learn, and the simulator's contribution to the students' learning. Students learned manual skills, how to perform the procedure, and professional behaviour. They learned by preparing, watching, practising and reflecting. The simulator contributed by providing opportunities for students to prepare for the skills training, to see anatomical structures, to feel resistance, and to become aware of their own performance ability. The findings show that the students related the task to previous experiences, used sensory information, tested themselves and practised techniques in a hands-on fashion, and reflected in and on action. The simulator was seen as a facilitator to learning the manual skills. The study design, with students working in pairs combined with video recording, was found to enhance opportunities for reflection.
This is a preview of subscription content, log in to check access.
Access options
Buy single article
Instant access to the full article PDF.
US$ 39.95
Tax calculation will be finalised during checkout.
Subscribe to journal
Immediate online access to all issues from 2019. Subscription will auto renew annually.
US$ 99
Tax calculation will be finalised during checkout.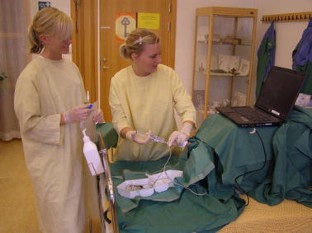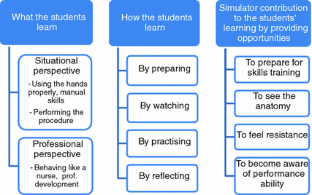 References
Bergmann Tiest, W. M. (2010). Tactial perception of material properties. Vision Research, 50, 2775–2782.

Bradley, P. (2006). The history of simulation in medical education and possible future directions. Medical Education, 40, 254–262.

Bray, L., Flynn, A., & Sanders, C. (2011). The experiences of children's nursing students: Learning urethral catheterisation. Nurse Education in Practice, 11(3), 168–172.

Cioffi, J., Purcal, N., & Arundell, F. (2005). A pilot study to investigate the effect of a simulation strategy on the clinical decision making of midwifery students. Journal of Nursing Education, 44(3), 185–191.

Côté, L., & Turgeon, J. (2005). Appraising qualitative research articles in medicine and medical education. Medical Teacher, 27(1), 71–75.

Denzin, N. K., & Lincoln, Y. S. (2000). Handbook of qualitative research (2nd ed.). Thousand Oaks: Sage Publications.

Elliott, D., Grierson, L. E. M., Hayes, S. J., & Lyons, J. (2011). Action representations in perception, motor control and learning: Implications for medical education. Medical Education, 45, 119–131.

Graneheim, U. H., & Lundman, B. (2004). Qualitative content analysis in nursing research: Concepts, procedures and measures to achieve trustworthiness. Nurse Education Today, 24, 105–112.

Hatala, R. (2011). Practice makes perfect… sometimes. Medical Education, 45, 114–116.

Issenberg, S. B., McGaghie, W. C., Petrisa, E. R., Gordon, D. L., & Scalese, R. J. (2005). Features and uses of high-fidelity medical simulations that lead to effective learning: A BEME systematic review. Medical Teacher, 27, 10–28.

Issenberg, S. B., & Scalese, R. J. (2008). Simulation in health care education. Perspectives in Biology and Medicine, 51(1), 31–46.

Jeffries, P. R. (2005). Guest Editorial. Technology trends in nursing education: Next steps. Journal of Nursing Education, 44(1), 1–4.

Johannesson, E., Olsson, M., Petersson, G., & Silén, C. (2010). Learning features in computer simulation skills training. Nurse Education in Practice, 10, 268–273.

Jöud, A., Sandholm, A., Alseby, L., Petersson, G., & Nilsson, G. (2010). Feasibility of a computerized male urethral catheterization simulator. Nurse Education in Practice, 10(2), 70–75.

Khan, K., Pattison, T., & Sherwood, M. (2011). Simulation in medical education. Medical Teatcher, 33, 1–3.

Kolb, D. A. (1984). Experiential learning: Experience as the source of learning and development. Englewood Cliffs, NJ: Prentice Hall.

Kvale, S. (2007). Doing interviews. California: Sage Publications.

Lincoln, Y. S., & Guba, E. G. (1986). But is it rigorous? Trustworthiness and authenticity in naturalistic evaluation. In D. D. Williams (Ed.), Naturalistic evaluation (pp. 73–84). New Directions for Program Evaluation, 30. San Francisco, CA: Jossey-Bass.

Lyle, J. (2003). Stimulated recall: A report on its use in naturalistic research. British Educational Research Journal, 29(6), 861–878.

Marton, F., & Booth, S. (1997). Learning and awareness. Mahwah, New Jersey: Lawrence Erlbaum Associates, Inc.

McGaghie, W. C., & Issenberg, S. B. (2010). A critical review of simulation-based research: 2003–2009. Medical Education, 44, 50–63.

Melerit UrecathVision. Product information of the computer simulator UrecathVision. Retrieved May 10, 2011, from http://www.meleritmedical.com.

Meyrick, J. (2006). What is good qualitative research? A first step towards a comprehensive approach to judging rigour/quality. Journal of Health Psychology, 11(5), 799–808.

Murray, C., Grant, M. J., Howarth, M. L., & Leigh, J. (2008). The use of simulation as a teaching and learning approach to support practice learning. Nurse Education in Practice, 8, 5–8.

Polanyi, M. (1966). The tacit dimension. Gloucester, Mass: Doubleday & Company, Inc.

Polit, D. E., & Beck, C. T. (2008). Nursing research. Generating and assessing evidence for nursing practice (8th ed.). Philadelphia: Lippincott Williams & Wilkins.

Scalese, R. J., Obesco, V. T., & Issenberg, S. B. (2008). Simulation technology for skills training and competency assessment in medical education. Journal of General Internal Medicine, 23(Suppl 1), 46–49.

Schön, D. (1987). Educating the reflective practitioner. San Francisco: Jossey Bass.

Shumway-Cook, A., & Woollacott, M. J. (2007). Motor control. Translating research into clinical practice (3rd ed.). Philadelphia: Lippincott Williams & Wilkins.

Silén, C. (2003). Responsibility and independence in learning: What is the role of the educators and the framework of the educational programme? In C. Rust (Ed.), Improving student learning: Improving student learning—theory, research and practice (pp. 249–262). Oxford: The Oxford Centre for Staff and Learning Development.

Silén, C. (2006). The tutor's approach in base groups (PBL). Higher Education, 51, 373–385.

Stefanidis, D., Scerbo, M. W., Korndorffer, J. R., & Scott, D. J. (2007). Redefining simulator proficiency using automaticity theory. The American Journal of Surgery, 193, 502–506.

Tun, J. K., & Kneebone, R. (2011). Bridging worlds: Applying the science of motor learning to clinical education. Medical Education, 45, 111–114.

Weidner, T. G., & Popp, J. K. (2007). Peer-assisted learning and orthopaedic evaluation psychomotor skills. Journal of Athletic Training, 42(1), 113–119.

Wulf, G., Shea, C., & Lewthwaite, R. (2010). Motor skill learning and performance: A review of influential factors. Medical Education, 44, 75–84.
Acknowledgments
We thank the students who participated in this study and Sofia McGarvey for revising the English language in the quotes. This study was supported by the Centre for Educational Development and Research, Faculty of Health Sciences, and the Division of Community Medicine, Medical Education and the Division of Physiotherapy, Department of Medical and Health Sciences, Linköping University, Sweden.
About this article
Cite this article
Johannesson, E., Silén, C., Kvist, J. et al. Students' experiences of learning manual clinical skills through simulation. Adv in Health Sci Educ 18, 99–114 (2013). https://doi.org/10.1007/s10459-012-9358-z
Received:

Accepted:

Published:

Issue Date:
Keywords
Learning theory

Professional development

Qualitative content analysis

Simulation

Skills training

Undergraduate nursing education