Abstract
Academic achievement indices including GPAs and MCAT scores are used to predict the spectrum of medical student academic performance types. However, use of these measures ignores two changes influencing medical school admissions: student diversity and affirmative action, and an increased focus on communication skills. To determine if GPA and MCAT predict performance in medical school consistently across students, and whether either predicts clinical performance in clerkships. A path model was developed to examine relationships among indices of medical student performance during the first three years of medical school for five cohorts of medical students. A structural equation approach was used to calculate the coefficients hypothesized in the model for majority and minority students. Significant differences between majority and minority students were observed. MCAT scores, for example, did not predict performance of minority students in the first year of medical school but did predict performance of majority students. This information may be of use to medical school admissions and resident selection committees.
Access options
Buy single article
Instant access to the full article PDF.
USD 39.95
Price excludes VAT (USA)
Tax calculation will be finalised during checkout.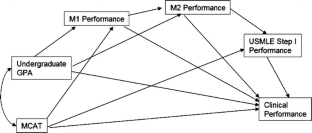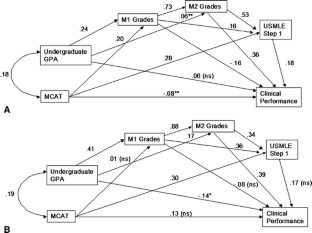 References
Albanese, M. A., Snow, M. H., Skochelak, S. E., Huggett, K. N., & Farrell, P. M. (2003). Assessing personal qualities in medical school admissions. Academic Medicine, 78(3), 313–321.

Ashton, C. M., Haidet, P., Paterniti, D. A., Collins, T. C., Gordon, H. S., O'Malley, K., et al. (2003). Racial and ethnic disparities in the use of health services: Bias, preferences, or poor communication? Journal of General Internal Medicine, 18(2), 146–152.

AAMC, Association of American Medical Colleges. (2003). Brief of the Association of American Medical Colleges, As Amici Curiae in Support of Respondents in Gruttr vs. Bollinger, et al., U.S. Supreme Court, No. 02-241.

Cohen, J. J. (2002). Our compact with tomorrow's doctors. Academic Medicine, 77(6), 475–480.

Colliver, J., Verhuist, S., & Williams, R. (1989). Using a standardized patient examination to establish the predictive validity of the MCAT and undergratuate GPA as admissions criteria. Academic Medicine, 64(8), 482–484.

Cooper, L., & Roter, D. (2003). Patient-provider communication: The effect of race and ethnicity on process and outcomes of healthcare. In Institute of Medicine, Unequal treatment: Confronting racial and ethnic disparities in healthcare. Washington, DC: National Academy Press.

Dawson, B., Iwamoto, C. K., Ross, L. P., Nungester, R. J., Swanson, D. B., & Volle, R. L. (1994). Performance on the National Board of Medical Examiners Part I Examination by men and women and of different race and ethnicity. Journal of the American Medical Association, 272(9), 674–679.

Donnon, T., Paolucci, E. O., & Violato, C. (2007). The Predictive Validity of the MCAT for Medical School Performance and Medical Board Licensing Examinations: A Meta-Analysis of the Published Research. Academic Medicine, 82(1), 100–106.

Edmond, M. B., Deschenes, J. L., Eckler, M., & Wenzel, R. P. (2001). Racial bias in using USMLE Step 1 scores to grant internal medicine residency interviews. Academic Medicine, 76(12), 1253–1256.

Eva, K. W., Reiter, H. I., Rosenfeld, J., & Norman, G. R. (2004a). The relationship between interviewers' characteristics and ratings assigned during a multiple mini-interview. Academic Medicine, 79(6), 602–609.

Eva, K. W., Rosenfeld, J., Reiter, H. I., & Norman, G. R. (2004b). An admissions OSCE: the multiple mini-interview. Medical Education, 38(3), 314–326.

Gurin, P., Lehman, J., Lewis, E., Dey, E., Gurin, G., & Hurtado, S. (2004). Defending diversity: Affirmative action at the University of Michigan. Ann Arbor: University of Michigan Press.

Harasym, P. H., Woloschuk, W., Mandin, H., & Brundin-Mather, R. (1996). Reliability and validity of interviewers' judgments of medical school candidates. Academic Medicine, 71(1), S40–S45.

Julian, E. (2005). Validity of the medical college admission test for predicting medical school performance. Academic Medicine, 80(10), 910–917.

Milem, J. F., Dey, E. L., & White, C. B. (2004). Diversity considerations in health professions education. In Institute of Medicine (Committee on institutional and policy-level strategies for increasing the diversity of U.S. healthcare workforce), In the nation's compelling interest: Ensuring diversity in the health care workforce. Washington, DC: National Academy Press.

Minorities in medicine (1998). Twelfth report of the Council on Graduate Medical Education. United States Department of Health and Human Services.

Mitchell, K. J., & Haynes, R. (1990). Score reporting for the 1991 Medical College Admission Test. Academic Medicine, 65(12), 719-723.

Saha, S., Arbelaez, J. J., & Cooper, L. A. (2003). Patient-physician relationships and racial disparities in the quality of health care. American Journal of Public Health, 93(10), 1713.

SPSS. (2006). AMOS. Chicago: SPSS.

Swanson, D. B., Case, S. M., Koenig, J., & Killian, C. D. (1996). Preliminary study of the accuracies of the old and new Medical College Admission Test for predicting performance on Step 1. Academic Medicine, 71(1), S25–S30.

Vancouver, J., Reinhard, M., Solomon, D., & Haf, J. (1990). Testing for validity and bias in the use of GPA and the MCAT in the selection of medical school students. Academic Medicine, 65(11), 694–697.

Veloski, J. J., Callahan, C. A., Xu, G., Hojat, M., & Nash, D. B. (2000). Close but no bananas: Predicting performance. Academic Medicine, 75(10), S28–S30.

Wiley, A., & Koenig, J. A. (1996). The validity of the Medical College Admission Test for predicting performance in the first two years of medical school. Academic Medicine, 71(10), S83–S85.
About this article
Cite this article
White, C.B., Dey, E.L. & Fantone, J.C. Analysis of factors that predict clinical performance in medical school. Adv in Health Sci Educ 14, 455–464 (2009). https://doi.org/10.1007/s10459-007-9088-9
Received:

Accepted:

Published:

Issue Date:

DOI: https://doi.org/10.1007/s10459-007-9088-9
Keywords
Clinical performance

Predictors of clinical performance

MCAT as predictor