Abstract
African mahogany (Khaya spp.) produces high-value wood, and its cultivation is expanding in tropical regions. The silvopastoral system is an alternative method for growing timber trees, but may involve cattle stripping bark from trees, which limits its usefulness. We evaluated cattle bark-stripping rates in two African mahogany species, K. grandifoliola and K. senegalensis, in a silvopastoral system with Guinea grass, Panicum maximum, in South-eastern Brazil. Cattle had free access to plantations of both tree species for 2 weeks in May 2018 and July 2019, when trees were 5 and 6 years old, respectively. In 2018, we found bark-stripping only in K. grandifoliola, but in 2019 both species were bark-stripped. The proportion of bark-stripped trees was higher for K. grandifoliola than for K. senegalensis. Considering both years, 29/155 (18.7%) K. senegalensis trees and 106/153 (69.3%) K. grandifoliola trees had some of their bark-stripped by cattle. Bark-stripped trees had lower trunk diameter growth than unaffected trees, and their growth was affected by the degree of bark-stripping. Some trees were girdled by bark-stripping. These trees dried up, and some of them fell down 1 year after girdling. In 2019, despite the high herbage mass, levels of crude protein in the pasture were very low, which may have stimulated bark-stripping. Although we could not identify the reasons for bark-stripping, we recommend avoiding the use of silvopastoral systems with cattle and African mahogany in times of the year when pasture has a low quality.
Access options
Buy single article
Instant access to the full article PDF.
US$ 39.95
Tax calculation will be finalised during checkout.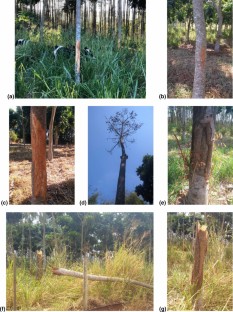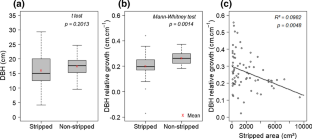 References
Alvares CA, Stape JL, Sentelhas PC et al (2013) Köppen's climate classification map for Brazil. Meteorol Z 22:711–728. https://doi.org/10.1127/0941-2948/2013/0507

Araújo IMM, Difante GS, Euclides VPB et al (2017) Animal performance with and without supplements in mombaça Guinea grass pastures during dry Season. J Agric Sci 9(7):145–154. https://doi.org/10.5539/jas.v9n7p145

Broom DM, Galindo FM, Murgueitio E (2013) Sustainable, efficient livestock production with high biodiversity and good welfare for animals. Proc Biol Sci 280:2013–2025. https://doi.org/10.1098/rspb.2013.2025

Carnevalli RA, Da Silva SC, Bueno AAO et al (2006) Herbage production and grazing losses in Panicum maximum cv. Mombaça under four grazing managements. Trop Grassl 40:165–176

Castro AC, Lourenço Júnior JB, Santos NFA et al (2008) Sistema silvipastoril na Amazônia: ferramenta para elevar o desempenho produtivo de búfalos. Ciência Rural 38(8):2395–24028. https://doi.org/10.1590/S0103-84782008000800050

Da Silva DDF, Leonardo FVS, Caldeira SF (2019) Vulnerability of African mahogany to cattle predation in a silvipastural system. Pesq Agropec Bras 54:e00987. https://doi.org/10.1590/s1678-921.pab2019.v54.00987

Fike JH, Buergler AL, Burger JA, Kallenbach RL (2004) Considerations for establishing and managing silvopastures. For Grazinglands 2(1):1–12. https://doi.org/10.1094/FG-2004-1209-01-RV

Fremlin R (2011) An overview of African mahogany in Africa. In: Dickinson G, Reilly D, Lindsay DAJ (eds) African Mahogany. Abstracts from 'Darwin 2011: African Mahogany Plantations Industry Forum'. Department of Employment, Economic Development and Innovation, Brisbane, p 8

Heryati Y, Belawan D, Abdu A et al (2010) Growth performance and biomass accumulation of a Khaya ivorensis plantation in three soil series of ultisols. Am J Agric Biol Sci 6:33–44. https://doi.org/10.3844/ajabssp.2011.33.44

Husak AL, Grado SC (2002) Monetary benefits in a southern silvopastoral system. South J Appl For 26(3):159–164. https://doi.org/10.1093/sjaf/26.3.159

Jose S, Dollinger J (2019) Silvopasture: a sustainable livestock production system. Agroforest Syst 93:1–9. https://doi.org/10.1007/s10457-019-00366-8

Lima DM, Abdalla Filho AL, Lima PMT et al (2018) Morphological characteristics, nutritive quality, and methane production of tropical grasses in Brazil. Pesq Agropec Bras 53:323–331. https://doi.org/10.1590/S0100-204X2018000300007

Lira Junior MA, Fracetto FJC, Ferreira JC et al (2020) Legume-based silvopastoral systems drive C and N soil stocks in a subhumid tropical environment. CATENA 189:104508. https://doi.org/10.1016/j.catena.2020.104508

Lopes JCA, Jennings SB, Matni NM (2008) Planting mahogany in canopy gaps created by commercial harvesting. For Ecol Manag 255:300–307. https://doi.org/10.1016/j.foreco.2007.09.051

Montagnini F, Ibrahim M, Murgueitio E (2013) Silvopastoral systems and climate change mitigation in Latin America. Bois For Trop 316(2):3–16

National Research Council (2000) Nutrient requirements of Beef cattle: seventh revised edition: update 2000. The National Academies Press, Washington DC

Newton AC, Baker P, Ramnarine S et al (1993) The mahogany shoot borer: prospects for control. For Ecol Manag 57:301–328. https://doi.org/10.1016/0378-1127(93)90179-Q

Nicodemo MLF, Porfírio-da-Silva V (2019) Bark stripping by cattle in silvopastoral systems. Agrofor Syst 93:305–315. https://doi.org/10.1007/s10457-018-0185-y

Nikles DG, Bevege DI, Dickinson GR et al (2008) Developing African mahogany (Khaya senegalensis) germplasm and its management for a sustainable forest plantation industry in northern Australia: progress and needs. Aust For 71:33–47. https://doi.org/10.1080/00049158.2008.10676269

Opuni-Frimpong E, Opoku SM, Storer AJ et al (2013) Productivity, pest tolerance and carbon sequestration of Khaya grandifoliola in the dry semi-deciduous forest of Ghana: a comparison in pure stands and mixed stands. New For 44(6):863–879. https://doi.org/10.1007/s11056-013-9376-6

Penati MA, Corsi M, Lima CG et al (2005) Número de amostras e relação dimensão:formato da moldura de amostragem para determinação da massa de forragem de gramíneas cespitosas. R Bras Zootec 34(1):36–43. https://doi.org/10.1590/S1516-35982005000100005

Pezzopane JRM, Nicodemo MLF, Bosi C et al (2019) Animal thermal comfort indexes in silvopastoral systems with different tree arrangements. J Therm Biol 79:103–111. https://doi.org/10.1016/j.jtherbio.2018.12.015

Pottier D (1984) Running cattle under trees: an experiment in agroforestry. Unasylva 36:23–27

Ribeiro A, Ferraz Filho AF, Scolforo JRS (2017) O cultivo do mogno Africano (Khaya spp) e o crescimento da atividade no Brasil. Floresta Ambiente 24:e00076814. https://doi.org/10.1590/2179-8087.076814

Van Soest PJ, Robertson JB, Lewis BA (1991) Methods for dietary fiber, neutral detergent fiber, and nonstarch polysaccharides in relation to animal nutrition. J Dairy Sci 74:3583–3597. https://doi.org/10.3168/jds.S0022-0302(91)78551-2
Acknowledgements
We are thankful to the Laboratory of Silviculture and Forest Research (LASPEF/UFSCar) and the Group for Agricultural Studies and Works (GETAP/UFSCar) members who helped with the field data collection.
Ethics declarations
Conflict of interest
None.
Additional information
Publisher's Note
Springer Nature remains neutral with regard to jurisdictional claims in published maps and institutional affiliations.
About this article
Cite this article
Viani, R.A.G., de Morais, J.P.G., Domene, F. et al. Bark-stripping of African mahogany trees (Khaya spp.) by cattle in silvopastoral systems in Brazil. Agroforest Syst 94, 2385–2390 (2020). https://doi.org/10.1007/s10457-020-00558-7
Received:

Accepted:

Published:

Issue Date:
Keywords
Agroforestry

Cattle grazing

Pastures

Panicum maximum

Timber