Abstract
The response of plant species to environmental conditions influences changes in functional traits associated with the process that determines biological fitness and ecosystem processes. However, documenting these responses remain largely elusive in cultivation systems. We analyzed how environmental variables and leaf traits have effects on the transpiration rate of cocoa (Theobroma cacao L.) trees compared among different cultivation systems. Fieldwork was carried out at the Sara Ana experimental station in Alto Beni, La Paz, Bolivia. We sampled four trees in each of eight plots; four plots for each cultivation system (organic monoculture vs. organic agroforestry). From each tree, two mature, sunlit and healthy leaves were collected to make measurements of foliar traits and environmental variables. We found that canopy cover was higher in the agroforestry system. The specific leaf area was greater in agroforestry but the stomata size was significantly higher in the monoculture system. Temperature had a positive relationship with transpiration, whereas canopy cover and specific leaf area had a negative relationship in the agroforestry system. Cultivation system caused changes in microenvironmental conditions and on the expression of leaf traits that regulate water flow through the plant. Thus, the mutual effects of canopy cover, larger leaves and smaller stomatal size may drive a more efficient water use by reducing the transpiration rate of plants growing in agroforestry systems.
Access options
Buy single article
Instant access to the full article PDF.
USD 39.95
Price excludes VAT (USA)
Tax calculation will be finalised during checkout.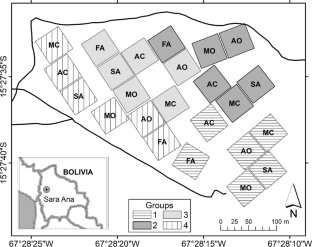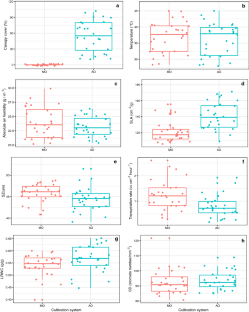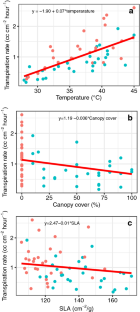 Data availability
The datasets generated and/or analyzed during the current study are available in the supplementary material or from the corresponding author on reasonable request.
References
Almeida AAFD, Valle RR (2007) Ecophysiology of the cacao tree. Braz J Plant Physiol 19:425–448. https://doi.org/10.1590/S1677-04202007000400011

Armengot L et al (2016) Cacao agroforestry systems have higher return on labor compared to full-sun monocultures. Agron Sustain Dev 36:70. https://doi.org/10.1007/s13593-016-0406-6

Avila-Lovera E et al (2015) Ecophysiological traits of adult trees of Criollo cocoa cultivars (Theobroma cacao L.) from a germplasm bank in Venezuela. Exp Agric 52:137–153. https://doi.org/10.1017/S0014479714000593

Balasimha D et al (1991) Influence of environmental factors on photosynthesis in cocoa trees. Agr For Meteorol 55:15–21. https://doi.org/10.1016/0168-1923(91)90019-M

Barton K (2019) MuMIn: multi-model inference. R package version 1.43.6. https://CRAN.R-project.org/package=MuMIn. Accessed 5 Sept 2019

Bote AD, Struik PC (2011) Effects of shade on growth, production and quality of coffee (Coffea arabica) in Ethiopia. J Hortic For 3:336–341

Brewer CA (1992) Responses by stomata on leaves to microenvironmental conditions. Test Stud Lab Teach 13:67–75

Burnham KP et al (2011) AIC model selection and multimodel inference in behavioral ecology: some background, observations, and comparisons. Behav Ecol Sociobiol 65:23–35. https://doi.org/10.1007/s00265-010-1029-6

Centritto M et al (2000) Improved growth and water use efficiency of cherry saplings under reduced light intensity. Ecol Res 15:385–392. https://doi.org/10.1046/j.1440-1703.2000.00359.x

Dawkins HC, Field DRB (1978) A long-term surveillance system for British woodland vegetation. Occassional papers No. 1. Department of Forestry, Oxford University, Oxford

Daymond AJ et al (2011) Genotypic variation in photosynthesis in cacao is correlated with stomatal conductance and leaf nitrogen. P Biol Plant 55:99–104. https://doi.org/10.1007/s10535-011-0013-y

Feng Y, van Kleunen M (2014) Responses to shading of naturalized and non-naturalized exotic woody species. Ann Bot Lond 114:981–989. https://doi.org/10.1093/aob/mcu163

Franks PJ, Beerling DJ (2009) Maximum leaf conductance driven by CO2 effects on stomatal size and density over geologic time. PNAS 106:10343–10347. https://doi.org/10.1073/pnas.0904209106

Garnier E et al (2016) Plant functional diversity: organism traits, community structure, and ecosystem properties. Oxford University Press, Oxford

Greven S et al (2008) Restricted likelihood ratio testing for zero variance components in linear mixed models. J Comput Graph Stat 17:870–891. https://doi.org/10.1198/106186008X386599

Hall AE (2001) Crop responses to environment. CRC Press, Florida

Hardy F (1960) Cacao manual. Inter-America Inst. of Agricultural Sciences, Turrialba

Hölttä T et al (2006) Modeling xylem and phloem water flows in trees according to cohesion theory and Münch hypothesis. Trees 20:67–78. https://doi.org/10.1007/s00468-005-0014-6

Keeling HC, Phillips OL (2007) A calibration method for the crown illumination index for assessing forest light environments. For Ecol Manag 242:431–437. https://doi.org/10.1016/j.foreco.2007.01.060

Köhler M et al (2014) Cacao trees under different shade tree shelter: effects on water use. Agrofor Syst 88:63–73. https://doi.org/10.1007/s10457-013-9656-3

Kozlowski TT, Pallardy SG (1997) Growth control in woody plants. Academic Press, Cambridge

Lahive F et al (2019) The physiological responses of cacao to the environment and the implications for climate change resilience. A review. Agron Sustain Dev 39:5. https://doi.org/10.1007/s13593-018-0552-0

Lebrija-Trejos E et al (2010) Functional traits and environmental filtering drive community assembly in a species-rich tropical system. Ecology 91:386–398. https://doi.org/10.1890/08-1449.1

Lin BB (2007) Agroforestry management as an adaptive strategy against potential microclimate extremes in coffee agriculture. Agr For Meteorol 144:85–94. https://doi.org/10.1016/j.agrformet.2006.12.009

Lin BB (2010) The role of agroforestry in reducing water loss through soil evaporation and crop transpiration in coffee agroecosystems. Agr For Meteorol 150:510–518. https://doi.org/10.1016/j.agrformet.2009.11.010

Liu Y et al (2016) Does greater specific leaf area plasticity help plants to maintain a high performance when shaded? Ann Bot 118:1329–1336. https://doi.org/10.1093/aob/mcw180

Markesteijn et al (2011) Hydraulics and life history of tropical dry forest tree species: coordination of species' drought and shade tolerance. New Phytol 191:480–495. https://doi.org/10.1111/j.1469-8137.2011.03708.x

Martin AR, Isaac ME (2015) Plant functional traits in agroecosystems: a blueprint for research. J Appl Ecol 52:1425–1435. https://doi.org/10.1111/1365-2664.12526

Montanaro G et al (2009) Shade mitigates photoinhibition and enhances water use efficiency in kiwifruit under drought. Photosynthetica 47:363–371. https://doi.org/10.1007/s11099-009-0057-9

Monteiro MV et al (2016) Relative importance of transpiration rate and leaf morphological traits for the regulation of leaf temperature. Aust J Bot 64:32–44. https://doi.org/10.1071/BT15198

Motamayor JC et al (2008) Geographic and genetic population differentiation of the Amazonian chocolate tree (Theobroma cacao L.). PLoS ONE 3:3311. https://doi.org/10.1371/journal.pone.0003311

Naizaque J et al (2014) Relación entre la densidad estomática, la transpiración y las condiciones ambientales en feijoa (Asellowiana [O. berg] burret). Rev U D C A Act & Div Cient 17:115–121

Niether W et al (2018) Shade trees and tree pruning alter throughfall and microclimate in cocoa (Theobroma cacao L.) production systems. Ann For Sci 75:38. https://doi.org/10.1007/s13595-018-0723-9

Nock CA et al (2016) Functional traits. Wiley, Chichester

Pérez-Harguindeguy N et al (2013) New handbook for standardised measurement of plant functional traits worldwide. Aust J Bot 61:167–234

Pérez-Harguindeguy N et al (2016) Corrigendum to: new handbook for standardised measurement of plant functional traits worldwide. Aust J Bot 64:715–716. https://doi.org/10.1071/BT12225_CO

Poorter L, Bongers F (2006) Leaf traits are good predictors of plant performance across 53 rain forest species. Ecology 87:1733–1743. https://doi.org/10.1890/0012-9658(2006)87%5b1733:LTAGPO%5d2.0.CO;2

Poorter L et al (2005) Beyond the regeneration phase: differentiation of height light trajectories among tropical tree species. J Ecol 93:256–267. https://doi.org/10.1111/j.1365-2745.2004.00956.x

Puglielli G et al (2017) Specific leaf area variations drive acclimation of Cistus salvifolius in different light environments. Photosynthetica 55:31–40. https://doi.org/10.1007/s11099-016-0235-5

R Core Team (2019) R: a language and environment for statistical computing. R Foundation for Statistical Computing, Vienna, Austria. https://www.R-project.org/

Rice RA, Greenberg R (2000) Cacao cultivation and the conservation of biological diversity. AMBIO J Hum Environ 29:167–174. https://doi.org/10.1579/0044-7447-29.3.167

Robakowski P et al (2003) Plasticity of morphological and physiological traits in response to different levels of irradiance in seedlings of silver fir (Abies alba Mill). Trees 17:431–441. https://doi.org/10.1007/s00468-003-0257-z

Rozendaal DMA et al (2006) Plasticity in leaf traits of 38 tropical tree species in response to light; relationships with light demand and adult stature. Funct Ecol 20:207–216. https://doi.org/10.1111/j.1365-2435.2006.01105.x

Schneider M et al (2016) Cocoa and total system yields of organic and conventional agroforestry vs. monoculture systems in a long-term field trial in Bolivia. Exp Agric 53:351–374. https://doi.org/10.1017/S0014479716000417

Smith T, Huston M (1990) A theory of the spatial and temporal dynamics of plant communities. In: Grabherr G, Mucina L, Dale MB, Ter Braak CJF (eds) Progress in theoretical vegetation science Advances in vegetation science. Springer, Dordrecht, pp 49–69. https://doi.org/10.1007/978-94-009-1934-1_5

Somarriba E et al (2018) Analysis and design of the shade canopy of cocoa-based agroforestry systems. Achieving sustainable cultivation of cocoa. https://doi.org/10.19103/AS.2017.0021.29

Somarriba E, Beer J (2011) Productivity of Theobroma cacao agroforestry systems with timber or legume service shade trees. Agrofor Syst 81:109–121. https://doi.org/10.1007/s10457-010-9364-1

Symonds MR, Moussalli A (2011) A brief guide to model selection, multimodel inference and model averaging in behavioural ecology using Akaike's information criterion. Behav Ecol Sociobiol 65:13–21. https://doi.org/10.1007/s00265-010-1037-6

Taylor SH et al (2012) Photosynthetic pathway and ecological adaptation explain stomatal trait diversity amongst grasses. New Phytol 193:387–396. https://doi.org/10.1111/j.1469-8137.2011.03935.x

Tilman D (1999) Global environmental impacts of agricultural expansion: the need for sustainable and efficient practices. PNAS 96:5995–6000. https://doi.org/10.1073/pnas.96.11.5995

Torrez V et al (2013) Specific leaf area: a predictive model using dried samples. Aust J Bot 61:350–357. https://doi.org/10.1071/BT12236

Trujillo G (2007) Estudio de evaluación de clones foráneos, selección y caracterización de plantas superiores de cacao (Teobroma cacao L.). El Ceibo, Sapecho

Turnbull CJ, Hadley P (2014) International cocoa germplasm database (ICGD). CRA Ltd./NYSE Liffe/University of reading. www.icgd.rdg.ac.uk. Accessed 20 Apr 2020

Turner NC (1981) Techniques and experimental approaches for the measurement of plant water status. Plant Soil 58:339–366

Wright IJ et al (2004) The worldwide leaf economics spectrum. Nature 428:821–827. https://doi.org/10.1038/nature02403

Yang JY et al (2013) Complex origin of Trinitario-type Theobroma cacao (Malvaceae) from Trinidad and Tobago revealed using plastid genomics. Tree Genet Genomes 9:829–840. https://doi.org/10.1007/s11295-013-0601-4
Acknowledgements
We are thankful to the staff of the Sara Ana experimental station for allowing us to conduct the study and support us with guidance and advise during fieldwork. To the staff of the Herbario Nacional de Bolivia (LPB) and the Biology department for their help with leaf data processing. To Wiebke Niether for helpful advice during field work. The study was funded by the Swiss Agency for Development and Cooperation (SDC), the Liechtenstein Development Service (LED), the Biovision Foundation for Ecological Development and the Coop Sustainability Fund and implemented in cooperation with the Research Institute of Organic Agriculture (FiBL) and Ecotop Foundation. The study was carried out under permission and current laws of the Government of Bolivia.
Additional information
Publisher's Note
Springer Nature remains neutral with regard to jurisdictional claims in published maps and institutional affiliations.
Electronic supplementary material
Below is the link to the electronic supplementary material.
About this article
Cite this article
Saavedra, F., Jordan Peña, E., Schneider, M. et al. Effects of environmental variables and foliar traits on the transpiration rate of cocoa (Theobroma cacao L.) under different cultivation systems. Agroforest Syst 94, 2021–2031 (2020). https://doi.org/10.1007/s10457-020-00522-5
Received:

Accepted:

Published:

Issue Date:

DOI: https://doi.org/10.1007/s10457-020-00522-5
Keywords
Agroforestry

Canopy cover

Specific leaf area

Stomata size

Temperature