Abstract
Resin extraction from wild pistachio trees is an extant agroforestry practice in Western Iran. This practice plays a great socio-economic role in rural communities, but its effects on tree survival and forest stand persistence is still unknown. The objective of this study was to assess how this practice could affect the persistence of wild pistachio stands. Specifically, we (1) analyzed the biometric indices of wild pistachio trees under resin extraction vs untreated trees, and (2) evaluated the changes in the distribution of biometric indices classes of resonated wild pistachio trees. Two paired stands, including an unmanaged stand and a managed stand were selected. Tree species was recorded and diameter at breast height (dbh) for all trees (dbh ≥ 5 cm) was measured. Total height, trunk height, and crown diameters were measured in wild pistachio trees as well. Results indicated that the traditional method of resin extraction alters the frequency distribution of trees in all the biometric indices measured. The median dbh (36 cm and 26 cm in unmanaged and managed stands, respectively), total height (6.4 m and 5.1 m, respectively) and crown area (44.2 m2 and 23.3 m2, respectively) differed significantly between investigated stands. Trunk height (2.7 m and 3.2 m, respectively) and trunk height to total height ratio (0.43 and 0.62, respectively) were significantly higher in the managed stand. Resin-tapped trees reached a lower height and crown size for a given stem diameter, indicating that resin-tapping induce some kind of stress and/or consumption of resources that slow down tree growth.
Access options
Buy single article
Instant access to the full article PDF.
USD 39.95
Price excludes VAT (USA)
Tax calculation will be finalised during checkout.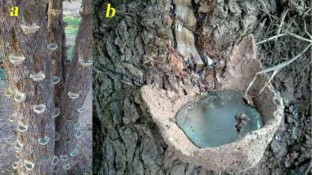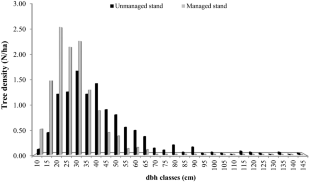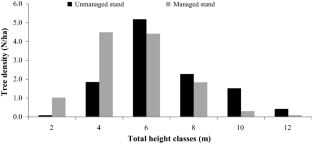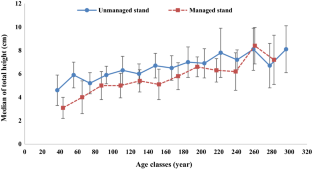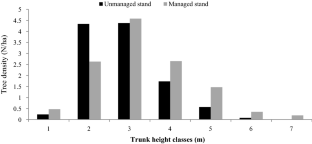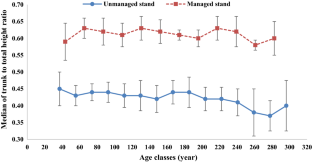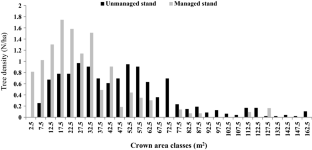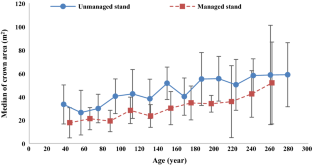 References
Bordbar SK, Hamzehpour M, Joukar L, Rayatinejad A (2006) Effect of conventional terbinthine exploitation on bark redress mechanism of wild pistachio (Pistacia atlantica subsp. mutica). Iran J For poplar Res 14:127–134

Budiadi KY, Ishii HT et al (2005) Productivity of kayu putih (Melaleuca leucadendron LINN) tree plantation managed in non-timber forest production systems in Java, Indonesia. Agrofor Syst 64:143–155. https://doi.org/10.1007/s10457-004-0777-6

Chen F, Yuan Y, Yu S, Zhang T (2015) Influence of climate warming and resin collection on the growth of Masson pine (Pinus massoniana) in a subtropical forest, southern China. Trees 29:1423–1430. https://doi.org/10.1007/s00468-015-1222-3

Daryaei MG, Hoseiny SK, Taheri K et al (2010) Effect of morphological variables of Pistacia atlantica on gum and seed production. Iran J Biol 25:303–315

Deafalla THH, Dafa-Alla DM, El AMM (2014) The importance of non wood forest products for rural livelihoods: the case of South Kordofan state, Sudan. In: Behnassi M, Shahid SA, Mintz-Habib N (eds) Science, policy and politics of modern agricultural system: global context to local dynamics of sustainable agriculture. Springer, Netherlands, Dordrecht, pp 323–332

Falconer J, Arnold JEM (1992) Household food security and forestry: an analysis of socio-economic issues. FAO, Italy, Rome

Fallahchay MM, Firozan AH, Yosefei M et al (2009) Study vegetative characteristics Pistacia mutica in Mahparviz of Yasouj forests. Lahijan J life Sci 3:29–41

FAO (1995) Non-wood forest products. Report of the international expert consultation on non-wood forest productstle, Rome, Italy

Fattahi M (1995) Ecology of pistachio wild. In Paper presented at the first national seminar of pistachio. Ilam, Iran, pp 26–62

Gakou M, Force JE, McLaughlin WJ (1994) Non-timber forest products in rural Mali: a study of villager use. Agrofor Syst 28:213–226. https://doi.org/10.1007/BF00704757

Génova M, Caminero L, Dochao J (2014) Resin tapping in Pinus pinaster: effects on growth and response function to climate. Eur J For Res 133:323–333. https://doi.org/10.1007/s10342-013-0764-4

Ghahramany L, Saedizadeh F, Ghazanfari H (2016) Response of wild pistachio (Pistacia atlantica Desf.) to resin exploitation. J Wood For Sci Technol 23:25–44

Ghazanfari H, Namiranian M, Sobhani H, Marvi Mohajer MR (2004) Traditional forest management and its application to encourage public participation for sustainable forest management in the northern Zagros mountains of Kurdistan Province. Iran Scand J For Res 19:65–71. https://doi.org/10.1080/14004080410034074

Hendrix LJ, Carter MW, Scott DT (1982) Covariance analyses with heterogeneity of slopes in fixed models. Biometrics 38:641–650. https://doi.org/10.2307/2530045

Hosseini V, Akhavan R, Tahmasebi M (2012) Effect of pistachio (Pistacia atlantica) canopy on the spatial distribution of soil chemical characteristics (case study: Sarvabad, Kurdistan). Iran J For 4:13

Jazirehi MH, Ebrahimi Rastaghi M (2003) Silviculture in Zagros. University of Tehran, Tehran

Karamshahi A, Tahmasbi M, Najafifar A (2004) Study the best method of resin extraction from Pistacia atlantica trees. Pajouhesh and sazandegi 66:62–78

Lilliefors HW (1967) On the Kolmogorov–Smirnov test for normality with mean and variance unknown. J Am Stat Assoc 62:399–402. https://doi.org/10.1080/01621459.1967.10482916

Mbuvi D, Boon E (2009) The livelihood potential of non-wood forest products: the case of Mbooni division in Makueni district, Kenya. Environ Dev Sustain 11:989–1004. https://doi.org/10.1007/s10668-008-9163-2

Nair PR (1985) Classification of agroforestry systems. Agrofor Syst 3(2):97–128

Papadopoulos AM (2013) Resin tapping history of an aleppo pine forest in Central Greecele. Open For Sci J 6:50–53. https://doi.org/10.2174/1874398601306010050

Perez MR, Byron N (1999) A methodology to analyze divergent case studies of non-timber forest products and their development potential. For Sci 45:1–14

Pourreza M, Shaw JD, Zangeneh H (2008) Sustainability of wild pistachio (Pistacia atlantica Desf.) in Zagros forests. Iran For Ecol Manage 255:3667–3671. https://doi.org/10.1016/j.foreco.2008.01.057

Rodríguez R, Serrada R, Lucas JA et al (2008) Selvicultura de Pinus pinaster Ait. subsp. mesogeensis Fieschi & Gaussen. In: Serrada R, Montero G, Reque JA (eds) Compendio de Selvicultura Aplicada en España. INIA (Instituto Nacional de Investigaciones Agrarias), Madrid, pp 399–430

Rostamizad P, Hosseini V, Mohammadi Samani K (2019) Effects of Persian turpentine tree litter and slope aspect on soil chemical properties in a Zagros forest, Iran. J For Res 10:11–12. https://doi.org/10.1007/s11676-019-00950-9

Sabeti H (1994) Forests, trees, and shrubs of Iran, 2nd edn. Iran University of Science and Technology, Tehran

Saeidizadeh F, Ghahramany L, Ghazanfari H (2015) Impact of resin exploitation on diameter increment of Pistacia atlantica Desf. Trees. Iran J For Poplar Res 23:178–189

Shackleton C, Shackleton S (2004) The importance of non-timber forest products in rural livelihood security and as safety nets: a review of evidence from South Africa. S Afr J Sci 100:658–664

Sorrenti S (2017) Non-wood forest products in international statistical systems. FAO, Rome

Statsoft INC (2010) Statistica. Data Anal Softw Syst Version 7:1984–2004

Tomusiak R, Magnuszewski M (2009) Effect of resin tapping on radial increments of Scots pine (Pinus sylvestris L.). Trace 7:151–157

Valdivia C, Poulos C (2008) Factors affecting farm operators' interest in incorporating riparian buffers and forest farming practices in northeast and southeast Missouri. Agrofor Syst 75:61–71. https://doi.org/10.1007/s10457-008-9129-2

van der Maaten E, Mehl A, Wilmking M, van der Maaten-Theunissen M (2017) Tapping the tree-ring archive for studying effects of resin extraction on the growth and climate sensitivity of Scots pine. For Ecosyst 4:7. https://doi.org/10.1186/s40663-017-0096-9

Wang C (2006) Biomass allometric equations for 10 co-occurring tree species in Chinese temperate forests. For Ecol Manage 222:9–16. https://doi.org/10.1016/j.foreco.2005.10.074

Wild RG, Mutebi J (1996) Conservation through community use of plant resources. People and plants working paper no 5., Paris, France

Wilson MH, Lovell ST (2016) Agroforestry—the next step in sustainable and resilient agriculture. Sustainability. https://doi.org/10.3390/su8060574

Zahedipour H, Fattahi M, Mirdavoodi H (2007) Study of distribution and habitats characteristics of wild pistachio in Markazi province: Area of Saghez mountain of Tafresh Township. Iran J Biol 20:191–199
Additional information
Publisher's Note
Springer Nature remains neutral with regard to jurisdictional claims in published maps and institutional affiliations.
Electronic supplementary material
Below is the link to the electronic supplementary material.
About this article
Cite this article
Yousefi, A., Ghahramany, L., Ghazanfari, H. et al. Biometric indices of wild pistachio (Pistacia atlantica Desf.) trees under resin extraction in Western Iran. Agroforest Syst 94, 1977–1988 (2020). https://doi.org/10.1007/s10457-020-00518-1
Received:

Accepted:

Published:

Issue Date:

DOI: https://doi.org/10.1007/s10457-020-00518-1
Keywords