Abstract
Wild garlic is a leafy edible vegetable but its production in cultivated land is very poor. It is difficult to grow everywhere due to the specific environmental conditions under which it grows on the wild. Optimal cultivation condition and biosynthetic level of organosulfur compounds through forest cultivation of wild garlic were determined in five experimental forest sites. The survival rate of transplanted wild garlic seedlings was 73.3% in the S1 site (Chamaecyparis obtusa dominant forest) but was as lower as 40% in Acer palmatum dominant forest and bare ground. During 3 years after seedling transplantation, the growth of wild garlic was high in Chamaecyparis obtusa dominant forest (S1) and Pinus koraiensis dominant forest (S5) compared to the other three sites. The soil physicochemical properties of these five sites are quite different from those of the major wild garlic producing areas in Korea. Organosulfur compounds, the main bioactive substance of wild garlic, consist of disulfide, methyl 2-propenyl, disulfide, methyl 1-propenyl, dimethyl trisulfide, diallyl disulfide, tetrasulfide, and trisulfide. These compounds were significantly different in each site, and the organic sulfur compound contents in P. koraiensis rain forest (S5) were 92.6% in the first year and 81.7% in the third year and decreased with plant growth. The growth of wild garlic was correlated with soil physicochemical properties, for example, available phosphate and calcium. Likewise, the concentration of soil minerals was correlated with the growth of plant and bulb of wild garlic. The results of the study will contribute improving the efficiency of the forest land with the cultivation of useful non-timer forest products.
Access options
Buy single article
Instant access to the full article PDF.
USD 39.95
Price excludes VAT (USA)
Tax calculation will be finalised during checkout.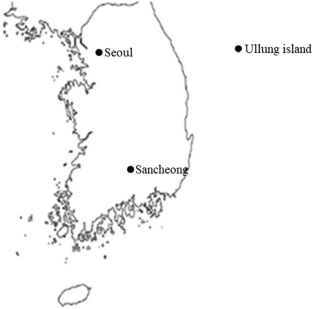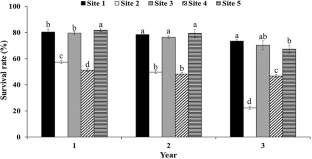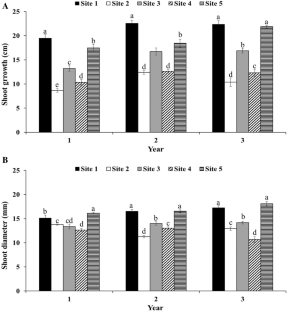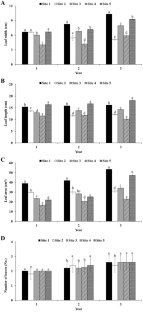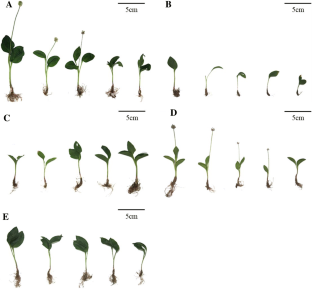 References
Birhanu M (2016) Effects of nitrogen and phosphorus rates on growth, yield, and quality of onion (Allium cepa L.) at Menschen Für Menschen Demonstration Site, Harar, Ethiopia. Agric Res Technol 1:1–8. https://doi.org/10.19080/artoaj.2016.01.555563

Bowles JE (1986) Engineering properties of soils and their measurement, 3rd edn. McGraw-Hill Book, Singapore

Bremner JM (1965) Inorganic forms of nitrogen. Agronomy 9:1179–1237. https://doi.org/10.2134/agronmonogr9.2.c33

Bremner JM, Jenkinson DS (1960) Determination of organic carbon in soil (I). J Soil Sci 11:394–402. https://doi.org/10.1111/j.1365-2389.1960.tb01093.x

Cescatti A, Zorer R (2003) Structural acclimation and radiation regime of silver fir (Abies alba Mill.) shoots along a light gradient. Plant Cell Environ 26:429–442. https://doi.org/10.1046/j.1365-3040.2003.00974.x

Fenn LB, Taylor RM, Binzel ML, Burks CM (1991) Calcium stimulation of ammonium absorption in onions. Agron J 83:840–843. https://doi.org/10.2134/agronj1991.00021962008300050014x

Gîtin L, Dinica R, Neagu C, Dumitrascu L (2014) Sulfur compounds identification and quantification from Allium spp. fresh leaves. J Food Drug Anal 22:425–430. https://doi.org/10.1016/j.jfda.2014.04.002

Gulser F (2005) Effects of Ammonium Sulphate and Urea on NO3- and NO2- accumulation, nutrient contents and yield criteria in spinach. Sci Hortic 106:330–340. https://doi.org/10.1016/j.scienta.2005.05.007

Hong MP, Lee HJ, Chun YM, Hong BR (2010) Flora of Mt. Seorak, Gangwon-do. Korean J Environ Ecol 24:436–486

Hur TC, Yun CW, Joo SH (2012) Forest site environments and soil properties of Allium victorialis var. platyphyllum in Ullengdo. J Agric Life Sci 46:19–26

Kang HM, Chang CS, Kim H, Choi SI (2015) Income analysis on the cultivation of major medicinal herbs. J Korean For Soc 104:495–502. https://doi.org/10.14578/jkfs.2015.104.3.495

Kim CB, Kim CY, Lee DH, Choi J (2000a) Effects of chemical properties of cultivation soils on the plant growth and quality of garlic. Korean J Soil Sci Fertil 33:333–339

Kim TG, Kim SH, Kang SY, Jung KK, Choi DH, Park YB, Ryu JH, Han HM (2000b) Antiatherogenic effect of the extract of Allium victorialis on the experimental atherosclerosis in the rabbit and transgenic mouse. Korean J Pharmaconosy 31:149–156

Kim HJ, Sin HS, Park HK, Yu MS, Lee SH, Hur TC, Cho HJ, Yun CW (2011) Forest Stand structure and interspecific association in the habitats of Allium victorialis var. platyphyllum. J Korean For Soc 100:565–576

Kim YD, Jeong MJ, Song HJ, Kim JC, Choi MS (2012) Morphological characters and genetic relationship between catechins-rich and -poor tea tree (Camellia sinensis L.) lines. For Sci Technol 8:28–33. https://doi.org/10.1080/21580103.2012.658228

Kim YS, Koo NI, Kang WS (2018) Assessment of forest soil characteristics using plant response techniques. National Institute of Forest Science, Seoul (in Korean)

Kochian LV, Hoekenga OA, Pineros MA (2004) How do crop plants tolerate acid soils? Mechanisms of aluminum tolerance and phosphorous efficiency. Annu Rev Plant Biol 55:459–493. https://doi.org/10.1146/annurev.arplant.55.031903.141655

Lambert J, Srivastava J, Vietmeyer N (1997) Medicinal plants. Rescuing a global heritage—Washington DC, World Bank (World Bank Technical Paper 355). https://doi.org/10.1596/0-8213-3856-0

Lancaster JE, Shaw ML (1989) γ-glutamyl peptides in the biosynthesis of S-alk(en)yl-l-cysteine sulphoxides (flavour precursors) in Allium. Phytochemistry 28:455–460. https://doi.org/10.1016/0031-9422(89)80031-7

Lawson LD, Wang ZJ, Hughes BG (1991) y-Glutamyl-S-alkylcysteines in garlic and other Allium spp.: precursors of age-dependent trans-l-propenyl thiosulfinates. J Nat Prod 54:436–444. https://doi.org/10.1021/np50074a014

Lee KJ (2010) Tree physiology. Seoul University Press, Seoul

Lee CH, Jeong MJ (2018) In vitro culture and shoot proliferation of wild garlic (Allium ochotense Prokh.). J Agric Life Sci 52:73–80. https://doi.org/10.14397/jals.2018.52.2.73

Lee KT, Choi JH, Kim DH, Son KH, Kim WB, Kwon SH, Park HJ (2001) Constituents and the antitumor principle of Allium victorialis var. platyphyllum. Arch Pharm Res 24:44–50. https://doi.org/10.1007/bf02976492

Liao JX, Shi HW, Jiang MX, Huang HD (2007) Leaf traits of natural populations of Adiantum reniforme var. sinensis, endemic to the Three Gorges region in China. Photosynthetica 45:541–546. https://doi.org/10.1007/s11099-007-0092-3

Likens ST, Nickerson GB (1964) Detection of certain hop oil constituents in brewing products. Am Soc Brew Chem 22:5–13. https://doi.org/10.1080/00960845.1964.12006730

Mahapatraa AK, Tewarib DD (2005) Importance of non-timber forest products in the economic valuation of dry deciduous forests of India. For Pol Econ 7:455–467. https://doi.org/10.1016/j.forpol.2004.02.002

Ministry of Forests and Range, Canada (2008) Glossary of Forestry Terms in British Columbia. Retrieved 2009-04-06

Moon KS (1984) Usage and components of herbal medicine. Scientific Encyclopedia Co., Pyongyang, pp 671–672

National Institute of Forest Science (2018) Evaluation of forest soil properties using plant reaction technique. National Institute of Forest Science, Seoul, pp 10–21

Ncube B, Finnie JF, Van Staden J (2012) Quality from the field: the impact of environmental factors as quality determinants in medicinal plants. South Afr J Bot 82:11–20. https://doi.org/10.1016/j.sajb.2012.05.009

Newmann RP, Hirsch E (2000) Commercialization of non-timber forest products: review and analysis of research. CIFOR, Bogor. https://doi.org/10.17528/cifor/000723

Olsen SR, Sommers LE (1982) Phosphorus. In: Page AL, Miller RH, Keeney DR (eds) Methods of soil analysis part 2, 2nd edn. Academic Press, Madison, p 403

Park SB, Kim MJ, Kim EG (2014) Comparison of profitability for Allium victorialis farming system between on-field and under-forest. J Korean For Soc 103:122–128. https://doi.org/10.14578/jkfs.2014.103.1.122

Roche P, Díaz-Burlinson N, Gachet S (2004) Congruency analysis of species ranking based on leaf traits: which traits are the more reliable? Plant Ecol 174:37–48. https://doi.org/10.1023/b:vege.0000046056.94-523.57

Sardi K, Timar E (2005) Response of garlic (Allium sativum L.) to varying fertilization levels and nutrient ratios. Commun Soil Sci Plant Anal 36:673–679. https://doi.org/10.1081/css-200043326

Schippmann U, Leaman J, Cunningham AB (2002) Impact of cultivation and gathering of medicinal plants on biodiversity: global trends and issues. FAO, Rome

Sengupta A, Ghosh S, Bhattacharjee S (2004) Allium vegetables in cancer prevention: an overview. Asian Pac J Cancer Prev 5:237–245

Shirataki Y, Motohashi N, Tani S, Sunaga K, Sakagami H, Satoh K, Nakashima H, Kanamoto T, Wolfard K, Molnar J (2001) Antioxidative activity of Allium victorialis L. extracts. Anticancer Res 21:3331–3339

Warncke D (2006) Can calcium chloride improve onion quality and yield? In: Great lakes fruit, vegetable & farm market EXPO. Michigan, USA

Woo SY, Lee DS, Min JK (2002) A study on the growth and environments of Panax ginseng in the different forest stands(II). J Korean For Soc 91:304–312

Yang JK, Kang BK, Kim TH, Hong SC, Seo WT, Choi MS (2002) Effecient extraction methods and analysis of essential oil from softwood leaves. Korean J Biotechnol Bioeng 17(4):357–364
Acknowledgements
This work was supported by the Forest Science Technology and Development Grant funded by the Korea Forest Service (S211214L020120).
Additional information
Publisher's Note
Springer Nature remains neutral with regard to jurisdictional claims in published maps and institutional affiliations.
About this article
Cite this article
Jeong, M.J., Song, H.J., Kim, H.G. et al. The optimal cultivation conditions for wild garlic (Allium victorialis var. Platyphyllum) under the forests as a non-timber forest product (NTFP). Agroforest Syst 94, 747–760 (2020). https://doi.org/10.1007/s10457-019-00447-8
Received:

Accepted:

Published:

Issue Date:

DOI: https://doi.org/10.1007/s10457-019-00447-8
Keywords
Organosulfur compounds

Soil physicochemical properties

Cultivation under forest

Wild garlic

Non-timer forest product (NTFP)