Abstract
Potato (Solanum tubersum L.) is the world's third most important food crop after wheat and rice. The current study was conducted to enhance potato yield under agroforestry system through adjustment of planting date and choice of appropriate cultivar. A two-season study (2015–2016 and 2016–2017) was carried out to find cumulative and interactive effect of planting time with potato cultivars on growth and yield performance of potato crop inter-cultivated with 5 and 6-year-old poplar (Populus deltoides) block plantation (spaced at 8 m × 2.5 m). Six potato cultivars [Kufri (K.) Pukhraj, K. Badshah, K. Jyoti, K. Pushkar, K. Chipsona-1 and K. Chipsona-3] were grown at two planting dates (15 November and 30 November) under two growing environments (open-field vs. intercrop in poplar plantation). The trees attained mean diameter, height and crown spread of 18.75 cm, 15.2 m and 28.1 m2, respectively at the age of 6 years. The highest average tuber weight (44.2 g), marketable yield (15.7 t ha−1) and total yield (30.9 t ha−1) were obtained in cultivar K. Pukhraj when it was planted on 15 November in open conditions as well as intercrop in poplar plantation. Thus, under intercropping system when a suitable cultivar combined with appropriate planting date, improves marketable and total yields of potato crop which is essential for sustainability of agroforestry-based cropping systems.
This is a preview of subscription content, log in to check access.
Access options
Buy single article
Instant access to the full article PDF.
US$ 39.95
Price includes VAT for USA
Subscribe to journal
Immediate online access to all issues from 2019. Subscription will auto renew annually.
US$ 199
This is the net price. Taxes to be calculated in checkout.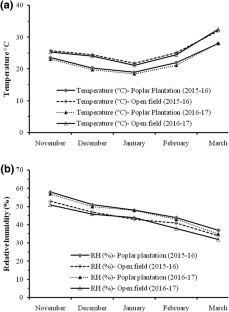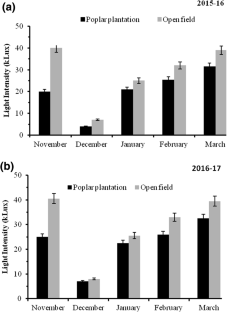 References
Bhandari N, Gill RIS, Singh B, Dhatt AS (2015) Effect of cultivars and sowing time on potato intercrop in poplar based agroforestry system. Indian J Agrofor 17:29–35

Chauhan SK, Nanda RK, Brar MS (2009) Adoption of poplar based agroforestry as an approach for diversified agriculture in Punjab. Indian For 135:671–677

Dhanda RS, Verma RK (2001) Timber volume and weight tables of farm grown poplar (Populus deltoides Bartr. ex Marsh.) in Punjab. Indian For 127:115–130

Dhyani SK, Newaj R, Sharma AR (2009) Agroforestry: its relation with agronomy, challenges and opportunities. Indian J Agron 54:249–266

Ewing EE, Struik PC (1992) Tuber formation in potato: induction, initiation, and growth. Hortic Rev 14:89–198

FAO (2017) Agroforestry—food and agriculture organization of the United Nations. http://fao.org/forestry/agroforestry/en/. Accessed on 12 Dec 2018

Faried HN, Ayyub CM, Amjad M, Ahmed R, Wattoo FM, Butt M, Bashu M, Shaheen MR, Waqas MA (2016) Salicylic acid confers salt tolerance in potato plants by improving water relations, gaseous exchange, antioxidant activities and osmoregulation. J Sci Food Agric. https://doi.org/10.1002/jsfa.7989

Gill RIS, Singh B, Kaur N (2009) Productivity and nutrient uptake of newly released wheat varieties at different sowing times under poplar plantation in north-western India. Agrofor Syst 76:579–590

Gomez KA, Gomez AA (1984) Statistical procedures for agricultural research. Wiley, New York

Kaur N, Singh B, Gill RIS (2010) Agro-techniques for increasing productivity of wheat (Triticum aestivum) under poplar (Populus deltoides) plantation. Indian J Agron 55:68–74

Khullar V, Gill RIS, Singh B, Kaur N (2010) Economic evaluation of poplar (Populus deltoides) based forestry and agroforestry models in Punjab, India. Indian J Soc Res 51:51–67

Kumar A, Pandey SK (2008) Potato production: harbinger of agricultural sustainability. Indian Farm 58(9):37

Pandey SK, Sarkar D (2005) Potato in India: emerging trends and challenges in the new millennium. Potato J 32:93–104

Patel HR, Shekh AM, Patel GC, Mistry DS (2000) Yield and quality of potato in relation to different dates of planting. J Ind Potato Assoc 27:87–90

PAU (2017) Package of practices for cultivation of vegetables, Punjab Agricultural University, Ludhiana. http://www.pau.edu/content/pf/pp_veg_2017.pdf. Accessed 12 Dec 2018

Preety A, Gill RIS, Singh B, Dhatt AS (2016) Optimization of potato cultivars and their sowing time for cultivation intercrop in poplar (Populus deltoides Bartr. ex Marsh.) based agrisilviculture system. Indian J Agrofor 18:70–76

Rani S, Chauhan SK, Kumar R, Dhatt KK (2011) Bioeconomic appraisal of flowering annuals for seed production intercrop in poplar (Populus deltoides) based agroforestry system. Trop Agri Res 22:125–133

Saha SN, Murti GSR, Banerjee VN, Purohit AN, Singh K (1974) Effect of night temperature on growth and development of Indian potato cultivars under short-day conditions. Indian J Agric Sci 44:376–382

Shehnaz, Singh B (2014) Changes in available nutrients along a chronosequence of poplar (Populus deltoides Bartr.) plantations in alluvial soils of Punjab. Indian J Agrofor 16:60–67

Singh B, Sharma KN (2007) Tree growth and nutrient status of soil in a poplar (Populus deltoides Bartr.)–based agroforestry system in Punjab, India. Agroforest Syst 70:125–134

Singh B, Singh V, Singh RP, Srivastava BK (1997) Effect of young eucalyptus trees on the growth, yield and quality of vegetable intercrops. Indian J Hort 54:320–326

Singh B, Gill RIS, Kaur N (2007) Litterfall and nutrient return in poplar plantation varying in row directions and spacings. Indian J Agrofor 9:33–37

Tewari DN (1995) Agroforestry for increased productivity, sustainability and poverty alleviation. International Book Distributors, Dehradun

Upadhya MD, Singh M (1972) Adaptation of the potato to the warmer growing areas in India. In: French ER (ed) Prospects for the potato in the developing world. Lima, Peru, pp 256–260
Acknowledgements
The authors are grateful to Indian Council of Agricultural Research for providing financial assistance through All India Coordinated Research Project on Agroforestry.
Additional information
Publisher's Note
Springer Nature remains neutral with regard to jurisdictional claims in published maps and institutional affiliations.
About this article
Cite this article
Singh, P., Sharma, S.P., Kaur, N. et al. Potato cultivars differ in response to date of planting in intercrop with poplar (Populus deltoides Bartr. ex Marsh.) in irrigated agro-ecosystem of north-west India. Agroforest Syst 93, 2345–2355 (2019). https://doi.org/10.1007/s10457-019-00356-w
Received:

Accepted:

Published:

Issue Date:
Keywords
Agroforestry

Diversification

Light intensity

Solanum tubersum L.

Vegetable intercrop