Abstract
Strychnos cocculoides Baker (Monkey orange) and Guibourtia coleosperma (Benth.) Leonard (False mopane) are two socio-economically important indigenous species for rural communities in the northern regions of Namibia. The exploitation of these indigenous species is causing rapid declines in the goods and services produced. In addition, nursery experiments to assist the germination of these indigenous woodland trees are limited. This study aimed at investigating the effects of six pre-treatments [control, cold water (15 °C), warm water (50 °C), hot water (90 °C), scarification and chemical with 32% HCl] on the seed germination of both species. Prior to the pre-treatments, sample seeds were tested for viability using the tetrazolium and rag doll tests. This was conducted to determine whether the seeds used in this study were viable and had a germination potential. For both species, over 80% seeds were viable with the tetrazolium test. Germination results indicated a significant difference between the six pre-treatments, which was more pronounced for S. cocculoides than for G. coleosperma. For S. cocculoides seeds, warm water (80%), cold water (70%) and control (untreated seeds) (63%) yielded greater percentages of germination than hot water (40%), scarification (3%) and HCI-chemical (0%) after 7 weeks of germination. For G. coleosperma seeds, warm water (83%), cold water (80%), control (80%) and hot water (70%) produced the highest percentage of germination, compared to chemical (67%) and scarification (67%) pre-treatments. The control, cold and warm water pre-treatments showed germination of S. cocculoides seeds within 3 weeks of sowing, while for other treatments, seeds only germinated 4 weeks after sowing. Guibourtiacoleosperma untreated and warm water-treated seeds germinated earlier (week 2) compared to the other pre-treatments, for which germination only occurred during week 3. Therefore, the study recommends warm water as an ideal pre-treatment to promote germination in S. cocculoides and G. coleosperma species. Potential future studies could investigate effect of different temperatures and photoperiods on the germination percentage of the two species.
This is a preview of subscription content, log in to check access.
Access options
Buy single article
Instant access to the full article PDF.
US$ 39.95
Price includes VAT for USA
Subscribe to journal
Immediate online access to all issues from 2019. Subscription will auto renew annually.
US$ 199
This is the net price. Taxes to be calculated in checkout.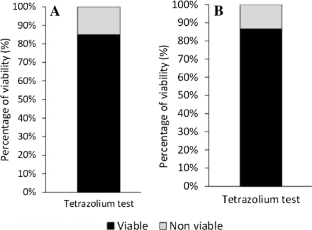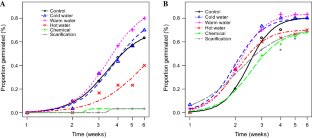 References
Akinnifesi F, Sileshi G, Mkonda A, Ajayi OC, Mhango J, Chilanga T (2008) Germplasm supply, propagation and nursery management of miombo fruit trees. In: Akinnifesi FK, Leakey RB (eds) Indigenous fruit trees in the tropics. CAB International, Lilongwe, pp 341–368

Bicksler AJ (2011) Testing seed viability using simple germination tests. ECHO Asia Notes, Chiang Mai

Bille PG, Shikongo MN, Ahmad C (2013) Value addition and processed products of three indigenous fruits in Namibia. Afr J Food Agric Nutr Dev 13(1):7192–7212

Botzat A, Fischer L, Farwig N (2015) Regeneration potential in South African forest fragments: extinction debt paid off or hampered by contemporary matrix modification. Plant Ecol 216(4):535–551

Chirwa P, Akinnifesi FK (2008) Ecology and biology of Uapaca kirkiana, Strychnos cocculoides and Sclerocarya birrea in Southern Africa. In: Ecology and biology of selected trees in Southern Africa, Issue 18, pp 323–341

Chisha-Kasumu E, Woodward S, Price A (2007) Comparison of the effects of mechanical scarification and gibberellic acid treatments on seed germination in Pterocarpus angolensis. South Hemisphere For J 1(69):63–70

Curtis B, Mannheimer C (2005) Tree atlas of Namibia, 1st edn. National Botanical Research Institute, Windhoek

Curtis B, Mannheimer C (2009) Le Roux and Müller's field guide to the trees and shrubs of Namibia, 1st edn. Macmillan Education Namibia, Windhoek

De Cauwer V, Younan R (2015) Seed germination of woodland tree species. Namibia University of Science and Technology, Windhoek

Directorate of Forestry (2011) Forest research strategy for Namibia. MAWF, Windhoek

Elago S (2015) A comparative evaluation of the economic contribution and uses of Strychnos cocculoides and Schinziophyton rautanenii fruit trees to poverty alleviation in mile 20 of Namibia. Agric Food Sci Res II(1):25–31

Elago S (2016) Assessing harvesting and postharvest handling practices of Strychnos cocculoides fruit in the Kavango West Region of Namibia. M.Sc. for thesis, Stellenbosch University

Graaff JL, Van Staden J (1983) The effect of different chemical and physical treatments on seed coat structure and seed germination of Sesbania species. Z Pflanzenphysiol 112(3):221–230

Graz PF (2004) Structure and diversity of the dry woodland savanna of northern Namibia. http://ediss.uni-goettingen.de/bitstream/handle/11858/00-1735-0000-0006-B16B-1/graz.pdf?sequence=1. Accessed 11 Nov 2015

Hartmann HT, Kester DE, Davies FT, Geneve RL (2011) Plant propagation: principals and practices, 8th edn. Pearson Education Inc., New York

Hines DA, Eckman K (1993) Indigenous multipurpose trees of Tanzania: uses and economic benefits for people, vol 93. Rome. http://www.fao.org/docrep/019/x5327e/x5327e.pdf. September 18

Mapongmetsem MP, Duguma B, Nkongmeneck BA, Selegny E (1999) The effect of various seed pre-treatments to improve germination in eight indigenous tree species in the forests of Cameroon. Ann For Sci 8(56):679–684

Moses R (2012) Seed physiological aspects of large-seeded species of the Kavango woodland. Unpublished Master Thesis, University of Pretoria

Moses M (2013) Assessment of trade-offs timber and carbon values of Pterocarpus angolensis (Kiaat) in the Kavango Region of Namibia—a comparison of current and potential values. Master Thesis, Stellenbosch University

Mwamba CK (2006) Monkey orange: Strychnos cocculoides, 1st edn. University of Southampton, Southampton

Ofori DA, Asomaning JM, Peprah T, Agyeman VK, Anjarwalla P, Tchoundjeu Z, Mowo JG, Jamnadass R (2015) Addressing constraints in the propagation of Allan blackia spp. through seed sectioning and air layering. J Exp Biol Agric Sci 3(1) (2320–8694), 96

Onofri A, Gresta F, Tei F (2010) A new method for the analysis of germination and emergence data of weed species. Weed Res 50:187–198

Patil VN, Dadlani M (2009) Tetrazolium test for seed viability and vigour. In: Handbook of seed testing, pp 209–241

R Development Core Team (2013) R: a language and environment for statistical computing. R Foundation for Statistical Computing, Vienna. http://www.R-project.org/

Rasheed A, Hameed A, Khan MA, Gul B (2015) Variation in temperature and light but not salinity invokes antioxidant enzyme activities in germinating seeds of Salsola drummondii. Plant Biosyst. https://doi.org/10.1080/11263504.2014.1001463

Ritz C, Streibig JC (2005) Bioassay analysis using R. J Stat Softw 12(5):1–22

Ritz C, Pipper CB, Streibig JC (2013) Analysis of germination data from agricultural experiments. Eur J Agron 45:1–6

Sweet J, Burke A (2006) Country pasture/forage resource profiles. http://www.fao.org/ag/agp/agpc/doc/counprof/Namibia/namibia.htm. Accessed 07 August 2016
Acknowledgements
The authors would like to extend their appreciation to the Southern African Science Service Centre for Climate Change and Adaptive Land Management (SASSCAL—038) for funding, Ministry of Agriculture Water and Forestry in Namibia under the Directorate of Forestry, and Stellenbosch University for additional funding and resources.
About this article
Cite this article
Heita, H.T.N., Ham, H. & Mensah, S. Effects of seed viability and pre-treatments on seed germination of two indigenous species—Strychnos cocculoides Baker and Guibourtia coleosperma (Benth.) Leonard in Namibia. Agroforest Syst 93, 2173–2180 (2019). https://doi.org/10.1007/s10457-018-0333-4
Received:

Accepted:

Published:

Issue Date:
Keywords
Strychnos cocculoides
Guibourtia coleosperma

Pre-treatment

Viability

Tetrazolium

Germination