Abstract
Integrated crop–livestock–forestry systems are a sustainable agriculture system based on the intensification of land use to produce food, fiber and energy and are a priority theme in the public policy of the Brazilian government. The lack of technical and scientific knowledge may be one of the most challenging factors contributing to the low adoption of these complex, integrated systems. The objective of this study was to evaluate the crop, livestock and forestry performance assessment under different production systems in the north of Mato Grosso. Ten production systems were evaluated from 2011 to 2015, including crop production (soybean/corn), livestock (palisade grass pastures with Nellore steers) and forestry (Eucalyptus urograndis H13), in both single and integrated systems. Annual evaluations of production components in the crops, forage, cattle and trees were carried out. A negative influence on the grain yields in the fourth and fifth years for soybean and the third year onward for maize was observed as a result of the presence of the tree in the production systems. Forage availability and animal weight gain were increased by the rotation of crop–livestock, while no differences were found for wood individual volume yield among the production systems.
This is a preview of subscription content, log in to check access.
Access options
Buy single article
Instant access to the full article PDF.
US$ 39.95
Price includes VAT for USA
Subscribe to journal
Immediate online access to all issues from 2019. Subscription will auto renew annually.
US$ 199
This is the net price. Taxes to be calculated in checkout.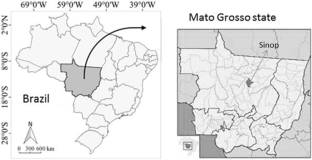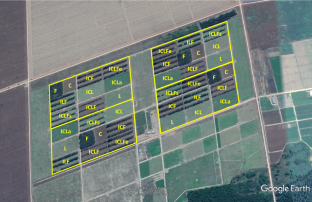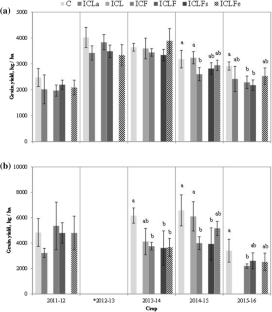 References
ABIEC. 2017. "Relatório anual." accessed February 15° 2017. http://abiec.siteoficial.ws/images/upload/sumario-pt-010217.pdf

Balbino LC, Cordeiro LAM, Porfírio-da-Silva V, Moraes A, Martínez GB, Alvarenga RC, Kichel AN, Fontaneli RS, Santos HP, Franchini JC, Galerani PR (2011) Evolução tecnológica e arranjos produtivos de sistemas de integração lavoura-pecuária-floresta no Brasil. Pesquisa Agropecuária Brasileira 46:i–xii

Bernardo AL, Reis MGF, Reis GG, Harrison RB, Firme DJ (1998) Effect of spacing on growth and biomass distribution in Eucalyptus camaldulensis, E. pellita and E. urophylla plantations in southeastern Brazil. For Ecol Manag 104:1–13

Bertomeu M (2012) Growth and yield of maize and timber trees in smallholder agroforestry systems in Claveria, northern Mindanao, Philippines. Agrofor Syst 84:73–87

Bungenstab DJ, Silva Júnior AG, Zanasi C, Rota C (eds) (2014) Concepts and initiatives for sustainable agriculture. In: DJ Bungenstab, RG Almeida (eds) Vol 1, Integrated crop-livestock-forestry systems: a Brazilian experience for sustainable farming. Brasília: Embrapa

Conway GR (1987) The properties of agroecosystems. Agric Syst 24:95–117

Cruz JC, Pereira Filho IA, Alvarenga RC, Gontijo Neto MM, Oliveira MF, Matrangolo WJR (2008) Cultivo do milho. Embrapa Milho e Sorgo, Sete Lagoas

Daniel O, Bittencourt D, Gelain E (2004) Avaliação de um sistema agroflorestal eucalipto-milho no Mato Grosso do Sul. Agrossilvicultura 1:15–28 (Abstract available in English)

Difante GS, Euclides VPB, Nascimento Júnior D, Silva SC, Torres Júnior RAA, Sarmento DOL (2009) Ingestive behaviour, herbage intake and grazing efficiency of beef cattle steers on Tanzania guineagrass subjected to rotational stocking managements. Revista Brasileira de Zootecnia 38:1001–1008

Domiciano LF, Mombach MA, Carvalho P, da Silva NMF, Pereira DH, Cabral LS, Lopes LB, Pedreira BC (2017) Performance and behaviour of Nellore steers on integrated systems. Anim Prod Sci. https://doi.org/10.1071/an16351

Embrapa (2016) Adoção de ILPF chega a 11,5 milhões de hectares. Embrapa Meio Ambiente, Embrapa Arroz e Feijão, accessed December 15° 2016. https://www.embrapa.br/busca-de-noticias/-/noticia/17755008/adocao-de-ilpf-chega-a-115-milhoes-de-hectares

Euclides VPB, Montagner DB, Barbosa RA, Nantes NN (2014) Manejo do pastejo de cultivares de Brachiaria brizantha (Hochst) Stapf e de Panicum maximum Jacq. Ceres 61:808–818 (Abstract available in English)

França AN, Ferreira AD, Macedo MCM, Araújo AR, Gonçalves AA (2013) Índice de produtividade da lavoura de soja consorciada com eucalipto em sistema de integração lavoura-pecuária-floresta. Sistemas Agroflorestais e Desenvolvimento Sustentável: 10 anos de Pesquisa, Campo Grande

Kottek M, Grieser J, Beck C, Rudolf B, Rubel F (2006) World map of the Köppen-Geiger climate classification updated. Meteorol Z 15:259–263

Leles PSS, Reis GG, Reis MGF, Morais EJ (2001) Crescimento, produção e alocação de matéria seca de Eucalyptus camaldulensis e E. pellita sob diferentes espaçamentos na região de cerrado. MG Sci For 59:77–87

Littell RC, Milliken GA, Stroup WW et al (2006) SAS for mixed models, 2nd edn. Institute Inc., Cary

Lopes MA (2013) "Apresentação." Pesquisa Agropecuária Brasileira 48:i

Martins CDM, Euclides VPB, Barbosa RA, Montagner DB, Miqueloto T (2013) Consumo de forragem e desempenho animal em cultivares de Urochloa humidicola sob lotação contínua. Pesquisa Agropecuária Brasileira 48:1402–1409 (Abstract available in English)

Oliveira TK, Macedo RLG, Venturin N, Higashikawa EM (2009) Desempenho silvicultural e produtivo de eucalipto sob diferentes arranjos espaciais em sistema agrossilvipastoril. Pesquisa Florestal Brasileira 60 edição especial: 01-09 (Abstract available in English)

Oliveira FLR, Cabacinha CD, Santos LDT, Barroso DG, Santos Júnior A, Brant MC, Sampaio RA (2015) Crescimento inicial de eucalipto e acácia em diferentes arranjos de integração lavoura-pecuária-floresta. Cerne 21:227–233 (Abstract available in English)

Paciullo DSC, Gomide CAM, Castro CRT, Fernandes PB, Müller MD, Pires MFA, Fernandes EN, Xavier DF (2011) Características produtivas e nutricionais do pasto em sistema agrossilvipastoril, conforme a distância das árvores. Pesquisa Agropecuária Brasileira 46:1176–1183 (Abstract available in English)

Pezzopane JRM, Bernardi ACC, Bosi C, Oliveira PPA, Marconato MH, de Faria Pedroso A, Esteves SN (2017) Forage productivity and nutritive value during pasture renovation in integrated systems. Agrofor Syst. https://doi.org/10.1007/s10457-017-0149-7

Reiner DA, Silveira ER, Szabo MS (2011) O uso do eucalipto em diferentes espaçamentos como alternativa de renda e suprimento da pequena propriedade da região sudoeste do Paraná. Synergismus scyentifica UTFPR 6:1–7 (Abstract available in English)

Reynolds PE, Simpson JA, Thevathasan NV, Gordon AM (2007) Effects of tree competition on corn and soybean photosynthesis, growth, and yield in a temperate tree-based agroforestry intercropping system in southern Ontario, Canada. Ecol Eng 29:362–371

Santana RC, Barros NF, Leite HG, Comerford NB, Novais RF (2008) Estimativa de biomassa de plantios de eucalipto no Brasil. Árvores 32:697–706 (Abstract available in English)

Shimizu JY, Klein H, Oliveira JRV (2007) Diagnóstico das Plantações Florestais em Mato Grosso 2007. Central de Texto, Cuiabá

Soil Survey Staff (1999) Soil taxonomy: a basic system of soil classification for making and interpreting soil surveys. Natural Resources Conservation Service, USDA, Washington

Souza AP, Mota LL, Zamadei T, Martim CC, Almeida FT, Paulino J (2013) Classificação climática e balanço hídrico climatológico no estado de Mato Grosso. Nativa 1: 34–43 (Abstract available in English)

Vilela L, Martha Junior GB, Macedo MCM, Marchão RL, Guimarães Júnior R, Pulrolnik K, Maciel GA (2011) Sistemas de integração lavoura-pecuária na região do Cerrado. Pesquisa Agropecuária Brasileira 46:1127–1138 (Abstract available in English)

Wolfinger R (1993) Covariance structure selection in general mixed models. Commun Stat Simul Comput 22:1079–1106
Acknowledgements
The authors would like to thank FAPEMAT, CNPq, Capes and Embrapa for funding the project, as well as ACRIMAT and ACRINORTE.
About this article
Cite this article
Magalhães, C.A.S., Pedreira, B.C., Tonini, H. et al. Crop, livestock and forestry performance assessment under different production systems in the north of Mato Grosso, Brazil. Agroforest Syst 93, 2085–2096 (2019). https://doi.org/10.1007/s10457-018-0311-x
Received:

Accepted:

Published:

Issue Date:
Keywords
Agrosilvopastoral system

Sustainable intensification

Agricultural frontier

Integrated crop–livestock–forestry (ICLF) systems