Abstract
The North American pawpaw (Asimina triloba (L.) Dunal) is a high-value native specialty fruit crop that offers multiple opportunities for commercial value-added products. A survey was conducted to obtain a better understanding of consumer preferences for pawpaws as fresh and value-added food products. The survey was distributed to 524 individuals who were members of the North American Pawpaw Growers Association, attendees of the 2016 International Pawpaw Conference at Frankfurt, Kentucky, and participants at the 2017 Ohio Pawpaw Festival, Albany, Ohio. Respondents were asked to self-identify their positions (consumers or producers) in the pawpaw market. Those who self-identified as consumers were asked to take the survey. A total of 192 responses were collected. Survey results indicated that the majority of the respondents consume fresh or value-added pawpaw products at least once a year. They reported strong preferences for the flavor and texture of fresh pawpaws. Price, origin, and type of production process had statistically significant impacts on consumers' purchase preferences. The characteristic that most influenced demand was local production—consumers were willing to pay a premium of $5.20/kg for locally produced pawpaws compared to pawpaws of unknown region of origin. Consumers also preferred certified organic and pesticide-free pawpaws to fruit produced using chemical fertilizers, pesticides, and herbicides. The average price premiums consumers were willing to pay for certified organic and pesticide-free fruits were $4.19 and $3.28/kg, respectively. Providing information about the region of origin, organic and pesticide-free production processes can potentially increase consumer demand for pawpaws and their share of the fresh and value-added fruit market.
Access options
Buy single article
Instant access to the full article PDF.
USD 39.95
Price includes VAT (USA)
Tax calculation will be finalised during checkout.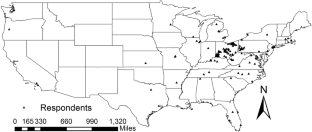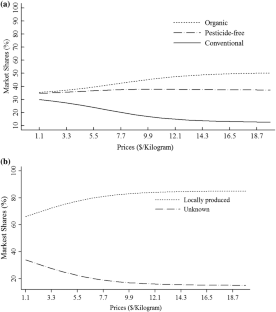 References
Agricultural Marketing Resource Center (2016) Pawpaw. http://www.agmrc.org/commodities-products/fruits/pawpaw/. Accessed 5 Sept 2017

Aguilar FX, Cernusca MM, Gold MA (2009) Exploratory assessment of consumer preferences for chestnut attributes in Missouri. Horttechnology 19(1):216–223

Aguilar FX, Cernusca MM, Gold MA, Barbieri CE (2010) Frequency of consumption, familiarity and preferences for chestnuts in Missouri. Agrofor Syst 79(1):19–29

Aguilar FX, Cai Z, Mohebalian P, Thompson W (2015) Exploring the drivers' side of the "blend wall": US consumer preferences for ethanol blend fuels. Energy Econ 49:217–226

Baruch Y, Holtom BC (2008) Survey response rate levels and trends in organizational research. Hum Relat 61(8):1139–1160

Batte MT, Hooker NH, Haab TC, Beaverson J (2007) Putting their money where their mouths are: Consumer willingness to pay for multi-ingredient, processed organic food products. Food Policy 32(2):145–159

Braithwaite D, Emery J, De Lusignan S, Sutton S (2003) Using the Internet to conduct surveys of health professionals: a valid alternative? Fam Pract 20(5):545–551

Brannan RG, Salabak DE, Holben DE (2012) Sensory analysis of pawpaw (Asimina triloba) pulp puree: consumer appraisal and descriptive lexicon. J Food Res 1(1):179–192

Brown C (2003) Consumers' preferences for locally produced food: a study in southeast Missouri. Am J Altern Agric 18(4):213–224

Cai Z, Xie Y, Aguilar FX (2017) Eco-label credibility and retailer effects on green product purchasing intention. For Policy Econ 80:200–208

Callaway MB (1993) Pawpaw (Asimina triloba): a "Tropical" fruit for temperate climates. In: Janick J, Simon JE (eds) New crops. Wiley, New York

Cernusca M, Hunt K, Gold M (2009) Pawpaw: production trial and after purchase survey findings. http://www.centerforagroforestry.org/pubs/pawpaws.pdf. Accessed 5 Sept 2017

Cunningham CT, Quan H, Hemmelgarn B, Noseworth T, Beck CA, Dixon E, Samuel S, Ghali WA, Sykes LL, Jetté N (2015) Exploring physician specialist response rates to web-based surveys. BMC Med Res Methodol 15(1):32

Dillman DA (2000) Mail and internet surveys: the tailored design method, vol 2. Wiley, New York

Duffrin MW, Pomper KW (2006) Development of flavor descriptors for pawpaw fruit puree: a step toward the establishment of a native tree fruit industry. Family Consum Sci Res J 35(2):118–130

Duffrin MW, Holben DH, Bremner MJ (2001) Consumer acceptance of pawpaw (Asimina triloba) fruit puree as a fat-reducing agent in muffins, compared to muffins made with applesauce and fat. Family Consum Sci Res J 29(3):281–287

Fang CD (2007) Characterization of polyphenol oxidase and antioxidants from pawpaw (Asimina tribola) fruit. University of Kentucky master's theses

Galli F, Archbold DD, Pomper KW (2008) Loss of ripening capacity of pawpaw fruit with extended cold storage. J Agric Food Chem 56(22):10683–10688

Gracia A, de-Magistris T (2016) Consumer preferences for food labeling: what ranks first? Food Control 61:39–46

Greene WH (2003) Econometric analysis. Pearson Education, India

Hall P, Wilson SR (1991) Two guidelines for bootstrap hypothesis testing. Biometrics 47:757–762

Harrison RW, Stringer T, Prinyawiwatkul W (2002) An analysis of consumer preferences for value-added seafood products derived from crawfish. Agric Resour Econ Rev 31:157–170

Hole AR (2011) A discrete choice model with endogenous attribute attendance. Econ Lett 110(3):203–205

Hormaza JI (2014) The Pawpaw, a forgotten North American fruit tree. Arnoldia 72(1):13–23

http://uknowledge.uky.edu/gradschool_theses/477. Accessed 5 Sept 2017

Huber J, Train K (2001) On the similarity of classical and Bayesian estimates of individual mean partworths. Mark Lett 12(3):257–267. https://doi.org/10.1023/A:1011120928698

Hutchins RK, Greenhalgh LA (1997) Organic confusion: sustaining competitive advantage. Br Food J 99(9):336–338

Kentucky State University (2016) Fourth international pawpaw conference. http://www.pawpaw.kysu.edu/Fourth%20International%20Pawpaw%20Conference.htm. Accessed 30 May 2017

Kentucky State University (2017) KSU pawpaw program. http://www.pawpaw.kysu.edu/. Accessed 30 May 2017

Klaiber HA, von Haefen RH (2011) Do random coefficients and alternative specific constants improve policy analysis? An empirical investigation of model fit and prediction. Working paper. Ohio State University, Columbus

Kobayashi H, Wang C, Pomper KW (2008) Phenolic content and antioxidant capacity of pawpaw fruit (Asimina triloba L.) at different ripening stages. Hortscience 43(1):268–270

Kuhfeld W, Tobias R, Garratt M (1994) Efficient experimental design with marketing research applications. J Mark Res 31(4):545–557

Layne DR (1996) The pawpaw [Asimina triloba (L.) Dunal]: a new fruit crop for Kentucky and the United States. Hortscience 31(5):777–784

Loureiro ML, Hine S (2002) Discovering niche markets: a comparison of consumer willingness to pay for local (Colorado grown), organic, and GMO-free products. J Agric Appl Econ 34(3):477–487

Louviere JJ, Hensher DA, Swait J (2000) Stated choice methods: analysis and application. Cambridge University Press, Cambridge

McFadden D (1974) Conditional logit analysis of qualitative choice behavior. In: Zarembka P (ed) Frontiers in econometrics. Academic Press, New York, pp 105–142

Mohebalian PM, Aguilar FX, Cernusca MM (2013) Conjoint analysis of US consumers' preference for elderberry jelly and juice products. HortScience 48(3):338–346

Moore A (2015) Pawpaw: in search of America's forgotten fruit. Chelsea Green Publishing, Hartford

National Gardening Association (2017) Edible landscaping—edible of the month: pawpaw. https://garden.org/learn/articles/view/4125/. Accessed 22 Aug 2017

Nazarko OM, Van Acker RC, Entz MH, Schoofs A, Martens G (2003) Pesticide free production of field crops. Agron J 95(5):1262–1273

Ohio Pawpaw Festival (2017) About the festival. https://www.ohiopawpawfest.com/. Accessed 5 Sept 2017

Ohio Pawpaw Growers Association (2007) OPGA membership. https://ohiopawpaw.com/. Accessed 5 Sept 2017

Onozaka Y, McFadden DT (2011) Does local labeling complement or compete with other sustainable labels? A conjoint analysis of direct and joint values for fresh produce claim. Am J Agric Econ 93(3):693–706

Ott SL (1990) Supermarket shoppers' pesticide concerns and willingness to purchase certified pesticide residue-free fresh produce. Agribusiness 6(6):593–602

Peterson RN, Cherry JP, Simmons JG (1982) Composition of pawpaw fruit. No Nut Growers Assoc Ann Rep 73:97–108

Pomper KW, Crabtree SB, Lowe JD (2010) Organic production of pawpaw. Kentucky State University Cooperative Extension Program, PBI-004

Revelt D, Train K (1998) Mixed logit with repeated choices: households' choices of appliance efficiency level. Rev Econ Stat 80(4):647–657

Riahi A, Hdider C, Sanaa M, Tarchoun N, Kheder MB, Guezal I (2009) Effect of conventional and organic production systems on the yield and quality of field tomato cultivars grown in Tunisia. J Sci Food Agric 89(13):2275–2282

Saleh A, Bista K (2017) Examining factors impacting online survey response rates in educational research: perceptions of graduate students. J Multidiscipl Eval 13(29):63–74

Templeton SB, Marlette M, Pomper KW, Jones SC (2003) Favorable taste ratings for several pawpaw products. HortTechnology 13(3):445–448

Thurstone LL (1927) The method of paired comparisons for social values. J Abnorm Soc Psychol 21:384–400

Train KE (1999) Mixed logit models for recreation demand. Valuing recreation and the environment. Edward Elgar, Northampton

Train KE (2003) Discrete choice methods with simulation. Cambridge University Press, Cambridge

Trobe HL (2001) Farmers' markets: consuming local rural produce. Int J Consum Stud 25(3):181–192

University of Kentucky (2009) Pawpaw. https://www.uky.edu/Ag/CCD/introsheets/pawpaw.pdf. Accessed 11 Apr 2016

Wang Q, Sun J (2003) Consumer preference and demand for organic food: evidence from a Vermont survey. Paper prepared for American Agricultural Economics Association Annual Meeting, July 2003, pp 1–12

Wolf MM (2002) An analysis of the impact of price on consumer purchase interest in organic grapes and a profile of organic purchasers. In 2002 Annual meeting, July 28–31, Long Beach, CA (No. 19663). American Agricultural Economics Association (New Name 2008: Agricultural and Applied Economics Association)

Yiridoe EK, Bonti-Ankomah S, Martin RC (2005) Comparison of consumer perceptions and preference toward organic versus conventionally produced foods: a review and update of the literature. Renew Agric Food Syst 20(4):193–205

Yue C, Tong C (2009) Organic or local? Investigating consumer preference for fresh produce using a choice experiment with real economic incentives. HortScience 44(2):366–371
Acknowledgements
This research is supported by the MU Center for Agroforestry and the US Department of Agriculture: Agriculture Research Service (Agreement No. 00054685).
About this article
Cite this article
Cai, Z., Gold, M. & Brannan, R. An exploratory analysis of US consumer preferences for North American pawpaw. Agroforest Syst 93, 1673–1685 (2019). https://doi.org/10.1007/s10457-018-0296-5
Received:

Accepted:

Published:

Issue Date:
Keywords
Organic

Pesticide-free

Locally produced

Price premium

Value-added food products

Market shares

Discrete choice experiment