Abstract
Coconut is a popular plantation crop with a growth habit requiring wide space between palms. With the amount of sunlight that reaches coconut understory, the between-palms space can be used to grow other beneficial plants. Growing fertilizing shrubs within coconut rows can contribute to effective and sustainable use of coconut plantation soil. In the long term, sustainable coconut plantation systems will require shrubs that sprout quickly after periodic cutting to provide sufficient plant nutrients. Here, we report the results of a 4-year experiment on Tithonia diversifolia (Hemsl.) A. Gray biomass allocation and growth performance in coconut plantations in Sri Lanka. Effects of growing T. diversifolia, pruning frequency and its green manure application on soil properties, moisture, organic matter, bulk density and microbial activity were assessed in two agro-ecological research stations. Results revealed increasing dry foliage and wood biomass overtime. At higher pruning frequencies, foliage biomass increased while wood biomass decreased. Inversely, at lower pruning frequencies, wood biomass increased while foliage biomass declined. Growing T. diversifolia in coconut plantations had little effect on soil moisture content especially in humid area. In the long run, mulching reduced bulk density, improved soil nutrient, organic matter and microbial activity and palm leaf macronutrient levels. This study shows that T. diversifolia, when used as green manure crop in coconut plantations, has a great fertilizing capacity and potential to improve in the long term, not only the soil properties, but also the nutrient levels in the palm organs.
This is a preview of subscription content, log in to check access.
Access options
Buy single article
Instant access to the full article PDF.
US$ 39.95
Price includes VAT for USA
Subscribe to journal
Immediate online access to all issues from 2019. Subscription will auto renew annually.
US$ 199
This is the net price. Taxes to be calculated in checkout.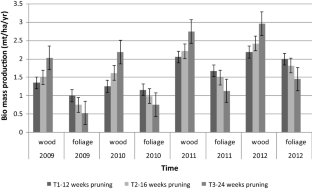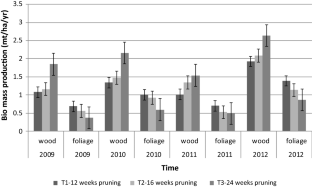 References
Abdul Khalil HPS, Sohrab Hossain MD, Rosamah E, Azli NA, Saddon N, Davoudpoura Y, Nazrul Islam M, Dungani R (2015) The role of soil properties and its interaction towards quality plant fiber: a review. Renew Sustain Energy Rev 43:1006–1015

Anderson JM, Ingram ISI (1993) Tropical soil biology and fertility: a handbook of methods, 2nd edn. C.A.B. International, Wallingford, UK

Blair GJ, Boland OW (1978) The release of P from plant material added to soil. Aust J Soil Res 16:101–111

Blankinship JC, Niklaus PA, Hungate BA (2011) A meta-analysis of responses of soil biota to global change. Oecologia 165:553–565

Bray RH, Kurtz LT (1945) Determination of total, organic, and available forms of phosphorus in soils. Soil Sci 59:39–46

Brockett BFT, Prescott CE, Grayston SJ (2012) Soil moisture is the major factor influencing microbial community structure and enzyme activities across seven biogeoclimatic zones in western Canada. Soil Biol Biochem 44(1):9–20

Chaudhari PR, Ahire DV, Ahire VD, Chkravarty M, Maity S (2013) Soil bulk density as related to soil texture, organic matter content and available total nutrients of Coimbatore soil. Int J Sci Res Publ 3(2):1–8

Cong PT, Merckx R (2005) Improving phosphorus availability in two upland soils of Vietnam using Tithonia diversifolia H. Plant Soil 269:11–23

De Alwis KA, Panabokke CR (1972) Hand book of the soils of Sri Lanka (Ceylon). J Soil Sci Soc 2:1–97

Dharmakeerthi RS (2007) Manual of soil sampling and analysis. In: Dharmakeerthi RS, Indraratne SP, Kumaragamage D (eds) Special publication no. 01, Soil Science Society of Sri Lanka, pp 19–21

Duguma B, Kang BT, Okali DUU (1988) Effect of pruning intensities of three woody leguminous species grown in alley cropping with maize and cowpea on an alfisol. Agrofor Syst 6:19–35

Ella A, Jacobsen C, Stur WW, Blair G (1989) Effect of plant density and cutting frequency on the productivity of four tree legumes. Tropical Grassl 23:28–34

Gachengo CN, Palm CA, Jama B, Othieno C (1999) Tithonia and senna green manures and inorganic fertilizers as phosphorus sources for maize in Western Kenya. Agrofor Syst 44:21–35

Garrity DP, Mercado A (1994) Reforestation through agroforestry: market-driver smallholder timber production on the frontier. In: Raintree JB, Francisco HA (eds) Marketing of multipurpose tree products in Asia. Winrock International, Morrilton, pp 265–268

Guevarra AB, Whitney AS, Thompson JT (1978) Influence of intra-row spacing and cutting regimes on the growth and yield of Leucaena. Agron J 70:1033–1037

Hafifah H, Sudiarso S, Maghfoer MD, Prasetya B (2016) The potential of Tithonia diversifolia green manure for improving soil quality for cauliflower (Brassica oleracea var. Brotrytis L.). J. Degrad. Min. Land Manag. 3(2):499–506

Hartemink AE, Buresh RJ, Jama B, Janssen BH (1996) Soil nitrate and water dynamic in sesbania fallows, weed fallows and maize. Soil Sci Soc Am J 60:568–574

Jama BA, Palm CA, Buresh RJ, Niang AI, Gachengo C, Nziguheba G, Amadalo B (2000) Tithonia diversifolia as a green manure for soil fertility improvement in Western Kenya: a review. Agrofor Syst 49:201–221

Jorge-Mustonen PS, Oelbermann M, Kass DCL (2014) Response of the common bean (Phaseolus vulgaris L.) to Tithonia diversifolia (Hamsl.) Gray biomass retention or removal in a slash and mulch agroforestry system. Agrofor Syst 88:1–10

Kang BT (1997) Alley cropping soil productivity and nutrient recycling. For Ecol Manag 91:75–82

Kardol P, Cregger MA, Campany CE, Classen AT (2010) Soil ecosystem functioning under climate change: plant species and community effects. Ecology 91(3):767–781

Latt CR, Nair PKR, Kang BT (2000) Interaction among cutting frequency, reserve carbohydrates, and post-cutting biomass production in Gliricidia sepium and Leucaena leucocephala. Agrofor Syst 50:27–46

Lin C, Tu S, Huang J, Chen Y (2009) The effect of plant hedgerows on the spatial distribution of soil erosion and soil fertility on sloping farmland in the purple-soil area of China. Soil Tillage Res 105:307–312

Manual of Analytical Methods (2001) Soils and plant nutrition division. Coconut Research Institute, Lunuwila

Mapa RB, Dassanayake AR, Nayakekorale HB (2005) Soils of the intermediate zone of Sri Lanka: morphology, characterization and classification. Soil Science Society of Sri Lanka, Peradeniya

Mensah S, Glèlè Kakaï R, Seifert T (2016) Patterns of biomass allocation between foliage and woody structure: the effects of tree size and specific functional traits. Ann For Res 59(1):49–60

Nziguheba G, Palm CA, Buresh RJ, Smithson PC (1998) Soil phosphorus fractions and absorption as affected by organic and inorganic sources. Plant Soil 198:159–168

Nziguheba G, Merckx R, Palm CA, Mutuo P (2002) Combining Tithonia diversifolia and fertilizers for maize production in a phosphorus deficient soil in Kenya. Agrofor Syst 55:165–174

Ojeniyi SO, Odedina SA, Agbede TM (2012) Soil productivity improving attributes of Mexican sunflower (Tithonia diversifolia) and siam weed (Chromoleana odorata). Emir J Food Agric 24:243–247

Palm CA, Mukalama J, Agunda J, Nekesa P, Ajanga S (1996) Farm hedge survey: composition, management, use and potential for soil fertility management. Summary report for African Highlands Initiative. Tropical Soil Biology and Fertility Programme (TSBF), Nairobi

Partey ST (2011) Effect of pruning frequency and pruning height on the biomass production of Tithonia diversifolia (Helms) A. Gray. Agrofor Syst 83:181–187

Partey ST, Quashie-sam SJ, Thevathasan NV, Gordon AM (2011) Decomposition and nutrient release patterns of the leaf biomass of the wild sunflower (Tithonia diversifolia): a comparative study with four leguminous agroforestry spices. Agrofor Syst 81:123–134

Pii Y, Mimmo T, Tomasi N, Terzano R, Cesco S, Crecchio C (2015) Microbial interactions in the rhizosphere: beneficial influences of plant growth-promoting rhizobacteria on nutrient acquisition process. A review. Biol Fertil Soils 51:403–415. https://doi.org/10.1007/s00374-015-0996-1

Quinkenstein A, Wöllecke J, Böhm C, Grünewald H, Freese D, Schneider BU, Hüttl RF (2009) Ecological benefits of the alley cropping agroforestry system in sensitive regions of Europe. Environ Sci Pol 12:1112–1121

Rutunga V, Karanja NK, Gachene CKK, Palm C (1999) Biomass production and nutrient accumulation by Tephrosia vogelii and Tithonia diversifolia fallows during the six-month growth period at Maseno, Western Kenya. Biotechnol Agron Soc Environ 3(4):237–246

Santos GA, Batugal PA, Othman A, Baudouin L, Labouisse J-P (1996) Manual on standardized research techniques in coconut breeding. Int Plant Genet Resour Inst, Rome

Senarathne SHS, Samarajeewa AD, Pererea KCP (2003) Comparison of different weed management systems and their effects on yield of coconut plantations in Sri Lanka. Weed Biol Manag 3:158–161

Simard RR (1993) Ammonium acetate Extractable Elements. In: Martin R, Carter S (eds) Soil sampling and methods of analysis. Lewis Publisher, Boca Raton, pp 39–43

Smestad BT, Tiessen H, Buresh R (2002) Short fallows of Tithonia diversifolia and Crotalaria grahamiana for soil fertility improvement in western Kenya. Agrofor Syst 55:181–194. https://doi.org/10.1023/A:1020501627174

Tennakoon A (1988) Organic manure for crop production. Coconut Bull 5(2):13–14

Thomas G (1996) Soil pH and soil acidity. In: Bigham JM, Bartels JM (eds), methods of soil analysis. Part 3. Chemical methods. ASA-SSSA, Madison, pp 475–490

Thomas G, Shantaram MV (1984) In situ cultivation and incorporation of green manure legumes in coconut basins: an approach to improve soil fertility and microbial activity. Plant Soil 80:373–380

Van Ranst E, Verloo M, Demeyer A, Pauwels JM (1999) Manuals for the soil chemistry and fertility laboratory. University of Gent, Gent

Vijayaraghavan H, Ramachabdran TK (1989) Effect of in situ cultivation and incorporation of green manure crops on the yield of coconut. Cocos 7:26–29

Wang L, Tang L, Wang X, Chen F (2010) Effects of alley crop planting on soil and nutrient losses in the citrus orchards of the three Gorges Region. Soil Tillage Res 110:243–250

Yan H, Liang C, Li Z, Liu Z, Miao B, He C, Sheng L (2015) Impact of precipitation patterns on biomass and species richness of annuals in a dry steppe. PLoS ONE 10(4):e0125300. https://doi.org/10.1371/journal.pone.0125300
Acknowledgements
The authors express their gratitude to the Coconut Research Board, Sri Lanka for funding this research. Our thanks are extended to the technical staff of the Agronomy Division of Coconut Research Institute, who helped in data collection and sample analysis process. We also acknowledge the two anonymous reviewers for the constructive comments.
Ethics declarations
Conflict of interest
The authors declare that they have no conflict of interests.
About this article
Cite this article
Senarathne, S.H.S., Atapattu, A.J., Raveendra, T. et al. Biomass allocation and growth performance of Tithonia diversifolia (Hemsl.) A. Gray in coconut plantations in Sri Lanka. Agroforest Syst 93, 1865–1875 (2019). https://doi.org/10.1007/s10457-018-0290-y
Received:

Accepted:

Published:

Issue Date:
Keywords
Agroforestry

Biomass production

Green manure

Pruning frequency

Soil fertility