Abstract
Cultivation of priority plant species ensures their sustainable management. African bush mango trees (Irvingia gabonensis and I. wombolu) are the most exploited Irvingiaceae species. Experts disagree on the status of these very similar taxa, as taste remains the only character by which they can be distinguished in the field. We combined occurrences and environment data in ecological niche models to assess suitable areas for the two species. Irvingia gabonensis presented a wider occurrence area due to cultivation across contrasting ecological areas. Irvingia wombolu does not appear to be cultivated and only occurred in southwestern Togo. These differences in range is likely determined by phenological limitations of I. wombolu, reinforced by differences in local management systems, thus confirming the failure of market development to impact useful plant species' conservation significantly. Highly suitable areas for I. wombolu were in the Volta Forest, where I. gabonensis saw low suitability, while out of this inverse situation was observed, as regard environmental suitability. These differences are significant, implying different ecological adaptation. However, anthropogenic influences, related to domestication history, are also important. Therefore, updated genetic investigations and field trials in contrasting ecological areas are required for understanding the origin of differences between these two forms.
This is a preview of subscription content, log in to check access.
Access options
Buy single article
Instant access to the full article PDF.
US$ 39.95
Price includes VAT for USA
Subscribe to journal
Immediate online access to all issues from 2019. Subscription will auto renew annually.
US$ 199
This is the net price. Taxes to be calculated in checkout.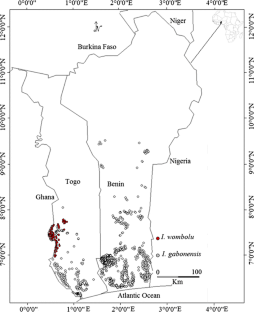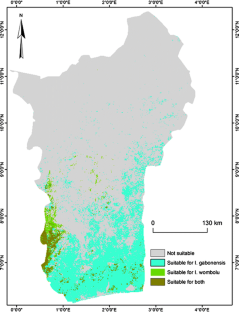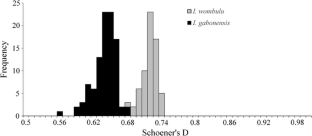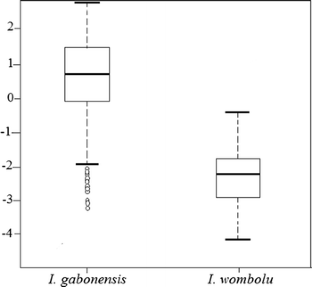 References
Akusu OM, Kiin-Kabari DB (2003) Effect of storage period on selected functional, chemical stability and sensory properties of bush mango (Irvingia gabonensis) seed flour. Afr J Food Sci Technol 4:136–140

Asaah EK, Tchoundjeu Z, Atangana AR (2003) Cultivation and conservation status of Irvingia wombolu in humid lowland forest of cameroon. J Food Agr Environ 1:251–256

Asare R (2005) Cocoa agroforests in West Africa: a look at activities on preferred trees in the farming systems. Papers no. 6-2005, For Landsc. University of Copenhagen, Denmark

Ayivor JE, Debrah SK, Nuviadenu C, Forson A (2011) Evaluation of elemental contents of wild mango (Irvingia gabonensis) fruit in Ghana. Adv J Food Sci Technol 3:381–384

Bamidele OP, Ojedokun OS, Fasogbon BM (2015) Physico-chemical properties of instant ogbono (Irvingia gabonensis) mix powder. Food Sci Nutr 3:313–318

Banjade MR, Paudel NS (2008) Economic potential of non-timber forest products in Nepal: myth or reality? J Forest Livelih 7:36–48

Boateng SK, Yeboah E, Amponsah JY (2007) Collection of edible wild fruits in the forest areas of Volta region of Ghana. J Plant Sci 2:243–246

Clark LE, Sunderland TCH (2004) The key non-timber forest products of Central Africa: state of the knowledge. technical paper no. 122, office of sustainable development bureau for Africa publication series, Unites States agency for international development

Djikpo VAR (2016) Perception locale, démographie et répartition spatiale des manguiers sauvages africains (Irvingia spp: Irvingiaceae) dans la région forestière de la volta (Togo). MSc Thesis, Faculty of Agronomic Sciences, University of Abomey-Calavi, Benin Republic. p 56

Dormann CF, Elith J, Bacher S, Buchmann C, Carl C, Carré G, García Marquéz JR, Gruber B, Lafourcade B, Leitão PJ, Münkemüller T, McClean C, Osborne PE, Reineking B, Schröder B, Skidmore AK, Zurell D, Lautenbach S (2013) Collinearity: a review of methods to deal with it and a simulation study evaluating their performance. Ecography 36:27–46

Duminil J, Brown RP, Ewédjè EEBK, Mardulyn P, Doucet J-L, Hardy OJ (2013) Large-scale pattern of genetic differentiation within African rainforest trees: insights on the roles of ecological gradients and past climate changes on the evolution of Erythrophleum spp. (Fabaceae). Evol Biol 13:2–13

Fielding AH, Bell JF (1997) A review of methods for the assessment of prediction errors in conservation presence/absence models. Environ Conserv 24:38–49

Fuller DQ (2011) Finding plant domestication in the Indian Subcontinent. Curr Anthropol 52:347–362

Ganguly S, Nemani RR, Baret FBIJ, Weiss M, Zhang G, Milesi C, Hashimoto H, Samanta A, Verger A, Singh K, Myneni RB (2014) Green leaf area and fraction of photosynthetically active radiation absorbed by vegetation. In: Hanes JM (ed) Biophysical applications of satellite remote sensing. Springer Remote Sensing/Photogrammetry Springer-Verlag, Heidelberg

González-Soberanis C, Casas A (2004) Traditional management and domestication of tempesquistle, Sideroxylon palmeri (Sapotaceae) in the Tehuacán-Cuicatlán Valley, Central Mexico. J Arid Environ 59:245–258

Harris DJ (1996) A revision of the irvingiaceae in Africa. B J Bot Nat Belg 65:143–196

Hartemink AE (2010) Land use change in the tropics and its effect on soil fertility. 19th world congress of soil science, soil solutions for a changing world, 1–6 August 2010, Brisbane, Australia

Hodgdon BD, Martínez, G (2015) Transforming small-scale non-timber forest production into competitive enterprise: a case study of work with Brazil nut producer associations (Madre de Dios, Peru). The rainforest alliance, p 18

Idohou R, Peterson AT, Assogbadjo AE, Vihotogbe RL, Padonou E, Glèlè Kakaï R (2017) Remote sensing and ecological niche modeling to identify potential areas for wild palm cultivation in the Republic of Benin. West Africa. Genet Resour Crop Evol 64(6):1383–1393

Jamnadass RH, Dawson IK, Franzel S, Leakey RRB, Mithhöfer D, Akinnifesi FK, Tchondjeu Z (2011) Improving livelihoods and nutrition in sub-saharan Africa through the promotion of indigenous and exotic fruit production in smallholders' agroforestry systems: a review. Int Forest Rev 13:338–354

Jose S (2012) Agroforestry for conserving and enhancing biodiversity. Agroforest Syst 85:1–8

Klimas CA, Cropper WP, Kainer KA, De Oliveira-Wadt LH (2012) Viability of combined timber and non-timber harvests for one species: a Carapa guianensis case study. Ecol Mod 246:147–156

Kumari N, Thakur SK (2014) Randomly amplified polymorphic DNA-A brief review. Am J An Vet Sci 9(1):6–13

Lambin FE, Geist JH, Lepers E (2003) Dynamics of land-use and land-cover change in tropical regions. Annu Rev Environ Resour 28:205–243

Leakey RRB (2010) Should we be growing more trees on farms to enhance the sustainability of agriculture and increase resilience to climate change? International Society of Tropical Foresters News, special report, Maryland, United States Agency For International Development p 12. http://www.istf-bethesda.org/specialreports/leakey/Agroforestry-Leakey.pdf

Leakey RRB (2012) Living with the trees of life. Towards the transformation of tropical Agriculture. CABI Publications, UK, Wallingford

Leakey RRB, Tchoundjeu Z, Schreckenberg K, Schackleton SE, Schackleton CM (2005a) Agroforestry tree products (AFTPs): targeting poverty reduction and enhanced livelihoods. Int J Agr Sustain 3:1474–5903

Leakey RRB, Greenwell P, Hall MN, Atangana AR, Usoro C, Anegbeh PO, Fondoun JM, Tchoundjeu Z (2005b) Domestication of Irvingia gabonensis: 4. Tree-to-tree variation in food-thickening properties and in fat and protein contents of dika nut. Food Chem 90:365–378

Linder HP, Lovett J, Mutke JM, Barthlott W, Jürgens N, Rebelo T, Küper W (2005) A numerical re-evaluation of the sub-Saharan phytochoria of mainland Africa. Biol Skrif 55:229–252

Lira R, Casas A, Rosas-López R, Paredes-Flores M, Pérez-Negrón E, Rangel-Landa S, Solís L, Torres I, Dávila P (2009) Traditional knowledge and useful plant richness in the Tehuacán-Cuicatlán Valley, Mexico. Econ Bot 63:1–17

Lowe AJA, Gillies CM, Wilson J, Dawson IK (2000) Conservation genetics of bush mango from central/west Africa: implications from random amplified polymorphic DNA analysis. Mol Ecol 9:831–841

McCormack JE, Zellmer AJ, Knowles LL (2010) Does niche divergence accompany allopatric divergence in Aphelocoma jays as predicted under ecological speciation? Insights from tests with niche models. Evolution 64:1231–1244

McLain RJ, Jones ET (2005) Non-timber forest products management on National Forests in the United States. general technical report PNW-GTR-655, USDA http://www.fs.fed.us/pnw/pubs/pnw_gtr655.pdf

Miller AJ, Knouft JH (2006) GIS-based characterization of the geographic distributions of wild and cultivated populations of the mesoamerican fruit tree Spondias purpurea (Anacardiaceae). Am J Bot 93:1757–1767

Miller-Rushing AJ, Høye TT, Inouye DW, Post E (2010) The effects of phenological mismatches on demography. Philos T Roy Soc 365:3177–3186

Moo-Llanes D, Ibarra-Cerdeña CN, Rebollar-Téllez EA, Ibáñez-Bernal S, González C, Ramsey JM (2013) Current and future niche of north and Central American sand flies (Diptera:Psychodidae) in climate change scenarios. Plos Neglect Trop D 7:e2421

Nagel P, Sinsin B, Peveling R (2004) Conservation of biodiversity in a relic forest in Benin—an overview. Reg Basil 45:125–137

National Research Council (2006) Lost crops of Africa; development, security, and cooperation policy and global affairs II, vegetables. National Academies Press, Washington

Neumann RP, Hirsch E (2000) Commercialisation of non-timber forest products: review and analysis of research. CIFOR Publications, Indonesia

Onomu AR, Akeem AO (2014) Contribution of non-timber forest products to rural household income in Eastern Cape Province, South Africa. Mediterr J Soc Sci 5:749–757

Pandit BH, Kumar C (2010) Factors influencing the integration of non-timber forest products into field crop cultivation: a case study from Eastern Nepal. J Sustain Forest 29:671–695

Park S, Ku YK, Seo MJ, Kim DY, Yeon JE, Lee KM, Jeong SC, Yoon WK, Harnc CH, Kim HM (2006) Principal component analysis and discriminant analysis (PCA–DA) for discriminating profiles of terminal restriction fragment length polymorphism (T-RFLP) in soil bacterial communities. Soil Biol Biochem 38:2344–2349

Pearson RG (2007) Species' distribution modelling for conservation educators and practitioners: synthesis. American museum of natural history, http://biodiversityinformatics.amnh.org/files/SpeciesDistModellingSYN_1-16-08.pdf

Peterson AT (2014) Mapping disease transmission risk: enriching models using biogeography and ecology. Johns Hopkins University Press, Baltimore

Peterson AT, Papeş M, Eaton M (2007) Transferability and model evaluation in ecological niche modelling: a comparison of GARP and Maxent. Ecography 30:550–560

Peterson AT, Papeş M, Soberón J (2008) Rethinking receiver operating characteristic analysis applications in ecological niche modelling. Ecol Model 213:63–72

Phillips SJ, Anderson RP, Schapire RE (2006) Maximum entropy modelling of species geographic distributions. Ecol Model 190:231–259

Polce C, Termansen M, Aguirre-Gutiérrez J, Boatman ND, Budge GE, Crowe A, Garratt MP, Pietravalle S, Potts SG, Ramirez GA, Somerwill KE, Biesmeijer JC (2013) Species distribution models for crop pollination: a modelling framework applied to great Britain. PLoS ONE 8:e76308

Preedy VR, Waston RR, Patel VB (2011) Nuts and seed in health and diseases prevention. Academic Press, Cambridge

Rai NU, Uhl CF (2004) Forest product use, conservation and livelihoods: the case of Uppage fruit harvest in the Western Ghats, India. Conserv Soc 2:289–311

Samy AM, Van De Sande WWJ, Faha AH, Peterson AT (2014) Mapping the potential risk of Mycetoma infection in Sudan and south Sudan using ecological niche modelling. Plos Neglect Trop D 8:e3250

Sanchez A, Osborne PE, Haq N (2010) Identifying the global potential for baobab tree cultivation using ecological niche modelling. Agroforest Syst 80:191–201

Scheldeman X, Willemen L, Coppens D'eeckenbrugge G, Romeijn-Peeters E, Restrepo MT, Romero Motoche J, Jimenez D, Lobo M, Medina CI, Reyes C, Rodriguez D, Ocampo JA, Van Damme P, Goetgebeur P (2007) Distribution, diversity and environmental adaptation of highland papayas (Vasconcellea spp.) in tropical and subtropical America. Biodivers Conserv 16:1867–1884

Schluter D, Conte GL (2009) Genetics and ecological speciation. Proceed Nat Acad Sci 106:9955–9962

Schreckenberg K, Marshall E, Newton A, Te Velde DW, Rushton J, Edouard F (2006) Commercialization of non-timber forest products: what determines success? ODI Forestry Brief 10:16

Sheil D, Wunder S (2002) The value of tropical forest to local communities: complications, caveats, and cautions. Conserv Ecol. 6:9

Sossa T (2005) Caractérisation morphologique et productivité fruitière de Irvingia gabonensis (Aubry-Lecomte) dans les zones agroécologiques au sud-est Benin. MSc Thesis, Faculty of Agronomic Sciences, University of Abomey-Calavi, Benin Republic, p 96

Ticktin T (2004) The ecological implications of harvesting non-timber forest products. J Appl Ecol 41:11–21

Tocchio LJ, Gurgel-Goncalves R, Escobar LE, Peterson AT (2015) Niche similarities among white-eared opossums (Mammalia, Didelphidae): is ecological niche modelling relevant to setting species limits? Roy Swed Acad Sci 44:1–10

Trauernicht C, Ticktin T, Herrera GL (2006) Cultivation of non-timber forest products alters understory light availability in a humid tropical forest in Mexico. Biotropica 38:428–436

Van Andel TR, Croft S, Van Loon EE, Quiroza D, Townsa AM, Raes N (2015) Prioritizing West African medicinal plants for conservation and sustainable extraction studies based on market surveys and species distribution models. Biol Conserv 181:173–181

Vihotogbé R, Houessou LG, Ponette Q, Codjia JTC, Le Boulengé E (2008) Ethnobotany and endogenous conservation of Irvingia gabonensis (Aubry-Lecomte) Baill. in traditional agroforestry systems in Benin. Indilinga 6:196–209

Vihotogbé R, Van Den Berg RG, Sosef MSM (2013) Morphological characterization of African bush mango trees (Irvingia species) in the Dahomey Gap (West Africa). Genet Resour Crop Ev 60:1597–1614

Vihotogbé R, Glèlè Kakaï R, Van Andel T, Van Den Berg RG, Sinsin B, Sosef MSM (2014a) Impacts of the diversity of traditional uses and potential economic value on food tree species conservation status: case study of African bush mango trees (Irvingiaceae) in the Dahomey Gap (West Africa). Plant Ecol Evol 147:109–125

Vihotogbé R, Van Den Berg RG, Sinsin B, Bongers F, Sosef MSM (2014b) Does phenology distinguish bitter and sweet African bush mango trees (Irvingia spp., Irvingiaceae)? Trees 28:1777–1791

Warren DL, Glor RE, Turelli M (2008) Environmental niche equivalency versus conservatism: quantitative approaches to niche evolution. Evolution 62:2868–2883

Warren DL, Glor RE, Turelli M (2010) ENMTools: a toolbox for comparative studies of environmental niche models. Ecography 33:607–611

Weigend M, Luebert F, Treydte C, Poretschkin C, Boehnert T, Mutke J, Chacón J (2016) Pattern and process in Andean biodiversity. European conference of tropical ecology: tropical diversity, ecology and land use Goettingen, Germany, 23–26 Feb, 2016

Wiersum KF (2004) Forest gardens as an intermediate land-use system in the nature–culture continuum: characteristics and future potential. Agroforest Syst 61:123–134

Wooten JA, Gibbs HL (2011) Niche divergence and lineage diversification among closely related Sistrurus rattle snakes. J Evol Biol 25:317–328
Acknowledgements
The Alexander von Humboldt Foundation founded this research (Humboldt Fellowship N°: 1154800 to Romaric Vihotogbé). Rosos Djikpo, Aubin Amagnide, Judicael Vihotogbé and local farmers assisted in occurrence data collection. We also thank Dr. Salako Kolawolé Valère for his support in statistical analysis.
About this article
Cite this article
Vihotogbé, R., Idohou, R., Gebauer, J. et al. Estimation of cultivable areas for Irvingia gabonensis and I. wombolu (Irvingiaceae) in Dahomey-Gap (West Africa). Agroforest Syst 93, 937–946 (2019). https://doi.org/10.1007/s10457-018-0193-y
Received:

Accepted:

Published:

Issue Date:
Keywords
Bush mango

Cultivation

Ecological niche modelling

Non-timber forest products