Abstract
Bamboo is widely planted in forestlands and farmlands in tropical and subtropical areas. Bamboo biomass and production are threatened by cohorts of aphid pests. Understanding spatial–temporal dispersal trends of alates and interactions with their natural enemies might help regulate aphid population dynamics in the field. This study performed air capture of bamboo aphids by yellow-cloth-and-plant trap. A total of 3577 alates were captured during April to July 2014. Many of the trapped alates tended to short-distance horizontal flight, while half of Takecallis taiwanus (Takahashi) displayed upper-air flight trend. The temporal dynamics of trapped alates varied between species. The dispersal of Takecallis arundinariae (Essig) peaked mid-May, followed by T. taiwanus, and Metamacropodaphis bambusisucta (Zhang). Post-flight survival and fecundity of the trapped alates supported successful colonization. A total of 247 alates died from fungal pathogen infection (68.0%), parasitoids (25.5%), and Allothrombium ectoparasites (6.5%). Up to 97.6% of the mycosis was attributed to Neozygites linanensis (Zhou and Montalva). The Alate-borne parasitoid and ectoparasite species were consistent with those in local farming areas. It implied that aphid species in bamboo-inclusive agroforestry system might be in the interaction of apparent competition by shared arthropod natural enemies. These results highlight the dispersal pattern of bamboo aphid alates and the transport of natural enemies, providing initial insight to aphid biocontrol in bamboo stand.
Access options
Buy single article
Instant access to the full article PDF.
USD 39.95
Price excludes VAT (USA)
Tax calculation will be finalised during checkout.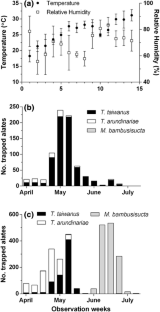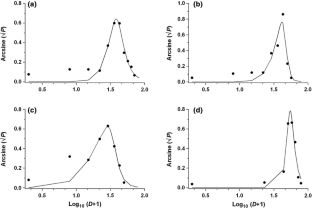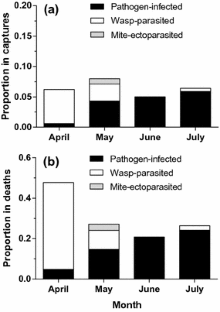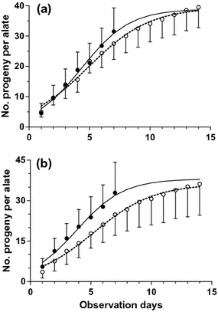 References
Bass C, Puinean AM, Zimmer CT, Denholm L, Field LM, Foster SP, Gutbrod O, Nauen R, Slater R, Williamson MS (2014) The evolution of insecticide resistance in the peach potato aphid, Myzus persicae. Insect Biochem Mol Biol 51:41–51

Baverstock J, Roy HE, Pell JK (2010) Entomopathogenic fungi and insect behavior: from unsuspecting hosts to targeted vectors. Biocontrol 55:89–102

Chen SL (2011) Thoughts on related problems of mulched technique with organic materials in moso bamboo forest for early shooting. J Zhejiang Agr Forest Univ 28:799–804

Chen C, Feng MG (2004) Sitobion avenae alatae infected by Pandora neoaphidis: their flight ability, post-flight colonization, and mycosis transmission to progeny colonies. J Invertebr Pathol 86:117–123

Chen C, Feng MG (2005) Epizootiological modeling of Pandora neoaphidis mycosis transmission in Myzus persicae colonies initiated by primarily infected alates. Appl Environ Microbiol 71:4104–4107

Chen B, Li ZY, Feng MG (2008) Occurrence of entomopathogenic fungi in migratory alate aphids in Yunnan Province of China. Biocontrol 53:317–326

Chen S, Chen SL, Guo ZW (2015) Effects of mulching management on the internal cycling of nutrients in the rhizomatous roots of Phyllostachys violascens. Acta Ecol Sin 35:5788–5796

Fang Y, Qiao GX, Zhang GX (2006) Morphometric variation of eight aphid species feeding on the leaves of bamboos. Acta Entomol Sin 49:991–1001

Feng MG, Chen C (2002) Incidence of infected Myzus persicae alatae trapped in flight imply place-to-place dissemination of entomophthoralean fungi in aphid populations through migration. J Invertebr Pathol 81:53–56

Feng MG, Johnson JB, Halbert SE (1991) Natural control of cereal aphids (Homoptera: Aphididae) by entomopathogenic fungi (Zygomycetes: Entomophthorales) and parasitoids (Hymenoptera: Braconidae and Encyrtidae) on irrigated spring wheat in southwestern Idaho. Environ Entomol 20:1699–1710

Feng MG, Chen C, Chen B (2004) Wide dispersal of aphid-pathogenic Entomophthorales among aphids relies upon migratory alates. Environ Microbiol 6:510–516

Feng MG, Chen C, Shang SW, Ying SH, Shen ZC, Chen XX (2007) Aphid dispersal flight disseminates fungal pathogens and parasitoids as natural control agents of aphids. Ecol Entomol 32:97–104

Fu S, Yoon Y, Bazemore R (2002) Aroma-active components in fermented bamboo shoots. J Agr Food Chem 50:549–554

Gerg D (1992) On spatial spread of insect pathogens: theory and experiment. Ecology 73:479–494

Griscom BW, Douglas CD, Ashton PMS (2007) Floristic of bamboo-dominated stands in terra-firma forests of southwestern Amazonia. J Torrey Bot Soc 134:108–125

Hajek AE, Delalibera I Jr (2010) Fungal pathogens as classical biological control agents against arthropods. Biocontrol 55:147–158

Hansen LM (2006) Models for spring migration of two aphid species Sitobion avenae (F.) and Rhopalosiphum padi (L.) infesting cereals in areas where they are entirely holocyclic. Agr Forest Entomol 8:83–88

Huang ZH, Feng MG, Chen XX, Liu SS (2008) Pathogenic fungi and parasitoids of aphids present in air captures of migratory alates in the low-latitude plateau of Yunna, China. Environ Entomol 37:1264–1271

Keller S (2006) Entomophthorales attacking aphids with description of two new species. Sydowia 58:38–74

Kittur BH, Sudhakara K, Kumar BM, Kunhamu TK, Sureshkumar P (2016) Bamboo based agroforestry systems in Kerala, India: performance of turmeric (Curcuma longa L.) in the subscanopy of differentially spaced seven year-old bamboo stand. Agroforest Syst 90:237–250

Li Y, Zhang J, Chang SX, Jiang P, Zhou G, Fu S, Yan E, Wu J, Lin L (2013) Long-term intensive management effects on soil organic carbon pools and chemical composition in Moso bamboo (Phyllostachys pubescens) forests in subtropical China. Forest Ecol Manag 303:121–130

Liu XD, Zhai BP, Zhang XX (2004) Advance in the studies of migration of aphids. Entomol Knowl 41:301–308

Lobovikov M, Paudel S, Piazza M, Ren H, Wu JQ (2007) World bamboo resources. A thematic study prepared in the framework of the Global Forest Resources Assessment 2005. Non-Wood Forest 16 Products. FAO, Rome

Loxdale HD (2008) The nature and reality of the aphid clone: genetic variation, adaptation and evolution. Agr Forest Entomol 10:81–90

Qiao GX, Zhang GX (2004) Review of the genus Takecallis matsumura (Homoptera: Aphididae: Myzocallidinae) from China and description of one new species. Raff Bull Zool 52:373–378

Robert Y (1987) Dispersion and migration. In: Minks AK, Harrewijn P (eds), Aphids: their biology, natural enemies and control. Elsevier, Amsterdam, vol A, pp 299–313

Scurlock JMO, Dayton DC, Hames B (2000) Bamboo: an overlooked biomass resource? Biomass Bioenerg 19:229–244

Stary P (1988) Aphelinidae. In: Minks AK, Harrewijn PA (eds) Aphids, their biology, natural enemies and control, vol 2B. Elsevier, Amsterdam, pp 185–188

Straw NA, Timms JEL, Leather SR (2009) Variation in the abundance of invertebrate predators of the green spruce aphid Elatobium abietinum (Walker) (Homoptera: Aphididae) along an altitudinal transect. Forest Ecol Manag 258:1–10

Tang QY, Zhang CX (2013) DPS Data Processing System (DPS) software with experimental design, statistical analysis and data mining developed for use in entomological research. Insect Sci 20:254–260

Wang PW, Maliang HD, Wang CH, Ma JY (2015) Bamboo charcoal by-products as sources of new insecticide and acaricide. Ind Crop Prod 77:575–581

Zhang ZQ, Xin JL (1989) Biology of Allothrombium pulvinum (Acariformes: Trombidiidae), a potential biological control agent of aphids in China. Exp Appl Acarol 6:101–108

Zhou X (2012) Winter prevalence of obligate aphid pathogen Pandora neoaphidis mycosis in the host Myzus persicae populations in southern China: modeling description and biocontrol implication. Brazil J Microbiol 43:325–331

Zhou BZ, Fu MY, Xie JZ, Yang XS, Li ZC (2005) Ecological functions of bamboo forest: research and application. J Forest Res 16:143–147

Zhou X, Guo K, Mao SF, He W, Zhu YY (2014a) Modeling analysis on sporulation capacity, storage and infectivity of the aphid-specific pathogen Conidiobolus obscurus (Entomophthoromycota: Entomophthorales). Mycoscience 55:21–26

Zhou X, Wang DW, Zhang X, Wang JH (2014b) The influence of aphid-specific pathogen Conidiobolus obscurus (Entomophthoromycota: Entomophthorales) on the mortality and fecundity of bamboo aphids. J Forest Res 19:388–394

Zhou X, Montalva C, Arismendi N, Hong F (2017) Neozygites linanensis sp. nov. a fungal pathogen infecting bamboo aphids in southeast China. Mycotaxon 132:305–315
Acknowledgements
This study was supported by the grants from the National Natural Science Foundation of China (31300550, 31200487). And this work was also supported by Science & Technology Department of Zhejiang province (2016C32016) and Zhejiang Education Department (Y201431042).
About this article
Cite this article
Guo, K., Lin, H., Su, X. et al. The spatial–temporal dynamics of bamboo aphid dispersal flight along with their natural enemies: biocontrol implication. Agroforest Syst 93, 631–639 (2019). https://doi.org/10.1007/s10457-017-0157-7
Received:

Accepted:

Published:

Issue Date:

DOI: https://doi.org/10.1007/s10457-017-0157-7
Keywords