Abstract
Many factors influence adoption of smallholder agroforestry systems as part of the farm business. This paper reports farm and household factors affecting the adoption of timber and non-timber forest product management practices by farmers in Gunungkidul, Sumbawa and Timor Tengah Selatan districts in Indonesia; and how understanding those factors can facilitate the adoption of silvicultural practices for enhancing timber and NTFPs production. The research uses logistic regression models to identify the significant factors influencing farmers' agroforestry adoption and management decisions. When considering a total of 16 factors equally, the models confirmed that farmers who have access to extension services, farmers' groups and knowledge of government policy are more likely to adopt timber and NTFPs production technologies. The probability of management practices increasing with the greater land area was due to space for growing more timber and NTFPs species. Also, the possibility of adopting timber and NTFPs management increased as farmers had more income from on- and off-farm activities. These findings suggest that when designing extension programs farm and household factors should be considered by policy makers, researchers and extension providers.
Access options
Buy single article
Instant access to the full article PDF.
USD 39.95
Price excludes VAT (USA)
Tax calculation will be finalised during checkout.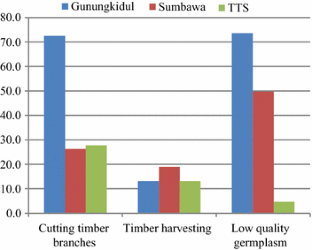 References
Abadi Ghadim AK, Pannell DJ, Burton MP (2005) Risk, uncertainty and learning in adoption of a crop innovation. Agr Econ 33:1–9. https://doi.org/10.1111/j1574-0862.2005.00433.x

Akinnifesi FK, Sileshi G, Ajayi OC, Chirwa PW, Mng'omba S, Chakeredza S, Nyoka BI (2008) Domestication and conservation of indigenous Miombo fruit trees for improving rural livelihoods in Southern Africa. Biodiversity 9(1–2):72–74. https://doi.org/10.1080/14888386.2008.9712888

Belcher B, Ruiz-Perez M, Achdiawan R (2005) Global patterns and trends in the use and management of commercial NTFPs: implications for livelihoods and conservation. World Dev 33(9):1435–1452. https://doi.org/10.1016/j.worlddev.2004.10.007

Bertomeu M, Bertomeu M, Gimenez JC (2006) Improving adoptability of farm forestry in the Philippine uplands: a linear programming model. Agrofor Syst 68:81–91. https://doi.org/10.1007/s10457-006-0005-7

Bertomeu M, Roshetko JM, Rahayu S (2011) Optimum pruning intensity for reducing crop suppression in a Gmelina-maize smallholder agroforestry system in Claveria, Philippines. Agrofor Syst 83:167–180. https://doi.org/10.1007/s10457-011-9435-y

Bowman MS, Zilberman D (2013) Economic factors affecting diversified farming systems. Ecology and Society 18(1):33. https://doi.org/10.5751/ES-05574-180133

Byron RN (2001) Keys to smallholder forestry in developing countries in the tropics. In: Harrison SR, Herbohn JL (eds) Sustainable farm forestry in the tropics: social and economic analysis and policy. Edward Elgar Publishing Limited, Cheltenham, pp 211–214

Dawson IK, Leakey R, Clement CR, Weber JC, Cornelius JP, Roshetko JM, Vinceti B, Kalinganire A, Tchoundjeu Z, Masters E, Jamnadass R (2014) The management of tree genetic resources and the livelihoods of rural communities in the tropics: non-timber forest products, smallholder agroforestry practices and tree commodity crops. Forest Ecol Manag 333:9–21. https://doi.org/10.1016/j.foreco.2014.01.021

Ellis F (2000) Rural livelihoods and diversity in developing countries. Oxford University Press, New York

Evans J, Turnbull J (2004) Plantation forestry in the tropics, 3rd edn. Oxford University Press, New York

Kalaba KF, Chirwa P, Syampungani S, Ajayi CO (2010) Contribution of agroforestry to biodiversity and livelihoods improvement in rural communities of Southern African regions. In: Tscharntke T et al. (eds.) Tropical rainforests and agroforests under global change. Environmental Science and Engineering, Springer, pp. 461-476. https://doi.org/10.1007/978-3-642-00493-3_22

Kallio MH, Kanninen M, Rohadi D (2011) Farmers' tree planting activities in Indonesia—case studies in the provinces of Java, Riau, and South Kalimantan. Forest, trees livelihoods 20:191–210. https://doi.org/10.1080/14728028.2011.9756706

Kallio MH, Kanninen M, Krisnawati H (2012) Smallholder teak plantations in two villages in central java: silvicultural activity and stand performance. Forest, trees and livelihoods 21(3):158–175. https://doi.org/10.1080/14728028.2012.734127

Kington EA, Pannell DJ (2003) Dryland salinity in the upper kent river catchment of Western Australia: farmer perceptions and practices. Aust J Exp Agric 43:19–28. https://doi.org/10.1071/EA01058

Kragten M, Tomich TP, Vosti S, Gockowski J (2001) Evaluating land use systems from a socio-economic perspective. ASB Lecture Note 8. World Agroforestry Centre, Indonesia

Kumar BM, Kumar SS, Fisher RF (1998) Intercropping teak with Leucaena increases tree growth and modifies soil characteristics. Agrofor Syst 42:81–89

Manurung GES, Roshetko JM, Budidarsono S, Kurniawan I (2008) Dudukuhan tree farming systems in West Java: How to mobilize self-strengthening of community-based forest management? In: Snelder DJ, Lasco RD (eds) Smallholder tree growing for rural development and environmental services, lessons from Asia. Springer, Germany, pp 99–116

Mbosso C, Degrande A, Villamor GB, Damme PV, Tchoundjeu Z, Tsafack S (2015) Factors affecting the adoption of agricultural innovation: the case of a Ricinodendron heudelotii kernel extraction machine in Southern Cameroon. Agrofor Syst. https://doi.org/10.1007/s10457-015-9813-y

McGinty M, Swisher M, Alavalapati J (2008) Agroforestry adoption and maintenance: self-efficacy, attitudes and socio-economic factors. Agrofor Syst 73(2):99–108

Mercer D (2004) Adoption of agroforestry innovations in the tropics: a review. Agrofor Syst 58:311–328. https://doi.org/10.1023/B:AGFO.0000029007-85754-70

Meyfroidt P, Lambin EF (2011) Global forest transition: prospects for an end to deforestation. Annu Rev Environ Resour 36:343–371. https://doi.org/10.1146/annurev-environ-090710-143732

Mwase W, Sefasi A, Njoloma J, Nyoka BI, Manduwa D, Nyaika J (2015) Factors affecting adoption of agroforestry and evergreen agriculture in Southern Africa. Environ Nat Resour Res. https://doi.org/10.5539/enrr.v5n2p148

Nawir AA (2014) Kanoppi project: development of timber and non-timber forest products'production and market strategies for improvement of smallholders' livelihoods in Indonesia (FST/2012/039). Annual Report April 2013 – March 2014. Center for International Forestry Research (CIFOR)

Nyoka BI, Roshetko J, Jamnadass R, Muriuki J, Kalinganire A, Lilleso JPB, Beedy T, Cornelius J (2014) Tree seed and seedling supply systems: a review of the Asia, Africa and Latin America models. Small-scale Forestry 13(3):171–191. https://doi.org/10.1007/s11842-014-9280-8

Pallant J (2007) SPSS survival manual: a step by step guide to data analysis using SPSS for Windows version 15, 3rd edn. Open University Press, Milton Keynes

Pannell DJ, Marshall GR, Barr N, Curtis A, Vanclay F, Wilkinson R (2006) Understanding and promoting adoption of conservation practices by rural landholders. Aust J Exp Agric 46(11):1407–1424. https://doi.org/10.1071/EA05037

Perdana A, Roshetko JM, Kurniawan I (2012) Forces of competition: smallholding teak producers in Indonesia. Int For Rev 14(2):238–248. https://doi.org/10.1505/146554812800923417

Perez D, Kanninen M (2005) Effect of thinning on stem form and wood characteristics of teak (Tectona grandis) in humid tropical site in Costa Rica. Silva Fennica 39(2):217–225

Reid R (2002) The principles and practice of pruning. AFG Special Liftout No.60 Winter 2002 25(2)

Rogers EM (2003) Diffusion of innovations, 5th edn. The Free Press, New York

Roshetko JM, Lasco RD, Delos Angeles MD (2007) Smallholder agroforestry systems for carbon storage. Mitig Adaptatation Strategies Glob Change 12:219–242. https://doi.org/10.1007/s11027-005-9010-9

Roshetko JM, Rohadi D, Perdana A, Sabastian G, Nuryartono N, Pramono AA, Widyani N, Manalu P, Fauzi MA, Sumardamto P, Kusumowardhani N (2013) Teak agroforestry systems for livelihood enhancement, industrial timber production, and environmental rehabilitation. Forest Trees Livelihoods 22(4):241–256. https://doi.org/10.1080/14728028.2013.855150

Sabastian G, Kanowski P, Race D, Williams E, Roshetko J (2014) Household and farm attributes affecting adoption of smallholder timber management practices by tree growers in Gunungkidul region. Indonesia. Agrofor Syst 88(1):1–14. https://doi.org/10.1007/s10457-014-9673-x

Schirmer J, Kanowski P, Race D (2000) Factors affecting adoption of plantation forestry on farms: implications for farm forestry development in Australia. Australian Forestry 63(1):44–51

Sjah T, Hakim MR (2012) Developing model for small scale forest economy dealing with NTFPs for income generating of local communities in pilot villages (Rinjani and Mutis). Project Technical Report. WWF Indonesia, Project ID: 018809-0000, ITTO PD 521/08 Rev.3(1)

Snelder DJ, Lasco RD (2008) Smallholder tree growing in south and southeast Asia. In: Snelder DJ, Lasco RD (eds) Smallholder tree growing for rural development and environmental services, lessons from Asia. Springer, Germany, pp 11–12

Sobels J, Curtis A, Lockie S (2001) The role of landcare networks in rural Australia: exploring the contribution of social capital. J Rural Studies 17:265–276. https://doi.org/10.1016/S0743-0167(01)00003-1

Sood KK (2006) The influence of household economics and farming aspects on adoption of traditional agroforestry in western Himalaya. Mt Res Develop 26(2):124–130. https://doi.org/10.1659/0276-4741(2006)26[124:TIOHEA]2.0.CO;2

Statistics of Gunungkidul Regency, 2013. Gunungkidul in figures 2013. Katalog BPS: 1102001.3403, Yogyakarta, Indonesia

Statistics of Sumbawa Regency, 2012. Sumbawa in figures 2012. Katalog BPS: 1403.5204, Nusa Tenggara Barat, Indonesia

Statistics of Timor Tengah Selatan, 2014. Timor Tengah Selatan in figures 2014. Katalog BPS: 1102001.5304, Nusa tenggara Timur, Indonesia

Tabachnick BG, Fidell LS (2007) Using multivariate statistics, 5th edn. Pearson Education Inc, Boston

Tieguhong JC, Ingram V, Mala WA, Ndoye O, Grouwels S (2015) How governance impacts non-timber forest product value chains in Cameroon. For Policy Econ 61:1–10. https://doi.org/10.1016/j.forpol.2015.08.003

Torras O, Saura S (2008) Effects of silvicultural treatments on forest biodiversity indicators in the Mediterranean. For Ecol Manage 255:3322–3330. https://doi.org/10.1016/j.foreco.2008.02.013

Van Noordwijk M, Tomich TP, Verbist B (2001) Negotiation support models for integrated natural resource management in tropical forest margins. Conserv Ecol 5(2):21
Acknowledgements
The authors are grateful for facilitation provided by the projects funded by the Australian Centre for International Agricultural Research, Development of Timber and Non-timber Forest Products' Production and Market Strategies for Improvement of Smallholders' Livelihoods in Indonesia (FST/2012/039) and Enhancing Market-based Agroforestry and Forestry Systems in Indonesia (FST/2016/141), led by the World Agroforestry Centre. We thank other members of the research team and for their assistance with this work. We also thank the farmers who participated in this research and Robert Finlayson for editing the paper.
About this article
Cite this article
Sabastian, G.E., Yumn, A., Roshetko, J.M. et al. Adoption of silvicultural practices in smallholder timber and NTFPs production systems in Indonesia. Agroforest Syst 93, 607–620 (2019). https://doi.org/10.1007/s10457-017-0155-9
Received:

Accepted:

Published:

Issue Date:

DOI: https://doi.org/10.1007/s10457-017-0155-9
Keywords
Adoption

Smallholder farmers

Silvicultural management

Logistic regression