Abstract
Amazonian dark earths (ADE) are anthropogenic soils mostly created between 500 and 2500 years ago by pre-Columbian populations. ADE are currently used by local people for different agricultural and agroforestry systems. Because of their high fertility they may play an important role in the conservation of non-native agrobiodiversity. This study aimed to investigate the variation in richness and abundance of exotic and native species in homegardens along the ADE-background soil continuum. We conducted floristic inventories in 70 homegardens located in 7 riverside communities along the lower and middle Madeira River, Central Amazonia. Each species sampled was classified according to its origin: native Amazonian, American (from outside Amazonia) and non-American, and each individual was classified according to its form of establishment: cultivated or spontaneous. The floristic diversity was significantly related to soil fertility, texture and homegarden size. We found a positive relationship between soil fertility and richness of species and landraces. Homegardens on more fertile soils tended to have a higher richness and abundance of cultivated non-American species, as well as a higher richness and abundance of spontaneously established American species. Homegardens at the fertile end of the fertility gradient provided conditions for the establishment and growth of many species, especially exotic species, that are generally more nutrient-demanding than Amazonian species. Our results show that homegarden agroecosystems on ADE favour experimentation with the introduction of a wide range of species from various regions of the globe.
Access options
Buy single article
Instant access to the full article PDF.
US$ 39.95
Tax calculation will be finalised during checkout.
Subscribe to journal
Immediate online access to all issues from 2019. Subscription will auto renew annually.
US$ 119
Tax calculation will be finalised during checkout.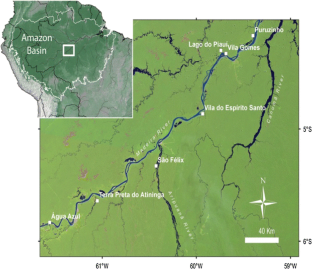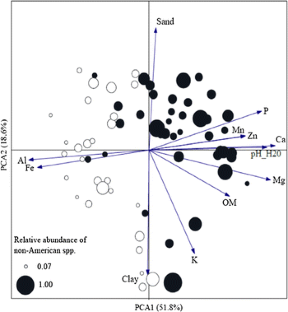 References
Abizaid C, Coomes OT, Perrault-Archambault M (2016) Seed sharing in Amazonian indigenous rain forest communities: a social network analysis in three Achuar villages, Peru. Hum Ecol 44:577–594. doi:10.1007/s10745-016-9852-7

Adams C, Murrieta R, Neves W, Harris M (2009) Amazon peasant societies in a changing environment: political ecology, invisibility and modernity in the rainforest. Springer, New York

Albuquerque UP, Lucena RFP, Alencar NL (2008) Métodos e técnicas para coleta de dados. In: Albuquerque UP, Lucena RFP, Cunha LVFC (eds) Métodos e técnicas na pesquisa etnobotânica. Comunigraf/NUPEEA, Recife, pp 41–72

Alcudia-Aguilar A, Van der Wal H, Suárez-Sánchez J, Martínez-Zurimendi P, Castillo-Uzcanga MM (2017) Home garden agrobiodiversity in cultural landscapes in the tropical lowlands of Tabasco. Agrofor Syst, México. doi:10.1007/s10457-017-0078-5

Caballero-SerranoV V, Onaindia M, Alday JG, Caballero D, Carrasco JC, McLaren B, Amigo J (2016) Plant diversity and ecosystem services in Amazonian homegardens of Ecuador. Agric Ecosyst Environ 225:116–125. doi:10.1016/j.agee.2016.04.005

Clement CR (1999) 1492 and the loss of Amazonian crop genetic resources. I. The relation between domestication and human population decline. Econ Bot 53(2):188–202. doi:10.1007/BF02866499

Clement CR, McCann JM, Smith NJH (2003) Agrobiodiversity in Amazonia and its relationships with dark earths. In: Lehmann J, Kern D, Glaser B, Woods W (eds) Amazonian dark earths: origin, properties and management. Kluwer Academic, Dordrecht, pp 159–178

Díaz-Reviriego I, González-Segura L, Fernández-Llamazares Á, Howard PL, Molina JL, Reyes-Garcìa V (2016) Social organization influences the exchange and species richness of medicinal plants in Amazonian homegardens. Ecol Soc 21:1. doi:10.5751/ES-07944-210101

EMBRAPA—Empresa Brasileira de Pesquisa Agropecuária (2011) Manual de métodos de análise de solo, 2a edn. Centro Nacional de Pesquisa de Solos, Rio de Janeiro

Fraser J, Junqueira AB, Clement C (2011a) Homegardens on Amazonian dark earths, non-anthropogenic upland, and floodplain soils along the Brazilian middle Madeira river exhibit diverging agrobiodiversity. Econ Bot 65:1–12. doi:10.1007/s12231-010-9143-y

Fraser J, Junqueira AB, Kawa N, Moraes C, Clement C (2011b) Crop diversity on anthropogenic dark earths in central Amazonia. Hum Ecol 39:395–406. doi:10.1007/s10745-011-9405-z

Fraser J, Teixeira W, Falcão N, Woods W, Lehmann J, Junqueira AB (2011c) Anthropogenic soils in the Central Amazon: from categories to a continuum. Area 43(3):264–273. doi:10.1111/j.1475-4762.2011.00999.x

Glaser B, Birk JJ (2012) State of the scientific knowledge on properties and genesis of anthropogenic dark earths in Central Amazonia (terra preta de Índio). Geochim Cosmochim Acta 82:39–51. doi:10.1016/j.gca.2010.11.029

Haile G, Lemenih M, Senbeta F, Itanna F (2017) Plant diversity and determinant factors across smallholder agricultural management units in Central Ethiopia. Agrofor Syst 91:677–695. doi:10.1007/s10457-016-0038-5

Hiraoka M, Yamamoto S, Matsumoto E, Nakamura S, Falesi IC, Baena ARC (2003) Contemporary use and management of Amazonian dark earths. In: Lehmann J, Kern D, Glaser B, Woods W (eds) Amazonian dark earths: origin, properties and management. Kluwer Academic, Dordrecht, pp 387–406

Homma AKO (2003) História da agricultura na Amazônia: da era pré-colombiana ao Terceiro Milênio. Embrapa Informação Tecnológica, Brasília

IBGE (2010) Mapa de solos do estado do Amazonas. Instituto Brasileiro de Geografia e Estatística. http://mapas.ibge.gov.br/tematicos/solos. Accessed 17 Sept 2015

Jose S (2011) Managing native and non-native plant species in agroforestry. Agrofor Syst 83:101–105. doi:10.1007/s10457-011-9440-1

Junqueira AB, Souza NB, Stomph TJ, Almekinders CJM, Clement CR, Struik PC (2016a) Soil fertility gradients shape the agrobiodiversity of Amazonian homegardens. Agric Ecosyst Environ 221:270–281. doi:10.1016/j.agee.2016.01.002

Junqueira AB, Stomph TJ, Clement CR, Struik PC (2016b) Variation in soil fertility influences cycle dynamics and crop diversity in shifting cultivation systems. Agric Ecosyst Environ 215:122–132. doi:10.1016/j.agee.2015.09.015

Kawa NC (2016) How religion, race, and the weedy agency of plants shape Amazonian home gardens. Cult Agric Food Environ 38:84–93. doi:10.1111/cuag.12073

Kawa NC, Rodrigues D, Clement CR (2011) Useful species richness, proportion of exotic species, and market orientation on Amazonian dark earths and Oxisols. Econ Bot 65(2):169–177. doi:10.1007/s12231-011-9158-z

Kehlenbeck K, Maass BL (2006) Are tropical homegardens sustainable? Some evidence from Central Sulawesi, Indonesia. In: Kumar BM, Nair PKR (eds) Tropical homegardens: a time-tested example of sustainable agroforestry. Springer, Dordrecht, pp 339–354

Kehlenbeck K, Arifin HS, Maass BL (2007) Plant diversity in homegardens in a socio-economic and agro-ecological context. In: Tscharntke T, Leuschner C, Zeller M, Guhardja E, Bidin A (eds) Stability of tropical rainforest margins: linking ecological, economic and social constraints. Springer, Dordrecht, pp 297–319

Kim DG, Kirschbaum MUF, Beedy TL (2016) Carbon sequestration and net emissions of CH4 and N2O under agroforestry: synthesizing available data and suggestions for future studies. Agric Ecosyst Environ 226:65–78. doi:10.1016/j.agee.2016.04.011

Kumar BM, Nair PKR (2004) The enigma of tropical homegardens. Agrofor Syst 61–62:135–152. doi:10.1023/B:AGFO-0000028995-13227-ca

Lamont SR, Eshbaugh WA, Greenberg AM (1999) Composition, diversity, and use of homegardens among three Amazonian villages. Econ Bot 53(3):312–326. doi:10.1007/BF02866644

León J (2000) Botánica de los cultivos tropicales. Editorial Agroamérica, Instituto Interamericano de Cooperación para la Agricultura, San José

Lins J, Lima HP, Baccaro FB, Kinupp VF, Shepard GH, Clement CR (2015) Pre-Columbian floristic legacies in modern homegardens of central Amazonia. PLoS ONE 10(6):e0127067. doi:10.1371/journal.pone-0127067

Lista de Espécies da Flora do Brasil (2015) Jardim Botânico do Rio de Janeiro http://floradobrasil.jbrj.gov.br/. Accessed 28 July 2015

Major J, Clement CR, DiTommaso A (2005) Influence of market orientation on food plant diversity of farms located on Amazonian dark earth in the region of Manaus, Amazonas, Brazil. Econ Bot 59(1):77–86. doi:10.1663/0013-0001(2005)059[0077:IOMOOF]2.0.CO;2

Mattsson E, Ostwald M, Nissanka SP (2017) What is good about Sri Lankan homegardens with regards to food security? A synthesis of the current scientific knowledge of a multifunctional land-use system. Agrofor Syst. doi:10.1007/s10457-017-0093-6

Miller RP, Penn JW Jr, van Leeuwen J (2006) Amazonian homegardens: their ethnohistory and potential contribution to agroforestry development. In: Kumar BM, Nair PKR (eds) Tropical homegardens: a time-tested example of sustainable agroforestry. Springer, Dordrecht, pp 43–60

Nakagawa S, Schielzeth H (2013) A general and simple method for obtaining R2 from generalized linear mixed-effects models. Methods Ecol Evol 4(2):133–142. doi:10.1111/j.2041-210x.2012.00261.x

Perrault-Archambault M, Coomes OT (2008) Distribution of agrobiodiversity in home gardens along the Corrientes River, Peruvian Amazon. Econ Bot 62(2):109–126. doi:10.1007/s12231-008-9010-2

Pinho RC, Alfaia SS, Miller RP, Uguen K, Magalhães LD, Ayres M, Freitas V, Trancoso R (2010) Islands of fertility: soil improvement under indigenous homegardens in the savannas of Roraima, Brazil. Agrofor Syst 81:235–247. doi:10.1007/s10457-010-9336-5

Quesada CA, Lloyd J, Anderson LO, Fyllas NM, Schwarz M, Czimczik CI (2011) Soils of Amazonia with particular reference to the RAINFOR sites. Biogeosciences 8:1415–1440. doi:10.5194/bg-8-1415-2011

R Core Team (2013) R: a language and environment for statistical computing. R Foundation for Statistical Computing, Vienna

Rapp Py-Daniel L (2007) Caracterização da área amostrada. In: Rapp Py-Daniel L, Deus CP, Henriques AI, Pimpão DM, Ribeiro OM (eds) Biodiversidade do médio Madeira: bases científicas para propostas de conservação. Instituto Nacional de Pesquisas da Amazônia, Manaus, pp 35–42

Restom TG, Nepstad DC (2004) Seedling growth dynamics of a deeply rooting liana in a secondary forest in eastern Amazonia. Fort Ecol Manag 190:109–118. doi:10.1016/j.foreco.2003.10.010

Schmidt MJ et al (2014) Dark earths and the human built landscape in Amazonia: a widespread pattern of anthrosol formation. J Archaeol Sci 42:152–165. doi:10.1016/j.jas-2013-11-002

Smith CW, Johnston MA, Lorentz S (1997) The effect of soil compaction and soil physical properties on the mechanical resistance of South African forestry soils. Geoderma 78:93–111. doi:10.1016/s0016-7061(97)00029-3

Sombroek W, Kern D, Rodrigues T, Cravo MS, Jarbas TC, Woods W, Glaser B (2002) Terra preta and terra mulata: pre-Columbian Amazon kitchen middens and agricultural fields, their sustainability and their replication. In: Proceedings 17th World Congress of Soil Science, Bangkok

Ter Braak CJF, Smilauer P (2002) CANOCO reference manual and CanoDraw for Windows user's guide: software for canonical community ordination (version 4.5). Microcomputer Power, Ithaca

The Plant List (2013) Version 1. http://www.theplantlist.org/. Accessed 28 July 2015

Timsuksai P, Rambo AT (2016) The influence of culture on agroecosystem structure: a comparison of the spatial patterns of homegardens of different ethnic groups in Thailand and Vietnam. PLoS ONE 11:e0146118. doi:10.1371/journal.pone.0146118

Tropicos.org (2013) Missouri Botanical Garden. http://www.tropicos.org/. Accessed 28 July 2015

Vaz CMP, Manieri JM, de Maria IC, Tuller M (2011) Modeling and correction of soil penetration resistance for varying soil water content. Geoderma 166:92–101. doi:10.1016/j.geoderma.2011.07.016

Wezel A, Ohl J (2005) Does remoteness from urban centres influence plant diversity in homegardens and swidden fields? A case study from the Matsiguenka in the Amazonian rainforest of Peru. Agrofor Syst 65(3):241–251. doi:10.1007/s10457-005-3649-9

Winklerprins AMGA (2002) Recent seasonal floodplain-upland migration along the Lower Amazon River. Geogr Rev 92(3):415–431. doi:10.1111/j1931-0846-2002-tb00151-x

Witkoski AC (2010) Terras, florestas e águas de trabalho: os camponeses amazônicos e as formas de uso de seus recursos naturais. Annablume, São Paulo
Acknowledgements
We are grateful to all the people in the communities of Água Azul, Terra Preta do Atininga, Puruzinho, Vila Espírito Santo, Lago do Piauí, São Félix and Vila Gomes who participated in this research and shared their knowledge and experiences. We thank the Institute for Sustainable Agriculture and Forestry Development of Amazonas (IDAM), the National Institute of Amazonian Research and the Post-Graduate Program in Botany for logistic support. We thank the technicians at the Thematic Laboratory of Soils and Plants for performing the soil analyses. NBS received a Masters' scholarship from the Coordination for the Improvement of Higher Education Personnel (CAPES). ABJ received PhD scholarships and funding for fieldwork from the Interdisciplinary Research and Education Fund of Wageningen University (INREF), via the Terra Preta Program, and from the Netherlands Organization for International Cooperation in Higher Education (NUFFIC). Compliance with ethical standards can be found in the Supplementary Material.
Electronic supplementary material
Below is the link to the electronic supplementary material.
About this article
Cite this article
de Souza, N.B., Junqueira, A.B., Struik, P.C. et al. The role of fertile anthropogenic soils in the conservation of native and exotic agrobiodiversity in Amazonian homegardens. Agroforest Syst 93, 471–482 (2019). https://doi.org/10.1007/s10457-017-0137-y
Received:

Accepted:

Published:

Issue Date:
Keywords
Soil fertility

Amazonian dark earths

Geographical origin of species

Agroecosystems

Spontaneous plants