Abstract
Pruning is an important management practice for regulating tree structure and physiology, and the timing of pruning can enhance forage production during dry periods of the year. Experimental pruning was performed on Guazuma ulmifolia trees to explain the morphological and physiological changes that occur when they are subjected to programmed defoliation to promote regrowth during the dry season. Three prunings (P-1, P-2 and P-3) were conducted from August to October (rainy season), and four foliage harvesting dates (H-a, H-b, H-c and H-d) occurred from February to April (dry season) over 2 years of evaluation. The trees developed similar numbers of branches from pruning and harvesting (P > 0.05). Differing predefined pruning height resulted in greater tree height in P-3. Trees in P-1 developed shorter (P < 0.005) and vigorous branches, in contrast, those in P-3 had longer and less vigorous branches with long internodes. Nonetheless, trees in P-3 added less height from regrowth (P < 0.001) to the total tree height. The first pruning (P-1) induced greater foliage density (P < 0.010) and more senescent leaves (P < 0.001), but this greater senescence was further affected by later leaf harvests (P = 0.001). Trees in P-3 showed greater photosynthetic efficiency (P < 0.001) because they retained lower leaf area and more green foliage during the dry season. The timing of pruning modified the morphology and physiology of G. ulmifolia, but leaf senescence was more affected by harvest date during the dry season. This process can be accelerated or slowed, depending on the pattern of rainfall which varies from year to year.
Access options
Buy single article
Instant access to the full article PDF.
USD 39.95
Price excludes VAT (USA)
Tax calculation will be finalised during checkout.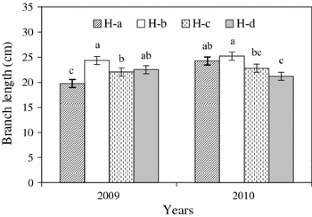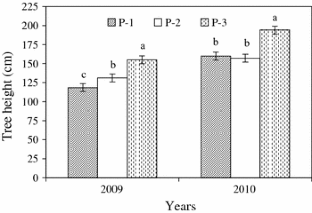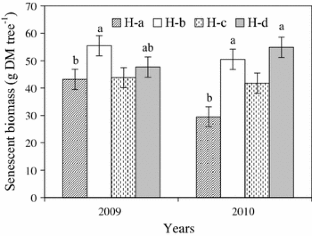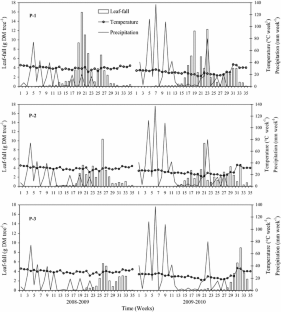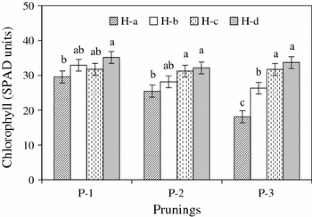 References
Ávila C, Guardiola JL, Nebauer SG (2012) Response of the photosynthetic apparatus to a flowering-inductive period by water stress in Citrus. Trees-Struct Funct 26:833–840

Azcón-Bieto J, Talón M (2000) Fundamentos de fisiología vegetal. McGraw Hill International, Madrid

Beer J, Ibrahim M, Somarriba E, Barrance A, Leakey R (2003) Establecimiento y manejo de árboles en sistemas agroforestales. In: Cordero J, Boshier DH (eds) Árboles de Centroamérica un manual para el extensionista. Centro Agronómico Tropical de Investigación y Enseñanza, Turrialba, pp 197–242

Berninger F, Nikimaa E, Sievänen R, Nygren P (2000) Modeling of reserve carbohydrate dynamics regrowth and nodulation in a N2—fixing tree managed by periodic prunings. Plant Cell Environ 23:1025–1040

Borchert R (1994) Induction of rehydration and bud break by irrigation or rain in deciduous trees of a tropical dry forest in Costa Rica. Trees 8:198–204

Brown RW (1995) The water relations of range plants: adaptation to water deficits. In: Bedunah DJ, Sosebee RE (eds) Wild plants, physiological ecology and developmental morphology. Society for Range Management, Littleton, pp 291–414

Casanova-Lugo F, Ramírez-Avilés L, Solorio-Sánchez FJ (2010) Efecto del intervalo de poda sobre la biomasa foliar y radical en árboles forrajeros en monocultivo y asociados. Trop Subtrop Agroecosyst 12:657–665

Ella A, Jacobsen C, Stür WW, Blair G (1989) Effect of plant density and cutting frequency on the productivity of four tree legumes. Trop Grassl 23:28–34

Flexas J, Bota J, Galmés J, Medrano H, Ribas-Carbo M (2006) Keeping a positive carbon balance under adverse conditions: responses of photosynthesis and respiration to water stress. Plant Physiol 127:343–352

Francisco AG (2003) Manejo estratégico de las defoliaciones en especies arbóreas. Pastos Forrajes 26:185–195

García E (1973) Modificación al Sistema de Clasificación Climática de Köppen (Para Adaptarlo a las Condiciones de la República Mexicana). Universidad Nacional Autónoma de México, México

Hernández I, Benavides J, Simón L (1996) Manejo de las podas de Leucaena leucocephala para la producción de forraje en el periodo seco en Cuba. Agrofor Am 3:28–31

IUSS-WRB (2007) Base referencial mundial del recurso suelo. Primera actualización 2007. Informes sobre Recursos Mundiales de Suelos no. 103. FAO, Roma

Jolly WM, Running SW (2004) Effects of precipitation and soil water potential on drought deciduous phenology in the Kalahari. Glob Change Biol 10:303–308

Koike T (1990) Autumn coloring, photosynthetic performance and leaf development of deciduous broad-leaved trees in relation to forest succession. Tree Physiol 7:21–32

Matile P, Hörtensteiner S, Thomas H, Kräutler B (1996) Chlorophyll breakdown in senescent leaves. Plant Physiol 112:1403–1409

Nanda A, Krishna Murthy YL, Suresh HS (2013) Canopy trees leaf phenology in tropical dry deciduous and evergreen forests of Bhadra Wildlife Sanctuary Karnataka, India. Afr J Plant Sci 7:170–175

Ortega-Vargas E, López-Ortiz S, Burgueño-Ferreira JA, Campbell WB, Jarillo-Rodríguez J (2013) Date of pruning of Guazuma ulmifolia during the rainy season affects the availability, productivity and nutritional quality of forage during the dry season. Agrofor Syst 87:917–927

SAS Inc. (2010) statistical analysis system, enterprise guide ver. 4.3.0. SAS Institute, Inc., Cary

Smart MC, Hosken SE, Tomas H, Greaves JA, Blair BG, Schuch W (1995) The timing of maize leaf senescence and characterization of senescence-related cDNAs. Plant Physiol 93:673–682

Taiz L, Zeiger E (2006) Plant physiology, 4th edn. Sinauer Associates Inc, Sunderland

Thomas H, Donnison I (2000) Back from the brink: plant senescence and its reversibility. In: Bryant J, Hughes SG, Garland JM (eds) Programmed cell death in health and disease. Bios Scientific Press, Oxford, pp 149–162

Thomas H, Ougham HJ, Wagstaff C, Stead AD (2003) Defining senescence and death. J Exp Bot 54:1127–1132

Toral O, Iglesias JM (2007) Efecto de la poda en el rendimiento de biomasa de 20 accesiones de especies arbóreas. Pastos Forrajes 30:341–355

Wencomo HB, Ortiz R (2011) Capacidad de recuperación de 23 accesiones de Leucaena spp. después de la poda. Pastos Forrajes 34:53–68

Wright J, van Schaik CP (1994) Light and the phenology of tropical trees. Am Nat 143:192–199

Zavaleta-Mancera HA, Thomas BJ, Thomas H, Scott IM (1999) Regreening of senescent Nicotiana leaves. II: redifferentiation of plastids. J Exp Bot 50:1683–1689
Acknowledgements
We thank the Línea Prioritaria de Investigación 2 "Agroecosistemas Sustentables" of Colegio de Postgraduados, and Fondo Sectorial SAGARPA-CONACyT for financing the project "Evaluación del pastoreo de ovinos y bovinos manejados en un sistema silvopastoril gramíneas-guácimo (Guazuma ulmifolia Lam.)" (SAGARPA-2005-CO1-12294) and also Consejo Nacional de Ciencia y Tecnología (Grant No. 101944).
About this article
Cite this article
Ortega-Vargas, E., Burgueño-Ferreira, J.A., Ávila-Reséndiz, C. et al. Morphological and physiological responses of Guazuma ulmifolia Lam. to different pruning dates. Agroforest Syst 93, 461–470 (2019). https://doi.org/10.1007/s10457-017-0136-z
Received:

Accepted:

Published:

Issue Date:

DOI: https://doi.org/10.1007/s10457-017-0136-z
Keywords
Dry season

Forage tree

Leaf senescence

Photosynthesis

Regrowth