Abstract
This study focused on leaf and root density dynamics of the most dominant tree species (Vitellaria paradoxa) of West African savannas in two land use types (farmed land and forest). Ten trees located at least 100 m from each other were selected, with five trees each located in the field and in the forest. Five of the trees were of small-diameter [two in the fields (diameter at breast height or DBH 20.1–20.7 cm) and three in the forest (DBH 7.0–8.0–10.8 cm)] and five others were of large-diameter [three in the fields (DBH 38.2–81.8–81.9 cm) and two in the forest (DBH 20.1–20.7 cm)]. One near-vertical rhizotron was installed under each tree to evaluate root density while canopy openness, diffuse and directly transmitted light were monitored by taking hemispheric photograph monthly. After a two-year period of monitoring, the results revealed a strong seasonality in root density with peak root density observed during the rainy season in August and the lowest production during the dry season in April. Significant lowest canopy openness was observed from August to September while the highest occurred from March to May, which was found to be synchronous with fine root dynamics. The light interception followed the same trends as the leaf production. Furthermore, both mature and young trees showed significant higher root density in the fields compared to the forest while the mean values of all the parameters of canopy openness and light transmittance were higher in the forest than the fields.
This is a preview of subscription content, log in to check access.
Access options
Buy single article
Instant access to the full article PDF.
US$ 39.95
Price includes VAT for USA
Subscribe to journal
Immediate online access to all issues from 2019. Subscription will auto renew annually.
US$ 199
This is the net price. Taxes to be calculated in checkout.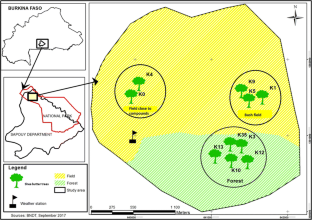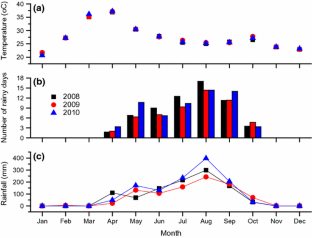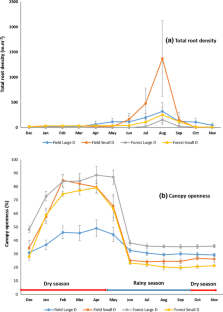 References
Ahlström A, Raupach MR, Schurgers G, Smith B, Arneth A, Jung M, Reichstein M, Canadell JG, Friedlingstein P, Jain AK, Kato E, Poulter B, Sitch S, Stocker BD, Viovy N, Wang YP, Wiltshire A, Zaehle S, Zeng N (2015) The dominant role of semi-arid ecosystems in the trend and variability of the land CO2 sink. Science 348:895–899

Bargués-Tobella A, Hasselquist NJ, Bazié HR, Nyberg G, Laudon H, Bayala J, Ilstedt U (2017) Strategies trees use to overcome seasonal water limitation in an agroforestry system in semiarid West Africa. Ecohydrology 10:e1808

Bastide B, Ouédraogo SJ (2008) Rejets de Detarium microcarpum et feux précoces. Bois For Trop 296:27–38

Bayala J (2002) Tree crown pruning as a management tool to enhance the productivity of parklands in West Africa. PhD Thesis, University of Wales, Bangor, UK

Bayala J, Teklehaimanot Z, Ouedraogo SJ (2004) Fine root distribution of pruned trees and associated crops in a parkland system in Burkina Faso. Agrofor Syst 60:13–26

Bayala J, Balesdent J, Marol C, Zapata F, Teklehaimanot Z, Ouedraogo SJ (2006) Relative contribution of trees and crops to soil carbon content in a parkland system in Burkina Faso using variations in natural 13C abundance. Nutr Cycl Agroecosyst 76:193–201

Bayala J, Heng LK, van Noordwijk M, Ouedraogo SJ (2008) Hydraulic Lift study in two native tree species of agroforestry parklands of West African dry savanna. Acta Oecol 34:370–378

Bayala J, Sanou J, Teklehaimanot Z, Kalinganire A, Ouédraogo SJ (2014) Parklands for buffering climate risk and sustaining agricultural production in the Sahel of West Africa. Curr Opin Environ Sustain 6:28–34

Bazié HR, Sanou J, Bayala J, Bargués-Tobella A, Zombré G, Ilstedt U (2017) Temporal variations in transpiration of Vitellaria paradoxa in West African agroforestry parklands. DOI, Agrofor Syst. doi:10.1007/s10457-017-0115-4

Boffa JM (2000) Les parcs agroforestiers en Afrique de l'Ouest: clés de la conservation et d'une gestion durable. Unasylva 51:11–17

Bond WJ, Midgley JJ (2001) Ecology of sprouting in woody plants: the persistence niche. Trends Ecol Evol 16:45–51

Bouda ZHN, Bayala J, Markussen B, Jensen JS, Raebild A (2012) Provenance variation in survival, growth and dry matter partitioning of Parkia biglobosa (Jacq.) R.Br. ex G.Don seedlings in response to water stress. Agrofor Syst 87:59–71

Brunner I, Herzog C, Dawes MA, Arend M, Sperisen C (2015) How tree roots respond to drought. Front Plant Sci 6:547. doi:10.3389/fpls.2015.00547

Caldararu S, Purves DW, Palmer PI (2014) Phenology as a strategy for carbon optimality: a global model. Biogeosciences 11:763–778

Chairungsee N, Gay F, Thaler P, Kasemsap P, Thanisawanyangkura S, Chantuma A, Jourdan C (2013) Impact of tapping and soil water status on fine root dynamics in a rubber tree plantation in Thailand. Front Plant Sci 4:538. doi:10.3389/fpls.2013.00538

CPCS (Commission de Pédologie et de Cartographie des Sols). (1967) Classification des sols. Laboratoire de Géologie et de Pédologie, Ecole Nationale Supérieure d'Agronomie, Grognon

Delpierre N, Vitasse Y, Chuine I, Guillemot J, Bazot S, Rutishauser T, Rathgeber CBK (2016) Temperate and boreal forest tree phenology: from organ-scale processes to terrestrial ecosystem models. Ann For Sci 73:5–25

Elfeel AA, Warrag EI, Musnad HA (2007) Response of Balanites aegyptiaca (L.) Del. seedlings from varied geographical source to imposed drought stress. Discov Innov 184:319–325

Fontés J, Guinko S (1995) Carte de la végétation et de l'occupation du sol du Burkina Faso. Institut de la Carte International de la Végétation. Université Toulouse France; Institut du Développement Rural, Université Ouagadougou, Burkina Faso

Food and Agriculture Organization of the United Nations (FAO) (1998) World soil resources reports. International Society of Soil Science ISSS-AISS-IBG, Rome

Frazer GW, Canham CD, Lertzman KP (1999) Gap Light Analyzer (GLA), Version 2.0: Imaging software to extract canopy structure and gap light transmission indices from true-colour fisheye photographs, user's manual and program documentation. Millbrook, New York

Guira M (1997) Etude de la phénologie et de la variabilité de quelques caractères chez le karité, Butyrospermum paradoxum subsp. Parkii (G. Don) Hepper (Sapotaceae) dans les champs et les jeunes jachères dans la moitié ouest du Burkina Faso. Doctorat de 3ème cycle, Biologie et Ecologie Végétales. Université de Ouagadougou

Hall JB, Aebischer DP, Tomlinson HF, Osei-Amaning E, Hindle JR (1996) Vitellaria paradoxa, a monograph. School of Agricultural and Forest Sciences, University of Bangor, UK

Haverd V, Smith B, Raupach M, Briggs P, Nieradzik L, Beringer J, Hutley L, Trudinger CM, Cleverly J (2015) Coupling carbon allocation with leaf and root phenology predicts tree-grass partitioning along a savanna rainfall gradient. Biogeosci Discuss 12:16313–16357

Hopkins HC, White F (1984) The ecology and chorology of Parkia in Africa. Bull Jard Bot Nat Belg 54:235–266

Jourdan C, Rey H (1997) Architecture and development of the oilpalm (Elaeis guineensis Jacq.) root system. Plant Soil 189:33–48

Jourdan C, Silva EV, Gonçalves JLM, Ranger J, Moreira RM, Laclau JP (2008) Fine root production and turnover in Brazilian Eucalyptus plantations under contrasting nitrogen fertilization regimes. For Ecol Manag 256:396–404

Kabeya D, Sakai A, Matsui K, Sakai S (2003) Resprouting of Quercus crispula seedlings depends on the vegetation cover of their microhabitants. J Plant Res 116(3):207–216

Kaboré SA, Bastide B, Traoré S, Boussim JI (2013) Dynamique du karité, Vitellaria paradoxa, dans les systèmes agraires du Burkina Faso. Bois For Trop 313:47–59

Kelly BA, Fleury SG, Bouvet MJ (2007) Impact of agroforestry practices on the flowering phenology of Vitellaria paradoxa in parklands in southern Mali. Agrofor Syst 71:67–75

Ky-Dembele C, Tigabu M, Bayala J, Ouédraogoa SJ, Odén PC (2007) The relative importance of different regeneration mechanisms in a selectively cut savanna-woodland in Burkina Faso, West Africa. Fort Ecol Manage 243(1):28–38

Ky-Dembele C, Bayala J, Savadogo P, Tigabu M, Oden PC, Boussim IJ (2010) Comparison of growth responses of Khaya senegalensis seedlings and stecklings to four irrigation regimes. Silva Fenn 44:787–798

Lamien N (2006) Fructification du karité (Vitellaria paradoxa Gaertn.F, Sapotaceae): Facteurs de déperdition, Amélioration et Prévision des rendements à Bondoukuy, Ouest du Burkina Faso. Thèse de Doctorat, Université de Ouagadougou

Lehmann CER, Prior LD, Bowman DMJS (2009) Decadal dynamics of tree cover in an Australian tropical savanna. Austral Ecol 34:601–612

McDowell N, Pockman WT, Allen CD, Breshears DD, Cobb N, Kolb T, Plaut J, Sperry J, West A, Williams DG, Yepez EA (2008) Mechanisms of plant survival and mortality during drought: why do some plants survive while others succumb to drought? New Phytol 178:719–739

Nilson T (1971) A theoretical analysis of the frequency of gaps in plant stands. Agric Meteorol 8:25–38

Nord EA, Lynch JP (2009) Plant phenology: a critical controller of soil resource acquisition. J Exp Biol 60:1927–1937

Okullo JBL, Hall JB, Obua J (2004) Leafing, flowering and fruiting of Vitellaria paradoxa subsp. nilotica in savanna parklands in Uganda. Agrofor Syst 60:77–91

Poorter H, Niklas KJ, Reich PB, Oleksyn J, Poot P, Mommer L (2012) Biomass allocation to leaves, stems and roots: meta-analyses of interspecific variation and environmental control. New Phytol 193:30–50

Poulter B, Frank D, Ciais P, Myneni RB, Andela N, Bi J, Broquet G, Canadell JG, Chevallier F, Liu YY, Running SW, Sitch S, van der Werf GR (2014) Contribution of semi-arid ecosystems to interannual variability of the global carbon cycle. Nature 509:600–603

Roupsard O, Joly HI, Dreyer E (1998) Variability of initial growth, water-use efficiency and carbon isotope discrimination in seedlings of Faidherbia albida (Del.) A. Chev., a multipurpose tree of semi-arid Africa. Provenance and drought effects. Ann For Sci 55:329–348

Sanogo K, Gebrekirstos A, Bayala J, Villamor GB, Kalinganire A, Dodiomon S (2016) Potential of dendrochronology in assessing carbon sequestration rates of Vitellaria paradoxa in southern Mali, West Africa. Dendrochronologia 40:26–35

Steinaker DF, Wilson SD (2008) Phenology of fine roots and leaves in forest and grassland. J Ecol 96:1222–1229

Taiz L, Zeiger E (2006) Plant physiology, 4th edn. Sinauer Associates Inc, Sunderland

Tracy SR, Mooney SJ, Sturrock CJ, Mairhofer S, Al-Traboulsi M, Bennett MJ, Pridmore TP, Lynch JP, Wells DM (2015) Laboratory and field techniques for measuring root distribution and architecture. In: Ong CK, Black CR, Wilson J (eds) Tree-crop interactions: agroforestry in a changing climate. 2nd edn. C.A.B International, pp 258–277

Yuan ZY, Chen HYH (2012) A global analysis of fine root density as affected by soil nitrogen and phosphorus. Proc R Soc B 279:3796–3802
Acknowledgements
This study was funded by the European Community's sixth framework program through the "Innovative Tools and Techniques for Sustainable Use of the Shea Tree in Sudano-Sahelian zone (Contract Number INCO-CT-032037)" as well as by FTA CRP of the CG consortium. We thank the farmers of Sobaka for their participation in the field study. We also thank Kaboré Abel for field assistance. The anonymous reviewers are highly appreciated and thanked for their constructive comments.
About this article
Cite this article
Bazié, P., Ky-Dembele, C., Jourdan, C. et al. Synchrony in the phenologies of fine roots and leaves of Vitellaria paradoxa in different land uses of Burkina Faso. Agroforest Syst 93, 449–460 (2019). https://doi.org/10.1007/s10457-017-0135-0
Received:

Accepted:

Published:

Issue Date:
Keywords
Canopy openness

Ecosystem

Hemispherical photography

Savanna

Shea