Abstract
Whilst the benefits of agroforestry are widely recognised in tropical latitudes few studies have assessed how agroforestry is perceived in temperate latitudes. This study evaluates how stakeholders and key actors including farmers, landowners, agricultural advisors, researchers and environmentalists perceive the implementation and expansion of agroforestry in Europe. Meetings were held with 30 stakeholder groups covering different agroforestry systems in 2014 in eleven EU countries (Denmark, France, Germany, Greece, Hungary, Italy, Netherlands, Portugal, Spain, Sweden and the United Kingdom). In total 344 valid responses were received to a questionnaire where stakeholders were asked to rank the positive and negative aspects of implementing agroforestry in their region. Improved biodiversity and wildlife habitats, animal health and welfare, and landscape aesthetics were seen as the main positive aspects of agroforestry. By contrast, increased labour, complexity of work, management costs and administrative burden were seen as the most important negative aspects. Overall, improving the environmental value of agriculture was seen as the main benefit of agroforestry, whilst management and socio-economic issues were seen as the greatest barriers. The great variability in the opportunities and barriers of the systems suggests enhanced adoption of agroforestry across Europe will be most likely to occur with specific initiatives for each type of system.
Access options
Buy single article
Instant access to the full article PDF.
US$ 39.95
Tax calculation will be finalised during checkout.
Subscribe to journal
Immediate online access to all issues from 2019. Subscription will auto renew annually.
US$ 119
Tax calculation will be finalised during checkout.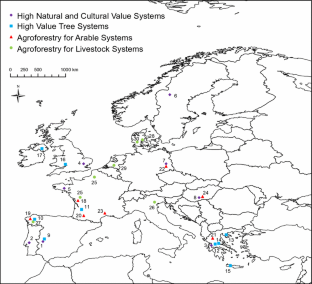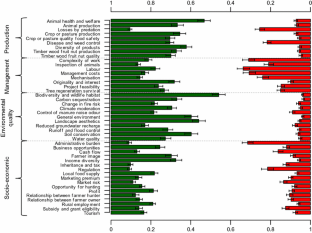 References
Babu SC, Rajasekaran B (1991) Agroforestry, attitude towards risk and nutrient availability: a case study of south Indian farming systems. Agrofor Syst 15(1):1–15

Barnes AP, Willock J, Hall C, Toma L (2009) Farmer perspectives and practices regarding water pollution control programmes in Scotland. Agric Water Manag 96:1715–1722

Bestman M, Burgess PJ, Graves A, Delobel V, Vieweger A, Smith J, Pisanelli A, Rois M, Paulo JA, Moreno G (2014) Participatory Research and Development Network Protocol AGFORWARD (613520). Cranfield University. 25 April 2014

Botha CJ, Coutts J (2011) Moving change to the top of the agenda—learning from the on-ground decision makers. S Afr J Agric Ext 39:1–16

Broom DM, Galindo FA, Murgueitio E (2013) Sustainable, efficient livestock production with high biodiversity and good welfare for animals. Proc R Soc B 280:20132025

Brownlow MJC, Dorward PT, Carruthers SP (2005) Integrating natural woodland with pig production in the United Kingdom: an investigation of potential performance and interactions. Agrofor Syst 64:251–263

Burgess PJ, Morris J (2009) Agricultural technology and land use futures: the UK case. Land Use Policy 26S:222–229

Burgess PJ, Crous-Duran J, den Herder M, Dupraz C, Fagerholm N, Freese D, Garnett K, Graves AR, Hermansen JE, Liagre F, Mirck J, Moreno G, Mosquera-Losada MR, Palma JHN, Pantera A, Plieninger T, Upson M (2015) AGFORWARD Project Periodic Report: January to December 2014. Cranfield University, AGFORWARD, Cranfield, p 95

Burgess PJ, Garcia de Jalon S, Graves A (2016). Complexity and agroforestry: ways to embrace the challenge. In: Gosme M et al. (eds.) 3rd European Agroforestry Conference Book of Abstracts, 233–235. Montpellier, France, 23–25 May 2016

Campos Palacín P, Mariscal Lorente PJ (2003) Preferencias de los propietarios e intervención pública: el caso de las dehesas de la comarca de Monfragüe. Investigación agrarian. Sistemas y recursos forestales 12(3):87–102

den Herder M, Moreno G, Mosquera-Losada MR, Palma JHN, Sidiropoulou A, Santiago Freijanes JJ, Crous-Duran J, Paulo JA, Tomé M, Pantera A, Papanastasis VP, Kostas Mantzanas K, Pachana P, Papadopoulos A, Plieninger T, Burgess PJ (2017) Current extent and stratification of agroforestry in the European Union. Agric Ecosyst Environ 241:121–132

Dupraz C, Burgess P, Gavaland A, Graves A, Herzog F, Incoll LD, Jackson N, Keesman K, Lawson G, Lecomte I, Liagre F, Mantzanas K, Mayus M, Moreno G, Palma J, Papanastasis V, Paris P, Pilbeam DJ, Reisner Y, van Noordwijk M, Vincent G, van der Werf W (2005) SAFE final report-Synthesis of the Silvoarable Agroforestry For Europe project. INRA-UMR System Editions, European Union

Eichhorn MP, Paris P, Herzog F, Incoll LD, Liagre F, Mantzanas K, Mayus M, Moreno G, Papanastasis VP, Pilbeam DJ, Pisanelli A, Dupraz C (2006) Silvoarable systems in Europe—past, present and future prospects. Agrofor Syst 67:29–50

Fagerholm N, Oteros-Rozas E, Raymond CM, Torralba M, Moreno G, Plieninger T (2016) Assessing linkages between ecosystem services, land-use and well-being in an agroforestry landscape using public participation GIS. Appl Geogr 74:30–46

García de Jalón S, Iglesias A, Quiroga S, Bardají I (2013) Exploring public support for climate change adaptation policies in the Mediterranean region: a case study in Southern Spain. Environ Sci Policy 29:1–11

Gomez-Limon J, Lucio Fernandez JV (1999) Changes in use and landscape preferences on agricultural-livestock landscapes of the central Iberian Peninsula, Madrid, Spain. Landsc Urban Plan 44:165–175

Graves AR, Burgess PJ, Liagre F, Pisanelli A, Paris P, Moreno G, Bellido M, Mayus M, Postma M, Schindler B, Mantzanas K, Papanastasis VP, Dupraz C (2009) Farmer perceptions of silvoarable systems in seven European countries. In: Rigueiro-Rodríguez A, McAdam J, Mosquera-Losada MR (eds) Agroforestry in Europe. Curr Status Futur Prospects, Springer, p 450

Graves AR, Morris J, Deeks LK, Rickson RJ, Kibblewhite MG, Harris JA, Farewell TS, Truckle I (2015) The total costs of soil degradation in England and Wales. Ecol Econ 119:399–413

Graves AR, Burgess PJ, Liagre F, Dupraz C (2017) Farmer perception of benefits, constraints, and opportunities for silvoarable systems in Bedfordshire, England. Outlook Agric 46(1):74–83

Greiner R, Gregg D (2011) Farmers' intrinsic motivations, barriers to the adoption of conservation practices and effectiveness of policy instruments: empirical evidence from northern Australia. Land Use Policy 28:257–265

Herzog TR, Herbert EJ, Kaplan R, Crooks CL (2000) Cultural and developmental comparisons of landscape perceptions and preferences. Environ Behav 32:323–346

Howley P, Yadav L, Hynes S, Donoghue CO, Neill SO (2014) Contrasting the attitudes of farmers and the general public regarding the 'multifunctional' role of the agricultural sector. Land Use Policy 38:248–256

Jacobsen JB, Boiesen JH, Thorsen BJ, Strange N (2008) What's in a name? The use of quantitative measures versus 'Iconised' species when valuing biodiversity. Environ Resource Econ 39:247–263

Jerneck A, Olsson L (2013) More than trees! Understanding the agroforestry adoption gap in subsistence agriculture: insights from narrative walks in Kenya. J Rural Stud 32:114–125

Jones T, Feber R, Hemery G, Cook P, James K, Lamberth C, Dawkins M (2007) Welfare and environmental benefits of integrating commercially viable free-range broiler chickens into newly planted woodland: a UK case study. Agric Syst 94:177–188

Kaplan R, Talbot JF (1988) Ethnicity and preference for natural settings: a review and recent findings. Landsc Urban Plan 15:107–117

Knowler D, Bradshaw B (2007) Farmers' adoption of conservation agriculture: a review and synthesis of recent research. Food Policy 32:25–48

Liagre F, Pisanelli A, Moreno G, Bellido M, Mayus M, Postma M, Schindler B, Graves A, Mantzanas K, Dupraz C (2005) Survey of farmers' reaction to modern silvoarable systems. Deliverable 2.3 of the Silvoarable Agroforestry For Europe (SAFE) project, European Research contract QLK5-CT-2001-00560. Available at: http://www1.montpellier.inra.fr/safe/english/results/final-report/Deliverable%202.3.pdf

Meijer SS, Catacutan D, Sileshi GW, Nieuwenhuis M (2015) Tree planting by smallholder farmers in Malawi: using the theory of planned behaviour to examine the relationship between attitudes and behaviour. J Environ Psychol 43:1–12

Pannell DJ (1999) Social and economic challenges in the development of complex farming systems. Agrofor Syst 45:393–409

Plieninger T, Hartel T, Martín-López B, Beaufoy G, Bergmeier E, Kirby K, Montero MJ, Moreno G, Oteros-Rozas E, Van Uytvanck J (2015) Wood-pastures of Europe: geographic coverage, social–ecological values, conservation management, and policy implications. Biol Conserv 190:70–79

Reimer AP, Thompson AW, Prokopy LS (2012) The multi-dimensional nature of environmental attitudes among farmers in Indiana: implications for conservation adoption. Agric Hum Values 29:29–40

Schroth G, Lehmann J, Rodrigues MRL, Barros E, Macêdo JLV (2001) Plant-soil interactions in multistrata agroforestry in the humid tropics. Agrofor Syst 53:85–102

Workman SW, Bannister ME, Nair PKR (2003) Agroforestry potential in the south-eastern United States: perceptions of landowners and extension professionals Agroforest Systems 59(1):73–83

Zeltner E, Hirt H (2008) Factors involved in the improvement of the use of hen runs. Appl Anim Behav Sci 114(3–4):395–408
Acknowledgements
We are very thankful for the 344 respondents who spared time to attend the stakeholder workshops and to complete the questionnaires. We acknowledge Nuria Ferreiro Domínguez, Delphine Meziere and Anna Varga for the help to collect data in the stakeholder workshops. We acknowledge support of the European Commission through the AGFORWARD FP7 research project (Contract No. 613520) (www.agforward.eu).
About this article
Cite this article
García de Jalón, S., Burgess, P.J., Graves, A. et al. How is agroforestry perceived in Europe? An assessment of positive and negative aspects by stakeholders. Agroforest Syst 92, 829–848 (2018). https://doi.org/10.1007/s10457-017-0116-3
Received:

Accepted:

Published:

Issue Date:
Keywords
Agroforestry

Adoption

Barrier

Opportunity

Europe