Abstract
The morphological responses of seedlings of eight African provenances of Vitellaria paradoxa (Shea tree or Karité) to imposed draught stress were compared under nursery experimental conditions. The potted seedlings were subjected to three different watering regimes (87 days after sowing): no water stress (100% of the field capacity, C), moderate water stress (75% of C) and severe water stress (50% of C). Before the application of the stress, we observed genotypical differences in the morphological variables at the scale of leaves and of above-ground parts. The six-month water stress affected aerial growth: all provenances responded to drought by down-regulating growth (in height and in diameter), leaf number and area. Katawki provenance of Uganda performed relatively poorly, possibly of it being a nilotica subspecies, contrary to the others (paradoxa subspecies). There was a lack of correlation between climate of seeds origin, seed characteristics, seeds germination and survival rate of seedlings. The study confirmed the importance of leaf area in the vigor of the initial growth in this species. Thus, Tamale and Karaba provenances performed better than other West African provenances due to their larger leaf area, which was found to be a determining factor of relative growth in height at the seedling stage.
Access options
Buy single article
Instant access to the full article PDF.
USD 39.95
Price includes VAT (USA)
Tax calculation will be finalised during checkout.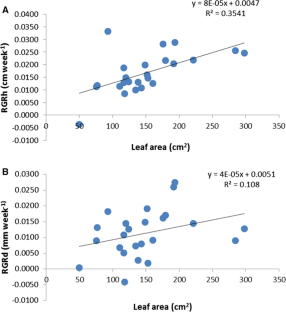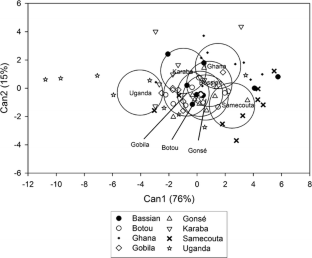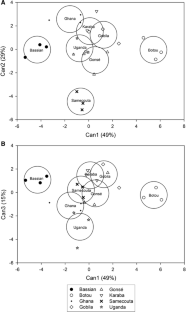 References
Bayala J, Balesdent J, Marol C, Zapata F, Teklehaimanot Z, Ouedraogo SJ (2006) Relative contribution of trees and crops to soil carbon content in a parkland system in Burkina Faso using variations in natural 13C abundance. Nutr Cycl Agroecosys 76:193–201

Bayala J, Ouédraogo SJ, Ong CK (2009) Early growth performance and water use of planted West African provenances of Vitellaria paradoxa C.F. Gaertn (karité) in Gonsé, Burkina Faso. Agrofor Syst 75:117–127

Bayala J, Sanou J, Teklehaimanot Z, Kalinganire A, Ouédraogo SJ (2014) Parklands for buffering climate risk and sustaining agricultural production in the Sahel of West Africa. Curr Opin Environ Sustain 6:28–34

Boffa JM (1999) Agroforestry parklands in Sub-Saharan Africa. Conservation guide 34. FAO, Rome

Bouda ZH-N, Bayala J, Markussen B, Jensen JS, Ræbild A (2013) Provenance variation in survival, growth and dry matter partitioning of Parkia biglobosa (Jacq.) R.Br. ex G.Don seedlings in response to water stress. Agrofor Syst 87:59–71

Elfeel AA, Warrag EI, Musnad HA (2007) Response of Balanites aegyptiaca (L.) Del. seedlings from varied geographical source to imposed drought stress. Discov Innov 184:319–325

Gijsbers HJM, Kessler JJ, Knevel MK (1994) Dynamics and natural regeneration of woody species in farmed parkland in the Sahel region (Province of Passoré) Burkina Faso. For Ecol Manag 64:1–12

Gonzalez P, Tucker CJ, Sy H (2012) Tree density and species decline in the African Sahel attribute to climate. J Arid Environ 78:55–64

Hall JB, Aebischer DP, Tomlinson HF, Osei-Amaning E, Hindle JR (1996) Vitellaria paradoxa. A Monograph. School of Agricultural and Forest Sciences, University of Wales, Bangor

Hijmans RJ, Cameron SE, Parra JL, Jones PG, Jarvis A (2005) Very high resolution interpolated climate surfaces for global land areas. Int J Climatol 25:1965–1978

Hunt R (1982) Plan growth curves: the functional approach to plant growth analysis. Edward Arnold, London

Ky-Dembele C, Bayala J, Savadogo P, Tigabu M, Odén PC, Boussim IJ (2010) Comparison of growth responses of Khaya senegalensis seedlings and stecklings to four irrigation regimes. Silva Fenn 44(5):787–798

Lykke AM (2000) Local perceptions of vegetation change and priorities for conservation of woody-savanna vegetation in Senegal. J Environ Manag 59:107–120

Maes WH, Achten WMJ, Reubens B, Raes D, Samson R, Muys B (2009) Plant-water relationships and growth strategy of Jatropha curcas L. seedlings under different levels of drought stress. J Arid Environ 73:877–884

Maranz S (2009) Tree mortality in the African Sahel indicates an anthropogenic ecosystem displaced by climate change. J Biogeogr 36:1181–1193

McDowell N, Pockman WT, Allen CD, Breshears DD, Cobb N, Kolb T, Plaut J, Sperry J, West A, Williams DG, Yepez EA (2008) Mechanisms of plant survival and mortality during drought: why do some plants survive while others succumb to drought? New Phytol 178:719–739

Modrzynski J, Chmura DJ, Tjoelker MG (2015) Seedling growth and biomass allocation in relation to leaf habit and shade tolerance among 10 temperate tree species. Tree Physiol 35:879–893

Ouédraogo S.J. 1994. Dynamique et fonctionnement des parcs agroforestiers traditionnels du Plateau Central burkinabé. Influence des facteurs biophysiques et anthropiques sur la composante arborée. Thèse de l'Université Paris 6

R Development Core Team (2014) R: a language and environment for statistical computing. R Foundation for Statistical Computing, Vienna

Ræbild A, Hansen UB, Kambou S (2012) Regeneration of Vitellaria paradoxa and Parkia biglobosa in a parkland in southern Burkina Faso. Agrofor Syst 85:443–453

Ritchie JT, Gerakis A, Suleiman A (1999) Simple model to estimate field-measured soil water limits. Trans ASAE 42(6):1609–1614

Roupsard O, Joly HI, Dreyer E (1998) Variability of initial growth, water-use efficiency and carbon isotope discrimination in seedlings of Faidherbia albida (Del.) A. Chev., a multipurpose tree of the semi-arid Africa. Provenance and drought effects. Ann For Sci 55:329–348

Teklehaimanot Z, Lanek J, Tomlinson HF (1998) Provenance variation in morphology and leaflet anatomy of Parkia biglobosa and its relation to drought tolerance. Trees 13:96–102

Thornthwaite CW (1948) An approach toward a rational classification of climate. Geogr Rev 38:55–94

Verchot L, van Noordwijk M, Kandji S, Tomich T, Ong C, Albrecht A, Mackensen J, Bantilan C, Anupama K, Palm C (2007) Climate change: linking adaptation and mitigation through agroforestry. Mitig Adapt Strateg Glob Chang 12(5):901–918

Ward RC, Robinson M (2000) Principles of hydrology, 4th edn. McGraw-Hill, London

Wright IJ, Westoby M (1999) Differences in seedling growth behaviour among species: trait correlations across species, and trait shifts along nutrient compared to rainfall gradients. J Ecol 87:85–97
Acknowledgements
This study was funded by the project INNOVKAR Contract Number INCO-CT-032037 of the European Commission, CRP6 and CRP7. Special thanks to Gnoumou Augustin, Yonli Hermann, Abdoul Karim Ouédraogo from INERA/DPF for their support in the data collection. Dr. Coe Richard is acknowledged for his support for the data analysis and comments on the earlier version of this article. Anonymous reviewers are acknowledged for their advices and comments.
About this article
Cite this article
Bayala, J., Sanon, Z., Bazié, P. et al. Relationships between climate at origin and seedling traits in eight Panafrican provenances of Vitellaria paradoxa C.F. Gaertn. under imposed drought stress. Agroforest Syst 92, 1455–1467 (2018). https://doi.org/10.1007/s10457-017-0091-8
Received:

Accepted:

Published:

Issue Date:
Keywords
Climate change

Morphological variables

Parklands

Relative growth

Water stress