Abstract
Jatropha curcas L., an important oilseed crop of the family Euphorbiaceae is valued for its oil as a fuel oil and biodiesel/aviation fuel feedstock. The adaptability and robustness of the plant makes it eminently suitable for integrating into small farm agroforestry systems and as an intercrop, especially in marginal and drought-stressed areas. Profitable cultivation of the crop is hampered by the lack of cultivars with stable and high yield. Variance components, heritabilities and genetic associations of yield and its determinants were estimated in 57 accessions from nine countries. The accessions exhibited significant variation and the coefficient of variation showed higher PCV than GCV for all the traits. Broad sense heritability and genetic advance were high for seed yield and height from base to branching and low for kernel oil content. Pearson correlation coefficients showed positive significant correlation of fruit shape and number of female flowers per inflorescence with seed yield. Cluster analysis based on 20 mixed traits grouped the accessions into five clusters with all the non-toxic accessions forming a separate cluster while the toxic accessions were grouped in four clusters. Seed yield recorded over 5 years indicated a significant yield increase by the 5th year and the high yielding toxic accessions, JP47 and JP40 gave average seed yields (g plant−1) of 2574 and 1613 and maximum yields (g plant−1) of 2943 and 1940, respectively. This is a significant step towards identification of trait specific genotypes with high seed yield, high test weight, pistillate nature, dual purpose edible types, which could be successfully utilized for genetic improvement of the crop through selection and hybrid breeding.
This is a preview of subscription content, log in to check access.
Access options
Buy single article
Instant access to the full article PDF.
US$ 39.95
Price includes VAT for USA
Subscribe to journal
Immediate online access to all issues from 2019. Subscription will auto renew annually.
US$ 199
This is the net price. Taxes to be calculated in checkout.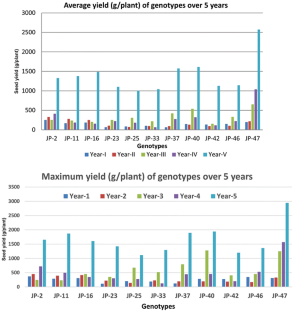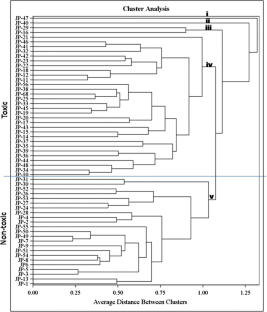 References
Achten WMJ, Nielsen LR, Aerts R, Lengkeek AG, Kjaer ED, Trabucco A et al (2010) Towards domestication of Jatropha curcas. Biofuels 1:91–107

AOCS (1998) Official method BA 3-38. In: Firestone D (ed) Official methods and recommended practices of the American Oil Chemists' Society, 5th edn. American Oil Chemists' Society, Champaign, IL

Basha SD, Francis G, Makkar HPS, Becker K, Sujatha M (2009) A comparative study of biochemical traits and molecular markers for assessment of genetic relationships between Jatropha curcas L. germplasm from different countries. Plant Sci 176:812–823

Berchmans HJ, Hirata S (2008) Biodiesel production from crude Jatropha curcas L. seed oil with a high content of free fatty acids. Bioresour Technol 99:1716–1721

Biabani A, Rafii MY, Saleh GB, Shabanimofrad M, Latif A (2012) Phenotypic and genetic variation of Jatropha curcas L. populations from different countries. Maydica 57:164–174

Burton GW, de Vane EH (1953) Estimating heritability in tall fescue (Festuca arundinacea L.) from replicated clonal material. Agron J 45:478–481

Carels N (2009) Jatropha curcas: a review. Adv Bot Res 50:48–86

Chang-Wei L, Kun L, You C, Yong-Yu S (2007) Floral display and breeding system of Jatropha curcas L. For Stud China 9:114–119

Divakara BN, Upadhyaya HD, Wani SP, Gowda CLL (2010) Biology and genetic improvement of Jatropha curcas L.: a review. Appl Energy 87:732–742

Francis G, Edinger R, Becker K (2005) A concept for simultaneous wasteland reclamation, fuel production, and socio-economic development in degraded areas in India: need, potential and perspectives of Jatropha plantations. Nat Res Forum 29:12–24

Francis G, Oliver J, Sujatha M (2013) Non-toxic Jatropha plants as a perennial multipurpose multi-use oilseed crop. Ind Crops Prod 42:397–401

Freitas RG, Missio RF, Matos FS, Resende MDV, Dias LAS (2011) Genetic evaluation of Jatropha curcas: an important oilseed for biodiesel production. Genet Mol Res 10:1490–1498

Ginwal HS, Phartyal SS, Rawat PS, Srivastava RL (2005) Seed source variation in morphology, germination and seedling growth of Jatropha curcas Linn. in Central India. Silvae Genet 54:76–79

Gohil R, Pandya J (2009) Genetic evaluation of Jatropha (Jatropha curcas Linn.) genotypes. J Agric Res 47:221–228

Gower JC (1971) A general coefficient of similarity and some of its properties. Biometrics 27:857–871

Hirakawa H, Tsuchimoto S, Sakai H, Nakayama S, Fujishira T, Kishida Y et al (2012) Upgraded genomic information of Jatropha curcas L. Plant Biotechnol 29:123–130

Hooda RS, Handa MS, Ahlawat AK, Kumar KSY (2006) Clonal propagation and reproductive biology of Jatropha curcas L. Indian J Agrofor 8:18–27

Johnson HW, Robinson HF, Comstock RE (1955a) Estimates of genetic and environmental variability in soybeans. Agron J 47:314–318

Johnson HW, Robinson HF, Comstock RE (1955b) Genotypic and phenotypic correlations in soybeans and their implications in selection. Agron J 47:477–483

Jones N, Miller JH (1991) Jatropha curcas—a multipurpose species for problematic sites. Land Resour Ser 1:1–12

Kaur K, Dhillon GPS, Gill RIS (2011) Floral biology and breeding system of Jatropha curcas in North-Western India. J Trop For Sci 23:4–9

Kaushik N, Kumar K, Kumar S, Roy S (2007) Genetic variability and divergence studies in seed traits and oil content of Jatropha (Jatropha curcas L.) accessions. Biomass Bioenerg 31:497–502

King AJ, He W, Cuevas JA, Freudenberger M, Ramiaramanana D, Graham IA (2009) Potential of Jatropha curcas as a source of renewable oil and animal feed. J Exp Bot 60:2897–2905

King AJ, Montes LR, Clarke JG, Itzep J, Perez CAA, Jongschaap REE et al (2015) Identification of QTL markers contributing to plant growth, oil yield and fatty acid composition in the oilseed crop Jatropha curcas L. Biotechnol Biofuels 8:160

Laviola BG, Oliveira AMCE, Bhering LL, Alves AA, Rocha RB, Gomes BEL et al (2013) Estimates of repeatability coefficients and selection gains in Jatropha indicate that higher cumulative genetic gains can be obtained by relaxing the degree of certainty in predicting the best families. Ind Crops Prod 51:70–76

Martin M, Montes JM (2015) Quantitative genetic parameters of agronomic and quality traits in a global germplasm collection reveal excellent breeding perspectives for Jatropha curcas L. GCB Bioenergy 7:1335–1343

Maurya R, Verma S, Gupta A, Singh B, Yadav HK (2013) Genetic variability and divergence analyses in Jatropha curcas based on floral and yield traits. Genetika 45:655–666

Mavuso C, Wu YP, Chen FC, Huang BH, Lin SJ (2016) Genetic diversity analysis of Jatropha curcas L. accessions cultivated in Taiwan using inter simple sequence repeats (ISSR) markers. Agrofor Syst 90:417–431

Mishra DK (2009) Selection of candidate plus phenotypes of Jatropha curcas L. using method of paired comparisons. Biomass Bioenergy 33:542–545

Mohapatra S, Panda PK (2010) Genetic variability on growth, phenological and seed characteristics of Jatropha curcas L. Not Sci Biol 2:127–132

Montes JM, Technow F, Bohlinger B, Becker K (2013) Seed quality diversity, trait associations and grouping of accessions in Jatropha curcas L. Ind Crops Prod 51:178–185

Nietsche S, Vendrame WA, Crane JH, Pereira MCT, Costa A, Reis ST (2013) Variability in reproductive traits in Jatropha curcas L. accessions during early developmental stages under warm subtropical conditions. GCB Bioenergy 7:122–134

Openshaw K (2000) A review of Jatropha curcas: an oil plant of unfulfilled promise. Biomass Bioenergy 19:1–15

Parawira W (2010) Biodiesel production from Jatropha curcas: a review. Sci Res Essays 5:1796–1808

Pearson K (1896) Mathematical contributions to the theory of evolution. III. Regression, heredity and panmixia. Proc Roy Soc Lond Ser A 187:253–318

Popluechai S, Breviario D, Sujatha M, Makkar HPS, Raorane M, Reddy AR et al (2009) Narrow genetic and apparent phonetic diversity in Jatropha curcas: initial success with generating low phorbol ester interspecific hybrids. Nat Proc 3:1–44

Prakash AR, Patolia JS, Chikara J, Boricha GN (2007) Floral biology and flowering behaviour of Jatropha curcas. FACT Seminar. http://www.jatropha-alliance.org/fileadmin/documents/knowledgepool/PrakashPatolia_Floral_Biology_Jatropha_curcas.pdf. Accessed 27 Mar 2007

Raju AJS, Ezradanam V (2002) Pollination ecology and fruiting behavior in a monoecious species, Jatropha curcas L. (Euphorbiaceae). Curr Sci India 83:1395–1398

Rao GR, Korwar GR, Shanker AK, Ramakrishna YS (2008) Genetic associations, variability and diversity in seed characters, growth, reproductive phenology and yield in Jatropha curcas (L.) accessions. Trees 22:697–709

Sato S, Hirakawa H, Isobe S, Fukai E, Watanabe A, Kato M et al (2011) Sequence analysis of the genome of an oil bearing tree, Jatropha curcas L. DNA Res 18:65–76

Senger E, Martin M, Dongmeza E, Montes JM (2016) Genetic variation and genotype by environment interaction in Jatropha curcas L. germplasm evaluated in different menvironments of Cameroon. Biomass Bioenergy 91:10–16

Shabanimofrad M, Rafii MY, Megat Wahab PE, Biabani AR, Latif MA (2013) Phenotypic, genotypic and genetic divergence found in 48 newly collected Malaysian accessions of Jatropha curcas L. Ind Crops Prod 42:543–551

Shuit S, Lee K, Kamaruddin A, Yusup S (2010) Reactive extraction and in situ esterification of Jatropha curcas L. seeds for the production of biodiesel. Fuel 89:527–530

Sop TN, Kagambega FW, Bellefontaine R, Schmeidel U, Thiombiano A (2012) Effects of organic amendment on early growth performance of Jatropha curcas L. on a severely degraded site in the Sub-Sahel of Burkina Faso. Agrofor Syst 86:387–399

Sujatha M, Tarakeswari M, Francis G (2013) Start codon targeted (SCoT) polymorphism in toxic and non-toxic accessions of Jatropha curcas L. and development of a codominant SCAR marker. Plant Sci 207:117–127

Sunil N, Kumar V, Sujatha M, Rao GR, Varaprasad KS (2013) Minimal descriptors for characterization and evaluation of Jatropha curcas L. germplasm for utilization in crop improvement. Biomass Bioenergy 48:239–249

Surwenshi A, Kumar V, Shanwad UK, Jalageri BR (2011) Critical review of diversity in Jatropha curcas for crop improvement: a candidate biodiesel crop. Res J Agric Sci 2:193–198

Wani SP, Garg KK, Chander G (2016) Water needs and productivity of Jatropha curcas in India: myths and facts. Biofuels Bioprod Biorefining 10:240–254

Wei X, Sujatha M, Liu A (2012) Genetic diversity in the Jatropha genus and its potential application. CAB Rev 7:059

Wood D (2008) Target properties for biofuels in Thailand. In: Keith SJ, Wood D, Pongmanee T, (Eds) Proceedings of the international technical workshop on feasibility of non-edible oilseed crops for biofuel production, p 50–60. Chiang Rai, 25–27 May 2007

Wu J, Gao S, Tang L, Hou P, Gao J, Chen F (2012) The traits, oil content and correlation studies of seed, kernel in Jatropha curcas L. Afr J Agric Res 7:1487–1491

Wu F, Zhou C, Cheng S, Wu Z, Lu W, Han J et al (2015) Integrated genome sequence and linkage map of physic nut (Jatropha curcas L.), a biodiesel plant. Plant J 81:810–821

Ye M, Li C, Francis G, Makkar HPS (2009) Current situation and prospects of Jatropha curcas as a multipurpose tree in China. Agrofor Syst 76:487–497
Acknowledgements
The financial support of Jatropower AG, Switzerland for this study is acknowledged. The authors are thankful to Dr. A. Dhandapani, ICAR-NAARM, Hyderabad for the help with the statistical analysis and Mrs. Radha Lakshminarayan, Hyderabad for correcting the language.
About this article
Cite this article
Francis, G., Oliver, J. & Mulpuri, S. High yielding and trait specific genotypes and genetic associations among yield and yield contributing traits in Jatropha curcas L.. Agroforest Syst 92, 1417–1436 (2018). https://doi.org/10.1007/s10457-017-0089-2
Received:

Accepted:

Published:

Issue Date:
Keywords
Bioenergy

Genetic associations

Genetic variability

Heritability

Jatropha curcas

Seed yield