Abstract
Most umbrella pine (Pinus pinea L.) stands are managed as agroforestry systems, whose main production is fruit, due to the edible and highly nutritious kernels, and are frequently associated to natural or seeded pastures and grazing. The stands have low density, in order to enhance crown growth and fruit production. Nevertheless, cone production, both with regard to number and weight, varies greatly between stands, trees and years. In this study were selected three agroforestry systems, representative of umbrella pine stands whose main production is fruit, and one stand representative of the timber production system, where fruit is the secondary production. It was evaluated the variability in cone production as a function of the tree's diameter at breast height and crown diameter and the individual tree's competition status. The results indicate that stands managed in agroforestry systems with lower competition and individuals with larger diameter at breast height and crown diameter tend to produce more and heavier cones per tree. The first two principal components of the principal component analysis explain 84 % of the variance in cone production, trees' dimensions and competition index. Tree competition status has a negative impact on production per tree.
Access options
Buy single article
Instant access to the full article PDF.
US$ 39.95
Tax calculation will be finalised during checkout.
Subscribe to journal
Immediate online access to all issues from 2019. Subscription will auto renew annually.
US$ 119
Tax calculation will be finalised during checkout.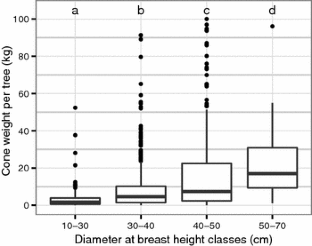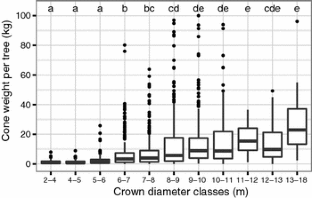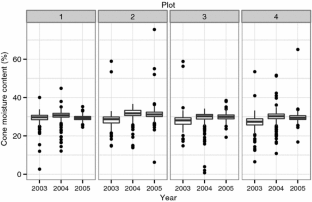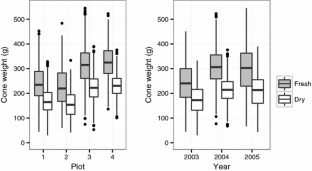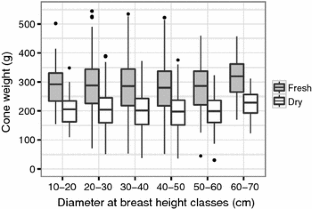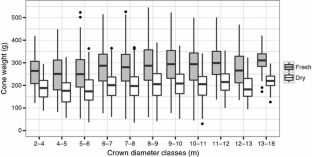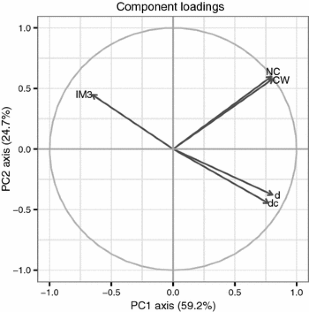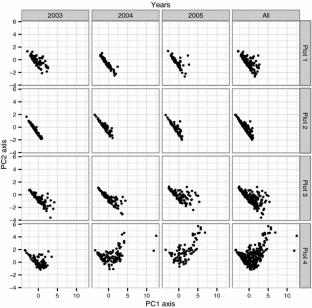 References
Agrimi M, Ciancio O (1994) Le pin pignon (Pinus pinea L.). Silva Mediterranea, Comité des questions forestières méditerranéennes, Larnaca, Chipre (in French)

Alemdag IS (1978) Evaluation of some competition indexes for the prediction of diameter increment in planted white spruce/by I.S. Alemdag. Forest Management Institute Information report FMR-X-108, vol Accessed from http://nla.gov.au/nla.cat-vn1928423. Forest Management Institute, Ottawa

Avery TE, Burkhart HE (1994) Forest measurements, 4th edn. McGraw-Hill, New York

Bachiller CG (1995) The stone pine as producer of dried fruits. In: El pino piñonero como arbol productor de frutos secos en los paises mediterráneos, I reunion de la red de frutos secos de la FAO sobre el pino piñonero, 1995. Instituto Nacional de Investigación y Tecnología Agraria y Alimentaria, Centro de Investigación Foresta, pp 1–37 (in Spanish)

Barbeito I, Pardos M, Calama R, Cañellas I (2008) Effect of stand structure on Stone pine (Pinus pinea L.) regeneration dynamics. Forestry 81:617–629

Biging GS, Dobbertin M (1992) A comparison of distance-dependent competition measures for height and basal area growth of individual conifer trees. For Sci 38:695–720

Bonari E, Bagliacca M, Ciomei D, Senesi G (1980) Raccolta dei pinoli con machine scuotitrici. Macchine e Motori Agricoli 38:41–46 (in Italian)

Boutheina A, El Aouni MH, Balandier P (2013) Influence of stand and tree attributes and silviculture on cone and seed productions in forests of Pinus pinea L. in northern Tunisia. Options Méditerranéennes Série A. Séminaires Méditerranéens 105:9–14

Brauer D, Ares A, Reid W, Thomas A, Slusher JP (2006) Nut-yield variations and yield–diameter relationships in open-canopy black walnut trees in southern USA. Agrofor Syst 67:63–72

Burkhart HE, Tomé M (2012) Modeling forest trees and stands. Springer Science & Business Media, Dordrecht

Calama R, Montero G (2007) Cone and seed production from stone pine (Pinus pinea L.) stands in Central Range (Spain). Eur J Forest Res 126:23–35

Calama R, Gordo FJ, Mutke S, Montero G (2008) An empirical ecological-type model for predicting stone pine (Pinus pinea L.) cone production in the Northern Plateau (Spain). For Ecol Manage 255:660–673

Calama R, Mutke S, Tomé J, Gordo J, Montero G, Tomé M (2011) Modelling spatial and temporal variability in a zero-inflated variable: the case of stone pine (Pinus pinea L.) cone production. Ecol Model 222:606–618

Carneiro AN, d'Alpuim MSH, Carvalho MAV (2007) Manual Ilustrado de Enxertia do Pinheiro Manso. Estação Florestal Nacional, Oeiras (in Portuguese)

Castro-García S, Blanco-Roldán GL, Gil-Ribes JA (2012) Vibrational and operational parameters in mechanical cone harvesting of stone pine (Pinus pinea L.). Biosyst Eng 112:352–358

Costa R, Evaristo I, Batista D, Afonso S, Carrasquinho I, Santos L, Sousa E, Inácio L, Bonifácio L, Capelo J, Gomes JA, Carvalho MAV, Alpuim M (2008) Condução de Povoamentos de Pinheiro Manso e Características Nutricionais do Pinhão. Instituto Nacional dos Recursos Biológicos, Oeiras (in Portuguese)

Eichhorn MP, Paris P, Herzog F, Incoll LD, Liagre F, Mantzanas K, Mayus M, Moreno G, Papanastasis VP, Pilbeam DJ, Pisanelli A, Dupraz C (2006) Silvoarable systems in Europe: past, present and future prospects. Agrofor Syst 67:29–50

Evaristo I, Tenreiro R, Costa R (2008) Caracterização de Parâmetros Biométricos e de Ácidos Gordos em Pinhões de Populações Portuguesas de Pinus pinea L. Silva Lusitana 16:1–19 (in Portuguese)

Ganatsas P, Tsakaldimi M, Thanos C (2008) Seed and cone diversity and seed germination of Pinus pinea in Strofylia Site of the Natura 2000 Network. Biodivers Conserv 17:2427–2439

Gonçalves AC, Pommerening A (2012) Spatial dynamics of cone production in Mediterranean climates: a case study of Pinus pinea L. in Portugal. For Ecol Manage 266:83–93

Harmer R (1994) Natural regeneration of broadleaved trees in Britain: II Seed production and predation. Forestry 67:275–286

Harmer R (1995) Natural regeneration of broadleaved trees in Britain: III. Germination and establishment. Forestry 68:1–9

IBM Corp (2012) IBM SPSS Statistics for Windows (Version 21.0). IBM Corp, Armonk

IFN5 (2010) Inventário Florestal Nacional. IFN5 2005–2006. Autoridade Florestal Nacional, Lisboa (in Portuguese)

Johnson RA, Wichern DW (2007) Applied multivariate statistical analysis, 6th edn. Pearson Prentice Hall, Upper Saddle River

Jose S, Gillespie AR, Pallardy SG (2004) Interspecific interactions in temperate agroforestry. Agrofor Syst 61:237–255

Lamien N, Tigabu M, Guinko S, Oden PC (2007) Variations in dendrometric and fruiting characters of Vitellaria paradoxa populations and multivariate models for estimation of fruit yield. Agrofor Syst 69:1–11

Lusk JJ, Swihart RK, Goheen JR (2007) Correlates of interspecific synchrony and interannual variation in seed production by deciduous trees. For Ecol Manage 242:656–670

Mencuccini M, Piussi P, Zanzi Sulli A (1995) Thirty years of seed production in a subalpine Norway spruce forest: patterns of temporal and spatial variation. For Ecol Manage 76:109–125

Montero-González G, Candela-Plaza JA, Rodríguez-Navarro A (2004) El Pino piñonero (Pinus pinea L.) en Andalucía: ecología, distribución y selvicultura. Junta de Andalucia, Seville, Spain (in Spanish)

Moravie MA, Durand M, Houllier F (1999) Ecological meaning and predictive ability of social status, vigour and competition indices in a tropical rain forest (India). For Ecol Manage 117:221–240

Mutke S, Gordo J, Gil L (2005) Variability of Mediterranean Stone pine cone production: yield loss as response to climate change. Agric For Meteorol 132:263–272

Mutke S, Calama R, González-Martínez SC, Montero G, Gordo FJ, Bono D, Gil L (2011) Mediterranean stone pine: botany and horticulture. In: Janick J (ed) Horticultural reviews (vol 39). Wiley, Hoboken, pp 153–201

Nergiz C, Dönmez İ (2004) Chemical composition and nutritive value of Pinus pinea L. Seeds. Food Chem 86:365–368

Nerlich K, Graeff-Hönninger S, Claupein W (2013) Agroforestry in Europe: a review of the disappearance of traditional systems and development of modern agroforestry practices, with emphasis on experiences in Germany. Agrofor Syst 87:475–492

Oliver CD, Larson BC (1996) Forest stand dynamics. Update editions. Wiley, New York

Pedersen RØ, Bollandsås OM, Gobakken T, Næsset E (2012) Deriving individual tree competition indices from airborne laser scanning. For Ecol Manage 280:150–165

Pommerening A, Stoyan D (2006) Edge-correction needs in estimating indices of spatial forest structure. Can J For Res 36:1723–1739

Pretzsch H (2009) Forest dynamics, growth and yield: from measurement to model. Springer, Berlin

Pretzsch H, Biber P, Ďurský J (2002) The single tree-based stand simulator SILVA: construction, application and evaluation. For Ecol Manage 162:3–21

Pukkala T, Kolström T (1987) Competition indices and the prediction of radial growth in Scots pine. Silva Fennica 21:55–67

R Core Team (2013) R: a language and environment for statistical computing. R Foundation for Statistical Computing, Vienna

Reisner Y, de Filippi R, Herzog F, Palma J (2007) Target regions for silvoarable agroforestry in Europe. Ecol Eng 29:401–418

Rodrigues A, Silva GL, Casquilho M, Freire J, Carrasquinho I, Tomé M (2014) Linear mixed modelling of cone production for Stone Pine in Portugal. Silva Lusitana 22:1–27 [in Portuguese]

Saraiva I (1997) O pinhão. Litexa Editora, Lda., Lisboa (in Portuguese)

Shah DA, Madden LV (2004) Nonparametric analysis of ordinal data in designed factorial experiments. Phytopathology 94:33–43

Sheskin DJ (2007) Handbook of parametric and nonparametric statistical procedures. Chapman & Hall/CRC, Boca Raton

Sirois L (2000) Spatiotemporal variation in black spruce cone and seed crops along a boreal forest: tree line transect. Can J For Res 30:900–909

SNIRH (2015) Sistema Nacional de Informação de Recursos Hídricos, Agencia portuguesa do ambiente, Governo de Portugal, Ministério do Ambiente, Ordenamento do Território e Energia. http://snirh.apambiente.pt/index.php?idMain=2&idItem=1. Accessed 12 Feb 2015 (in Portuguese)

Szwagrzyk J, Szewczyk J, Maciejewski Z (2012) Shade-tolerant tree species from temperate forests differ in their competitive abilities: a case study from Roztocze, south-eastern Poland. For Ecol Manage 282:28–35

Tomé M, Burkhart HE (1989) Distance-dependent competition measures for predicting growth of individual trees. For Sci 35:816–831

Wright SP (1992) Adjusted P-values for simultaneous inference. Biometrics 48:1005–1013

Zardo RN, Henriques RPB (2011) Growth and fruit production of the tree Caryocar brasiliense in the Cerrado of central Brazil. Agrofor Syst 82:15–23
Acknowledgments
The authors are thankful to all members of the Pinus pinea project team, to Companhia Agrícola do Monte Novo, Comonte S.A., Sociedade de Agricultura de Grupo Bicha and Filhos and to the Autoridade Florestal Nacional where trials were settled, and to the team that carried out the laboratory work. The work was funded by PROGRAMA AGRO 200 (Project AGRO/200/2001: ''Colheita mecânica da pinha (Pinus pinea L.)''); by National Funds through FCT - Foundation for Science and Technology under the Project UID/AGR/00115/2013; and by the FCT, Portugal, under the project UID/MAT/04674/2013 (CIMA). Neda Bakhshandegi is gratefully acknowledged for the English revision.
About this article
Cite this article
Gonçalves, A.C., Afonso, A., Pereira, D.G. et al. Influence of umbrella pine (Pinus pinea L.) stand type and tree characteristics on cone production. Agroforest Syst 91, 1019–1030 (2017). https://doi.org/10.1007/s10457-016-9975-2
Received:

Accepted:

Published:

Issue Date:
Keywords
Bivariate correlation

Competition index

Principal component analysis

Tree dimension