Abstract
This paper offers a different framework for managing Mediterranean drought carob-tree orchard ecosystems. Two dry-farming systems were compared during two consecutive years: pure productive orchards and mixed orchards in a total of 360 mature trees distributed by 18 plots with areas of 0.55 and 0.30 ha per plot, respectively. Carob, fig, almond and olive trees compose mixed orchards. Trees of the mixed orchards were more productive than those of pure orchards. The main problem of both systems was the large variability and the low fruit production due to non-bearing trees, inducing unfavorable economic returns. Yield varied between 7.7 and 28.5 kg tree−1 respectively in pure and mixed orchards. In this paper we propose to use carbon sequestration calculations as an added benefit to farmers. A carbon stocking model estimation was established, based on trunk diameters of different trees. We depicted two management scenarios based on fruits production and carbon sequestration incomes: a low value scenario, using mean fruit production, and a high valuable scenario based on the hypothesis that all trees reached its potential maximum. Since under dry-farming systems fruit production irregularity is still a pendent problem, mixed orchards may offer a potential higher revenue, while maintaining higher crop diversification and whole biodiversity. C sequestration benefit, as here we purpose, may represent 125–300 % of income, respectively under low or high valuable scenario. Thus, CO2 equivalent is a novel ecological economic incentive that may potentiate a new income for farmers while assuring carob ecosystem services.
Access options
Buy single article
Instant access to the full article PDF.
US$ 39.95
Tax calculation will be finalised during checkout.
Subscribe to journal
Immediate online access to all issues from 2019. Subscription will auto renew annually.
US$ 119
Tax calculation will be finalised during checkout.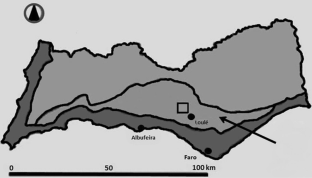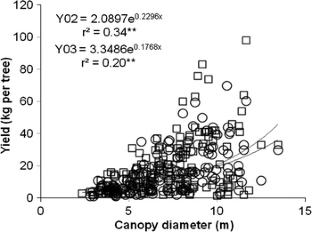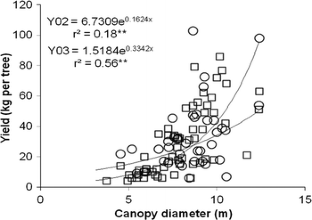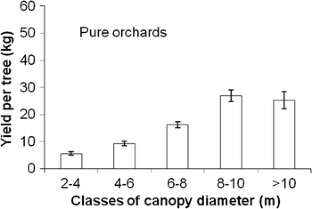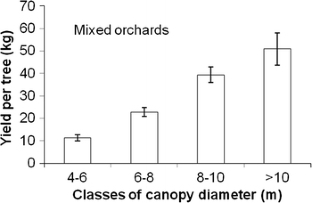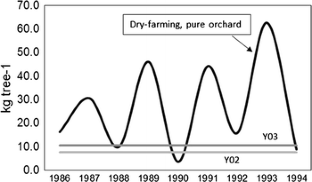 References
Bengoechea C, Romero A, Villanueva A, Moreno G, Alaiz M, Millán F, Guerrero A, Puppo MC (2008) Composition and structure of carob (Ceratonia siliqua L.) germ proteins. Food Chem 107:675–683

Blondel J, Aronson J, Boudiou JY, Boeuf G (2010) The Mediterranean Basin biological diversity in space and time. Oxford University Press, Oxford

Bravo F, Bravo-Oviedo A, Diaz-Baltero L (2008) Carbon sequestration in Spanish Mediterranean forests under two management alternatives: a modelling approach. Eur For Res 127:225–234

Brown S, Gillespie AJR, Chapman J (1986) Biomass of tropical tree plantations and its implications for the global carbon budget. Can J For Res 16:390–394

Bryan E, Ringler C, Okoba B, Koo J, Herrero M, Silvestri S (2013) Can agriculture support climate change adaptation, greenhouse gas mitigation and rural livelihoods? insights from Kenya. Clim Change 118:151–165

Bugalho MN, Caldeira MC, Pereira JS, Aronson J, Pausas JG (2011) Mediterranean cork oak savannas require human use to sustain biodiversity and ecosystem services. Front Ecol Environ 9:278–286

Correia PJ, Martins-Loução MA (2004) Effects of nitrogen and potassium fertilization on vegetative growth and flowering of mature carob trees (Ceratonia siliqua): variations in leaf area index and water use indices. Aus J Exp Agric 44:83–89

Correia PJ, Martins-Loução MA (2005) The use of macronutrients and water in marginal Mediterranean areas: the case of carob-tree. Field Crops Res 91:1–9

Dakia PA, Wathelet B, Paquot M (2007) Isolation and chemical evaluation of carob (Ceratonia siliqua L.) seed germ. Food Chem 102:1368–1374

De Groot RS, Wilson MA, Boumans RMJ (2002) A typology for the classification, description and valuation of ecosystems functions, goods and services. Ecol Econ 41:393–408

del Río M, Sterba H (2009) Comparing volume growth in pure and mixed stands of Pinus sylvestris and Quercus pyrenaica. Ann For Sci 66:502

Eichhorn MP, Paris P, Herzog F, Incoll LD, Liagre F, Mantzanas K, Mayus M, Moreno G, Papanastasis VP, Pilbeam D, Pisanelli A, Dupraz C (2006) Silvoarable systems in Europe—past, present and future prospects. Agrofor Syst 67:29–50

Forrester DI, Vanclay JK, Forrester RI (2011) The balance between facilitation and competition in mixtures of Eucalyptus and Acacia changes as stands develop. Oecologia 166:265–272

Franco de Oliveira AL (1986) Composição das folhas. AIDA: 1 Encontro sobre linhas de investigação de alfarroba. CCRA, Oeiras, pp 28–30

Haselberg von C (1986) Factors influencing flower and fruit development in carob (Ceratonia siliqua L.). 3rd International Carob Symposium. Book of Abstracts, Tavira, p 11

INE (2011) Statistics Portugal. http://www.ine.pt. Accessed 2013

Kelty MJ (1992) Comparative productivity of monocultures and mixed species stands. In: Kelty MJ, Larson BC, Oliver CD (eds) The ecology and silviculture of mixed-species forests. Kluwer Academic Publishers, Dordrecht, pp 125–141

Köpp E, Sobral M, Soares T, Worner M (1989) Os solos do Algarve e as suas características. DGHA-DRAA-GTZ, Faro

Martins A, Marques G, Borges O, Portela E, Lousada J, Raimundo F, Madeira M (2011) Management of chestnut plantations for a multifunctional land use under Mediterranean conditions: effects on productivity and sustainability. Agrofor Syst 81:175–189

Martins-Loução MA (1990) Carob (Ceratonia siliqua L.). In: Bajaj YPS (ed) Biotechnology in agriculture and forestry, vol 10. Springer Verlag, New York, pp 658–675

Mitrakos K (1981) Plant life under Mediterranean climate conditions. Port Acta Biol XVI(1–4):33–44

Myers N, Mittermeier RA, Mittermeier CG et al (2000) Biodiversity hotspots for conservation priorities. Nature 403:853–858

Nair PKR, Kumar BM, Nair VD (2009) Agroforestry as a strategy for carbon sequestration. J Plant Nutr Soil Sci 172:10–23

Novara A, Pereira P, Santoro A, Kuzyakov Y, La Mantia T (2014) Effect of cactus pear cultivation after Mediterranean maquis on soil carbon stock, δ13C spatial distribution and root turnover. Catena 118:84–90

Ochoa-Hueso R, Allen EB, Branquinho C, Cruz C, Dias T, Fenn ME, Manrique E, Pérez-Corona ME, Sheppard LJ, Stock WD (2011) Nitrogen deposition effects on Mediterranean-type ecosystems: an ecological assessment. Environ Pollut 159:2265–2279

Oliveira G, Correia O, Martins-Loução MA, Catarino F (1994) Phenological and growth patterns of the Mediterranean Oak. Quercus Suber L. Trees 9:41–46

Olivier J, Janssens-Maenhout G, Muntean M, Peters J (2013) Trends in global CO2 emissions: 2013 report. Ispra. Joint Research Centre. PBL Netherlands Environmental Agency, The Hague

Paquete BC (1994) Alfarrobeira (Ceratonia siliqua L.). B-Informação económica. Guia do Extensionista. MA/Direção Regional de Agricultura do Algarve, Faro

Pinto-Correia T, Ribeiro N, Sá-Sousa P (2011) Introducing the montado, the cork and holm oak agroforestry system of Southern Portugal. Agroforest Syst 82:99–104

Ribeiro O (1987) Portugal, o Mediterrâneo e o Atlântico, Livraria Sá da Costa

Ribeiro PF, Lima Santos J, Bugalho MN, Santana J, Reino L, Beja P, Moreira F (2014) Modelling farming systems dynamics in high nature value farmland under policy change. Agric Ecosyst Environ 183:138–144

Rita F, Graça J, Espada J (2000) Sistemas de produção de alfarroba e perspectivas de desenvolvimento no concelho de Loulé. In: de Carvalho A, Madeira E (eds) Valorização do pomar tradicional de sequeiro algarvio. Universidade do Algarve, Faro, pp 87–115

Santos LM (1990) Estudo dos agrossistemas do barrocal algarvio. O caso da nave do barão (concelho de Loulé). Dissertation, University of Algarve, Faro

Smith BM, Bean SR, Schober TJ, Tilley M, Herald TJ, Aramouni F (2010) Composition and molecular weight distribution of carob germ protein fractions. J Agric Food Chem 58:7794–7800

Somarriba E, Cerda R, Orozco J, Cifuentes M, Dávila H, Espin T, Mavisoy H, Ávila G, Alvarado E, Poveda V, Astorga C, Say E, Dehuevels O (2013) Carbon stocks and cocoa yields in agroforestry systems of Central America. Agric Ecosyst Environ 173:46–57

Tous J, Romero A, Hermoso JF, Ninot A, Plana J (2008) Fruiting and kernel production characteristics of ten Mediterranean carob cultivars grown in northeastern Spain. J Am Pomol Soc 62:144–150

Vallet P, Pérot T (2011) Silver fir stand productivity is enhanced when mixed with Norway spruce: evidence based on large-scale inventory data and a generic modelling approach. J Veg Sci 22:932–942

Vayreda J, Gracia M, Canadell JG, Retana J (2012) Spatial patterns and predictors of forest carob stocks in western Mediterranean. Ecosystems 15:1258–1270

Wang Y, Belton S, Bridon H, Garanger E, Wellner N, Parker M, Grant A, Feillet P, Noel T (2001) Physicochemical studies of caroubin: a gluten like protein. J Agric Food Chem 49:3414–3419
Acknowledgments
The authors are grateful to the project AGRO306 coordinated by F. Keil do Amaral for providing some of the experimental data used in this work. Data on Fig. 6 was provided by V. Drago (Leziria, Portugal).
About this article
Cite this article
Correia, P.J., Guerreiro, J.F., Pestana, M. et al. Management of carob tree orchards in Mediterranean ecosystems: strategies for a carbon economy implementation. Agroforest Syst 91, 295–306 (2017). https://doi.org/10.1007/s10457-016-9929-8
Received:

Accepted:

Published:

Issue Date:
Keywords
Carbon sequestration

Ceratonia siliqua

Ecosystems service

Environment

Fruit production

Gross income