Abstract
A study was carried out to assess the growth, flowering and fruiting of stecklings (rooted cuttings), grafts and seedlings of Allanblackia floribunda in Cameroun. Thirty-one individuals of each plantlet type were planted in May 2006. Height, collar and crown diameters were recorded in September and October, while flowering and fruiting were recorded each month from January to December. In 2014, the trees with the greatest height were those from seeds (6.98 ± 0.25 m), followed by those from grafts (1.65 ± 0.23 m) and cuttings (1.09 ± 0.21 m). Grafts started flowering and fruiting 3 years after planting, while seedlings started flowering and fruiting after four and 6 years, respectively. Stecklings still had not flowered 8 years after planting. Fruit weight and length from seed-origin trees are about seven times higher than grafts. Correlations between height and crown diameter were significant and positive irrespective of the nature of the planting material. In conclusion, grafts fruited earlier, while seedlings grew faster and had greater yields than grafts and stecklings of A. floribunda.
This is a preview of subscription content, log in to check access.
Access options
Buy single article
Instant access to the full article PDF.
US$ 39.95
Price includes VAT for USA
Subscribe to journal
Immediate online access to all issues from 2019. Subscription will auto renew annually.
US$ 199
This is the net price. Taxes to be calculated in checkout.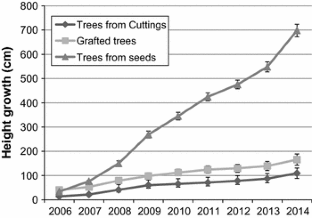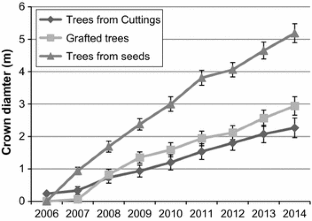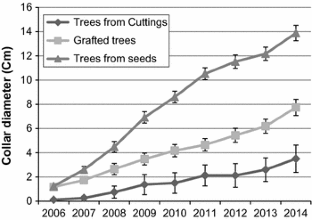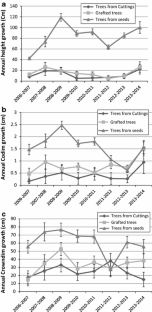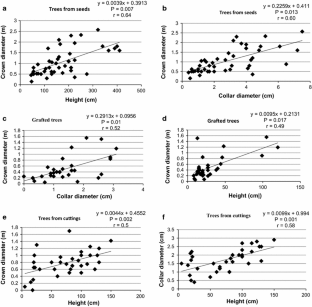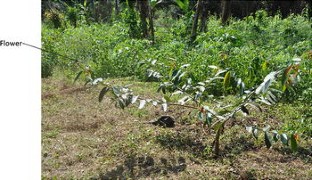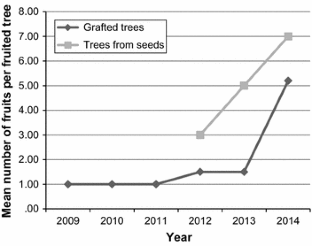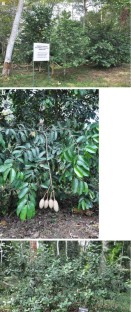 References
Akinnifesi FK, Mng'omba SA, Sileshi G, Chilanga TG, Mhango J, Ajayi OC, Chakeredza S, Nyoka BI, Condwe MTF (2009) Propagule type effects growth and fruiting of Uapaca kirkiana a priority indigenous fruit tree of Southern Africa. J Hortic Sci 44(6):1662–1667

Alavalapati JRR, Mercer ED (2004) Valuing agroforestry systems: methods and applications. Kluwer Academic Publisher, Dordrecht

Ambassa-Kiki (2000) Caractérisation biophysique succincte des différentes zones agro-écologiques du Cameroun. Technical report, IRAD—Yaoundé

Asaah EK (2012) Beyond vegetative propagation of indigenous fruit trees: case of Dacryodes edulis (G. Don) HJ Lam and Allanblackia floribunda Oliv. PhD thesis, Ghent University

Asaah E, Tchoundjeu Z, Ngahane W, Tsobeng A, Kouodiekong L, Jamnadass R, Simons A (2011) Allanblackia floribunda: a new oil tree crop for Africa: amenability to grafting. New Forest 41:389–398

Atangana AR (2010) Phenotypic diversity in fruit and seed traits, and neutral genetic diversity in Allanblackia floribunda. PhD Thesis, University of Laval

Atangana AR, Tchoundjeu Z, Asaah EK, Simons AJ, Khasa DP (2006) Domestication of Allanblackia floribunda: amenability to vegetative propagation. Forest Ecol Manag 237:246–251

Attipoe L, van Andel A, Nyame SK (2006) The Novella project: developing a sustainable supply chain for Allanblackia oil. In: Ruben R, Slingerland M, Nijhoff H (eds) Agro-food chains and networks for development. Springer, Berlin, pp 179–189

Biakaiy N (2008) Assessment of the biometric characterization of superior trees: case of the African Pear (Dacryodes edulis (G.Don) H.J. Lam) in Cameroon. Dissertation, University of Dschang

Bonanome A, Grundy SM (1988) Effect of dietary stearic acid on plasma cholesterol and lipoprotein levels. N Engl J Med 318(19):1244–1248

Dembele C, Bayala J, Savadogo P, Tigabu M, Odén PC, Boussim IJ (2010) Comparison of growth responses of Khaya senegalensis seedlings and stecklings to four irrigation regimes. Silva Fenn 44(5):787–798

Foma M, Abdala T (1985) Kernel oils of seven species of Zaire. J Am Oil Chem 62(5):910–911

Hennon PE, McClellan MH, Spores SR, Orlikowska EH (2009) Survival and growth of planted yellow-cedar seedlings and rooted cuttings (stecklings) near Ketchikan, Alaska. Western J Appl For 24(3):144–150

Hermann M (2009) The impact of the European Novel Food Regulation on trade and food innovation based on traditional plant foods from developing countries. Food Policy 34:499–507

Hilditch TP, Marea ML, Zaky YAH (1940) The fatty acids and glycerides of seed fats of Allanblackia floribunda and Allanblackia parviflora. J Soc Chem Ind 59:25

Kanmegne D (2015) Assessment of dynamic of growth, flowering and fruiting of 14 years of Dacryodes edulis in Cameroon. Dissertation, University of Dschang

Keay RWJ (1989) Trees of Nigeria. Clarendon Press, Oxford

Kengue J (2002) Safou (Dacryodes edulis G Don). International Centre for Underutilized Crops, Southampton

Leakey RRB (2004) Physiology of vegetative reproduction. In: Burley J, Evans J, Young JA (eds) Encyclopaedia of forest sciences. Academic Press, London, pp 1655–1668

Mac Dicken K, Wolf G, Briscoe C (1991) Standard research methods for multipurpose trees and shrubs. Winrock International Institute for Agricultural Development, Manual No 5

Mathew MM, Munjuga M, Ndangalasi HJ, Cordeiro NJ (2009) Aspects of the floral and fruit biology of Allanblackia stuhlmannii (Clusiaceae), an endemic tanzanian tree. J East Afr Nat Hist 98:79–93

Munjuga E, Ofori D, Asaah E, Sesiwa H, Peprah P, Tsobeng A, Schmidt L, Kijazi M, Ofori E, Henneh S, Kahia J, Mpanda M, Simon T, Tchoundjeu Z, Jamnadass R (2015) Allanblackia propagation protocol. World Agroforestry Centre. http://www.researchgate.net/publication/277180596_Allanblackia_Propagation_Protocol. Accessed 03 June 2015

Ndjib G, Tchienkoua M (1987) Reconnaissance soil survey of the Mbalmayo area (South Cameroon). ITC, Enschede, The Netherlands

Orwa C, Munjuga M (2007) Allanblackia floribunda Oliv. In: van der Vossen H, Mkamilo GS (eds), PROTA 14: Vegetable oils/Oléagineux. [CD-Rom]. PROTA, Wageningen, The Netherlands. http://www.prota4u.org/search.asp. Accessed 6 June 2013

Peprah T, Ofori DA, Siaw DEKA, Addo-Danso SD, Cobbinah JR, Simons AJ, Jamnadass R (2009) Reproductive biology and characterization of Allanblackia parviflora A. Chev. in Ghana. Genet Resour Crop Evol 56:1037–1044

Rüger N, Berger U, Hubbell SP, Vieilledent G, Condit R (2011) Growth strategies of tropical tree species: disentangling light and size effects. PLoS One. doi:10.1371/journal.pone.0025330

Scaranello MAS, Alves LF, Vieira SA, de Camargo PB, Joly CA, Martinelli LA (2012) Height-diameter relationships of tropical Atlantic moist forest trees in southeastern Brazil. Sci Agric. doi:10.1590/S0103-90162012000100005. Accessed 03 June 2015

Tchoundjeu Z (1989) Vegetative Propagation of the Tropical Hardwoods of Khaya ivorensis (A. Chef) and Lovoa trichilioides (Harm). Dissertation, University of Edinburgh

Tchoundjeu Z, Atangana A, Asaah E, Tsobeng A, Facheux C, Foundjem D, Mbosso C, Degrande A, Sado T, Kanmegne J, Mbile P, Tabuna H, Anegbeh P, Useni M (2008) Domestication, utilization and marketing of indigenous fruit trees in West and Central Africa. In: Akinnifesi et al. (eds), Indigenous fruit tree in the tropics: domestication, utilization and commercialization. CAB International, Wallingford, pp 171–183

Tsobeng A, Ofori D, Tchoundjeu Z, Asaah E, Van Damme P (2016) Improving growth of stockplants and rooting ability of leafy stem cuttings of Allanblackia floribunda Oliver (Clusiaceae) using different NPK fertilizers and periods of application. New For. doi:10.1007/s11056-015-9517-1

Vivien J, Faure JJ (1996) Fruitier sauvages d'afrique (Espèces du Cameroun). Ministère de la Coopération, pp 87–94
Acknowledgments
Funding for this study was provided by the International Fund for Agricultural Development (IFAD) through "Promoting Rural Innovation through Participatory Tree Domestication" and "Fruits for Africa" Projects, the Belgian Development Cooperation through "Agroforestry Tree Products for Africa" and CGIAR_CRP6 and CRP Genebank. The Institute for Agricultural Research for Development (IRAD, Cameroon) is acknowledged for providing climatic data.
About this article
Cite this article
Tsobeng, A., Asaah, E., Tchoundjeu, Z. et al. Growth, flowering and fruiting of stecklings, grafts and seedlings of Allanblackia floribunda Oliver (Clusiaceae). Agroforest Syst 91, 259–270 (2017). https://doi.org/10.1007/s10457-016-9925-z
Received:

Accepted:

Published:

Issue Date:
Keywords
Fruit traits

Plagiotropic branches

Tree behaviours

Tree traits