Abstract
Salt-tolerant plants are known to remove excess soluble salts from the soil and thus may be used in land reclamation. We studied the responses of the trees, Balanites aegyptiaca L. (Zygophyllaceae), as well as the Fabaceae, Acacia tortilis (Forssk) Hayne, and Tamarindus indica L. to salinity. Three experiments were conducted on germination, in the laboratory; seedling performance in a lath house; and the impact of the tree species on soil productivity in the field in Afar regional state along the Awash river, eastern Ethiopia. Mixtures of salts, composed of chlorides and sulfates, were tested at different concentrations in both germination and lath house experiments in randomized complete block designs. Seedling root collar diameter and height were measured every 2 weeks. Soil samples were collected from randomly selected pots to examine the effect of salinity on soil properties. The effects of trees on in situ soil productivity were studied by collecting 72 soil samples at different distances from the tree and different soil depths. The soil productivity index was calculated by summing the products of sufficiency of available water capacity, aeration, bulk density, pH, electrical conductivity, and the weighting factor for each layer. The study revealed that germination percentage and rate decreased significantly with increasing salt concentrations. The effects of the three tree species on soil properties were significantly different at 12.2 dS m−1 salinity level compared to the control. A. tortilis was the least salt sensitive. Balancing the key requirements of adequate germination and growth and the ability to reduce the salt concentration of the soil solution, B. aegyptiaca is the species with the most potential. Therefore, the study suggests to use B. aegyptiaca as agroforestry trees in the form of parkland in arid and semi-arid areas where salinity problems are prominent.
Access options
Buy single article
Instant access to the full article PDF.
USD 39.95
Price includes VAT (USA)
Tax calculation will be finalised during checkout.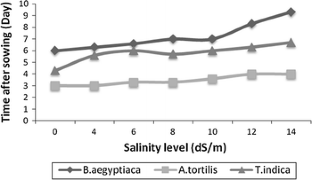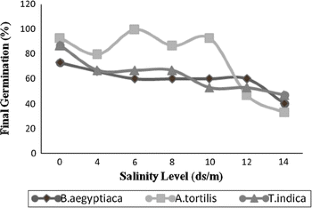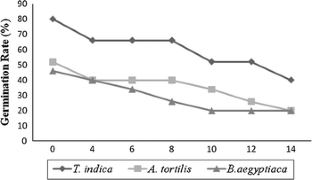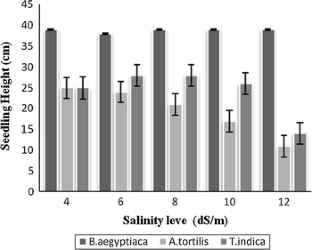 References
Abdurahman A (2002) The paradox of share cropping in the Middle Awash of Ethiopia, Paper submitted to the 12th International Annual Conference on Ethiopian Economy, Addis Abeba, Ethiopia

Abebe Y, Tadesse W, Mohammed A, Shimels T (2006) The role of scattered agroforestry trees in soil fertility management. Ethiopian Agricultural Research Organization, Forestry Research Center, Addis Abeba, Ethiopia

Ali S, MA, Chaudary F, Aslam (1987) Growth of leucaena at different salinity levels. Leucaena Rep.8:53, Barani Agri. College, Rawalpindi, Pakistan

Andrews JA (1992) Soil productivity model to assess forest site quality on reclaimed surface mines. M.S. Thesis. Virginia Polytechnic Institute and State University. Blacksburg, p 133

Ashraf MY, Khan AH (1993) Effect of NaCl on growth and nitrogen status of sorghum. In: Proceedings international symposium on current developments in salinity and drought tolerance of plants. Eds Naqvi SSM, Ansari RU, Flower JJ, Azmi AR., Physiology Division AEARC Tandojam 70060, Pakistan, pp 84–88

Bekele AT (2007) Useful trees and shrubs for Ethiopia identification, propagation and management for 17 agroclimatic zones. RELMA in ICRAF, Nairobi

Corney HJ, Sasse JM, Ades PK (2003) Assessment of salt tolerance in Eucalypts using chlorophyll fluorescence attributes. J Agric Biol 26:233–246

Cuff AD, Allen SJ, Gash JHC, Lloyd CR, Wallace JS (1993) Energy and water budgets of an area of patterned woodland in the Sahel. Agric For Meteor 66:65–80

Dechasa J (2010) Indiscriminate devegetation under improper farming system: a root cause for surface and underground water and food crisis in Ethiopia. J Ecohydrol 10:201–210

Driessen PM, Konijn NT (1992) Land-use systems analysis. Wageningen, The Netherlands: Wageningen Agricultural University. Department of Soil Science and Geology

El-Keblawy A, Al-Rawai A (2005) Effects of salinity, temperature and light on germination of invasive Prosopis juliflora (Sw.) D.C. J Arid Environ 61:555–565

FAO (1997) Review of the fisheries and aquaculture sector: Ethiopia. The united nations food and agriculture, fisheries and aquaculture department. Rome, Italy

Fernández-Cirelli A, Arumí JL, Rivera D, Boochs PW (2009) Environmental effects of irrigation in arid and semi-arid regions. Chil J Agric Res 69(Suppl 1):27–40

Fernando D (2003) Soil physical properties on Venezuelan steep lands: application to soil conservation planning, Merida

Gee GW, Bauder JW (1986) Particle size analysis in methods of soil analysis. Chemical and microbiological properties. Agronomy No.9.2nd edn, 383–411. Soil Sci Soc Am. Madison

Girma MM, Awulachew SB (2007) Irrigation practices in Ethiopia: Characteristics of selected irrigation schemes. Colombo, Sri Lanka: International Water Management Institute Working Paper 124, p 80

Girma T, Fentaw A (1996) The nature and properties of salt affected soils in middle Awash valley of Ethiopia, International livestock research institute (ILRI) and Melaka werer research center, Addis Abeba

Grattan SR, Grieve CM (1999) Mineral element acquisition and growth response of plants grown in saline environments. Agric Ecosyst Environ 38:275–300

Jackson ML (1958) Soil chemical analysis. Prentice Hall Inc, Englewood Cliffs

Jamil M, Lee DB, Jung KY, Ashraf M, Lee SC, Rha ES (2006) Effect of salt (NaCL) stress on germination and early seedling growth of four vegetables species. J Central Eur Agric 27:273–282

Kader MA, Jutzi SC (2004) Effects of thermal and salt treatments during imbibition on germination and seedling growth of sorghum at 42/19°C. J Agron Crop Sci 190:35–38

Kang HM, Saltveit ME (2002) Chilling tolerance of maize, cucumber and rice seedlings leaves and roots are differently affected by salicylic acid. J Physiol Plant 115:571–576

Khalil AAM, Siam MJ (2003) Effect of geographic source of seed on morphometric and germination characteristics of Acacia senegal (L.) Willd. seeds. UK. J Agric Sci 11:231–246

Massai RD, Remorin D, Tattini H (2004) Gas exchanges, water relation and osmotic adjustment in two scion rootstock combinations of prunes under various saline water. Plant Soil 259:153–162

Ministry of Agriculture (MoA) (1997) Land Resource Inventory for the Afar National Regional State: Natural resource management and regulatory Department, Ministry of Agriculture, Addis Ababa

Neill LL (1979) An evaluation of soil productivity based on root growth and water depletion, M.Sc. Thesis, Univ. Missouri, Columbia, USA. p 696

Okalebo JR, Gathua KW, Woomer PL (1993) Laboratory methods of soil and plant analysis: a working manual. Tropical Soil Biology and Fertility Programme, Nairobi p 88

Ozdener Y, Kutbay HG (2008) Effect of salinity and temperature on the germination of Spergularia marina seeds and ameliorating effect of ascorbic and salicylic acids. J Environ Biol 29:959–964

Qureshi RH, Nawaz S, Mahmood T (1993) Performance of selected trees species under saline-sodic field conditions in Pakistan. In: Lieth H, Al-Masoom AA (eds) Towards the rational use of high salinity tolerant plants, vol 2. Kluwer Academic Publishers, Belgium, pp 259–269

Ramezani S, Parsa MB, Naderi M (2010) Effect of physical and chemical treatments on seed germination and dormancy breaking of Prosopis farcta. Int J Nat Eng Sci 4:45–48

Ramoliya PJ, Pandey AN (2002) Effect of salinization on emergency, growth and survival of seedlings of Acacia nilotica. J Botanica Complut 26:105–119

Shiferaw H, Teketay D, Nemomissa S, Assefa F (2004) Some biological characteristics that foster the invasion of Prosopis juliflora (Sw.) DC. at Middle Awash Rift Valley Area, north- eastern Ethiopia. J Arid Environ 58:135–154

Singh KJS, Yadav P, Singh V (1991) Tolerance of trees to soil salinity. J Soil Sci 39:549–556

Thorburn PJ, George RJ (1999) Interim guidelines for revegetating areas with shallow, saline watertables. In: Agroforestry over shallow watertables. RIRDC Publication 99/36, 12–20

Walkley A, Black IA (1934) An examination of the Degtjareff method for determining soil organic matter, and a proposed modification of the chromic acid titration method. Soil Sci 37:29–38

Younger P, Casey V (2003) A Simple method for determining the suitability of brackish groundwaters for irrigation. Waterlines 22:11–13

Zekri M (1993) Salinity and calcium effects on emergence, growth and mineral composition of seedlings of eight citrus rootstocks. J Hort Sci 68:53–62
Acknowledgments
The financial assistance provided by the Ministry of Agriculture and Rural Development is gratefully acknowledged. L. Norgrove is supported by the SNSF (Swiss National Science Foundation) through a Marie Heim-Vögtlin research fellowship in Agricultural and Forestry Sciences (grant PMPDP3_145502). Two synonymous reviewers are highly acknowledged for their constructive comments on an earlier version of this paper.
About this article
Cite this article
Seid, H., Birhane, E., Kebede, F. et al. Response of selected indigenous dryland agroforestry tree species to salinity and implications for soil fertility management. Agroforest Syst 90, 1133–1142 (2016). https://doi.org/10.1007/s10457-016-9891-5
Received:

Accepted:

Published:

Issue Date:
Keywords
Acacia tortilis
Balanites aegyptiaca

Ethiopia

Germination

Salinity

Soil productivity index

Tamarindus indica