Abstract
The performance, expansion and contribution of tree lucerne has not reached to its full potential due to a number of factors. An action on-farm research was conducted with men and women farm households to (a) compare survival and growth of tree lucerne across contrasting sites and growing niches, and (b) identify the key determinants of tree lucerne survival and growth on farms in the crop-livestock systems. The research was conducted in eight research kebeles (the smallest administrative unit in the country) of the four Africa RISING (Africa Research in Sustainable Intensification for the Next Generation) project sites. Eight farmer research groups (FRGs) were formed in consultation with the group members. Each FRG consisted of 25–30 men and women farmers representing a range of social groups. Each farmer participating in the research received on average 50 seedlings. A total of 253 farmers participated in the research. After planting, data on survival, growth, root collar diameter and management were collected at 9 months using simple field monitoring tools. A total of ten sample plants were selected from the field of each farmer who planted tree lucerne, and these were labelled for continuous growth measurements. The on-farm research measurement was supplemented by cross-sectional survey data collected from a sample of FRG member households in the eight research kebeles. A combination of descriptive statistics, multivariate statistical techniques and econometric models were used for data analysis. The results of the study show that percentage survival on-farm were significantly higher for tree lucerne planted in backyards than those planted in outfields and for middle-resource class households. Household size, access to reliable water supply, and management factors—including fencing and watering planted-seedlings, mulching during dry periods, clean spot weeding and applying organic fertilizers—significantly enhanced survival and growth of tree lucerne in the planting sites.
Access options
Buy single article
Instant access to the full article PDF.
US$ 39.95
Tax calculation will be finalised during checkout.
Subscribe to journal
Immediate online access to all issues from 2019. Subscription will auto renew annually.
US$ 119
Tax calculation will be finalised during checkout.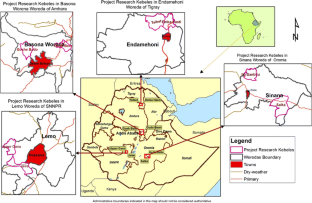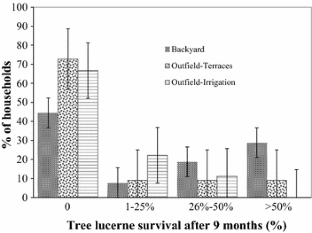 References
Abate D, Belete S, Wegi T, Usman S, Wamatu J, Duncan A (2012) Characterization of the livestock production systems and the potential of feed-based interventions for improving livestock productivity in Sinana district, Bale highlands, Ethiopia. International Livestock research Institute (ILRI), Addis Ababa, p 24

Adegbidi HG, Briggs RD, Volk TA, White EH, Abrahamson LP (2003) Effect of organic amendments and slow-release nitrogen fertilizer on willow biomass production and soil chemical characteristics. Biomass Bioenerg 25:389–398

Allcock KG, Hik DS (2004) Survival, growth, and escape from herbivory are determined by habitat and herbivore species for three Australian woodland plants. Oecologia 138:231–241

Azene B, Birnie A, Tengnas B (1993) Useful trees and shrubs for Ethiopia: identification, propagation and management for agricultural and pastoral communities. Swedish International Development Authority, Nairobi

Baum C (2008) Stata Tip 63: modelling proportions. Stata J 8(2):299–303

Bidogeza J, Berentsen PB, De Graaff J, Oude Lansink AGJ (2009) A typology of farm households for the Umutara Province in Rwanda. J Food Sec 1:321–335

Blanco-García A, Lindig-Cisneros R (2005) Incorporating restoration in sustainable forestry management: using pine-bark mulch to improve native species establishment on tephra deposits. Restor Ecol 13(4):703–709

Cao S, Chen L, Liu Z, Wang G (2008) A new tree-planting technique to improve tree survival and growth on steep and arid land in the Loess Plateau of China. J Arid Environ 72:1374–1382

Ellis-Jones J, Kindu M, Solomon G, Schulz S (2013) Challenges and opportunities to the intensification of farming systems in the highlands of Ethiopia: results of participatory community analysis. International Potato Center (CIP) and Nairobi, International Livestock Research Institute (ILRI), Addis Ababa, Kenya, pp report 166. International Livestock Research Institute, Addis Ababa, CIP and Nairobi

Field A (2005) Discovering statistics using IBM SPSS: and sex, drugs and rock n roll. Sage, London

Gallani S, Krishnan R, Woodridge JM (2015) Applications of fractional response model to the study of bounded dependent variables in the accounting research. Working paper 16-016. Harvard Business School

Getnet A (1998) Biomass yield, botanical fractions and quality of tagasaste, (Chamaecytisus palmensis) as affected by harvesting interval in the highlands of Ethiopia. Agrofor Syst 42(13–23):1998

Getnet A, Kijora C, Aemiro K, Seyoum B, Peters KJ (2008) Evaluation of tagasaste (Chamaecytisus palmensis) forage as a substitute for concentrate in diets of sheep. Livest Sci 114:296–304

Getnet A, Kijora C, Aemiro K, Sonder K, Peters KJ (2012) Effect of pre-feeding forage treatments, harvesting stage, and animal type on preference of tagasaste (Chamaecytisus palmensis). Agrofor Syst 84:25–34

Greene W (2003) Econometric analysis, 5th edn. Pearson Education International, Prentice Hall, Upper Saddle River

Homann-Kee Tui S, Adekunle A, Lundy M, Tucker J, Birachi E, Schut M, Klerkx L, Ballantyne PG, Duncan AJ, Cadilhon J, Mundy P (2013). What are innovation platforms? Innovation platforms practice. Brief 1. Nairobi, Kenya. http://hdl.handle.net/10568/34157. Accessed 7 July 2016

IBM Corp (2013) IBM SPSS statistics for windows, version 22.0. IBM Corp, Armonk

International Center for Tropical Agriculture (2003) Farmer research group dynamics in eastern Africa. Highlights, No. 8, Kampala, Uganda

Kindu M, Glatzel G, Berhane K, Mehari A, Kassahun B, Mesfin T (2008) Processes, lessons and challenges from participatory tree species selection, planting and management research in the highland Vertisol areas of central Ethiopia. For Trees Livelihoods 18:151–164

Kindu M, Glatzel G, Sieghardt M (2009a) Assessments of fodder values of 3 indigenous and 1 exotic woody plant species in the highlands of central Ethiopia. Mt Res Dev 29(2):135–142

Kindu M, Glatzel G, Sieghardt M (2009b) Soil properties under selected homestead grown indigenous tree and shrub species in the highland areas of central Ethiopia. East Afr J Sci 3(1):9–17

Larcheveque M, Desrochers A, Larocque GR (2011) Comparison of manure compost and mineral fertilizer for hybrid poplar plantation establishment on boreal heavy clay soils. Ann For Sci 8:849–860

Mahapatra AK, Mitchell CP (2001) Classifying tree planters and none planters in a subsistence farming system using a discriminant analytical approach. Agrofor Syst 52:41–52

Mekoya A, Oosting SJ, Fernandez-Rivera S, Van der Zijpp AJ (2008a) Multipurpose fodder trees in the Ethiopian highlands: farmers' preference and relationship of indigenous knowledge of feed value with laboratory indicators. Agr Syst 96:184–194

Mekoya A, Simon J, Oosting O, Fernandez-Rivera S, Akke J, Zijpp V (2008b) Farmers' perceptions about exotic multipurpose fodder trees and constraints to their adoption. Agrofor Syst 73:141–153

Ministry of Agriculture (2000) Agro-ecological zones of Ethiopia on 1:2,000,000 scale. Natural Resource Management and Regulatory Department, MoA, Addis Ababa

Mulugeta S, Kindu M (2013) Tree and shrub species integration in the crop-livestock farming system. Afr Crop Sci J 21:647–656

Orwa C, Mutua A, Kindt R, Jamnadass R, Simons A (2009) Agroforestree database: a tree reference and selection guide version 4.0. http://www.worldagroforestry.org/af/treedb/. Accessed 14 Nov 2015

Ovalle C, Longeri L, Aronson J, Herrera A, Avendano J (1996) N2 fixation, nodule efficiency and biomass accumulation after two years in Chilean legume trees and Tagasaste (Chamaecytisus proliferus) sub sp. palmensis. Plant Soil 179:131–140

Pagliai M, Guidi G, La Marca M, Giachetti M, Lucamante G (1981) Effect of sewage sludges and composts on soil porosity and aggregation. J Environ Qual 10:556–561

Papke LE, Wooldridge JM (1996) Econometric methods for fractional response variables with an application to 401 (K) plan participation rates. J Appl Econom 11(6):619–632

Sagor R (2000) Guiding school improvement with action research. Association for Supervision and Curriculum Development (ASCD), Alexandria. http://www.ascd.org/publications/books/100047.aspx. Accessed 8 July 2016

Sharma NK, Singh PN, Tyagi PC, Mohan SC (1998) Effect of leucaena mulch on soil-water use and wheat yield. Agr Water Manage 35:191–200

Sharma AR, Singh R, Dhyani SK, Dube RK (2010) Moisture conservation and nitrogen recycling through legume mulching in rainfed maize (Zea mays)–wheat (Triticum aestivum) cropping system. Nutr Cycl Agroecosyst 87:187–197

Sood KK, Mitchell CP (2009) Identifying important biophysical and social determinants of on-farm tree growing in subsistence-based traditional agroforestry systems. Agrofor Syst 75:175–187

StataCorp (2013) Stata statistical software: release 13. StataCorp LP, College Station

Struve DK (2009) Tree establishment: a review of some of the factors affecting transplant survival and establishment. Arboric Urban For 35(1):10–13

Van Soest PJ (1994) Nutritional ecology of ruminants. Cornell University Press, Ithaca

Zenebe G, Alemu M, Rahel D, Samuel A, Meseret MK (2013) Crop-livestock inter-linkages and climate change implications for Ethiopia's agriculture: a ricardian approach. Environment for Development/Discussion Paper Series EfD DP 13-14. http://www.rff.org/files/sharepoint/WorkImages/Download/EfD-DP-13-14.pdf. Accessed 12 Nov 2015
Acknowledgements
This research was undertaken with support from Africa RISING, a program financed by the United States Agency for International Development (USAID) as part of the United States Government's Feed the Future Initiative. The content is solely the responsibility of the author/s and does not necessarily represent the official views of USAID or the US Government or that of the Africa RISING program. Africa RISING is aligned with research programs of the CGIAR. The authors would like to thank the site and assistant coordinators, local partners, farmers from the four Africa RISING sites, ILRI managing editor, ILRI-Africa RISING research communication specialist and CIP data processing expert for their support during the on-farm research and data organization. We are also grateful to the two anonymous reviewers for their constructive comments.
About this article
Cite this article
Mekonnen, K., Jogo, W., Bezabih, M. et al. Determinants of survival and growth of tree lucerne (Chamaecytisus palmensis) in the crop-livestock farming systems of the Ethiopian highlands. Agroforest Syst 93, 279–293 (2019). https://doi.org/10.1007/s10457-016-0066-1
Received:

Accepted:

Published:

Issue Date:
Keywords
Fodder

Farm typology

Action research

Tree management

Niches

Tree lucerne