Abstract
The demand on agriculture to meet food security goals and mitigate environmental impacts requires multifunctional land-use strategies. Considering both farmer motivations and rural development needs, one option is to transition marginal farmland to perennial crops. In this study, we considered the potential for Multifunctional Perennial Cropping Systems (MPCs) that would simultaneously provide production and ecosystem service benefits. We examined adoption potential of MPCs on marginal farmland through an agricultural landowner survey in the Upper Sangamon River Watershed in Illinois, USA. We identified adoption preferences among landowners in conjunction with socio-demographic characteristics that would facilitate targeted implementation. Hierarchical cluster analysis and discriminant analysis identified landowner categories and key factors affecting adoption potential. Landowner age, appreciation for plant diversity, and future farm management involvement were the strongest predictors of potential MPCs adoption. The landowner categories identified within the survey data, supplemented with focus group discussions, suggested a high adoption potential farmer profile as a young, educated landowner with known marginal land they would consider converting to MPCs for improved soil and water quality conservation.
This is a preview of subscription content, log in to check access.
Access options
Buy single article
Instant access to the full article PDF.
US$ 39.95
Price includes VAT for USA
Subscribe to journal
Immediate online access to all issues from 2019. Subscription will auto renew annually.
US$ 199
This is the net price. Taxes to be calculated in checkout.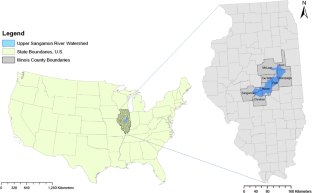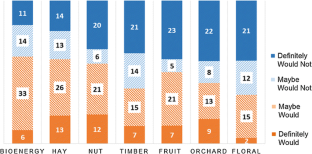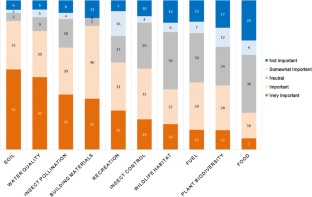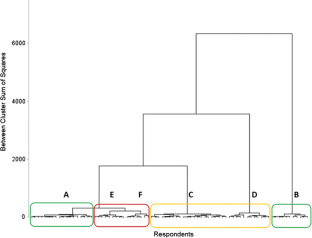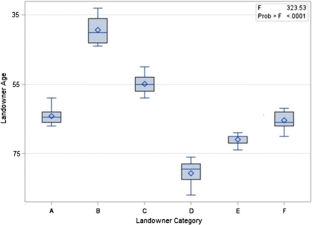 References
Alavalapati JR, Shrestha RK, Stainback GA, Matta JR (2004) Agroforestry development: an environmental economic perspective. Agrofor Syst 61:299–310

Allen DW, Lueck D (1995) Risk preferences and the economics of contracts. Am Econ Rev 85:447–451

Allen DW, Lueck D (2008) Agricultural contracts. In: Handbook of New Institutional Economics. Springer, pp 465–490

Anbe DT (2004) Nutrient reduction strategy. Ill EPA 44:671–719

Arbuckle JG, Valdivia C, Raedeke A et al (2009) Non-operator landowner interest in agroforestry practices in two Missouri watersheds. Agrofor Syst 75:73–82. doi:10.1007/s10457-008-9131-8

Barbieri C, Valdivia C (2010) Recreational multifunctionality and its implications for agroforestry diffusion. Agrofor Syst 79:5–18. doi:10.1007/s10457-009-9269-z

Batáry P, Dicks LV, Kleijn D, Sutherland WJ (2015) The role of agri-environment schemes in conservation and environmental management: european agri-environment schemes. Conserv Biol 29:1006–1016. doi:10.1111/cobi.12536

Cai X, Zhang X, Wang D (2011) Land availability for biofuel production. Environ Sci Technol 45:334–339. doi:10.1021/es103338e

Daloğlu I, Nassauer JI, Riolo RL, Scavia D (2014) Development of a farmer typology of agricultural conservation behavior in the American Corn Belt. Agric Syst 129:93–102. doi:10.1016/j.agsy.2014.05.007

de Snoo GR, de Wit PJ (1998) Buffer zones for reducing pesticide drift to ditches and risks to aquatic organisms. Ecotoxicol Environ Saf 41:112–118

DeDecker JJ, Masiunas JB, Davis AS, Flint CG (2014) Weed management practice selection among Midwest U.S. organic growers. Weed Sci 62:520–531. doi:10.1614/WS-D-13-00138.1

Dillman DA, SMYTH JD, Christian LM (2008). Internet, Mail, and Mixed-mode surveys. The tailored Design Method. 3rd edn. John Wiley & Sons

EPA, Department of Defense (2015) Clean water rule: definition of "Waters of the United States" 80(124), pp. 37054–37127. Federal Register. https://www.gpo.gov/fdsys/pkg/FR-2015-06-29/pdf/2015-13435.pdf

Foley JA, Ramankutty N, Brauman KA et al (2011) Solutions for a cultivated planet. Nature 478:337–342. doi:10.1038/nature10452

Fukunaga K, Huffman WE (2009) The role of risk and transaction costs in contract design: evidence from farmland lease contracts in U.S. agriculture. Am J Agric Econ 91:237–249. doi:10.1111/j.1467-8276.2008.01164.x

Gelfand I, Sahajpal R, Zhang X et al (2013) Sustainable bioenergy production from marginal lands in the US Midwest. Nature 493:514–517. doi:10.1038/nature11811

Hoppe RA, Banker DE (2010) Structure and finances of U.S. farms: family farm report, in EIB-66, E.R.S. U.S. Department of Agriculture, Editor

Illinois State Water Survey (ISWS) (2015) Discovery report: upper sangamon watershed, 07130006. http://www.illinoisfloodmaps.org/DFIRMpdf/discovery/uppersangamon/UpperSangamonDiscoveryReport.pdf

Jose S (2009) Agroforestry for ecosystem services and environmental benefits: an overview. Agrofor Syst 76:1–10. doi:10.1007/s10457-009-9229-7

Keefer L, Bauer E (2011) Upper Sangamon River Watershed monitoring data for the USEPA targeted watershed study: 2005–2008. http://www.isws.uiuc.edu/pubdoc/CR/ISWSCR2011-03.pdf

Krueger RA, Casey MA (2015) Focus Group Interviewing. In: Newcomer KE, Hatry HP, Wholey JS (eds) Handbook of practical program evaluation, 4th edn. Wiley, Hoboken. doi:10.1002/9781119171386.fmatte

Lee KH, Isenhart TM, Schultz RC (2003) Sediment and nutrient removal in an established multi-species riparian buffer. J Soil Water Conserv 58:1–8

Liebman M, Helmers MJ, Schulte LA, Chase CA (2013) Using biodiversity to link agricultural productivity with environmental quality: results from three field experiments in Iowa. Renew Agric Food Syst 28:115–128. doi:10.1017/S1742170512000300

Lovell ST, DeSantis S, Nathan CA et al (2010) Integrating agroecology and landscape multifunctionality in Vermont: an evolving framework to evaluate the design of agroecosystems. Agric Syst 103:327–341. doi:10.1016/j.agsy.2010.03.003

Maisonneuve C, Rioux S (2001) Importance of riparian habitats for small mammal and herpetofaunal communities in agricultural landscapes of southern Québec. Agric Ecosyst Environ 83:165–175

Malézieux E (2012) Designing cropping systems from nature. Agron Sustain Dev 32:15–29. doi:10.1007/s13593-011-0027-z

Nair PKR, Nair VD, Kumar BM, Showalter JM (2010) Carbon sequestration in agroforestry systems. Adv Agron 108:237–307

Nassauer JI, Dowdell JA, Wang Z et al (2011) Iowa farmers' responses to transformative scenarios for Corn Belt agriculture. J Soil Water Conserv 66:18A–24A. doi:10.2489/jswc.66.1.18A

Nickerson CJ, Morehart M, Kuethe T et al (2012) Trends in US farmland values and ownership. US Department of Agriculture, Economic Research Service, Wasington

Pattanayak SK, Mercer DE, Sills E, Yang J-C (2003) Taking stock of agroforestry adoption studies. Agrofor Syst 57:173–186

Pennings JM, Irwin SH, Good DL (2002) Surveying farmers: a case study. Rev Agric Econ 24:266–277

Petrzelka P (2014) Absentee Landlords and Agriculture. In: Thompson PB, Kaplan DM (eds) Encyclopedia of Food and Agricultural Ethics. Springer, Netherlands, Dordrecht

Petrzelka P, Armstrong A (2015) Absentee landowners of agricultural land: influences upon land management decision making and information usage. J Soil Water Conserv 70:303–312. doi:10.2489/jswc.70.5.303

Pickard BR, Daniel J, Mehaffey M, Jackson LE, Neale A (2015) EnviroAtlas: a new geospatial tool to foster ecosystem services science and resource management. Ecosyst Serv 14:45–55

Rosset PM, Martínez-Torres ME (2012) Rural social movements and agroecology: context, theory, and process. Ecol Soc. doi:10.5751/ES-05000-170317

SAS Institute Inc (2013) Base SAS® 9.4 procedures guide: statistical procedures, 2nd edn. SAS Institute Inc., Cary

Savanna Institute (2016) Case study program. 501(c)(3) nonprofit organization. http://www.savannainstitute.org/

Schaefer PR, Dronen S, Erickson D (1987) Windbreaks: a plains legacy in decline. J Soil Water Conserv 42:237–238

Smith DJ, Schulman C, Curent D, Easter KW (2011) Willingness of landowners to supply perennial energy crops. Agricultural and Applied Economics Association Meeting, Pittsburgh

Soule MJ, Tegene A, Wiebe KD (2000) Land tenure and the adoption of conservation practices. Am J Agric Econ 82:993–1005

Strong N, Jacobson MG (2006) A case for consumer-driven extension programming: agroforestry adoption potential in Pennsylvania. Agrofor Syst 68:43–52. doi:10.1007/s10457-006-0002-x

Trozzo KE, Munsell JF, Chamberlain JL (2014) Landowner interest in multifunctional agroforestry riparian buffers. Agrofor Syst 88:619–629. doi:10.1007/s10457-014-9678-5

USDA National Agricultural Statistics Service (2012) County profiles: Illinois. Quick Stats. Ag Census Web Maps. USDA-NASS, Washington, DC. https://www.agcensus.usda.gov/

USDA National Agricultural Statistics Service (2015) Cropland data layer. USDA-NASS, Washington, DC. https://nassgeodata.gmu.edu/CropScape/. Accessed 6 Aug 2016

Valdivia C, Barbieri C, Gold MA (2012) Between forestry and farming: policy and environmental implications of the barriers to agroforestry adoption. Can J Agric Econ 60:155–175. doi:10.1111/j.1744-7976.2012.01248.x

Varble S, Secchi S, Druschke CG (2016) An examination of growing trends in land tenure and conservation practice adoption: results from a farmer survey in Iowa. Environ Manag 57:318–330. doi:10.1007/s00267-015-0619-5

Villamil MB, Silvis AH, Bollero GA (2008) Potential miscanthus' adoption in Illinois: information needs and preferred information channels. Biomass Bioenergy 32:1338–1348. doi:10.1016/j.biombioe.2008.04.002

Villamil MB, Alexander M, Silvis AH, Gray ME (2012) Producer perceptions and information needs regarding their adoption of bioenergy crops. Renew Sustain Energy Rev 16:3604–3612. doi:10.1016/j.rser.2012.03.033
Acknowledgements
This material is based upon work that is supported by the National Institute of Food and Agriculture, U.S. Department of Agriculture, under Award Number 2014-68006-22041. The authors would like to thank the survey and focus group participants for their valuable input.
Electronic supplementary material
Below is the link to the electronic supplementary material.
About this article
Cite this article
Mattia, C.M., Lovell, S.T. & Davis, A. Identifying barriers and motivators for adoption of multifunctional perennial cropping systems by landowners in the Upper Sangamon River Watershed, Illinois. Agroforest Syst 92, 1155–1169 (2018). https://doi.org/10.1007/s10457-016-0053-6
Received:

Accepted:

Published:

Issue Date:
Keywords
Multifunctional cropping systems

Survey

Adoption

Hierarchical cluster analysis