Abstract
Despite the economic importance of Theobroma cacao, surprisingly little is known about its pollination ecology. Ceratopogonid midges are considered to be the main pollinators, but the limited available evidence on the sexual reproduction is based almost exclusively on cultivated cacao and knowledge is nonexistent for wild populations. We documented flower visitors in wild and cultivated plants by applying glue on 2237 flowers of wild and cultivated cacao trees in Bolivia to trap floral visitors. We caught 631 insects belonging to seven orders, corresponding to a mean capture rate of 0.3 insects per flower. The most abundant and diverse insect order on both cacao types was Hymenoptera, represented mainly by small parasitoids. Hymenoptera were more abundant on wild cacao, whereas species richness was higher on cultivated cacao. The abundance and species richness of Diptera were not significantly different between wild and cultivated cacao. However, species composition and proportion of Diptera species differed between both wild and cultivated cacao. Ceratopogonidae were only represented by 13 individuals belonging to seven species. Cacao pollen was carried by only a single specimen of Encyrtidae. We were thus unable to identify actual pollinators. We found significant differences among the visitor assemblages between wild and cultivated cacao, which suggest that midges alone were probably too rare to act as main or even sole pollinators of cacao in our study region. Potential additional pollinators would be small Diptera (e.g., Chloropidae and Phoridae) and Hymenoptera (e.g., Eulophidae and Platygastridae).
Access options
Buy single article
Instant access to the full article PDF.
USD 39.95
Price excludes VAT (USA)
Tax calculation will be finalised during checkout.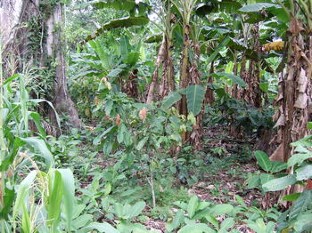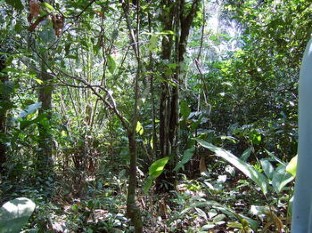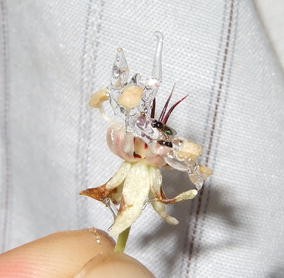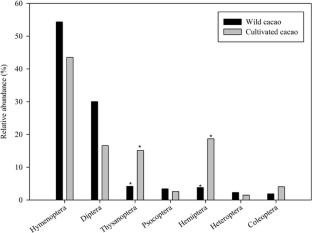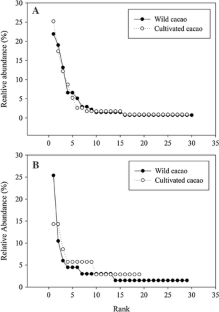 References
Billes DJ (1941) Pollination of Theobroma cacao L. in Trinidad, BWI. Trop Agric (Trinidad) 28:151–156

Bos MM, Steffan-Dewenter I, Tscharntke T (2007) Shade management affects fruit abortion, pathogens and insect attacks of cacao. Agric Ecosyst Environ 120:201–205

Brew AH, Boorman J (1993) Preliminary observations on the classification of Forcipomyia midges (Diptera, Ceratopogonidae) of Ghana with special reference to species involved in the pollination of cocoa (Theobroma cacao L.). Café, cacao, thé 37(2):139–144

Brown BV (1992) Generic revision of phoridae of the Neartic region and phylogenetic classification of Phoridae, Sciadoceridae, and Ironomyiidae (Diptera, Phoridae). Mem entomol soc Can 124:3–144

Cane JH, Payne JA (1993) Regional, annual, and seasonal variation in pollinator guilds: intrinsic traits of bees (Hymenoptera: Apoidea) underlie their patterns of abundance at Vaccinium ashei (Ericaceae). Ann Entomol Soc Am 86:577–588

Cuatrecasas J (1964) Cacao and its allies: a taxonomic revision of the genus Theobroma. Contrib US Nat Herb 35(6):379–605

de Schawe CC, Durka W, Tscharntke T, Hensen I, Kessler M (2013) Gene flow and genetic diversity in cultivated and wild cacao (Theobroma cacao L.) in Bolivia. Am J Bot 100(11):2271–2279

Entwistle PF (1972) Pests of cocoa, 1st edn. Longman, London

Falque M, Vincent A, Vaissiere BE, Eskes AB (1995) Effect of pollination intensity on fruit and seed set in cacao (Theobroma cacao). Sex Plant Reprod 8:354–360

Groeneveld JH (2008) Cacao pollination and fruit set in differently managed agroforests in Indonesia. Master Thesis, Georg August University Göttingen, Germany

Groeneveld JH, Tscharntke T, Moser G, Clough Y (2010) Experimental evidence for stronger cacao yield limitation by pollen than by plant resources. Perspect Plant Ecol Evol Syst 12:183–191

Hanson PE, Gauld ID (eds) (1995) The hymenoptera of Costa Rica. Oxford University Press, Oxford

Harland SC (1925) Studies in cacao. I. Method of pollination. Ann Appl Biol 12:403

Herrera CM (1988) Variation in mutualisms: the spatio-temporal mosaic of a pollinator assemblage. Biol J Linn Soc 35:95–125

Kandori I (2002) Diverse visitors with various pollinator importance and temporal change in the important pollinators of Geranium thunbergii (Geraniaceae). Ecol Res 17:283–294

Klein AM, Cunningham SA, Bos M, Steffan-Dewenter I (2008) Advances in pollination ecology from tropical plantation crops. Ecology 89(4):935–946

Knight R, Rogers HH (1955) Incompatibility in Theobroma cacao L. Heredity 9:69–77

Lachenaud Ph (1995) Variations in the number of beans per pod in Theobroma cacao L. in the Ivory Coast. II. Pollen germination, fruit setting and ovule development. Journal of Horticultural Science 70(1):1–6

Lanaud C, Sounigo D, Afemia YK, Paulin D, Lachenaud P, Clement D (1987) Nouvelles données sur le fonctionnement du système d´ incompatibilité du cacaoyer et ses conséquences pour la sélection. Café Cacao Thé 31(4):267–277

Lieberei R, Reisdorf C (2007) Nutzpflanzenkunde. Thieme, Stuttgart

Lucas P (1981) Etude des conditions de pollinisation du cacaoyer au Togo. Café Cacao Thé 25(2):113–120

Mass B, Clough Y, Tscharntke T (2013) Bats and birds increase crop yield in tropical agroforestry landscapes. Ecol Lett 16(12):1480–1487

Massaux F, Tchiendji C, Misse C, Decazy B (1976) Etude du transport du pollen de cacaoyer par marquage au 32P. Café Cacao Thé 20(3):163–170

Paulin D, Decazy B, Coulibaly N (1983) Etude des variations saisonnières des conditions de pollinisation et de fructification dans une cacaoyère. Café Cacao Thé 27(3):165–176

Posnette AF (1950) Pollination of cacao in the Gold Coast. J Hortic Sci 25(3):155–163

Sánchez P, Morillo F, Muñoz W, Soria SJ, Marín C (2001) Las especies de Forcipomyia, Meigen (Diptera: Ceratopogonidae) polinizadoras del cacao (Theobroma cacao L.) en la Colección de la Estación Experimental del INIA-Miranda, Venezuela. Entomotropica 16(2):147–148

Saunders LG, Bowman GF (1956). Cacao pollination in Costa Rica

Soria SJ (1973) Locais do coleta e distribuição de Forcipomyia (Diptera, Ceratopogonidae) relacionadas com a floração e frutificação do cacaueiro na Bahia, Brasil. Rev Theobroma (Brasil) 3(2):41–49

Soria SJ (1974) O papel das abelhas sem ferrão (Meliponinae) na polinização do cacaueiro na América tropical (Monografia). Rev Theobroma 5(1):12–20

Soria SJ (1975) O papel das abelhas sem ferrão (Meliponinae) na polinização do cacaueiro na América tropical. Rev Theobroma 5:12–20

Soria SJ, Wirth WW (1974) Identidade e caracterização taxonômica preliminar das mosquinhas Forcypomyia (Diptera, Ceratopogonidae) associadas com a polinização da cacaueiro na Bahia. Rev Theobroma (Brasil) 4(1):3–12

Soria SJ, Wirth WW, Chapman K (1980) Insect pollination of cacao in Costa Rica. 1. Preliminary list of the ceratopogonid midges collected from flowers. Rev Theobroma (Brasil) 10(2):61–68

Stejskal M (1969) Nectar y aroma de las flores del cacao. Oriente Agropecuario. 1(2):75–92

Wellensiek SJ (1932) Observations on the flowering biology of cocoa. Archief Koffiecult 6:87–101

Winder JA (1977) Field observations on Ceratopogonidae and other Diptera: Nematocera associated with cocoa flowers in Brazil. Bull Ent Res 67:57–63

Winder JA, Silva P (1972) Cacao pollination: microdiptera of cacao plantations and some of their breeding places. Bull Entomol Res 61(04):651–655

Young AM (1981) The ineffectiveness of the stingless bee Trigona jaty (Hymenoptera: apidae: Meliponinae) as a pollinator of cocoa (Theobroma cacao L.). J Appl Ecol 18:149–155

Young AM (1983) Seasonal differences in abundance and distribution of cocoa-pollinating midges in relation to flowering and fruit-set between shaded and sunny habitats of the La Lola Cocoa Farm. J Appl Ecol 20:801–831

Young AM (1986a) Habitat differences in cocoa tree flowering, fruit-set, and pollinator availability in Costa Rica. J Trop Ecol 2(2):163–186

Young AM (1986b) Distribution and abundance of Dipterian flypaper traps at Theobroma cacao L. (Sterculiaceae) flowers in Costarican cacao plantations. J Kansas Entomol Soc 59(4):580–587

Young AM, Schaller M, Strand MA (1984) Floral nectaries and trichomas in relation to pollination in some species of Theobroma and Herrania (Sterculiaceae). Am J Bot 71:466–480

Young AM, Erickson EH Jr, Strand MA, Erickson BJ (1987) Pollination biology of Theobroma and Herrania (Sterculiaceae). 1. Floral biology. Insect Science and its Application 8(2):151–164
Acknowledgments
The authors thank the German Science Foundation (HE 3041/17-1) for funding this project. We also thank the German Academic Exchange Service (DAAD) for the scholarship granted to CC. For assistance in the field, we thank R. Hurtado, C. Campos, and the local assistants J. Navi, C. Ibaguari, E. Amutari and W. Amutari. For insect identification, we thank G. Spinelli and P. Marino (Universidad Nacional de la Plata, Argentina), I. Vollhardt (University of Göttingen, Germany) and M. Limachi (Universidad Mayor de San Andrés, Bolivia). We also thank the National Herbarium of Bolivia (LPB) for logistic support, and the Ministerio de Desarrollo Rural y Medio Ambiente – Dirección General de Biodiversidad y Áreas Protegidas in Bolivia for research permits.
About this article
Cite this article
Chumacero de Schawe, C., Kessler, M., Hensen, I. et al. Abundance and diversity of flower visitors on wild and cultivated cacao (Theobroma cacao L.) in Bolivia. Agroforest Syst 92, 117–125 (2018). https://doi.org/10.1007/s10457-016-0019-8
Received:

Accepted:

Published:

Issue Date:

DOI: https://doi.org/10.1007/s10457-016-0019-8
Keywords
Pollinator

Diptera

Hymenoptera

Forcypomyia

Midge