Abstract
Shea (Vitellaria paradoxa) is an important fruit tree in West African parklands, and its successful pollination is a requirement for fruit production. Size-based pollinator exclusion experiments combined with visual observations showed that presence of honey bees (Apis mellifera jemenitica) was important for pollination and thereby the production of fruits and seeds. Smaller insects, mainly species of stingless bees (Hypotrigona spp. and Liotrigona cf. bottegoi) and solitary bees (Compsomelissa borneri) could partly compensate pollination in absence of honey bees, but fertilisation and fruit yield was reduced. A positive correlation between fertilisation percentage and number of honey bee colonies within radii of 900 and 1000 m was observed. The percentage of fertilisation and number of mature fruits per fascicle were higher in trees with colonies of stingless bees in the trunk when honey bees were excluded by bagging. We conclude that local beekeeping with honey bees and stingless bees is likely to have a positive influence on fruit production of shea trees in the farmed West African parklands, which speaks in favour of a pollinator friendly environment.
Access options
Buy single article
Instant access to the full article PDF.
US$ 39.95
Tax calculation will be finalised during checkout.
Subscribe to journal
Immediate online access to all issues from 2019. Subscription will auto renew annually.
US$ 119
Tax calculation will be finalised during checkout.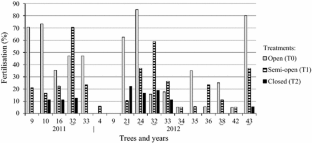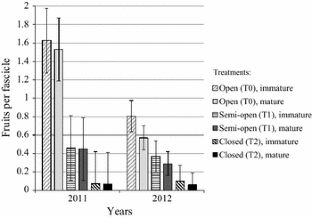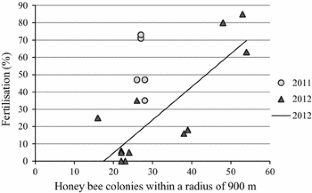 References
Abome Bilounga M-L (2002) Influence des parasites phanérogames et de l'entomofaune sur la floraison et la fructification du karité (Vitellaria paradoxa Gaertn.). MSc Thesis, Universite Polytechnique de Bobo-Dioulasso, Bobo-Dioulasso

Abrol DP (2012) Pollination biology: Biodiversity conservation and agricultural production. Springer, New York

Adekanmbi O, Ogundipe O (2009) Nectar sources for the honey bee (Apis mellifera adansonii) revealed by pollen content. Not Bot Horti Agrobot Cluj-Napoca 37:211–217

Aidoo KS (2008) Boosting cashew production in Ghana. Bees Dev J 91:8–9

Aidoo K, Kwapong P, Combey R, Karikari IA (2011) Stingless bees in Ghana. Bees Dev J 100:10–11

Al-Ghamdi AA, Nuru A, Khanbash MS, Smith DR (2013) Geographical distribution and population variation of Apis mellifera jemenitica Ruttner. J Apic Res 52:124–133

Allal F et al (2011) Past climate changes explain the phylogeography of Vitellaria paradoxa over Africa. Heredity 107:174–186

Bagnoud N, Schmithüsen F, Sorg J-P (1995) Les parcs á karité et néré au Sud-Mali. Analyse du bilan économique des arbres associés aux cultures. Bois Forêts Trop 244:9–23

Bawa KS, Perry DR, Beach JH (1985) Reproductive biology of tropical lowland rain forest trees. 1. Sexual systems and incompatibility mechanisms. Am J Bot 72:331–345

Boffa J-MJ (1995) Productivity and management of agroforestry parklands in the Sudan zone of Burkina Faso. PhD Thesis, Purdue University, West Africa

Boffa J-M (1999) Agroforestry parklands in sub-Saharan Africa, vol 34. FAO, Rome

Chevalier A (1948) Novelles recherches sur l'arbre a beurre du Soudan, Butyrospermum parkii. Rev Int Bot Appl 28:241–256

Djossa BA, Fahr J, Kalko EKV, Sinsin BA (2008) Fruit selection and effects of seed handling by flying foxes on germination rates of shea trees, a key resource in northern Benin, West Africa. Ecotropica 14:37–48

Ferreira PA, Boscolo D, Viana BF (2013) What do we know about the effects of landscape changes on plant-pollinator interaction networks? Ecol Indic 31:35–40

Fischer C, Kleinn C, Fehrmann L, Fuchs H, Panferov O (2011) A national level forest resource assessment for Burkina Faso-A field based forest inventory in a semiarid environment combining small sample size with large observation plots. For Ecol Manag 262:1532–1540

Galen C, Plowright RC, Thomson JD (1985) Floral biology and regulation of seed set and seed size in the lily, Clintonia borealis. Am J Bot 72:1544–1552

Greenleaf SS, Williams NM, Winfree R, Kremen C (2007) Bee foraging ranges and their relationship to body size. Oecologia 153:589–596

Guinko S, Guenda W, Millogo-Rasolodimby J, Tamini Z, Zoungrana I (1987) Étude des plantes mellifères dans l'ouest du Burkina Faso (Provinces du Houet, de la Comoe et du Kenedougou). Projet TCP/BKF/4510 (T). Développement de l'apiculture, Ouagadougou

Guinko S, Guenda W, Millogo-Rasolodimby J, Tamini Z, Zoungrana I (1988) Importance apicole du karité Butyrospermum paradoxum subsp. parkii (G. Don) Hepper. In: Séminaire National sur la valorisation du karité pour le developpement national. Bilan et perspectives. CNRST/U, Ouagadougou, pp 68–73

Guinko S, Guenda W, Tamini Z, Zoungrana I (1992) Les plantes mellifères de la region ouest du Burkina Faso. Etudes sur la flore et la vegetation du Burkina Faso et des pays avoisinants 1:27–46

Guira M (1989) Contribution à l'étude de la biologie florale du karité (Butyrospermum paradoxa sub sp. parkii [G. Don] Hepper) dans la région de Ouagadougou, Burkina Faso. MSc Thesis, Université de Ouagadougou

Guira M (1997) Etude de la phénologie et de la variabilité de quelques caractères chez le karité, Butyrospermum paradoxa subsp. parkii (G. Don) Hepper (Sapotaceae) dans les champs et les jeunes jachères dans la moitié ouest du Burkina Faso. PhD Thesis, University of Ouagadougou

Hall JB, Aebischer DP, Tomlinson HF, Osei-Amaning E, Hindle JR (1996) Vitellaria paradoxa: a monograph, vol 8. School of Agricultural and Forest Sciences, University of Wales, Bangor

Harley MM (1991) The pollen morphology of the Sapotaceae. Kew Bull 46:379–491

Heard TA (1994) Behavior and pollinator efficiency of stingless bees and honey bees on macadamia flowers. J Apic Res 33:191–198

Heard TA (1999) The role of stingless bees in crop pollination. Annu Rev Entomol 44:183–206

Hepburn HR, Radloff SE (1998) Honeybees of Africa. Springer, Berlin

Holm S (1979) A simple sequentially rejective multiple test procedure. Scand J Stat 6:65–70

INSD (2008) Climatology, Burkina Faso, 1996–2008. http://knoema.com/BFC2008/climatology-burkina-faso-2008. Accessed 15 Jul 2015

Kakutani T, Inoue T, Tezuka T, Maeta Y (1993) Pollination of strawberry by the stingless bee, Trigona minangkabau, and the honey bee, Apis mellifera: an experimental study of fertilization efficiency. Res Popul Ecol 35:95–111

Kalisz S (1989) Fitness consequences of mating system, seed weight, and emergence date in a winter annual, Collinsia verna. Evolution 43:1263–1272

Kelly BA, Hardy OJ, Bouvet JM (2004) Temporal and spatial genetic structure in Vitellaria paradoxa (shea tree) in an agroforestry system in southern Mali. Mol Ecol 13:1231–1240

Kikuzawa K, Koyama H (1999) Scaling of soil water absorption by seeds: an experiment using seed analogues. Seed Sci Res 9:171–178

Klein AM, Steffan-Dewenter I, Tscharntke T (2003) Bee pollination and fruit set of Coffea arabica and C. canephora (Rubiaceae). Am J Bot 90:153–157

Kouonon LC, Jacquemart AL, Bi AIZ, Bertin P, Baudoin JP, Dje Y (2009) Reproductive biology of the andromonoecious Cucumis melo subsp agrestis (Cucurbitaceae). Ann Bot 104:1129–1139

Kwapong P (2011) Pollination requirement of Shea butter tree—Vitellaria paradoxa in West Africa. University of Cape Coast, Ghana. http://www.aratishea.com/Publication/Global-Shea-Ghana-2011-en/Kwapong-Pollination-req.-of-Shea.pdf. Accessed 31 Aug 2015

Le Thomas A, Lobreau-Callen D, Darchen B, Darchen R (1988) Analyse comparative des ressources polliniques et des stratégies de butinage de trois espèces de Trigones s.l. en Côte d'Ivoire. Trav Sect Sci Tech 25:345–354

Lobreau-Callen D (1986) Comportement d'Apis mellifera var. adansoni dans deux milieux differents de savane arboree Ouest-Africaine. Actes Colloq Insectes Soc 3:61–71

Lobreau-Callen D, Darchen R, Le Thomas A (1986) Apport de la palynologie à la connaissance des relations abeilles/plantes en savanes arborées du Togo et du Bénin. Apidologie 17:279–306

Lovett PNC (2000) The genetic diversity of the Sheanut tree (Vitellaria paradoxa) in the farming systems of northern Ghana. PhD Thesis, University of Southampton, England

Lovett PN, Haq N (2000) Evidence for anthropic selection of the Sheanut tree (Vitellaria paradoxa). Agrofor Syst 48:273–288

Maranz S (2009) Tree mortality in the African Sahel indicates an anthropogenic ecosystem displaced by climate change. J Biogeogr 36:1181–1193

Météo (2015a) Longueur moyenne (1981–2010) de la saison des pluies au Burkina Faso. Direction Générale de la Météorologie du Burkina, Ouagadougou

Météo (2015b) Pluviometrie mensuelle (mm) dans Guilongou (Ziniare) et Pô 2010–2012 et temperature mensuelle (°C) dans Ouagadougou Aéroport et Pô 2011–2012. Direction Générale de la Météorologie du Burkina, Ouagadougou

Millogo-Rasolodimby J (1989) Importance apicole du karité, Butyrospermum paradoxum (Gaert. Hepper) et du néré, Parkia biglobosa (Jacq. Benth.). Rev fr d'Apic 482:72–74

Monselise SP, Goldschmidt EE (1982) Alternate bearing in fruit trees. Hortic Rev 4:128–173

Neumann K, Kahlheber S, Uebel D (1998) Remains of woody plants from Saouga, a medieval west African village. Veg Hist Archaeobot 7:57–77

Okullo JBL, Hall JB, Eliot M (2003) Reproductive biology and breeding systems of Vitellaria paradoxa. INCO: International Scientific Cooperation Projects (1998–2002): Improved management of agroforestry parkland systems in Sub Saharan Africa. Final report, School of Agricultural and Forest Sciences, Bangor

Oldroyd B, Rinderer T, Wongsiri S (1992) Pollen resource partitioning by Apis dorsata, A. cerana, A. andreniformis and A. florea in Thailand. J Apic Res 31:3–7

Ollerton J, Winfree R, Tarrant S (2011) How many flowering plants are pollinated by animals? Oikos 120:321–326

Pahl M, Zhu H, Tautz J, Zhang SW (2011) Large scale homing in honeybees. PLoS One. doi:10.1371/journal.pone.0019669

Pellmyr O, Thompson JN (1996) Sources of variation in pollinator contribution within a build: the effects of plant and pollinator factors. Oecologia 107:595–604

Potts SG, Biesmeijer JC, Kremen C, Neumann P, Schweiger O, Kunin WE (2010) Global pollinator declines: trends, impacts and drivers. Trends Ecol Evol 25:345–353

Pouliot M, Treue T (2013) Rural people's reliance on forests and the non-forest environment in West Africa: evidence from Ghana and Burkina Faso. World Dev 43:180–193

Ricketts TH (2004) Tropical forest fragments enhance pollinator activity in nearby coffee crops. Conserv Biol 18:1262–1271

Rodger JG, Baklkwill K, Gemmill B (2004) African pollination studies: where are the gaps? Int J Trop Insect Sci 24:5–28

Roubik DW (1995) Pollination of cultivated plants in the tropics, vol 118. FAO Agricultural Services Bulletin, Rome

Roubik DW (2006) Stingless bee nesting biology. Apidologie 37:124–143

Ruyssen B (1957) Le karité au Soudan. L'Agronomie Tropicale 12:143–172

Sanfo JB (2012) Apport de la Direction Générale de la Météorologie dans le processus d'information sur l'eau. Paper presented at the 13ème sommet de l'information sur l'eau, Ouagadougou, 11–13 Apr 2012

SAS Institute (2011) The SAS system for Windows. Release 9.4. Cary, North Carolina, USA

Schulz E, Lueke M (1994) A two year pollen calendar for traditionally produced honey types from Gaya, southern Niger. Grana 33:254–259

Schweitzer P, Nombré I, Aidoo K, Boussim IJ (2013) Plants used in traditional beekeeping in Burkina Faso. Open J Ecol 3:354–358

Schweitzer P, Nombré I, Kwame A, Boussim JI (2014) Spectrum of plant species foraged by Apis mellifera adansonii Latreille in the North Sudanian phytogeographical region of Burkina Faso. Grana 53:62–68

Slaa EJ, Sanchez Chaves LA, Malagodi-Braga KS, Hofstede FE (2006) Stingless bees in applied pollination: practice and perspectives. Apidologie 37:293–315

Soro D, N'guessan K, Soro K (2011) Variability of production out of fruits of Shea trees. Agric Biol J N Am 2:239–243

van Nieuwstadt MGL, Iraheta CER (1996) Relation between size and foraging range in stingless bees (Apidae, Meliponinae). Apidologie 27:219–228

Visscher PK, Seeley TD (1982) Foraging strategy of honeybee colonies in a temperate deciduous forest. Ecology 63:1790–1801

Ward M, Dick CW, Gribel R, Lowe AJ (2005) To self, or not to self… A review of outcrossing and pollen-mediated gene flow in neotropical trees. Heredity 95:246–254

Willmer PG, Finlayson K (2014) Big bees do a better job: intraspecific size variation influences pollination effectiveness. J Pollinat Ecol 14:244–254

Yaka P (2015) Needs from the perspectives of the National Meteorological Department. Paper presented at the GFDRR Inter MET Asia, Singapore, 22–23 Apr 2015
Acknowledgments
First and foremost thanks to the Danish International Development Agency (Danida) for financing this study (see Funding). This research was done together with Centre National de Semences Forestières (CNSF) and the authors wish to thank the staff at CNSF for their cooperative spirit. We also thank Alassane Ouédraogo, Philbert Zoungrana, and Madi Tiemtose, for field assistance and the farmers in Pinyiri for allowing us to use their trees. Many thanks to Edith Daboue for measuring and germinating the seeds at CNSF in 2012. We are also very grateful to Claus Rasmussen, Department of Bioscience, Aarhus University, Denmark, for identifying and measuring samples of bees.
Funding
The present paper is part of a PhD study financed by the Danish International Development Agency (Danida, FFU) (Research Project No. 10-106-LIFE).
Ethics declarations
Conflict of interest
The authors declare that they have no conflict of interest.
About this article
Cite this article
Lassen, K.M., Nielsen, L.R., Lompo, D. et al. Honey bees are essential for pollination of Vitellaria paradoxa subsp. paradoxa (Sapotaceae) in Burkina Faso. Agroforest Syst 92, 23–34 (2018). https://doi.org/10.1007/s10457-016-0007-z
Received:

Accepted:

Published:

Issue Date:
Keywords
Agroforestry parklands

Honey bees

Pollination

Solitary bees

Stingless bees

Vitellaria paradoxa