Abstract
The conversion of forests to other forms of land use has profound effects on the distribution and supply of soil nutrients. Understanding the effects of land use on soil is essential for addressing agroecosystem transformation and sustainable land productivity. Although soil carbon stock has been previously examined in the humid forest zone of Cameroon, the dynamic and interactions between other soil chemical properties has been poorly addressed to date. The present study used the quadrat approach to assess the effect of four land use types (secondary forest, fallow, cocoa plantation and mixed cropping) on soil chemical properties. Soil samples were collected at two different depths (0–10, 10–30 cm) in all land use types and analyzed for pH, total carbon, soil organic carbon, total nitrogen, cation exchange capacity (CEC), calcium (Ca), potassium (K), magnesium (Mg) and boron (B). Land use type significantly affected B, Ca, K and pH: in general, these properties were higher in cocoa plantation and mixed cropping than in secondary forest and fallow. All soil properties were significantly greater in the upper than in the lower soil depth. In addition, all soil properties differed significantly among sites and villages within sites. Pearson correlations between soil chemical properties were positive and generally significant in the four land use types, except for some correlations with B, pH and CEC. Despite the fact that some of the fundamental soil chemical properties (carbon, nitrogen, CEC and Mg) did not differ among the four land use types, high density tree-based production systems are recommended for the storage of these elements in the soils.
Access options
Buy single article
Instant access to the full article PDF.
US$ 39.95
Tax calculation will be finalised during checkout.
Subscribe to journal
Immediate online access to all issues from 2019. Subscription will auto renew annually.
US$ 119
Tax calculation will be finalised during checkout.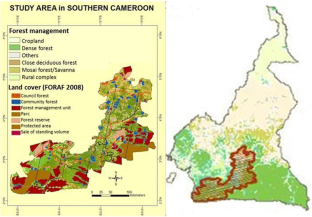 References
Abbasi MK, Zafar M, Sultan T (2010) Changes in soil properties and microbial indices across various management sites in the mountain environments of Azad Jammu and Kashmir. Commun Soil Sci Plant Anal 41:768–782

Abua MA, Offiong RA, Iwara AI, Ibor UW (2010) Impact of newly constructed roads on adjoining soil properties in tinapa resort, South-Eastern Nigeria. Annal Hum Dev Stud 1:176–184

Agoumé V, Birang AM (2009) Impact of land-use systems on some physical and chemical soil properties of an oxisol in the humid forest zone of southern Cameroon. Tropicultura 27:15–20

Batten GD (1998) Plant analysis using near infrared reflectance spectroscopy: the potential and the limitations. Aust J Exp Agric 38:697–706

Bellassen V, Gitz V (2008) Reducing emissions from deforestation and degradation in Cameroon—assessing costs and benefits. Ecol Econ 68:336–344

Bewket W, Stroosnijder L (2003) Effects of agroecological land use succession on soil properties in Chemoga watershed, Blue Nile basin, Ethiopia. Geoderma 111:85–98

Binkley D, Giardina C (1998) Why trees affect soils in temperate and tropical forests: the warp and woof of tree/soil interactions. Biogeochemistry 42:89–106

De Wasseige C, Devers D, de Marcken P, Eba'a Atyi R, Nasi R, Mayaux P (2009) Les forêts du basin du Congo: États des forêts 2008. Office des publications de l'Union européenne

Dominy C, Haynes R, van Antwerpen R (2002) Loss of soil organic matter and related soil properties under long-term sugarcane production on two contrasting soils. Biol Fertil Soils 36:350–356

Duveiller G, Defourny P, Desclée B, Mayaux P (2008) Deforestation in Central Africa: estimates at regional, national and landscape levels by advanced processing of systematically-distributed Landsat extracts. Remote Sens Environ 112:1969–1981

Fenton G, Helyar KR (2007) Soil acidification. In: Charman PEV, Murphy BW (eds) Soils: their properties and management. Oxford University Press, Melbourne

Forouzangohar M, Crossman ND, MacEwan RJ, Wallace DD, Bennett LT (2014) Ecosystem services in agricultural landscapes: a spatially explicit approach to support sustainable soil management. Sci World J 2014:13

Foth HD (2006) Fundamentals of soil science, 8th edn. John Wiley & Sons, New York

Gairola S, Sharma CM, Ghildiyal SK, Suyal S (2012) Regeneration dynamics of dominant tree species along an altitudinal gradient in a moist temperate valley slopes of the Garhwal Himalaya. J For Res 23(1):53–63

Gao G, Chang C (1996) Changes in Cec and particle size distribution of soils associated with long-term annual applications of cattle feedlot manure1. Soil Sci 161:115–120

García-Oliva F, Sanford RL Jr, Kelly E (1999) Effects of slash-and-burn management on soil aggregate organic C and N in a tropical deciduous forest. Geoderma 88:1–12

Gockowski J, Tonye, J., Baker, D., Legg, C., Weise, S., Ndoumbé, M., Tiki-Manga, T. and A. Fouaguégué (2004) Characterization and diagnosis of farming systems in the forest margins benchmark of Southern Cameroon, Working Paper No 1. IITA Social Sciences, Ibadan

Goldberg S, Suarez DL (2012) Role of organic matter on boron adsorption-desorption hysteresis of soils. Soil Sci 177:417–423

Gupta MK, Sharma SD (2008) Effect of tree plantation on soil properties, profile morphology and productivity index. 1. Poplar in Uttarakhand. Ann For 16(2):209–224

Havlin JL (2009) Soil fertility and fertilizers. PHI Learning, New Delhi

Hazelton P, Murphy B (2007) Interpreting soil test results: what do all the numbers mean?. CSIRO publishing, New Delhi

Höfle S, Rethemeyer J, Mueller CW, John S (2013) Organic matter composition and stabilization in a polygonal tundra soil of the Lena Delta. Biogeosciences 10:3145–3158

Ishaq M, Ibrahim M, Lal R (2002) Tillage effects on soil properties at different levels of fertilizer application in Punjab, Pakistan. Soil Tillage Res 68:93–99

IUSS WGW (2006) World reference base for soil resources 2006, World Soil Resources Reports No. 103. FAO, Rome

Kahle M, Kleber M, Jahn R (2002) Predicting carbon content in illitic clay fractions from surface area, cation exchange capacity and dithionite-extractable iron. Eur J Soil Sci 53:639–644

Konova M (1966) Soil organic matter: its nature, its role in soil formation, and soil fertility. Pergamon, New York

Kotto-Same J, Woomer PL, Appolinaire M, Louis Z (1997) Carbon dynamics in slash-and-burn agriculture and land use alternatives of the humid forest zone in Cameroon. Agric Ecosyst Environ 65:245–256

Ladd JN, Van Gestel M, Jocteur Monrozier L, Amato M (1996) Distribution of organic 14C and 15 N in particle-size fractions of soils incubated with 14C, 15N-labelled glucose/NH4, and legume and wheat straw residues. Soil Biol Biochem 28:893–905

Lai L, Li Y, Tian Y, Jiang L, Zhao X, Zhu L, Rimmington GM (2013) Effects of added organic matter and water on soil carbon sequestration in an Arid Region. PLoS One 8:e70224

Lerner BR (2000) Wood ash in the garden. Purdue University. Department of Horticulture and Landscape Architecture. http://www.hort.purdue.edu/ext/woodash.html. Accessed 12 April, 2015

Limousin G, Tessier D (2007) Effects of no-tillage on chemical gradients and topsoil acidification. Soil Tillage Res 92:167–174

Mariotte CA, Hudson G, Hamilton D (1997) Spatial variability of soil total C and N and their stable isotopes in an upland Scottish grassland. Plant Soil 196:151–162

Marschner H (1995) Mineral nutrition of higher plants, 2nd edn. Academic Press, London

McGrath DA, Smith CK, Gholz HL, Oliveira FdA (2001) Effects of land-use change on soil nutrient dynamics in amazônia. Ecosystems 4:625–645

Mesfin A (1980) State of soil science development for agriculture in Ethiopia. Eth J Agric Sci 2:139–157

Miwa K, Fujiwara T (2010) Boron transport in plants: co-ordinated regulation of transporters. Ann Bot 105:1103–1108

Moafpouryan GR, Shukla LM (2004) Forms of boron in inceptisols of Delhi and their relationship with soil characteristics and sunflower plant parameters. J Indian Soc Soil Sci 52:109–111

Moges A, Holden N (2008) Soil fertility in relation to slope position and agricultural land use: a case study of Umbulo Catchment in Southern Ethiopia. Environ Manag 42:753–763

Moore G, Dolling P, Porter B, Leonard L (1998) Soil acidity. In: Moore G (ed) Soilguide. A handbook for understanding and managing agricultural soils

Muntean DW (2005) Boron, the overlooked essential element. Soil and Plant Lab, Bellevue www.soilandplantlaboratory.com/pdf/articles/. Accessed 10 March 2015

Murty D, Kirschbaum MUF, McMurtrie RE, McGilvray H (2002) Does conversion of forest to agricultural land change soil carbon and nitrogen? A review of the literature. Glob Change Biol 8:105–123

Nave LE, Vance ED, Swanston CW, Curtis PS (2009) Impacts of elevated N inputs on north temperate forest soil C storage, C/N, and net N-mineralization. Geoderma 153:231–240

Nega E (2006) Land use changes and their effects on physical and chemical properties in Senbat sub-watershed, western Ethiopia. M.Sc. thesis submitted to School of Graduate Studies, Alemaya University, Ethiopia

Nolte C, Kotto-Same J, Moukam A, Thenkabail PS, Weise SF, Woomer PL, Zafack L (2001) Land use characterization and estimation of carbon stocks in the alternatives to slash and burn benchmark area in Cameroon, vol 28. Int Inst Trop Agric, Ibadan

Olale K, Yenesew A, Jamnadass R, Sila A, Aynekulu E, Kuyah S, Shepherd K (2013) Limitations to use of infrared spectroscopy for rapid determination of carbon-nitrogen and wood density for tropical species. Adv Anal Chem 3(3):21–28

Powers JS, Veldkamp E (2005) Regional variation in soil carbon and δ13C in forests and pastures of northeastern Costa Rica. Biogeochemistry 72:315–336

Qi Y-C, Dong Y-S, Liu J-Y, Domroes M, Geng Y-B, Liu L-X, X-h Yang (2007) Effect of the conversion of grassland to spring wheat field on the CO2 emission characteristics in Inner Mongolia, China. Soil Tillage Res 94:310–320

R Development Core Team (2008) R: A language and environment for statistical computing. R Foundation for Statistical Computing, Vienna

Rasiah V, Florentine SK, Williams BL, Westbrooke ME (2004) The impact of deforestation and pasture abandonment on soil properties in the wet tropics of Australia. Geoderma 120:35–45

Reicosky DC, Forcella F (1998) Cover crop and soil quality interactions in agroecosystems. J Soil Water Conserv 53:224–229

Sahu GC, Mishra AA (1994) Morphology, characteristics and classification of soils under Sisal (Agave sisalara) cultivation. J Ind Soc Soil Sci 42:111–114

Schipper LA, Sparling GP (2000) Performance of soil condition indicators across taxonomic groups and land uses. Soil Sci Soc Am J 64:300–311

Shepherd KD, Walsh MG (2002) Development of reflectance spectral libraries for characterization of soil properties. Soil Sci Soc Am J 66:988–998

Shepherd G, Buresh RJ, Gregory PJ (2000) Land use affects the distribution of soil inorganic nitrogen in smallholder production systems in Kenya. Biol Fertil Soils 31:348–355

Shrestha RK, Ladha JK, Gami SK (2006) Total and organic soil carbon in cropping systems of Nepal. Nutr Cycl Agroecosyst 75:257–269

Singh AK, Parsad A, Singh B (1986) Availability of phosphorus and potassium and its relationship with physico-chemical properties of some forest soils of Pali-range (Shahodol, M.P.). Indian For 112(12):1094–1104

Singh P, Andola HC, Rawat MS, Pant GJN, Purohit VK (2011) Fourier transform infrared (FT-IR) spectroscopy in an-overview. Res J Med Plant 5(2):127–135

Sotelo Montes C, Weber JC, Silva DA, Andrade C, Muñiz GIB, Garcia RA, Kalinganire A (2012) Effects of region, soil, land use and terrain type on fuelwood properties of five tree/shrub species in the Sahelian and Sudanian ecozones of Mali. Ann For Sci 69:747–756

Steiner F, Lana MdC (2013) Effect of pH on boron adsorption in some soils of Paraná, Brazil. Chil J Agric Res 73:181–186

Takoutsing B, Asaah E, Yuh R, Tchoundjeu Z, Degrande A, Kouodiekong L (2013) Impact of organic soil amendments on the physical characteristics and yield components of potato (Solanum tuberosum L.) in the Highlands of Cameroon. J Agric Sci Technol 3:257–266

Takoutsing B, Tchoundjeu Z, Ann D, Asaah E, Tsobeng A (2014) Scaling-up sustainable land management practices through the concept of the rural resource centre: reconciling farmers' interests with research agendas. J Agric Educ Exten 20:463–483. doi:10.1080/1389224X.2014.913984

Tchienkoua M, Zech W (2004) Organic carbon and plant nutrient dynamics under three land uses in the highlands of West Cameroon. Agric Ecosyst Environ 104:673–679

Terhoeven-Urselmans T, Vagen TG, Spaargaren O, Shepherd KD (2010) Prediction of soil fertility properties from a globally distributed soil mid-infrared spectral library. Soil Sci Soc Am J 74:1–8

Vågen TG, Shepherd KD, Walsh MG (2006) Sensing landscape level change in soil fertility following deforestation and conversion in the highlands of Madagascar using Vis–NIR spectroscopy. Geoderma 133:281–294

van Noordwijk M, Cerri C, Woomer PL, Nugroho K, Bernoux M (1997) Soil carbon dynamics in the humid tropical forest zone. Geoderma 79:187–225

Voundi Nkana JC, Demeyer A, Verloo MG (1998) Chemical effects of wood ash on plant growth in tropical acid soils. Bioresour Technol 63:251–260

Wang B, Liu GB, Xue S, Zhu B (2011) Changes in soil physicochemical and microbiological properties during natural succession on abandoned farmland in the Loess Plateau. Environ Earth Sci 62:915–925

Yimer F, Ledin S, Abdelkadir A (2007) Changes in soil organic carbon and total nitrogen contents in three adjacent land use types in the Bale Mountains, south-eastern highlands of Ethiopia. For Ecol Manag 242:337–342

Zapfack L, Nkongmeneck AB, Villiers JF, Lowman M (1996) The importance of Pteridophytes in the epiphytic flora of some phorophytes of the Cameroonian semi-deciduous rain forest. Selbyana 17:76–81

Zia MH, Ahmad R, Khaliq I, Ahmad A, Irshad M (2006) Micronutrients status and management in orchards soils: applied aspects. Soil Environ 25:6–16
Acknowledgments
The authors are grateful to the Alternative to Slash and Burn (ASB) team in Cameroon that facilitated the collection of soil samples. We are also indebted to the staff of the ICRAF Soil and Plant Spectral Diagnostic Laboratory in Nairobi for the technical support during the analysis of the samples.
About this article
Cite this article
Takoutsing, B., Weber, J.C., Tchoundjeu, Z. et al. Soil chemical properties dynamics as affected by land use change in the humid forest zone of Cameroon. Agroforest Syst 90, 1089–1102 (2016). https://doi.org/10.1007/s10457-015-9885-8
Received:

Accepted:

Published:

Issue Date:
Keywords
Soil quality

Organic matter

Humid forest

Soil fertility

Slash-and-burn

Partial least square regression

Mid infrared