Abstract
Overharvesting reduces the populations of wild leek in deciduous temperate forests of North America. Forest farming relying on planted bulbs that are fertilized and selectively harvested could enhance and sustain wild leek production. Density reduction following bulb harvest could improve yield in natural wild leek stands that reach growth-limiting densities. Limiting the harvest to leaves may also provide an alternative form of exploitation, but could slow growth by reducing both carbon and nutrient reserves depending on the timing and intensity of such harvest. Our objectives were to assess the effects of (1) planting density and post-harvest density reduction, and (2) the timing and intensity of leaf harvest on subsequent growth and reproduction of wild leek. Three experiments were established. Bulbs were planted at densities from 44 to 356 bulbs m−2, covering the range surveyed in natural populations. Plots in dense populations were subjected to up to 40 % bulb harvest. In cultivated plots, either half or all the leaves on each plant were harvested, from 15 to 25 days after unfolding. Plants growing in higher density plots exhibited slower growth and reproduction rates, but greater productivity per cultivated area. A similar effect, albeit marginal, was obtained following bulb harvests in natural populations. Harvesting leaves did not affect survival, but delaying the harvest and harvesting only half of the leaves favored subsequent plant growth. We recommend harvesting down to a fixed bulb density rather than harvesting a percentage of bulbs, and harvesting leaves only as ways to ensure sustainable exploitation of leeks.
Access options
Buy single article
Instant access to the full article PDF.
US$ 39.95
Tax calculation will be finalised during checkout.
Subscribe to journal
Immediate online access to all issues from 2019. Subscription will auto renew annually.
US$ 119
Tax calculation will be finalised during checkout.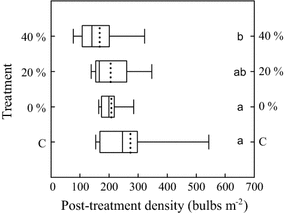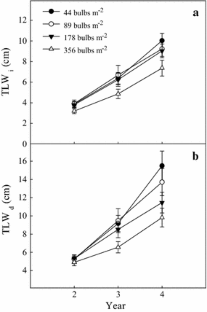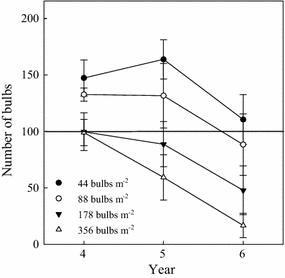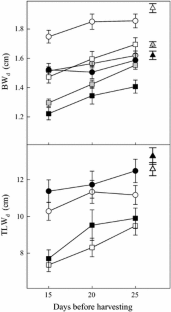 References
Allen J, Filotas M (2009) Millipedes in carrots and sweet potatoes. Factsheet ISSN 1198-712X. Agdex 258/611, February 2009. Ontario Ministry of Agriculture, Food and Rural Affairs, Queen's Printer for Ontario

Benot ML, Mony C, Puijalon S, Mohammad-Esmaeili M, van Alphen JJM, Bouzille JB, Bonis A (2009) Responses of clonal architecture to experimental defoliation: a comparative study between ten grassland species. Plant Ecol 201:621–630

Benot ML, Bonis A, Mony C (2010) Do spatial patterns of clonal fragments and architectural responses to defoliation depend on the structural blue-print? An experimental test with two rhizomatous Cyperaceae. Evol Ecol 24:1475–1487

Bernatchez A, Lapointe L (2012) Cooler temperatures favour growth of wild leek (Allium tricoccum), a deciduous forest spring ephemeral. Botany 90:1125–1132

Bernatchez A, Bussières J, Lapointe L (2013) Testing fertilizer, gypsum, planting season and varieties of wild leek (Allium tricoccum) in forest farming system. Agrofor Syst 87:977–991

Bostrom U, Andersson L, Forkman J, Hakman I, Liew J, Magnuski E (2013) Seasonal variation in sprouting capacity from intact rhizome systems of three perennial weeds. Weed Res 53:387–398

Brewster JL, Salter PJ (1980) The effect of plant spacing on the yield and bolting of two cultivars of overwintered bulb onions. J Hortic Sci 55:97–102

Burkhart EP, Jacobson MG (2009) Transitioning from wild collection to forest cultivation of indigenous medicinal forest plants in eastern North America is constrained by lack of profitability. Agrofor Syst 76:437–453

Chamberlain JL, Mitchell D, Brigham T, Hobby T, Zabek L, Davis J (2009) Forest farming practices. In: Garrett HEG (ed) North American agroforestry, an integrated science and practice. American Society of Agronomy, Madison, pp 219–256

Couillard L (1995) La situation de l'ail des bois (Allium tricoccum) au Québec. In: Direction de la conservation et du patrimoine écologique, Ministère de l'Environnement et de la Faune du Québec

Dagenais J (1985) Rapport sur la situation de l'ail des bois (Allium tricoccum) au Québec. Association des biologistes du Québec

Davis JM, Greenfield J (2002) Cultivating ramps: wild leeks of Appalachia. In: Janick J, Whipkey A (eds) Trends in new crops and new uses. Proceedings of the fifth national symposium, new crops and new uses: strength in diversity, 8–11 November 2001, Atlanta, GA. ASHS Press, Alexandria, VA, pp 449–452

Environment Canada (2013) Climate archives, Sherbrooke and Oka meteorological stations in 2013. http://www.climat.meteo.gc.ca/. Accessed 05 Nov 2013

Facemire G (2008) Having your ramps and eating them too. McClain Printing Company, Parsons, West Virginia

Fialová M, Duchoslav M (2014) Response to competition of bulbous geophyte Allium oleraceum differing in ploidy level. Plant Biol 16:186–196

Fraval A (2014) Encyclopédie des ravageurs européens. Institut national de la recherche agronomique. http://www7.inra.fr/hyppz/. Accessed 16 June 2014

Gates CE (1991) A user's guide to misanalyzing planned experiments. HortScience 26:1262–1265

Herison C, Masabni JG, Zandstra BH (1993) Increasing seedling density, age, and nitrogen-fertilization increases onion yield. HortScience 28:23–25

Hewins CR, Carrino-Kyker SR, Burke DJ (2015) Seasonal variation in mycorrhizal fungi colonizing roots of Allium tricoccum (wild leek) in a mature mixed hardwood forest. Mycorrhiza, 1–15

Hopkin SP, Read HJ (1992) The biology of millipedes. Oxford University Press, Oxford 233 p

Irigoyen I, Domeno I, Muro J (2010) The effect of defoliation on the yield of leek (Allium porrum L.). Span J Agric Res 8:434–439

Jima TA, Tekie H, Tikubet G (2013) Effects of manure application and host plant spacing on the infestation level and damage of Thrips tabaci Lindeman (Thysanoptera: Thripidae) in onion (Allium cepa). Afr Entomol 21:316–323

Jones AG (1979) A study of wild leek, and the recognition of Allium burdickii (Liliaceae). Syst Bot 4:29–43

Jones ET, Lynch KA (2007) Nontimber forest products and biodiversity management in the Pacific Northwest. For Ecol Manag 246:29–37

Lapointe L, Bussières J, Crete M, Ouellet JP (2010) Impact of growth form and carbohydrate reserves on tolerance to simulated deer herbivory and subsequent recovery in Liliaceae. Am J Bot 97:913–924

Leskovar DI, Agehara S, Yoo K, Pascual-Seva N (2012) Deficit irrigation and plant density impact on growth, yield, quality and quercetin of short-day onion. XXVIII International horticultural congress on science and horticulture for people (IHC2010); International symposium on quality-chain management of fresh vegetables: from fork to farm, 22–27 August 2010, Lisbon, Portugal, pp 219–226

Lynch DH, Zheng ZM, Zebarth BJ, Martin RC (2008) Organic amendment effects on tuber yield, plant N uptake and soil mineral N under organic potato production. Renew Agric Food Syst 23:250–259

Maurin V, DesRochers A (2013) Physiological and growth responses to pruning season and intensity of hybrid poplar. For Ecol Manag 304:399–406

McGeary DJ (1985) The effects of plant-density on the shape, size, uniformity, soluble solids content and yield of onions suitable for pickling. J Hortic Sci 60:83–87

Meyer GA (1998) Pattern of defoliation and its effect on photosynthesis and growth of goldenrod. Funct Ecol 12:270–279

Morrison KD, Reekie EG (1995) Pattern of defoliation and its effect on photosynthetic capacity in Oenothera biennis. J Ecol 83:759–767

Muro J, Irigoyen I, Lamsfus C (1998) Effect of defoliation on onion crop yield. Sci Hortic (Amsterdam) 77:1–10

Muro J, Irigoyen I, Lamsfus C, Fernandez Militino A (2000) Effect of defoliation on garlic yield. Sci Hortic (Amsterdam) 86:161–167

Nantel P, Gagnon D, Nault A (1996) Population viability analysis of American ginseng and wild leek harvested in stochastic environments. Conserv Biol 10:608–621

Nault A, Gagnon D (1988) Seasonal biomass and nutrient allocation patterns in wild leek (Allium tricoccum Ait.), a spring geophyte. Bull Torrey Bot Club 115:45–54

Nault A, Gagnon D (1993) Ramet demography of Allium tricoccum, a spring ephemeral, perennial forest herb. J Ecol 81:101–119

Nowak RS, Caldwell MM (1984) A test of compensatory photosynthesis in the field: implications for herbivory tolerance. Oecologia 61:311–318

R Development Core Team (2012) R: a language and environment for statistical computing. R Foundation for Statistical Computing, Vienna, Austria. ISBN 3-900051-07-0. http://www.R-project.org/

Ritchey KD, Schumann CM (2005) Response of woodland-planted ramps to surface-applied calcium, planting density, and bulb preparation. HortScience 40:1516–1520

Rock JH, Beckage B, Gross LJ (2004) Population recovery following differential harvesting of Allium tricoccum Ait. in the southern Appalachians. Biol Conserv 116:227–234

Rothstein DE, Zak DR (2001a) Photosynthetic adaptation and acclimation to exploit seasonal periods of direct irradiance in three temperate, deciduous-forest herbs. Funct Ecol 15:722–731

Rothstein DE, Zak DR (2001b) Relationships between plant nitrogen economy and life history in three deciduous-forest herbs. J Ecol 89:385–394

Schmidt IB, Mandle L, Ticktin T, Gaoue OG (2011) What do matrix population models reveal about the sustainability of non-timber forest product harvest? J Appl Ecol 48:815–826

Shinohara T, Leskovar DI (2014) Effects of ABA, antitranspirants, heat and drought stress on plant growth, physiology and water status of artichoke transplants. Sci Hortic 165:225–234

Small CJ, Chamberlain JL, Nuckols CM (2014) Failure of black cohosh (Actaea racemosa L.) rhizome transplants: potential causes and forest farming implications. Agrofor Syst 88:815–822

Tessier JT (2008) Leaf habit, phenology, and longevity of 11 forest understory plant species in Algonquin State Forest, northwest Connecticut, USA. Botany 86:457–465

Ticktin T (2004) The ecological implications of harvesting non-timber forest products. J Appl Ecol 41:11–21

Vasseur L, Gagnon D (1994) Survival and growth of Allium tricoccum Ait. transplants in different habitats. Biol Conserv 68:107–114

Whigham DF, Chapa AS (1999) Timing and intensity of herbivory: its influence on the performance of clonal woodland herbs. Plant Species Biol 14:29–37
Acknowledgments
The authors would like to thank the land owners who allowed us to conduct this research in their forest stands. A. Bernatchez, T. Bitsch, J. Boulanger-Pelletier, V. Brousseau, L. Charron, A. Daignault, M.-P. Denis, L. Fontaine, V. Hébert-Gentile, M.-H. Jacques, D. Manny and the Centre de Recherche Agroalimentaire de Mirabel greatly contributed to field work. Thanks to W.F.J. Parsons (Centre d'Étude de la Forêt) for English language revision and J. Bach (Service de consultation statistique, Université Laval) for statistical advice. This project was financed jointly by AAFC (Agriculture & Agri-Food Canada) and MAPAQ (ministère de l'Agriculture, des Pêcheries et de l'Alimentation du Québec) through the Agri-Food Innovation Fund.
Electronic supplementary material
Below is the link to the electronic supplementary material.
About this article
Cite this article
Dion, PP., Bussières, J. & Lapointe, L. Sustainable leaf harvesting and effects of plant density on wild leek cultivation plots and natural stands in Southern Quebec, Canada. Agroforest Syst 90, 979–995 (2016). https://doi.org/10.1007/s10457-015-9878-7
Received:

Accepted:

Published:

Issue Date:
Keywords
Allium tricoccum

Bulb harvest

Planting density

Forest farming

Leaf harvest