Abstract
Recent studies have highlighted the importance of trees and agroforestry in climate change adaptation and mitigation. This paper analyzes how farmers, members of their households, and community leaders in the Wahig–Inabanga watershed, Bohol province in the Philippines perceive of climate change, and define and value the roles of trees in coping with climate risks. Focus group discussions revealed that farmers and community leaders had observed changes in rainfall and temperature over the years. They also had positive perceptions of tree roles in coping with climate change, with most timber tree species valued for regulating functions, while non-timber trees were valued as sources of food and income. Statistical analysis of the household survey results was done through linear probability models for both determinants of farmers' perceived changes in climate, and perceived importance of tree roles in coping with climate risks. Perceiving of changes in rainfall was more likely among farmers who had access to electricity, had access to water for irrigation, and derived climate information from government agencies and mass media, and less likely among farmers who were members of farmers' organizations. On the other hand, perceiving of an increase in temperature was more likely among famers who were members of women's organizations and had more off/non-farm sources of income, and less likely among those who derived climate information from government agencies. Meanwhile, marginal effects of the regression on perceived importance of trees in coping with climate change revealed positively significant relationships with the following predictor variables: access to electricity, number of off/non-farm sources of income, having trees planted by household members, observed increase in temperature and decline in yield, and sourcing climate information from government agencies. In contrast, a negatively significant relationship was observed between recognition of the importance of tree roles, and level of education, and deriving income from tree products. In promoting tree-based adaptation, we recommend improving access to necessary inputs and resources, exploring the potentials of farmer-to-farmer extension, using participatory approaches to generate farmer-led solutions based on their experiences of climate change, and initiating government-led extension to farmers backed by non-government partners.
Access options
Buy single article
Instant access to the full article PDF.
US$ 39.95
Tax calculation will be finalised during checkout.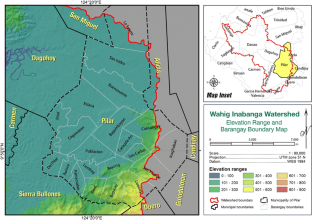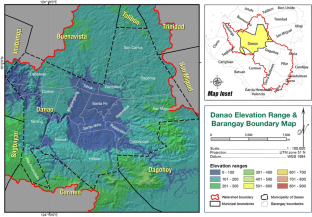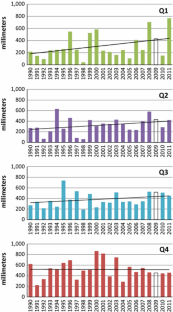 References
Acosta-Michlik LA, Espaldon MVO (2008) Assessing vulnerability of selected farming communities in the Philippines based on a behavioural model of agent's adaptation to global environmental change. Glob Environ Change 18(2008):554–563

ADB (2014) Philippines. In: Key indicators for Asia and the Pacific 2014, August 2014 edition. Asian Development Bank (ADB), Manila

Alauddin M, Sarker MAR (2014) Climate change and farm-level adaptation decisions and strategies in drought-prone and groundwater-depleted areas of Bangladesh: an empirical investigation. Ecol Econ 106:204–213

Apata TG, Samuel K, Adeola A (2009) Analysis of climate change perception and adaptation among arable food crop farmers in South Western Nigeria. In: Contributed paper prepared for presentation at the International Association Of Agricultural Economists' 2009 conference, Beijing, China, 16 August 2009

BAS (2014) CountrySTAT Philippines. http://countrystat.bas.gov.ph/. Accessed 7 Oct 2014

Blanco JS (2014) P-Noy OKs P600M for Malinao Dam upgrade. Bohol Stand 8(512). http://www.theboholstandard.com/topstory.php?issue=345&s1=5732&s2=5735&s3=5738&s4=&s5=&s6=&s7=&s8=&s9=&s10=&s11=&s12=&s13=&s14=&s15=. Accessed 7 Oct 2014

Bryan E, Deressa TT, Gbetibouo GA, Ringler C (2009) Adaptation to climate change in Ethiopia and South Africa: options and constraints. Environ Sci Policy 12(4):413–426

Bryan E, Ringler C, Okoba B, Roncoli C, Silvestri S, Herrero M (2013) Adapting agriculture to climate change in Kenya: household strategies and determinants. J Environ Manag 114:26–35

CCAFS (2014) Big facts on climate change, agriculture and food security. http://ccafs.cgiar.org/bigfacts2014/#. Accessed 24 Sep 2014

Cerdán CR, Rebolledo MC, Soto G, Rapidel B, Sinclair FL (2012) Local knowledge of impacts of tree cover on ecosystem services in smallholder coffee production systems. Agric Syst 110:119–130

Chambers R (2006) Vulnerability, coping and policy (editorial introduction). IDS Bull 37(4):33–40

Comiso JC, Blanche CA, Sarigumba TI, Espaldon MVO, Lansigan FP, Baguinon NT, Birosel RC, Coladilla JO, Cruz RVO, Florece LM, Guerrero RDI, Lasco RD, Perez RT, Pulhin JM, Tibig LV (2014) Changing Philippine climate. The University of the Philippines Press, Manila

Croppenstedt A, Demeke M, Meschi MM (2003) Technology adoption in the presence of constraints: the case of fertilizer demand in Ethiopia. Rev Dev Econ 7(1):58–70

Cruz R, Harasawa H, Lal M, Wu S, Anokhin Y, Punsalmaa B, Honda Y, Jafari M, Li C, Huu Ninh N (2007) Asia in (IPCC). In: IPoCC (ed) Climate change 2007: impacts, adaptation and vulnerability. Cambridge University Press, Cambridge, pp 469–506

Dang HL, Li E, Nuberg I, Bruwer J (2014) Understanding farmers' adaptation intention to climate change: a structural equation modelling study in the Mekong Delta, Vietnam. Environ Sci Policy 41:11–22

de Groot RS, Wilson MA, Boumans RMJ (2002) A typology for the classification, description and valuation of ecosystem functions, goods and services. Ecol Econ 41(3):393–408

de Vera E (2014) Plant rice varieties suited for El Niño, farmers told. Manila Bull. http://www.mb.com.ph/plant-rice-varieties-suited-for-el-nino-farmers-told/. Accessed 26 Feb 2015

Deressa TT, Hassan RM, Ringler C, Alemu T, Yesuf M (2009) Determinants of farmers' choice of adaptation methods to climate change in the Nile Basin of Ethiopia. Glob Environ Change 19(2):248–255

Deressa TT, Hassan RM, Ringler C (2011) Perception of and adaptation to climate change by farmers in the Nile Basin of Ethiopia. J Agric Sci 149(01):23–31

Di Falco S, Veronesi M, Yesuf M (2011) Does adaptation to climate change provide food security? A micro-perspective from Ethiopia. Am J Agric Econ 93(3):829–846

FAO (2010) "Climate-smart" agriculture: policies, practices and financing for food security, adaptation and mitigation. Food and Agriculture Organization (FAO) of the United Nations, Rome

Fernandez R, Lee-Brago P, Macairan E (2014) Visayas now Phl's typhoon belt, The Philippine Star. Available: http://www.philstar.com/headlines/2014/01/12/1277812/visayas-now-phls-typhoon-belt. Accessed 8 Oct 2014

Frank E, Eakin H, Lopez-Carr D (2011) Social identity, perception and motivation in adaptation to climate risk in the coffee sector of Chiapas, Mexico. Glob Environ Change 21(1):66–76

Gandure S, Walker S, Botha JJ (2013) Farmers' perceptions of adaptation to climate change and water stress in a South African rural community. Environ Dev 5:39–53

Gbetibouo GA (2009) Understanding farmers' perceptions and adaptations to climate change and variability: the case of the Limpopo Basin, South Africa. Environment and Production Technology Division, International Food Policy Research Institute (IFPRI), Washington, DC

Giddens A (1984) The constitution of society [electronic resource]: outline of the theory of structuration/Anthony Giddens, social theory. Polity Press, Cambridge [Cambridgeshire]

Grothmann T, Patt A (2005) Adaptive capacity and human cognition: the process of individual adaptation to climate change. Glob Environ Change 15(3), 199–213

Guerrero RI (1999) The impacts of El Nino on Philippine fisheries. Naga ICLARM Q 22(3):14–15

Halcoussis D (2005) Understanding econometrics. Thomson, South-Western, Mason

Hassan R, Nhemachena C (2008) Determinants of African farmers' strategies for adapting to climate change: multinomial choice analysis. Afr J Agric Resour Econ 2(1):83–104

Hijioka Y, Lin E, Pereira JJ, Corlett RT, Cui X, Insarov GE, Lasco RD, Lindgren E, Surjan A (2014) Asia. In: Barros VR, Field CB, Dokken DJ, Mastrandrea MD, Mach KJ, Bilir TE, Chatterjee M, Ebi KL, Estrada YO, Genova RC, Girma B, Kissel ES, Levy AN, MacCracken S, Mastrandrea PR, White LL (eds) Climate change 2014: impacts, adaptation, and vulnerability. Part B: regional aspects. Contribution of Working Group II to the Fifth Assessment Report of the Intergovernmental Panel of Climate Change. Cambridge University Press, Cambridge, 1327–1370

Jerneck A, Olsson L (2013) More than trees! Understanding the agroforestry adoption gap in subsistence agriculture: insights from narrative walks in Kenya. J Rural Stud 32:114–125

JICA and IRRI (2012) Impact evaluation of Bohol irrigation project (phase 2) in the Republic of the Philippines. Japan International Cooperation Agency (JICA) and International Rice Research Institute (IRRI)

Knowler D, Bradshaw B (2007) Farmers' adoption of conservation agriculture: a review and synthesis of recent research. Food Policy 32(1):25–48

Lasco RD, Delfino RJP, Pulhin FB, Rangasa M (2008) The role of local government units in mainstreaming climate change adaptation in the Philippines. AdaptNet Policy Forum 08-09-P-Ad

Lasco RD, Cruz RVO, Pulhin JM, Pulhin FB (2010) Assessing climate change impacts, adaptation and vulnerability: the case of the Pantabangan–Carranglan Watershed. World Agroforestry Centre (ICRAF) Philippines and College of Forestry and Natural Resources, University of the Philippines, Los Baños (UPLB)

Lasco RD, Delfino RJP, Catacutan DC, Simelton ES, Wilson DM (2014a) Climate risk adaptation by smallholder farmers: the roles of trees and agroforestry. Curr Opin Environ Sustain 6:83–88

Lasco RD, Delfino RJP, Espaldon MLO (2014b) Agroforestry systems: helping smallholders adapt to climate risks while mitigating climate change. Wiley Interdiscip Rev Clim Change 5(6), 825–833

Lyle G (2015) Understanding the nested, multi-scale, spatial and hierarchical nature of future climate change adaptation decision making in agricultural regions: a narrative literature review. J Rural Stud 37:38–49

Maddison DJ (2007) The perception of and adaptation to climate change in Africa. World Bank Policy Research Working Paper (4308)

Martín-López B, Iniesta-Arandia I, García-Llorente M, Palomo I, Casado-Arzuaga I, Amo DGD, Gómez-Baggethun E, Oteros-Rozas E, Palacios-Agundez I, Willaarts B, González JA, Santos-Martín F, Onaindia M, López-Santiago C, Montes C (2012) Uncovering ecosystem service bundles through social preferences. PLoS ONE 7(6):e38970

Matocha J, Schroth G, Hills T, Hole D (2012) Integrating climate change adaptation and mitigation through agroforestry and ecosystem conservation. In: Nair PKR, Garrity D (eds) Agroforestry—the future of global land use. Springer, Dordrecht, pp 105–126

Mbow C, Van Noordwijk M, Luedeling E, Neufeldt H, Minang PA, Kowero G (2014) Agroforestry solutions to address food security and climate change challenges in Africa. Curr Opin Environ Sustain 6:61–67

MEA (2003) Ecosystems and human well-being: a framework for assessment. Millennium Ecosystem Assessment (MA) Secretariat, United Nations Environment Programme (UNEP), Washington, DC

Mertz O, Mbow C, Reenberg A, Diouf A (2009) Farmers' perceptions of climate change and agricultural adaptation strategies in rural Sahel. Environ Manag 43(5):804–816

Mosqueda MWJ (2005) Drought destroys P61-M rice, corn crops in Bohol. Manila Bull. http://www.bic.searca.org/news/2005/jun/phi/22.html. Accessed 26 Feb 2015

Muhamad D, Okubo S, Harashina K, Parikesit P, Gunawan B, Takeuchi K (2014) Living close to forests enhances people's perception of ecosystem services in a forest–agricultural landscape of West Java, Indonesia, Ecosys Serv 8, 197–206

Nair PKR (1993) An introduction to agroforestry. Kluwer Academic Publishers in cooperation with the International Centre for Research in Agroforestry (ICRAF), Dordrecht

Nair PKR (2013) Agroforestry: trees in support of sustainable agriculture. In: Reference module in earth systems and environmental sciences, Encyclopedia of Soils in the Environment, Elsevier, 35–44

Nguyen Q, Hoang M, Öborn I, van Noordwijk M (2013) Multipurpose agroforestry as a climate change resiliency option for farmers: an example of local adaptation in Vietnam. Clim Change 117(1–2):241–257

NSCB (2014) Poverty statistics. In: Poverty statistics. http://www.nscb.gov.ph/poverty/dataCharts.asp. Accessed 24 Sep 2014

PAGASA (2014a) Climate projections. http://web.pagasa.dost.gov.ph/component/content/article/116-climate-change-in-the-philippines/595-climate-projections. Accessed 7 Oct 2014

PAGASA (2014b) Current climate trends in the Philippines. In: Current climate and observed trends. http://www.pagasa.dost.gov.ph/climate-agromet/climate-change-in-the-philippines/116-climate-change-in-the-philippines/594-current-climate-and-observed-trends. Accessed 1 Dec 2014

Perez RT, Amadore A, Feir RB (1999) Climate change impacts and responses in the Philippines coastal sector. Clim Res 12(2–3):97–107

PGBh (2006) Bohol agricultural master plan. Provincial Government of Bohol (PGBh), Republic of the Philippines and the Philippines–Australia Human Resource and Organizational Development Facility (PAHRODF), Bohol

Roco L, Engler A, Bravo-Ureta B, Jara-Rojas R (2014) Farm level adaptation decisions to face climatic change and variability: evidence from Central Chile. Environ Sci Policy 44:86–96

Saldajeno PB, Florece LM, Lasco RD, Velasco MTH (2012) Vulnerability assessment of upland communities in Sibalom Natural Park, Antique, using capital-based approach. J Environ Sci Manag 15(2):1–12

StataCorp (2009) Stata statistical software: release 11, email to StataCorp LP. Accessed via Laya Espaldon (ICRAF), Serial No. 40110589415

SWS (2014) Self-rated poverty and hunger. http://www.sws.org.ph/. Accessed 22 Sep 2014

Tejada SQ, Tuddao VBJ, Juanillo E, Brampio E (ND) Drought conditions and management strategies in the Philippines. UN Water Activity Information System (UNW-AIS). Available at http://www.ais.unwater.org/ais/pluginfile.php/597/mod_page/content/70/Philippines.pdf

Thornton P, van de Steeg J, Notenbaert A, Herrero M (2008) The livestock–climate–poverty nexus. International Livestock Research Institute (ILRI), Nairobi

Tizale CY (2007) The dynamics of soil degradation and incentives for optimal management in the Central Highlands of Ethiopia. Unpublished Thesis, University of Pretoria

Truelove HB, Carrico AR, Thabrew L (2015) A socio-psychological model for analyzing climate change adaptation: a case study of Sri Lankan paddy farmers. Glob Environ Change 31:85–97

Valencia A (2012) Cloud-seeding brings rain, saves Bohol from drought. The Philippine Star. http://www.philstar.com/region/2012/09/04/845303/cloud-seeding-brings-rain-saves-bohol-drought. Accessed 26 Feb 2015

Verbeek M (2008) A guide to modern econometrics. Wiley, Chichester

Verchot LV, van Noordwijk M, Kandji S, Tomich T, Ong C, Albrecht A, Mackensen J, Bantilan C, Anupama KV, Palm C (2007) Climate change: linking adaptation and mitigation through agroforestry. Mitig Adapt Strateg Glob Change 12(5):901–918

Weber EU (2006) Experience-based and description-based perceptions of long-term risk: why global warming does not scare us (yet). Clim Change 77(1–2):103–120

Weber EU (2010) What shapes perceptions of climate change? Wiley Interdiscip Rev Clim Change 1(3):332–342

Zomer RJ, Trabucco A, Coe R, Place F (2009) Trees on farm: analysis of global extent and geographical patterns of agroforestry. World Agroforestry Centre (ICRAF), Nairobi

Zubair M, Garforth C (2006) Farm level tree planting in Pakistan: the role of farmers' perceptions and attitudes. Agrofor Syst 66(3):217–229
Acknowledgments
This research was funded by the CGIAR Research Programme on Forest Trees and Agroforestry (CRP 6.4) and the CGIAR Research Programme on Climate Change, Agriculture and Food Security (CCAFS), and implemented in partnership with the Institute of Agroforestry (IAF) at the University of the Philippines Los Baños (UPLB). The authors would like to thank the farmers and stakeholders of the Municipalities of Pilar and Danao in the Province of Bohol, Philippines, for their participation and support in the conduct of this study. The authors also wish to thank Mr. Justin McKinley, and the two anonymous reviewers who helped improve this study.
Ethics declarations
Conflict of interest
The authors declare that they have no conflict of interest.
About this article
Cite this article
Lasco, R.D., Espaldon, M.L.O. & Habito, C.M.D. Smallholder farmers' perceptions of climate change and the roles of trees and agroforestry in climate risk adaptation: evidence from Bohol, Philippines. Agroforest Syst 90, 521–540 (2016). https://doi.org/10.1007/s10457-015-9874-y
Received:

Accepted:

Published:

Issue Date:
Keywords
Roles of trees

Agroforestry

Ecosystem services

Climate change

Adaptation

Philippines