Abstract
White clover/perennial ryegrass mixtures (Trifolium repens L., Lolium perenne L.) are potential understory candidates for temperate agroforestry systems. A 2-year artificial shade experiment was conducted to determine the effects of shade on herbage production and quality and on changes in sward composition under field conditions. Wooden frames covered by shade cloth or a slatted structure were used on the sward to mimic different shade patterns of trees. The sward was exposed to 30, 50, and 80 % reduction in sun irradiance as well as a non-shaded control (0 % reduction). Total annual herbage production was highest in non-shaded swards in second and third year after establishment (8 and 16 t DM ha−1, respectively) and declined with increased shade (up to 70 % with 80 % shade). Compared to the control (24 t ha−1), 50 % shade cloth and 50 % slatted structure reduced biennial herbage production by 4 and 7 t ha−1, respectively. A decline in clover content of up to 93 % under severe shade compared to the control in the second year of the field experiment highlighted the sensitivity of clover to reduced radiation. No differences in forage nutritive qualities were detected in response to shade intensity during either growing season. On a dry matter basis, average biennial quality values were 2.7 % N, 41.8 % NDF, 34.4 % ADF, and 4.7 % ADL. The findings of the biennial field experiment confirm a white clover/perennial ryegrass sward is a suitable understory under light to moderate shade conditions; however, within a temperate agroforestry practice under dense shade, sward productivity and clover content will rapidly decline. Long-term effects of shade on white clover/perennial ryegrass mixtures as an understory in temperate agroforestry systems need to be evaluated in future research activities.
Access options
Buy single article
Instant access to the full article PDF.
USD 39.95
Price excludes VAT (USA)
Tax calculation will be finalised during checkout.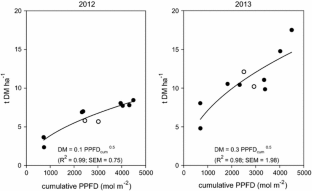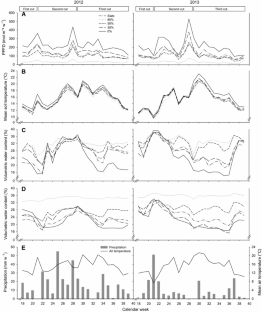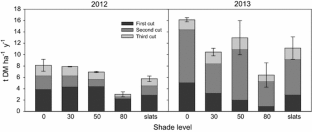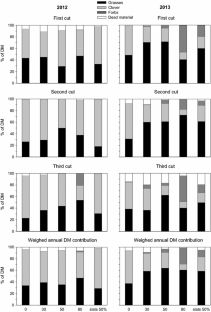 References
Abraham EM, Kyriazopoulos AP, Parissi ZM, Kostopoulou P, Karatassiou M, Anjalanidou K, Katsouta C (2014) Growth, dry matter production, phenotypic plasticity, and nutritive value of three natural populations of Dactylis glomerata L. under various shading treatments. Agrofor Syst 88:287–299

Baraldi R, Bertazza G, Bogino J, Luna V, Bottini R (1995) The effect of light quality on Prunus cereasus II. Changes in hormone levels in plants grown under different light conditions. Photochem Photobiol 62:800–803

Belesky DP (2005a) Growth of Dactylis glomerata along a light gradient in the central Appalachian region of the eastern USA: II. Mechanisms of leaf dry matter production for plants establishing in spring or late summer. Agrofor Syst 65:91–98

Belesky DP (2005b) Growth of Dactylis glomerata along a light gradient in the central Appalachian region of the eastern USA: I. Dry matter production and partitioning. Agrofor Syst 65:81–90

Bellow JG, Nair PKR (2003) Comparing common methods for assessing understory light availability in shaded-perennial agroforestry systems. Agric Meteorol 114:197–211

Biewer S, Fricke T, Wachendorf M (2009) Development of canopy reflectance models to predict forage quality of legume–grass mixtures. Crop Sci 49:1917–1926

Björkmann O, Holmgren P (1963) Adaptability of the photosynthetic apparatus to light intensity in ecotypes from exposed and shaded habitats. Physiol Plant 16:889–914

Burner DM, Belesky DP (2004) Diurnal effects on nutritive value of alley-cropped orchard grass herbage. Crop Sci 44:1776–1780

Burner DM, Brauer DK (2003) Herbage response to spacing of loblolly pine trees in a minimal management silvopasture in southeastern USA. Agrofor Syst 57:69–77

Davis MH, Simmons SR (1994) Tillering response of barley to shifts in light quality caused by neighboring plants. Crop Sci 34:1604–1610

Devkota NR, Kemp PD (1999) Morphological aspects of pasture species in the shade in relation to various management practices under silvopastoral systems. J Inst Agric Anim Sci 19–20:1–26

Devkota NR, Kemp PD, Hodgson J, Valentine I, Jaya IKD (2009) Relationship between tree canopy height and the production of pasture species in a silvopastoral system based on alder trees. Agrofor Syst 76:363–374

Douglas GB, Walcroft AS, Hurst SE, Potter JF, Foote AG, Fung LE, Edwards WRN, van den Dijssel C (2006) Interactions between widely spaced young poplars and introduced pasture mixtures. Agrofor Syst 66:165–178

Dufour L, Metay A, Talbot G, Dupraz C (2012) Assessing light competition for cereal production in temperate agroforestry systems using experimentation and crop modelling. J Agron Crop Sci 199:217–227

Ellenberg H, Weber HE, Duell R, Wirth V, Werner W, Paulissen D (1992) Zeigerwerte von Pflanzen in Mitteleuropa. Scripta Geobot 18:1–258 (in German only)

Folke C, Chapin FS III, Olsson P (2009) Transformations in ecosystem stewardship. In: Chapin FS et al (eds) Principles of ecosystem stewardship. Springer, New York, pp 103–125  

Hartmann L, Richter F, Busch G, Ehret M, Jansen M, Lamersdorf N (2014) Establishment of short rotation coppices in the South of Lower Saxony and in Central Thuringia in the context of the BEST-research framework—Site characteristics and initial biomass production. Forstarchiv 85:134–150. doi:10.4432/0300-4112-85-134 (in German only)

Høgh-Jensen H, Loges R, Jørgensen FV, Vinther FP, Jensen ES (2004) An empirical model for quantification of symbiotic nitrogen fixation in grass-clover mixtures. Agric Syst 82:181–194

Holmes MG, Smith H (1977) The function of phytochrome in the natural environment. 2. The influence of vegetation canopies on spectral energy distribution of natural daylight. Photochem Photobiol 25:539–545

Houx JH III, McGraw RL, Fritschi FB, Navarrete-Tindall NE (2009) Effects of shade on growth and nodulation on three native legumes with potential for use in agroforestry. Nativ Plants J 10(3):232–238

Jose S, Holzmueller EJ, Garrett HE, Gillespie AR (2009) Tree-crop interactions in temperate agroforestry. In: Garrett HE (ed) North American agroforestry: an integrated science and practice, 2nd edn. American Society for Agronomy, Madison, pp 57–73

Kirwan L, Luescher A, Sebastia MT et al (2007) Evenness drives consistent diversity effects in intensive grassland systems across 28 European sites. J Ecol 95:530–539

Leuschner C, Meier IC, Hertel D (2006) On the niche breadth of Fagus sylvatica: soil nutrient status in 50 Central European beech stands on a broad range of bedrock types. Ann For Sci 63:355–368

Li F, Meng P, Fu D, Wang B (2008) Light distribution, photosynthetic rate and yield in a Paulownia-wheat intercropping sytem in China. Agric Syst 74:163–172

Lin CH, McGraw RL, George MF, Garrett HE (1999) Shade effects on forage crops with potential in temperate agroforestry practices. Agrofor Syst 44:109–119

Lin CH, McGraw RL, George MF, Garrett HE (2001) Nutritive quality and morphological development under partial shade of some forage species with agroforestry potential. Agrofor Syst 53:269–281

McGraw RL, Stamps WT, Houx JH, Linit MJ (2008) Yield, maturation, and forage quality of alfalfa in a black walnut alley-cropping practice. Agrofor Syst 74:155–161

Peri PL, Lucas RJ, Moot DJ (2007) Dry matter production, morphology and nutritive value of Dactylis glomerata growing under different light regimes. Agrofor Syst 70:63–79

Perry MEL, Schacht WH, Ruark GA, Brandle JR (2009) Tree canopy effect on grass and grass/legume mixtures in eastern Nebraska. Agrofor Syst 77:23–35

Powell GW, Bork EW (2006) Aspen canopy removal and root trenching effects on understory vegetation. For Ecol Manage 230:76–90

Reynolds PE, Simpson JA, Thevathasan NV, Gordon AM (2007) Effects of tree competition on corn and soybean photosynthesis, growth, and yield in a temperate tree-based agroforestry intercropping system in southern Ontario. Can Ecol Eng 29:362–371

Robin C, Hay MJM, Newton PCD (1994) Effect of light quality (red: far-red ratio) and defoliation treatments applied at a single phytomer on axillary bud outgrowth in Trifolium repens L. Ann Bot 74:119–123

Sanchez-Jardon L, Acosta B, del Pozo A, Casado MA, Ovalle C, Elizalde HF, Hepp C, de Miguel JM (2010) Grassland productivity and diversity on a tree cover gradient in Nothofagus pumilio in NW Patagonia. Agric Ecosyst Environ 137:213–218

Sanderson MA, Soder KJ, Brzezinski N, Taube F, Klement K, Muller LD, Wachendorf M (2006) Sward structure of simple and complex herbage mixtures of temperate forages. Agron J 98:238–244

Smith J, Pearce BD, Wolfe MS (2012) A European perspective for developing modern multifunctional agroforestry systems for sustainable intensification. Renew Agric Food Syst 27:323–332

Thomas BD, Bowman WD (1998) Influence of N-2-fixing Trifolium on plant species composition and biomass production in alpine tundra. Oecologia 115:26–31

Udawatta RP, Motavalli PP, Jose S, Nelson KA (2014) Temporal and spatial differences in crop yields of a mature silver maple alley cropping system. Agron J 106:407–415

van der Heijden MGA, Bakker R, Verwaal J, Scheublin TR, Rutten M, van Logtestijn R, Staehelin C (2006) Symbiotic bacteria as a determinant of plant community structure and plant productivity in dune grassland. FEMS Microbiol Ecol 56:178–187

Van Sambeek JW, Navarrete-Tindall NE, Garrett HE, Lin CH, McGraw RL, Wallace DC (2007) Ranking the shade tolerance of forty-five candidate groundcovers for agroforestry plantings. Temp Agrofor 15(4) online

Varella AC, Moot DJ, Pollock KM, Peri PL, Lucas RJ (2011) Do light and alfalfa responses to cloth and slatted shade represent those measured under an agroforestry system? Agrofor Syst 81:157–173

Vogel KP, Pedersen JF, Masterson SD, Toy JJ (1999) Evaluation of a filter bag system for NDF, ADF, and IVDMD forage analysis. Crop Sci 39:276–279

Wachendorf M, Collins RP, Elgersma A et al (2001) Overwintering and growing season dynamics of Trifolium repens L. in mixture with Lolium perenne L.: a model approach to plant-environment interactions. Ann Bot 88:683–702
Acknowledgments
This work was funded by the German Ministry of Education and Research (BMBF). The authors express their sincere thanks to the technicians for their contribution to both field and laboratory work. Christine Wachendorf and Thomas Fricke are gratefully acknowledged for their valuable help at various stages of this project. Also, we would like to thank Alexandre Varella and Derrick Moot for their advice on the design of the slatted structure. We are grateful to Rachel Smith for pre-reviewing the manuscript. We would like to thank two anonymous reviewers for their invaluable comments and to the editor for his constructive contributions, which we appreciate.
About this article
Cite this article
Ehret, M., Graß, R. & Wachendorf, M. The effect of shade and shade material on white clover/perennial ryegrass mixtures for temperate agroforestry systems. Agroforest Syst 89, 557–570 (2015). https://doi.org/10.1007/s10457-015-9791-0
Received:

Accepted:

Published:

Issue Date:

DOI: https://doi.org/10.1007/s10457-015-9791-0
Keywords
Agroforestry

Lolium perenne L.

Sward composition

Trifolium repens L.

Understory

Yield