Abstract
Vitellaria paradoxa (shea) parklands are one of the major features of the Sudanian savannah. Besides the parklands importance in terms of provision of ecosystem services, they play a major role in satisfying household subsistence needs. However, the shea trees on farms are under threat due to the increasing population growth, inappropriate agricultural practices and increasing effects of climate change. Thus, we examine the V. paradoxa population structure and its regeneration status in parklands under different land management regimes in four communes of Atacora department in Northern Benin. Dendrometric parameters were measured in five plots of 50 × 50 m in each commune and land management regime and the number of seedling and coppice were assessed. We applied Weibull theoretical model to compare measured and expected diameter classes' densities. The tallest and largest individuals were recorded in fields while old fallows had the maximum tree density and regeneration across sites. In over-all, the tree densities across sites as well as regeneration were low in fields and young fallows. We also found that the land management regime significantly influenced regeneration particularly the coppices. On the other hand, the distribution of diameter classes showed that shea agroforests was represented by small diameter classes implying a stable and regenerating population in 92 % of visited sites, irrespective of the land management regime. Thus, the state of regeneration in shea parklands appeals for an improvement in the management of juveniles, a guaranty of future stable population.
Access options
Buy single article
Instant access to the full article PDF.
USD 39.95
Price excludes VAT (USA)
Tax calculation will be finalised during checkout.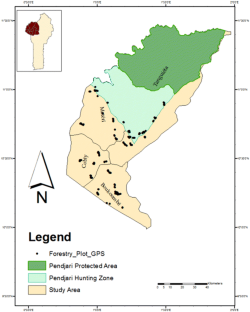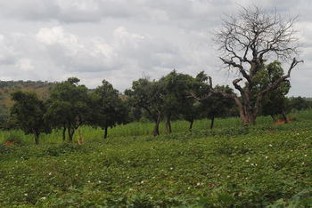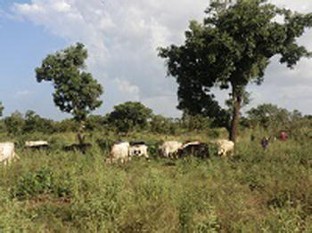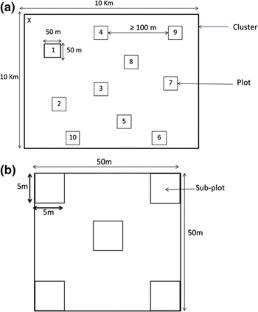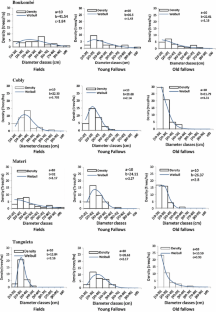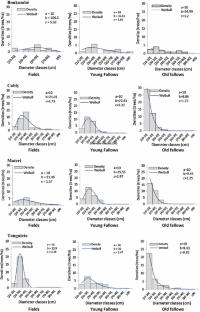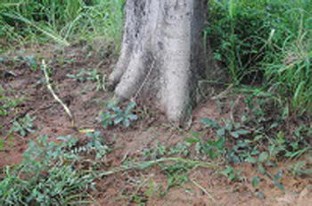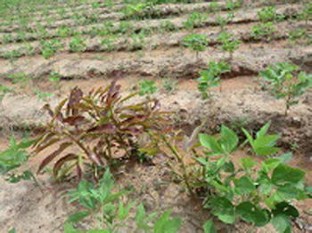 References
Achard F, Hiernaux P, Banoin M (2001) Les jachères fourragères naturelles et améliorées en Afrique de l'Ouest. Floret C et Pontanier R, La jachère en Afrique tropicale 2:201–240

Adissatou SB, Brice S (2009) Variabilité des systèmes agroforestiers autour du complexe W du Bénin. In: Deuxième Colloque de L'UAC des Sciences, Cultures et Technologies Du 26 au 29 Mai 2009 au Campus d'Abomey-Calavi, p 441

Agbahungba G, Sokpon N, Gaoué O (2001) Situation des ressources génétiques forestières du Bénin. Atelier sous-régional FAO/IPGRI/ICRAF sur la conservation, la gestion, l'utilisation durable et la mise en valeur des ressources génétiques forestières de la zone sahélienne (Ouagadougou, 22–24 Sept 1998). Note thématique sur les ressources génétiques forestières Document FGR F, 12

Akais Okia C, Obua J, Agea JG, Agaro E (2005) Natural regeneration, population structure and traditional management of Vitellaria paradoxa subspecies nilotica in the shea parklands of northern and eastern Uganda. Afr Crop Sci Soc 7:5

Akoégninou A, van der Burg WJ, van der Maesen LJG, Adjakidjè V, Essou JP, Sinsin B, Yédomonhan H (eds) (2006) Flore Analytique du Bénin. Backhuys Publishers, Wageningen, p 1034

Aregheore EM (2009) The Republic of Benin, Country Pasture/Forage Resources Profile. FAO

Assogbadjo A, Glèlè Kakaï R, Vodouhê F, Djagoun C, Codjia J, Sinsin B (2012) Biodiversity and socioeconomic factors supporting farmers' choice of wild edible trees in the agroforestry systems of Benin (West Africa). For Policy Econ 14:41–49

Atakpama W, Batawila K, Dourma M et al (2012) Ethnobotanical knowledge of Sterculia setigera Del. in the Sudanian zone of Togo (West Africa). ISRN Bot. doi:10.5402/2012/723157

Avocèvou-Ayisso C, Avohou T, Omorou M, Dessou G, Sinsin B (2012) Ethnobotany of Pentadesma butyracea in Benin: a quantitative approach. Ethnobot Res Appl 10:151–166

Boffa J-M (2000a) Les parcs agroforestiers en Afrique subsaharienne. FAO, Rome

Boffa J (2000b) Les parcs agroforestiers en Afrique de l'Ouest: clés de la conservation et d'une gestion durable. Unasylva 51:11–17

Bonou W et al (2009) Characterisation of Afzelia africana Sm. habitat in the Lama forest reserve of Benin. For Ecol Manag 258(7):1084–1092. doi:10.1016/j.foreco.2009.05.032

Breman H, Kessler JJ (2011) Woody plants in agro-ecosystems of semi-arid regions: with an emphasis on the Sahelian countries. Springer, London

Brunel J, Hiepko P, Scholz H (1984) Flore analytique du Togo: Phanérogames. GTZ, Eschborn

Byakagaba P, Eilu G, Okullo JBL, Tumwebaze SB, Mwavu EN (2011) Population structure and regeneration status of Vitellaria paradoxa (CF Gaertn.) under different land management regimes in Uganda. Agric J 6:14–22

Condit R, Sukumar R, Hubbell SP, Foster RB (1998) Predicting population trends from size distributions: a direct test in a tropical tree community. Am Nat 152:495–509

Dah-Dovonon J, Gnangle C (2006) Evaluation des potentialités de développement de la filière karité dans les départements de l'Atacora et de la Donga: Rapport définitif. ProCGRN, GTZ, Natitingou

Djossa BA, Fahr J, Wiegand T, Ayihouénou B, Kalko E, Sinsin B (2008) Land use impact on Vitellaria paradoxa (CF Gaerten.) stand structure and distribution patterns: a comparison of biosphere reserve of Pendjari in Atacora district in Benin. Agrofor Syst 72:205–220

Edwige DN, Lamien N, Dibong DS, Boussim IJ, Belem B (2012) Le rôle des especes ligneuses dans la gestion de la soudure alimentaire au Burkina Faso. Science et changements planétaires/Sécheresse 23(2):86–93

Fandohan A (2007) Structure des populations et importance socioculturelle du tamarinier (Tamarindus indica L.) dans la Commune de Karimama (Bénin). Mémoire de DEA Faculté des Sciences Agronomiques, Université d'Abomey Calavi, Bénin

Gbemavo D, Kakaï RG, Assogbadjo A, Katary A, Gnanglè P (2010) Effet de l'ombrage du karité sur le rendement capsulaire du coton dans les agroécosystèmes coton-karité du Nord Bénin. Tropicultura 28:193–199

Glèlè Kakaï R, Akpona T, Assogbadjo AE, Gaoué OG, Chakeredza S, Gnanglè PC, Mensah GA, Sinsin B (2011) Ecological adaptation of the shea butter tree (Vitellaria paradoxa CF Gaertn.) along climatic gradient in Bénin, West Africa. Afr J Ecol 49:440–449

Gnanglè C, Yabi J, Glèlè KR, Sokpon N (2009) Changements climatiques : Perceptions et stratégies d'adaptations des paysans face à la gestion des parcs à karité au Centre-Bénin. INNOVKAR-ACC/FSP/RIPIECSA, p 19

Goudet J (1986) Equilibre du milieu naturel en Afrique Tropicale sèche: végétation ligneuse et désertification. Centre technique forestier tropical, Nogent-sur-Marne

Husch B, Beers T, Kershaw J (2003) Forest mensuration. Wiley, Hoboken

Jonsson K, Ong C, Odongo J (1999) Influence of scattered nere and karite trees on microclimate, soil fertility and millet yield in Burkina Faso. Exp Agric 35:39–53

Kelly AB, Hardy O, Bouvet JM (2004) Temporal and spatial genetic structure in Vitellaria paradoxa (shea tree) in an agroforestry system in southern Mali. Mol Ecol 13:1231–1240

Lamien N, Ouédraogo SJ, Diallo OB, Guinko S (2004) Productivité fruitière du karité (Vitellaria paradoxa Gaertn. CF, Sapotaceae) dans les parcs agroforestiers traditionnels au Burkina Faso. Fruits 59:423–429

Lericollais A, Milleville P (1993) La jachère dans les systèmes agro-pastoraux sereer au Sénégal. La jachère en Afrique de l'Ouest, 133–145

Lovett P, Haq N (2000) Evidence for anthropic selection of the Sheanut tree (Vitellaria paradoxa). Agrofor Syst 48(3):273–288

Lykke AM (1998) Assessment of species composition change in savanna vegetation by means of woody plants' size class distributions and local information. Biodivers Conserv 7:1261–1275

Metzger JP (2002) Landscape dynamics and equilibrium in areas of slash-and-burn agriculture with short and long fallow period (Bragantina region, NE Brazilian Amazon). Landsc Ecol 17:419–431

Miguel EP, do Amaral Machado S, Filho AF, Arce JE (2010) Using the weibull function for prognosis of yield by diameter class in Eucalyptus urophylla stands. Cerne, Lavras 16:94–104

Odebiyi J, Bada S, Awodoyin R, Oni P, Omoloye A (2004) Population structure of Vitelaria paradoxa Gaertn. F. and Parkia biglobosa (Jacq.) Benth. in the agroforestry parklands of Nigerian humid Savanna. West Afr J Appl Ecol 5:31–39

Okiror P, Agea JG, Okia CA, Okullo JBL (2012) On-farm management of Vitellaria paradoxa CF Gaertn. in Amuria district, Eastern Uganda. Int J For Res

Okullo JBL, Hall JB, Obua J (2004) Leafing, flowering and fruiting of Vitellaria paradoxa subsp. nilotica in savanna parklands in Uganda. Agrofor Syst 60(1):77–91

Ouédraogo S, Devineau J-L (1996) Rôle des jachères dans la reconstitution du parc à karité (# Butyrospermum paradoxum CF Gaertn. f. Hepper) dans l'Ouest du Burkina Faso. La jachère, lieu de production

Rondeux J (1993) La mesure des arbres et des peuplements forestiers. Les presses agronomiques de Gembloux

Seiter S, William RD, Hibbs DE (1999) Crop yield and tree-leaf production in three planting patterns of temperate-zone alley cropping in Oregon, USA. Agrofor Syst 46:273–288

Serpantié G, Ouattara B, Louppe D, Sougafara B, Gnahoua G, Ouattara N, Kolou O, Yossi H, Mallet B (2001) Fertilité et jachères en Afrique de l'Ouest. La jachère en Afrique tropicale. John Libbey Eurotext, Montrouge

Sop T, Oldeland J, Schmiedel U, Ouedraogo I, Thiombiano A (2011) Population structure of three woody species in four ethnic domains of the sub-sahel of Burkina Faso. Land Degrad Dev 22:519–529

Tomlinson H, Teklehaimanot Z, Traore A, Olapade E (1995) Soil amelioration and root symbioses of Parkia biglobosa (Jacq.) Benth. in West Africa. Agrofor Syst 30:145–159

Traoré K (2003) Le parc à Karité: sa contribution à la durabilité de l'agrosystème. Cas d'une toposéquence à Konobougou (Mali-Sud). Thèse, école nationale supérieure agronomique de Montpellier (Ensam)

Vissoh P, Gbèhounou G, Ahanchédé A, Kuyper TW, Röling NG (2004) Weeds as agricultural constraint to farmers in Benin: results of a diagnostic study. NJAS-Wageningen J Life Sci 52:305–329

Wala K, Sinsin B, Guelly KA, Kokou K, Akpagana K (2005) Typologie et structure des parcs agroforestiers dans la préfecture de Doufelgou (Togo). Science et changements planétaires/Sécheresse 16:209–216
Acknowledgments
We thank the West African Science Service Center for Climate Change and Adapted Land Use (WASCAL) for the financial assistance. Our gratitude goes to all research assistants and field assistants from the Laboratory of Botany and Plant Ecology of the University of Lomé and those from Dassari's catchment in Benin for their valuable efforts and contributions. We are grateful to anonymous reviewers who generously added value to the current work.
About this article
Cite this article
Aleza, K., Wala, K., Bayala, J. et al. Population structure and regeneration status of Vitellaria Paradoxa (C. F. Gaertner) under different land management regimes in Atacora department, Benin. Agroforest Syst 89, 511–523 (2015). https://doi.org/10.1007/s10457-015-9787-9
Received:

Accepted:

Published:

Issue Date:

DOI: https://doi.org/10.1007/s10457-015-9787-9
Keywords