Abstract
Homegarden agroforestry systems are suggested to hold a large potential for climate change mitigation and adaptation. This is due to their multifunctional role in providing income, food and ecosystem services while decreasing pressure on natural forests and hence saving and storing carbon. In this paper, above-ground biomass carbon and tree species diversity of trees was quantified in homegardens around two villages in the dry south-eastern part of Moneragala district of Sri Lanka. A total of 45 dry zone homegardens were sampled on size, diameter at breast height, tree height and species diversity. Using allometric equations, we find a mean above-ground biomass stock of 13 mega grams of carbon per hectare (Mg C ha−1) with a large range among homegardens (1–56 Mg C ha−1, n = 45) due to a variation of tree diversity and composition between individual homegardens. Mean above-ground carbon stock per unit area was higher in small homegardens (0.2 ha, 26 Mg C ha−1, n = 11) and statistically different compared to medium (0.4–0.8 ha, 9 Mg C ha−1, n = 27) and large (1.0–1.2 ha, 8 Mg C ha−1, n = 7) homegardens. In total, 4,278 trees were sampled and 70 tree species identified and recorded. The Shannon Wiener index were used to evaluate diversity per homegarden and ranged from 0.76 to 3.01 with a mean value of 2.05 ± 0.07 indicating a medium evenly distributed diversity of sampled tree species. The results show a vast heterogeneity in terms of carbon stock and tree diversity within the less studied dry zone homegardens; results that contribute to more knowledge of their expansion potential as well as climate mitigation and adaptation potential. The results are also useful for whether homegardens should be considered to be included as an activity to enhance natural forest cover within Sri Lanka's newly commenced UN-REDD National Programme.
Access options
Buy single article
Instant access to the full article PDF.
USD 39.95
Price excludes VAT (USA)
Tax calculation will be finalised during checkout.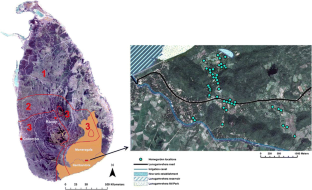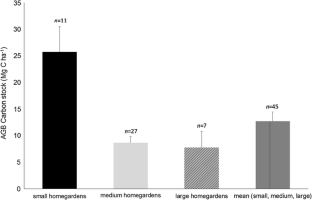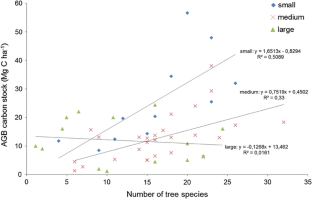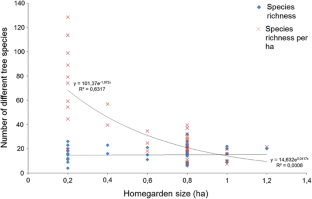 References
Abdoellah OS, Hadikusumah HY, Takeuchi K, Okubo S, Parikesit (2006) Commercialization of homegardens in an Indonesian village: vegetation composition and functional changes. Agrofor Syst 18:1–13

Abebe T (2005) Diversity in homegarden agroforestry systems of southern Ethiopia. Wageningen University, The Netherlands, Tropical Resource Management Paper No. 59

APN (Asia-Pacific Network for Global Change Research) (2012) Vulnerability of home garden systems to climate change and its impacts on food security in south Asia. http://www.apn-gcr.org/resources/items/show/1566

Ariyadasa KP (2002) Assessment of tree resources in the homegardens of Sri Lanka. Bangkok, ECFAO Partnership Programme on Information and Analysis for Sustainable Forest Management (FAO, 2005)

AUSAID (2012) AusAID Community Based Adaptation (CBA) Project CPMT Consolidated Report. 39 p. https://sgp.undp.org/index.php?option=com_sgpprojects&view=projectdetail&id=16559&Itemid=205. Accessed 19 Dec 2013

Bardhan S, Jose S, Biswas S, Kabir K, Rogers W (2012) Homegarden agroforestry systems: an intermediary for biodiversity conservation in Bangladesh. Agrofor Syst 85:29–34

Bernard F, Minang PA, van Noordwijk M, Freeman OE, Duguma LA. (Eds) (2013) Towards a landscape approach for reducing emissions: a substantive report of Reducing Emissions from All Land Uses (REALU) project. Nairobi, Kenya. World Agroforestry Centre—ICRAF, p 119

Brookfield H, Stocking M, Brookfield M (2002) Guidelines on agrodiversity assessment. In: Brookfield H, Padoch C, Parsons H, Stocking M (eds) Cultivating biodiversity: understanding, analysing and using agricultural diversity. ITDG Publishing, London, pp 41–56

Brown S (1997) Estimating biomass and biomass change of tropical forests: a primer. In: Forestry Paper 134–publication FRA, FAO, Rome

Chave J, Andalo C, Brown S, Cairns MA, Chambers JQ, Eamus D, Folster H, Fromard F et al (2005) Tree allometry and improved estimation of carbon stocks and balance in tropical forests. Oecologia 145:87–89

Chave J, Coomes DA, Jansen S, Lewis SL, Swenson NG, Zanne AE (2009) Towards a worldwide wood economics spectrum. Ecol Lett 12(4):351–366

Department of Census and Statistics (2010) Statistical abstract 2010, Chapter 1—Area and Climate. http://www.statistics.gov.lk/abstract2010/Pages/chap1.htm. Accessed 23 Oct 2013

Dissanayake WASS, Ranasinghe DMSHK, Wahala S (2009) Estimation of carbon stock in Kandyan Homegardens located in Kandy and Matale. In Proceedings of the 14th International Forestry and Environment Symposium, Department of Forestry and Environmental Science, University of Sri Jayewardenepura

Drescher AW (1998) Hausgärten in afrikanischen Räumen: Bewirtschaftung nachhaltiger Produktionssysteme und Strategien der Ernährungssicherung in Sambia und Zimbabwe. Centaurus-Verlagsgesellschaft, Pfaffenweiler 275 pp

FAO (2009) Sri Lanka Forestry Outlook Study. Asia Pacific forestry outlook sector outlook study II, Working Paper No. APFSOS II/WP/2009/29, Bangkok, FAO Regional Office for Asia and the Pacific

Galhena DH, Freed R, Maredia KM (2013) Home gardens: a promising approach to enhance household food security and wellbeing. Agric Food Secur 2(8):48–62

Google Earth, V 7.1.1.1888. 24 February (2013) Beralihela, Sri Lanka. 6°21′36.91′′N 81°15′13.42′′E. Eye alt 5.61 km. Digital Globe 2013. http://www.earth.google.com. Accessed on 1 Nov 2013

Government of Sri Lanka (2011) Improving family nutrition, a main objective of Divi Neguma Programme. http://www.priu.gov.lk/news_update/Current_Affairs/ca201107/20110713improving_family_nutrition.htm. Accessed 11 Oct 2011

Hairiah K, Dewi S, Agus F, Velarde S, Ekadinata A, Rahayu S, van Noordwijk M (2010) Measuring carbon stocks across land use systems: a manual. Bogor, Indonesia. World Agroforestry Centre (ICRAF), SEA Regional Office, p 155

Henry M, Tittonell P, Manlay RJ, Bernoux M, Albrecht A, Vanlauwe B (2009) Biodiversity, carbon stocks and sequestration potential in aboveground biomass in smallholder farming systems of western Kenya. Agric Ecosyst Environ 129(1):238–252

IIMI (1995) Kirindi Oya Irrigation Settlement Project. Project Impact Evaluation Study. Colombo: IIMI (IIMI Report 1995:02)

Jensen M (1993) Soil conditions, vegetation structure and biomass of a Javanese homegarden. Agrofor Syst 24:171–186

Kabir ME, Webb EL (2009) Household and homegarden characteristics in southwestern Bangladesh. Agrofor Syst 75:129–145

Karyono (1990) Home gardens in Java. Their structure and function. In: Landauer K, Brazil M (eds) Tropical home gardens. The United Nations University, Tokyo, pp 138–146

Kehlenbeck K, Maass BL (2004) Crop diversity and classification of homegardens in Central Sulawesi, Indonesia. Agrofor Syst 63:53–62

Kumar BM (2006) Carbon sequestration potential of tropical homegardens. In: Kumar BM, Nair PKR (eds) Tropical homegardens: a time-tested example of sustainable agroforestry. Springer, Dordrecht, pp 185–204

Kumar BM (2011) Species richness and aboveground carbon stocks in the homegardens of central Kerala, India. Agric Ecosyst Environ 140:430–440

Kumar BM, Nair PKR (2004) The enigma of tropical homegardens. Agrofor Syst 61:135–152

Kumari MAS, Kansuntisukmongkol K, Brockelman WY (2009) Plant diversity in home gardens and its contribution to household economy in suburban areas in Sri Lanka. Environ Nat Resour J 7:12–30

Mattsson E, Ostwald M, Nissanka SP, Marambe B (2013) Homegardens as a multi-functional land use strategy in Sri Lanka with focus on carbon sequestration. Ambio 42:892–902

McConnell DJ (2003) The forest farms of Kandy and other gardens of complete design., Ashgate studies in environmental policy and practiceAshgate Publishing Limited, England, p 370

McConnell DJ, Dharmapala KAE (1973) The economic structure of Kandyan forest garden farms. Small forest garden farms in the Kandy district of Sri Lanka. Farm Management Diversification Report No. 7. UNDP/SF/FAO Diversification Project, Peradeniya, Sri Lanka

Mendez VE, Lok R, Somarriba E (2001) Interdisciplinary analysis of homegardens in Nicaragua: micro-zonation, plant use and socioeconomic importance. Agrofor Syst 51:85–96

MFE (1995) Sri Lanka Forestry Sector Master Plan. Forestry Planning Unit, Ministry of Forestry and Environment, Battaramulla, p 511

Minang PA, van Noordwijk M, Swallow BM (2012) High-carbon-stock rural development pathways in Asia and Africa: improved land management for climate change mitigation. In: Nair PKR, Garrity DP (eds) Agroforestry: the future of global land use. Springer, The Netherlands, pp 127–143

Minang PA, Duguma LA, Bernard FO, Mertz O, van Noordwijk M (2014) Prospects for agroforestry in REDD+ landscapes in Africa. Curr Opin Environ Sustain 6:78–82

Mohri H, Lahoti S, Saito O, Mahalingam A, Gunatilleke N, Van Thang Hoang I, Hitinayake G, Takeuchi K, Herath S (2013) Assessment of ecosystem services in homegarden systems in Indonesia, Sri Lanka, and Vietnam. Ecosyst Serv 5:124–136

Montagnini F, Nair PKR (2004) Carbon sequestration: an underexploited environmental benefit of agroforestry systems. Agrofor Syst 61:281–295

Murthy IK, Gupta M, Tomar S, Munsi M, Tiwari R et al (2013) Carbon sequestration potential of agroforestry systems in India. J Earth Sci Clim Chang 4(1):1–7. doi:10.4172/2157-7617.1000131

Nair PKR (2012) Climate change mitigation: a low-hanging fruit of agroforestry. In: Nair PKR, Garrity D (eds) Agroforestry – the future of global land use. Springer, Dordrecht, pp 31–67

Nair PKR, Kumar BM (2006) Introduction. In: Kumar BM, Nair PKR (eds) Tropical homegardens: a time-tested example of sustainable agroforestry. Springer, Dordrecht, pp 1–10

Nijman C (1992) Irrigation decision-making processes and conditions—a case study of Sri Lanka´s Kirindi Oya Irrigation and Settlement Project. Colombo: International Irrigation Management Institute (IIMI) (IIMI Report, 1992:09)

Panagos P, Jones A, Bosco C, Senthil Kumar PS (2011) European digital archive on soil maps (EuDASM): preserving important soil data for public free access. Int J Digit Earth 4(5):434–443

Pandey CB, Rai RB, Singh L, Singh AK (2007) Home gardens of Andaman and Nicobar, India. Agric Syst 92(1–3):1–22

Peyre A, Guidal A, Wiersum KF, Bonger F (2006) Homegarden dynamics in Kerala, India. In: Belair C, Ichikawa K, Wong BYL, Mulongoy KJ (eds) Tropical homegardens: a time-tested example of sustainable agroforestry. Springer Science, Dordrecht, pp 102–108

Ponce-Hernandez R (2004) Assessing carbon stocks and modelling win–win scenarios of carbon sequestration through land-use changes. Food and Agriculture Organization of the United Nations, Rome

Pushpakumara DKNG, Wijesekara A, Hunter DG (2010) Kandyan homegardens: a promising land management system in Sri Lanka. In: Belair C, Ichikawa K, Wong BYL, Mulongoy KJ (eds) Sustainable use of biological diversity in socio-ecological production landscapes, background to the 'Satoyama Initiative for the benefit of biodiversity and human well-being. Secretariat of the Convention on Biological Diversity, Montreal, pp 102–108

Pushpakumara DKNG, Marambe B, Silva GLLP, Weerahewa J, Punyawardena BVR (2012) A review of research on homegardens in Sri Lanka. The status, importance and future perspective. Trop Agric 160:55–125

Reyes G, Brown S, Chapman J, Lugo AE (1992) Wood densities of tropical tree species. General technical report SO-88. USDA Forest Service, Southern Forest Experiment Station, New Orleans

Roshetko M, Delaney M, Hairiah K, Purnomosidhi P (2002) Carbon stocks in Indonesian homegarden systems: can smallholder systems be targeted for increased carbon storage? Am J Altern Agric 17:125–137

Saha S, Nair PKR, Nair VD, Kumar BM (2009) Soil carbon stock in relation to plant diversity of homegardens in Kerala, India. Agrofor Syst 76:53–65

Schroth G, da Mota MSS, Hills T, Soto-Pinto L, Wijayanto I, Arief CW, Zepeda Y (2011) Linking carbon, biodiversity and livelihoods near forest margins: the role of agroforestry. In: Kumar BM, Nair PKR (eds) Carbon sequestration potential of agroforestry systems: opportunities and challenges. Springer, Dordrecht, pp 179–200

Senanayake RL, Sangakkara UR, Pushpakumara DKNG, Stamp P (2009) Vegetation composition and ecological benefits of home gardens in the Meegahakiula region of Sri Lanka. Trop Agric Res 21:1–9

Seo S, Mendelsohn NR, Munasinghe M (2005) Climate change and agriculture in Sri Lanka: a Ricardian valuation. Environ Dev Econ 10:581–596

Torquebiau E, Penot E (2006) Ecology versus economics in tropical multi-strata agroforests. In: Kumar BM, Nair PKR (eds) Tropical homegardens: a time-tested example of sustainable agroforestry. Springer Science, Dordrecht, pp 269–282

Weerahewa J, Pushpakumara G, Silva P, Daulagala C, Punyawardena R, Premalal S, Miah G, Roy J et al (2012) Are homegarden ecosystems resilient to climate change? An analysis of the adaptation strategies of homegardeners in Sri Lanka. APN Sci Bull 2:22–27

Wiersum KF (2006) Diversity and change in homegarden cultivation in Indonesia. In: Kumar BM, Nair PKR (eds) Tropical homegardens: a time tested example of sustainable agroforestry. Springer, The Netherlands, pp 13–24

Yachi S, Loreau M (1999) Biodiversity and ecosystem productivity in a fluctuating environment: the insurance hypothesis. Ecology 96:1463–1468
Acknowledgments
This research was funded by the Swedish Energy Agency and the Gothenburg Centre for Global Development (GCGD). The authors would like thank Janaka Withanage and Thusitha Madurande Geeganage for logistical assistance and the farmers in Beralihela who participated in the project.
Electronic supplementary material
Below is the link to the electronic supplementary material.
About this article
Cite this article
Mattsson, E., Ostwald, M., Nissanka, S.P. et al. Quantification of carbon stock and tree diversity of homegardens in a dry zone area of Moneragala district, Sri Lanka. Agroforest Syst 89, 435–445 (2015). https://doi.org/10.1007/s10457-014-9780-8
Received:

Accepted:

Published:

Issue Date:

DOI: https://doi.org/10.1007/s10457-014-9780-8
Keywords
Allometric equations

Biomass

Carbon

Agroforestry

REDD+