Abstract
Black cohosh (Actaea racemosa L.) rhizomes are harvested extensively from eastern North American forests and sold worldwide for treatment of menopausal symptoms. While forest farming is encouraged to reduce wild-harvest impacts, little information is available to aid landowners in successfully cultivating black cohosh. This study examined survival and multi-year growth of 200 black cohosh rhizomes collected from an Appalachian deciduous forest and transplanted to a similar forest type. By the second year after transplant, fewer than 40 % of rhizomes produced above-ground growth and mean rhizome biomass declined by more than 50 %. Shoot biomass was the greatest predictor of below-ground biomass; however, leaf area provided a reasonable, non-destructive means of estimating this commercially-important biomass. Our results suggest that pre-transplant rhizome condition is particularly important to transplant success. Low biomass, lack of roots, and fungal infection all were associated with reduced plant survival. Based on this and associated studies, we recommend careful site selection for propagation, including circumneutral or lime-amended soils and light to moderate shading. Well-drained soil appears particularly important to discourage fungal infection. Understanding conditions for successful transplanting of black cohosh rhizomes can improve forest farming and contribute to sustainable management of this and other non-timber forest products.
Access options
Buy single article
Instant access to the full article PDF.
USD 39.95
Price excludes VAT (USA)
Tax calculation will be finalised during checkout.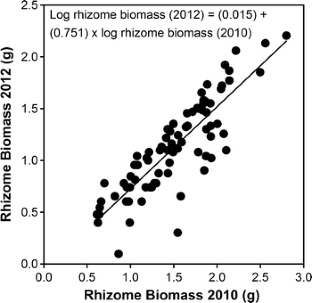 References
Albrecht MA, McCarthy BC (2009) Seedling establishment shapes the distribution of shade-adapted forest herbs across a topographical moisture gradient. J Ecol 97:1037–1049

Albrecht MA, McCarthy BC (2011) Variation in dormancy and germination in three co-occurring perennial forest herbs. Plant Ecol 212:1465–1477

American Herbal Products Association (AHPA) (2012) Tonnage surveys of select North American wild-harvested plants, 2006–2010. American Herbal Products Association, Silver Spring

Blumenthal M (2003) The ABC clinical guide to herbs. American Botanical Council, Austin

Burkhart EP (2013) American ginseng (Panax quinquefolius L.) floristic associations in Pennsylvania: guidance for identifying calcium-rich forest farming sites. Agrofor Syst 87:1157–1172

Burkhart EP, Jacobson MG (2009) Transitioning from wild collection to forest cultivation of indigenous medicinal forest plants in eastern North America is constrained by lack of profitability. Agrofor Syst 76:437–453

Chamberlain JL, Mitchell D, Brigham T, Hobby T, Zabek L, Davis J (2009) Forest farming practices. In: Garrett HE (ed) North American agroforestry: an integrated science and practice, 2nd edn. American Society of Agronomy, Madison, pp 219–256

Chamberlain JL, Ness G, Small CJ, Bonner SJ, Hiebert EB (2013) Modeling below-ground biomass to improve sustainable management of Actaea racemosa, a globally important medicinal forest product. Forest Ecol Manag 293:1–8

Davis JM (2012) Assisting farmers to produce high-quality medicinal herbs. HortScience 47:976–978

Fischer S, Berti M, Wilckens R, del Pozo A (2006) Development of vegetative propagation for Actaea racemosa Nutt. Ind Crops Prod 24:244–252

Gilliam FS (2007) The ecological significance of the herbaceous layer in temperate forest ecosystems. Bioscience 57:845–858

Hintz J (2007) NCSS 2007 Statistical software, version 7.1.21. NCSS, LLC, Kaysville, UT

Hutchinson TF, Boerner REJ, Iverson LR, Sutherland S, Kennedy-Sutherland E (1999) Landscape patterns of understory composition and richness across a moisture and nitrogen mineralization gradient in Ohio (USA) Quercus forests. Plant Ecol 144:177–189

McCoy JA, Davis JM, Camper ND, Khan I, Bharathi A (2007) Influence of rhizome propagule size on yields and triterpene glycoside concentrations of black cohosh (Actaea racemosa L. syn Cimicifuga racemosa (L.) Nuttal). HortScience 42:61–64

McGraw JB (2001) Evidence for decline in stature of American ginseng plants from herbarium specimens. Biol Conserv 98:25–32

Nantel P, Gagnon D, Nault A (1996) Population viability analysis of American ginseng and wild leek harvested in stochastic environments. Conserv Biol 10(2):608–621

NatureServe (2012) Actaea racemosa L. (Black Cohosh). NatureServe Explorer: An Online Encyclopedia of Life. Version 7.1. NatureServe, Arlington, Virginia. http://www.natureserve.org/explorer. Accessed 24 Jan 2014

Naud J, Olivier A, Belanger A, Lapointe L (2010) Medicinal understory herbaceous species cultivated under different light and soil conditions in maple forests in southern Québec, Canada. Agrofor Syst 79:303–326

Pengelly A, Bennett K (2012) Appalachian plant monographs. Black cohosh Actaea racemosa L. http://www.frostburg.edu/aces/appalachian-plants/ Accessed 15 Feb 2014

Predny ML, De Angelis P, Chamberlain JL (2006) Black cohosh (Actaea racemosa): an annotated bibliography. General technical report SRS-97. U.S. Department of Agriculture, Forest Service, Southern Research Station, Asheville, NC

Robbins CS (2000) Comparative analysis of management regimes and medicinal plant trade monitoring mechanisms for American ginseng and goldenseal. Conserv Biol 14:1422–1434

Scheiner SM (1993) MANOVA: multiple response variables and multispecies interactions. In: Scheiner SM, Gurevitch J (eds) Design and analysis of ecological experiments. Chapman and Hall, NY, pp 94–112

Sinclair A, Nantel P, Catling P (2005) Dynamics of threatened goldenseal populations and implications for recovery. Biol Conserv 123:355–360

Small CJ, McCarthy BC (2002) Spatial and temporal variation in the response of understory vegetation to disturbance in a central Appalachian oak forest. J Torrey Bot Soc 129:136–153

Small CJ, Chamberlain JL, Mathews DS (2011) Recovery of black cohosh (Actaea racemosa L.) following experimental harvests. Am Midl Nat 166:339–348

Soil Survey Staff (2013) Natural resources conservation service, United States Department of Agriculture. Web Soil Survey. http://websoilsurvey.nrcs.usda.gov/ Accessed 11 Jan 2013

Stephenson SL, Ash AN, Stauffer DF (1993) Appalachian oak forests. In: Martin WH, Boyce SG, Echternacht AC (eds) Biodiversity of the southeastern United States: upland terrestrial communities. John Wiley, NY

Thomas AL, Crawford RJ Jr, Havermann LJ, Applequist WL, Schweitzer BE, Woodbury SF, Miller JS (2006) Effect of planting depth, planting season, and fungicide treatment on establishment of black cohosh in a poorly drained soil. HortScience 41:374–376

Ticktin T (2004) The ecological implications of harvesting non-timber forest products. J Appl Ecol 41:11–21

United Plant Savers (2014) Species-at-risk. http://www.unitedplantsavers.org/content.php/161-species-at-risk_1. Accessed 24 Jan 2014

Van der Voort M, Bailey B, Samuel DE, McGraw JB (2003) Recovery of populations of goldenseal (Hydrastis canadensis L.) and American ginseng (Panax quinquefolius L.) following harvest. Am Midl Nat 149:282–292

Van Manen FT, Young JA, Thatcher CA, Cass WB, Ulrey C (2005) Habitat models to assist plant protection efforts in Shenandoah National Park, Virginia. Nat Areas J 25:339–350

Vaughan RC, Munsell JF, Chamberlain JL (2013) Opportunities for enhancing nontimber forest products management in the United States. J For 111:26–33

Whigham DF (2004) Ecology of woodland herbs in temperate deciduous forests. Annu Rev Ecol Syst 35:583–621
Acknowledgments
We gratefully acknowledge the assistance of students, professionals, and volunteer citizen-scientists in this work and funding from the USDA Forest Service Southern Research Station and Radford University College of Science and Technology.
About this article
Cite this article
Small, C.J., Chamberlain, J.L. & Nuckols, C.M. Failure of black cohosh (Actaea racemosa L.) rhizome transplants: potential causes and forest farming implications. Agroforest Syst 88, 815–822 (2014). https://doi.org/10.1007/s10457-014-9727-0
Received:

Accepted:

Published:

Issue Date:

DOI: https://doi.org/10.1007/s10457-014-9727-0
Keywords
Deciduous forest herbs

Forest farming

Fungal root rot

Medicinal plant cultivation

Non-timber forest products