Abstract
With the global bioenergy boom, the planting of jatropha (Jatropha curcas) was widely promoted by the private sector and non-government organizations as one of the candidate tree species for bioenergy in Kenya. This was motivated by the belief that it grows easily with minimal management requirements. The present study attempts to determine whether management practices by smallholder farmers, which are heterogeneous, are optimal for jatropha yields in Kenya. A survey conducted in different agro-ecological zones showed that yields are very low under Kenyan farm conditions. Regardless of the age and management condition, 41 % of the farmers obtained no seed yield, while 79 % obtained up to 0.1 kg/tree. This is dismal in comparison with the figures (up to 2.0 kg/tree) reported from elsewhere for 1–5 year old trees grown under similar conditions. Examination of farmer management practices indicated that irrigation, manuring and weeding, in order to maximize yields, could be offset by misapplication of other components especially, selection of planting materials, timing of planting and choice of intercrops during the establishment phases. This indicates that the anticipated high yields have not been achieved partly because growers are still using unimproved germplasm, management practices are sub-optimal, and the biophysical boundaries of high jatropha yield are poorly defined. Thus at the current stage, jatropha should not be grown by smallholder farmers in Kenya because of low or dismal productivity. If jatropha is to play a role in the pro-poor bioenergy development, future projects need to identify management recommendations that optimize yields. This also needs to take into consideration the preferences and constraints of farm households on labor and land allocation to other farm and livelihood activities.
Access options
Buy single article
Instant access to the full article PDF.
USD 39.95
Price excludes VAT (USA)
Tax calculation will be finalised during checkout.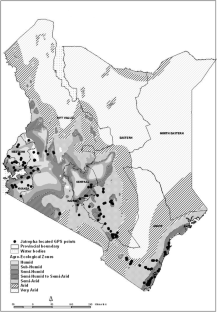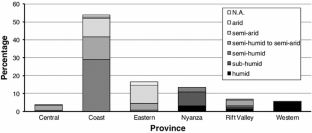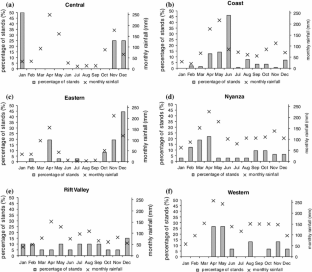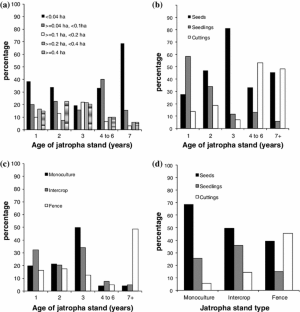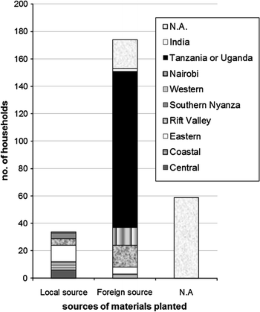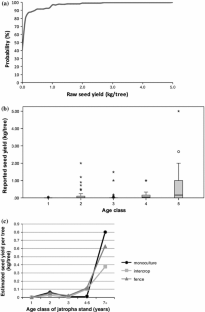 References
Achten WMJ, Verchot L, Frunken YJ, Mathuijs E, Singh VP, Aerts R, Muys B (2008) Jatropha bio-diesel production and use. Biomass Bioenergy 32(12):1063–1084

Achten WMJ, Nielsen LR, Aerts R, Lengkeek AG, Kjær ED, Trabucco A, Hansen JK, Maes WH, Graudal L, Akinnifesi FK, Muys B (2010a) Towards domestication of Jatropha curcas. Biofuels 1(1):91–107

Achten WMJ, Maes WH, Reubens B, Mathijs E, Singh VP, Verchot L, Muys B (2010b) Biomass production and allocation in Jatropha curcas L. seedlings under different levels of drought stress. Biomass Bioenergy 34:667–676

Anonymous (2009) African Agriculture. Jatropha for biodiesel is not a miracle crop. http://africanagriculture.blogspot.com/2009/04/jatropha-for-biodiesel-not-miracle-crop.html. Accessed 16 April 2009

Anonymous (2010) African Agriculture. Jatropha goes from buzz to bust in Namibia. http://www.africanagricultureblog.com/2010/06/jatropha-goes-from-buzz-to-bust-in.html. Accessed 14 June 2010

Ariza-Montobbio P, Lele S (2010) Jatropha plantations for biodiesel in Tamil Nadu, India: viability, livelihood trade-offs, and latent conflict. Ecol Econ. doi:10.1016/j.ecolecon.2010.05.011

Augustus GDPS, Jayabalan M, Seiler GJ (2000) Evaluation and bioinduction of energy components of Jatropha curcas. Biomass Bioenergy 23:161–164

Azam MM, Waris A, Nahar BN (2005) Prospects and potential of fatty acid methyl esters of some non-traditional seed oils for use as biodiesel in India. Biomass Bioenergy 29:293–302

Behera SK, Srivastava P, Tripathi R, Singh JP, Singh N (2010) Evaluation of plant performance of Jatropha curcas L. under different agro-practices for optimizing biomass—a case study. Biomass Bioenergy 34:30–41

Bos S, Leonardo W, Lemer A, Schut MLW (2010) Assessing the potential of bio-energy production in smallholder farming systems: the case of Nhambia community. GTZ-PROBEC and Wageningen University and Research Centre, Maputo

Camberlin P, Moron V, Okoola R, Philippon N, Gitau W (2009) Components of rainy seasons' variability in Equatorial East Africa: onset, cessation, rainfall frequency and intensity. Theor Appl Climatol 98:237–249

Carlisle T (2010) BP abandons biofuel venture. The national. http://www.thenational.ae/apps/pbcs.dll/article?AID=/20090720/BUSINESS/707209978/-1/ART. Accessed 7 June 2010

Divakara BN, Upadhyaya HD, Wani SP, Gowda CLL (2010) Biology and genetic improvement of Jatropha curcas L.: a review. Appl Energy 87:732–742

FAO (2008) The state of food and agriculture—biofuels: prospects, risks and opportunities. Food and Agriculture Organization of the United Nations, Rome

FAO (2010) Jatropha: a smallholder bioenergy crop: the potential for pro-poor development. Integrated Crop Management, vol 8–2010. Food and Agriculture Organization of the United Nations, Rome

Garnayak DK, Pradhan RC, Naik SN, Bhatnagar N (2008) Moisture-dependent physical properties of Jatropha seed (Jatropha curcas L.). Ind Crop Prod 27:123–129

Gathura G (2010) Daily nation. Miracle tree may lack the magic touch it's fabled to have after all. http://www.nation.co.ke/News/Miracle%20tree%20may%20lack%20the%20magic%20touch/-/1056/927256/-/3tplgmz/-/index.html. Accessed 7 June 2010

Gour VK (2006) Production practices including post-harvest management of Jatropha curcas. In: Singh B, Swaminathan R, Ponraj V (eds) Proceedings of the biodiesel conference toward energy independence—focus of Jatropha, Hyderabad, India, June 9–10. Rashtrapati Bhawan, New Delhi, pp 223–251

Gressel J (2008) Transgenics are imperative for biofuel crops. Plant Sci 174:246–263

GTZ (2009) Jatropha reality check: a field assessment of the agronomic and economic viability of jatropha and other oilseed crops in Kenya. Study conducted by Endelevu Energy in collaboration with World Agroforestry Centre and Kenya Forestry Research Institute. GTZ—Regional Energy Advisory Platform (East Africa), Nairobi

Habib-Mintz M (2010) Biofuel investment in Tanzania: omissions in implementation. Energy Policy 38(8):3985–3997

Heller J (1996) Physic nut. Jatropha curcas L. Promoting the conservation and use of underutilized and neglected crops. International Plant Genetic Resources Institute, Rome

Henning RK (2000) The Jatropha manual: a guide to the integrated exploitation of the Jatropha plant in Zambia. GTZ GTZ-ASIP-Support-Project, Southern Province

Iiyama M, Zante P (2008) Jatropha field trip report Shimba hills, Kwale District, Coast Province—June 24–25, 2008. MIMEO, Kwale

Jongschaap REE, Coreé WJ, Bindraban PS, Brandenburg WA (2007) Claims and facts on Jatropha curcas L. Plant Research International B.V., Wageningen

Jongschaap REE, Blesgraaf RAR, Bogaard TA, van Loo EN, Savenije HHG (2009) The water footprint of bioenergy from Jatropha curcas L. Proc Natl Acad Sci 106:E92

Kaushik N, Kumar K, Kumar S, Kaushik N, Roys S (2007) Genetic variability and divergence studies in seed traits and oil content of Jatropha (Jatropha curcas L.) accessions. Biomass Bioenergy 31:497–502

Kheira AAA, Atta NMM (2009) Response of Jatropha curcas L. to water deficits: yield, water use efficiency and oilseed characteristics. Biomass Bioenergy 3:1343–1350

Loos TK (2009) Socio-economic impact of a Jatropha-project on smallholder farmers in Mpanda, Tanzania: case study of a public–private-partnership project in Tanzania. University of Hohenheim, Hohenheim

Maes WH, Achten WMJ, Reubens B, Raes D, Samson R, Muys B (2009a) Plant–water relationships and growth strategies of Jatropha curcas L. seedlings under different levels of drought stress. J Arid Environ 73:877–884

Maes WHA, Trabucco A, Achten WMJ, Muys B (2009b) Climatic growing conditions of Jatropha curcas L. Biomass Bioenergy 33:1481–1485

Messemaker L (2008) The green myth? Assessment of the Jatropha value chain and its potential for pro-poor biofuel development in northern Tanzania. Utrecht University, Utrecht

Mutai CC, Ward MN (2000) East African rainfall and the tropical circulation/convection on intraseasonal to interannual timescales. J Climate 13(22):3915–3939

Ndurya M, Kihara G (2010) Business daily. Canadian company eyes Tana delta for biofuel projects. http://www.businessdailyafrica.com/-/539444/590290/-/rhhlm9/-/index.html. Accessed 7 June 2010

Openshaw K (2000) A review of Jatropha curcas: an oil plant of unfulfilled promise. Biomass Bioenergy 19:1–15

Orange R (2009) Jatropha seeds yield little hope for India's oil dream. The national. http://www.thenational.ae/article/20090511/BUSINESS/705119944/1005. Accessed on 12 May 2009

Ouwens KD, Francis G, Franken YJ, Rijssenbeek W, Riedacker A, Foidl N, Jongschaap R, Bindraban P (2007) Position paper on Jatropha curcas. State of the art, small and large scale project development. Wageningen University, Wageningen

Pant KS, Khosla V, Kumar D, Gairola S (2006) Seed oil content variation in Jatropha curcas Linn. in different altitudinal ranges and site conditions in H.P. India. Lyonia 11(2):31–34. http://www.lyonia.org/downloadPDF.phppdfID=390.487.1. Accessed 7 June 2010

Paramathma M, Venkatachalam P, Sampathrajan A, Balakrishnan A, Sudhakar JR, Parthiban KT, Subramanian P, Kulanthaisamy S. (2007) Cultivation of Jatropha and biodiesel production. Professor and Nodal Officer, Center of Excellence in Biofuels. Agricultural Engineering College and Research Institute, Tamil Nadu Agricultural University, Coimbatore, p 180

Prajapati ND, Prajapati T. (2005) A hand book of Jatropha curcas Linn. (Physic Nut). Asian Medical Plants and Health Care Trust, Jodhpur

Reddy KC, Naole VV (2009) Enhancing Jatropha curcas productivity by canopy management. Nat Proc. doi:10.1038/npre.2009.3700.1

Renner R (2007) Green gold in a shrub. Sci Am. http://www.scientificamerican.com/article.cfm?id=green-gold-in-a-shrub. Accessed 7 June 2010

Sombroek WG, Braun HMH, van der Pouw BJA (1982) Exploratory soil map and agro-climatic zone map of Kenya, 1980. Scale: 1:1,000,000. Exploratory soil survey report no. E1. Kenya Soil Survey Ministry of Agriculture, National Agricultural Laboratories, Nairobi, Kenya

Sunil N, Varaprasad KS, Sivaraj N, Kumar TS, Abraham B, Prasad RBN (2008) Assessing Jatropha curcas L. Germplasm in situ—a case study. Biomass Bioenergy 32:198–202

Tatikonda L, Wani SP, Kannan S, Beerelli N, Sreedevi K, Hoisington DA, Devi P, Varshney RK (2010) AFLP-based molecular characterization of an elite germplasm collection of Jatropha curcas L., a biofuel plant. Plant Sci 176(4):505–513

Tewari DN (2007) Jatropha and biodiesel. Ocean Books Ltd, New Delhi

van Noordwijk M, Khasanah N, Lusiana B (2007) Jatropha in agroforestry context? WaNuLCAS predictions. World Agroforestry Centre, ICRAF, SEA Regional Office, Bogor

Wahl N, Jamnadass R, Baur H, Munster C, Iiyama M (2010) Economic viability of Jatropha curcas L. Plantations in northern Tanzania: assessing farmers' prospects via cost–benefit analysis. ICRAF working paper no. 97. World Agroforestry Centre, Nairobi
Acknowledgments
This study was commissioned by GTZ as part of the Kenya oilseed baseline study, and we sincerely appreciate the financial and technical support provided for its implementation. We are also grateful to EU, the Japanese and Norwegian Governments for the additional financial support. We thank colleagues at World Agroforestry Centre (ICRAF), many farmers, District Agricultural Officers, Forestry Officers, NGOs and CBO staffs who supported us in one way or another, along with the local enumerators and coordinators involved in the fieldworks. Special thanks go to Dr. Joseph Ogutu (formerly of ILRI) for the data analysis and the estimation of yield. We also greatly benefitted from interactions with Kenyan bioenergy stakeholders, including Ministry of Energy, as well as members of Bioenergy in Africa (BIA) consortium, and some individuals. The two anonymous reviewers provided valuable comments for the manuscript. Finally, the authors are solely responsible for the contents of the study.
About this article
Cite this article
Iiyama, M., Newman, D., Munster, C. et al. Productivity of Jatropha curcas under smallholder farm conditions in Kenya. Agroforest Syst 87, 729–746 (2013). https://doi.org/10.1007/s10457-012-9592-7
Received:

Accepted:

Published:

Issue Date:

DOI: https://doi.org/10.1007/s10457-012-9592-7
Keywords
Jatropha curcas

Sub-optimal management

Agroforestry

Domestication