Abstract
This study analyses the trade-off between bioenergy production and soil conservation through thinning operations in Norway spruce (Picea abies L. Karst) plantations in Denmark. Thinning operations were evaluated under different regimes and intensities for a complete rotation period of sixty years and for different site qualities (site-classes I–VI). Applying a dynamic forest growth modeling tool, evolution of forest structure was predicted to observe the potentials for biomass production and inevitable soil degradation. Results showed thinning from below, with a higher utilization (maintenance of a minimum basal area of 25 m2 ha−1) could produce more bioenergy. However, these operations require simultaneous severe forest soil degradation. Therefore, the optimum thinning for bioenergy production under preservation constraints was thinning from above with a lower intensity (maintenance of a minimum basal area of 45 m2 ha−1). The ratio of bioenergy win (kWh) to soil-loss (m3 ha−1) was calculated for this regime varying between 74,894 kWh m−3 in a high quality site (site-class I) and 6,516 kWh m−3 in a low quality site (site-class VI) with an average of 44,282 kWh m−3. However, this could not always preserve the highest amount of growing stock essential for natural dynamics of forest ecosystem with an exception of the low quality sites (site-class VI). Thus, when aiming at bioenergy production through thinning operations, trade-offs with soil conservation and growing stock preservation should be regarded to prevent environmental degradation.
Access options
Buy single article
Instant access to the full article PDF.
US$ 39.95
Tax calculation will be finalised during checkout.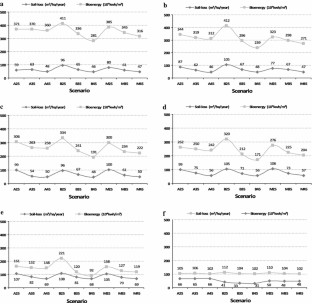 References
Bergström D (2009) Techniques and systems for boom-corridor thinning in young dense forests. Dissertation, Swedish University of Agricultural Science

Bjørnstad E (2005) An engineering economics approach to the estimation of forest fuel supply in North-Trøndelag county, Norway. J For Econ 10:161–188

Callesen I, Grohnheit PE, Østergard H (2010) Optimization of bioenergy yield from cultivated land in Denmark. Biomass Bioenergy 34:1348–1362

Danish Nature Agency (2003) Danish forest research in brief. Scand J Res News Views 6:475–477

Eriksson E (2006) Thinning operations and their impact on biomass production in stands of Norway spruce and Scots pine. Biomass Bioenergy 30:848–854

Ernsting A (2010) Plantation expansion and forest degradation for wood bioenergy in Europe. In: Wood-based bioenergy: the green lie. Report of Global Justice Ecology Project, Global Forest Coalition, Amsterdam

Gamborg C (1997) Maximizing the production of fuel wood in different sylvicutural systems. Biomass Bioenergy 13:75–81

Grigal DF (2000) Effects of extensive forest management on soil productivity. For Ecol Manag 138:167–185

Gue Z, Grebner D, Sun CH, Grado S (2010) Evaluation of loblolly pine management regimes in Mississippi for biomass supplies: a simulation approach. South J Appl For 34:65–71

Heikkila J, Siren M, Aijala JO (2007) Management alternatives of energy wood thinning stands. Biomass Bioenergy 31:255–266

Ince PJ, Spelter H, Skog KE, Kramp A, Dykstra DP (2008) Market impacts of hypothetical fuel treatment thinning programs on federal lands in the western United States. For Policy Econ 10:363–372

Ingram JC, Whittaker RJ, Dawson TP (2005) Tree structure and diversity in human-impacted littoral forests, Madagascar. Environ Manag 35:779–798

Jacobsen JB, Thorsen BJ (2003) A Danish example of optimal thinning strategies in mixed-species forest under changing growth conditions caused by climate change. For Ecol Manag 180:375–388

Johansson T (1999) Biomass production of Norway spruce (Picea abies L. Karst.) growing on abandoned farmland. Silva Fennica 33:261–280

Karahalil U, Keles S, Baskent EZ, Köse S (2009) Integrating soil conservation, water production and timber production values in forest management planning using linear programming. Afr J Agric Res 4:1241–1250

Kelty MJ, D'Amato AW, Barten PK (2008) Silvicultural and ecological considerations of forest biomass harvesting in Massachusetts. University of Massachusetts, Amherst

Mead DJ, Pimentel D (2006) Use of energy analyses in silvicultural decision-making. Biomass Bioenergy 30:357–362

Nord-Larsen TH (2002) Stand and site productivity response following whole-tree harvesting in early thinnings of Norway spruce (Picea abies L. Karst). Biomass Bioenergy 23:1–12

Nord-Larsen TH, Talbot B (2004) Assessment of forest-fuel resources in Denmark: technical and economic availability. Biomass Bioenergy 27:97–109

Nord-Larsen TH, Johannsen VK, Jørgensen BB, Bastrup-Birk A (2008) Skove og plantager 2008. Forest and Landscabe, Hørsholm

Page-Dumroese DS, Jurgensen M, Terry TH (2010) Maintaining soil productivity during forest or biomass-to-energy thinning harvests in the western United States. West J Appl For 25:5–11

Polagye BL, Hodgson KT, Malte PC (2007) An economic analysis of bio-energy options using thinnings from overstocked forests. Biomass Bioenergy 31:105–125

Sabourin M, Puttock GD, Richardson J (1992) Forest management strategies for producing wood for energy from conventional forestry systems. Biomass Bioenergy 2:105–119

Schroeter D, Cramer W, Leemans R, Colin Prentice I, Araujo MB, Arnell NW, Bondeau A, Bugmann H, Carter TR, Gracia CA, de la Vega-Leinert AC, Erhard M, Ewert F, Glendining M, House JI, Kankaanpaa S, Klein RJT, Lavorel S, Lindner M, Metzger MJ, Meyer J, Mitchell TD, Reginster I, Rounsevell M, Sabate S, Sitch S, Smith B, Smith J, Smith P, Sykes MT, Thonicke K, Thuiller W, Tuck G, Zaehle S, Zierl B (2005) Ecosystem service supply and vulnerability to global change in Europe. Science 310:1333–1337

SFF (1990) Skovbrugstabeller. Danish National Forest Research Department (Statens forstlige Forsøgsvæsen), Kandrup, København

Skovsgaard JP (2009) Analyzing effects of thinning on stand volume growth in relation to site conditions: a case study for even-aged Sitka spruce (Picea sitchensis Bong. Carr.). Forestry 82:87–104

Susaeta A, Janaki Alavalapati RR, Carter DR (2009) Modeling impacts of bioenergy markets on nonindustrial private forest management in the southeastern United States. Nat Resour Model 22:345–369

Vogt AK, Andreu MG, Vogt DJ, Sigurdardottir R, Edmonds RL, Schiess P, Hodgson K (2005) Societal values and economic return added for forest owners by linking forests to bioenergy production. J For 103:21–27

Walmsley JD, Godbold DL (2010) Stump harvesting for bioenergy—a review of the environmental impacts. Forestry 83:17–38

Yousefpour R, Hanewinkel M, Le Moguedec G (2010) Evaluating the suitability of management strategies of pure Norway spruce forests in the Black Forest area of southwest Germany for adaptation to or mitigation of climate change. Environ Manag 45:387–402
Acknowledgments
The author would like to expresses his gratitude to the forest growth modeling tool working group at the Department of Forest and Landscape, University of Copenhagen. This study was a part of an ongoing project entitled "MOdels for adapTIVE forest management" (MOTIVE), which is supported by the European Commission under the 7th Framework Programme for Research and Technological Development (FP7/2007-2013) under grant agreement no. 226544.
About this article
Cite this article
Yousefpour, R. Bioenergy production and soil conservation from Norway spruce (Picea abies L. Karst) plantations in Denmark. Agroforest Syst 87, 287–294 (2013). https://doi.org/10.1007/s10457-012-9547-z
Received:

Accepted:

Published:

Issue Date:
Keywords
Bioenergy

Soil conservation

Thinning

Site-class

Norway spruce