Abstract
Fallowing can improve crop yields as a result of improved soil fertility and nutrient status. The objective of this work was to determine the effects of fallows and pruning regimes in coppicing fallows on soil moisture and maize yields under conventional tillage (CT) and no tillage (NT). Fallows that were evaluated were coppicing Acacia angustissima, non coppicing Sesbania sesban, natural fallow (NF) and continuous maize. In 2000/2001 season, maize yields were significantly different (P < 0.05) among treatments and were; 1.8, 1.2, 0.7 and 0.5 tonnes per hectare (t ha−1) under CT, while under NT yields were 1.3, 0.8, 0.7 and 0.2 t ha−1 for A. angustissima, maize, S. sesban and NF plots respectively. In 2001/2002 season, yields decreased in the order S. sesban > continuous maize > NF > A. angustissima, for both CT and NT. The 2-week pruning regime had significantly higher maize yields when compared to the 1 and 3 week pruning regime during the 2002/2003 cropping season. For the three seasons, CT had significantly higher yields than NT. A. angustissima had significantly higher mean available water at suctions <33 kPa for the 0–25 cm depth when compared to other fallow treatments. The bulk of the available water (47–80%) was retained at suction <33 kPa for all treatments and depths. There were no treatment differences in water retention at suctions >33 kPa for all treatments. It was concluded that improved fallowing increased yields when compared to NF. However, in coppicing fallows competition for water can result in reduced yields when there is rainfall deficiency, thus the need for pruning to manage the competition.
Access options
Buy single article
Instant access to the full article PDF.
US$ 39.95
Tax calculation will be finalised during checkout.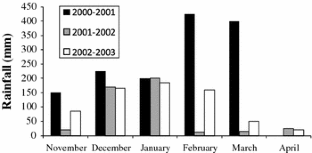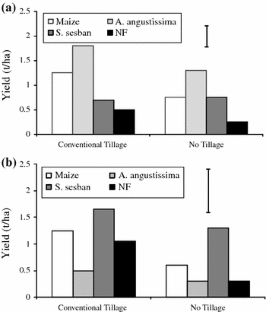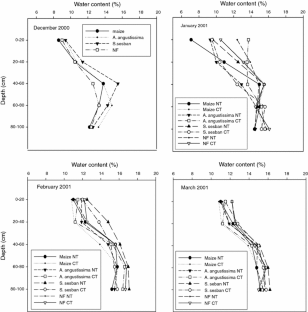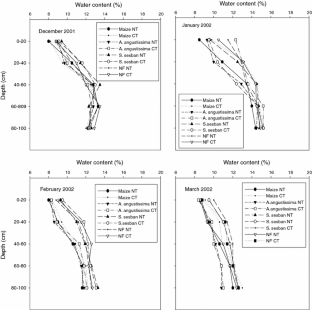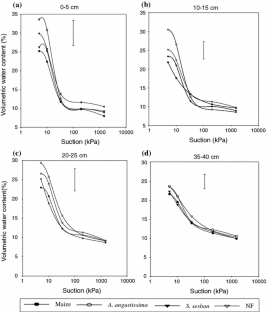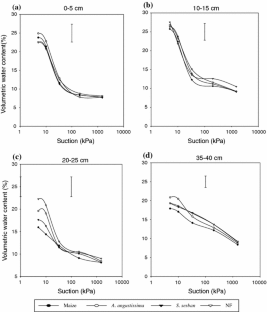 References
Campbell CA, Thomas AG, Brederbeck VO, MacConkey BC, Selles F, Spurr D, Zertner RP (1998) Converting from NT to pre-seeding tillage: influence on weeds, spring wheat grain yields and nitrogen, soil quality. Soil Tillage Res 46:175–185

Carter MR, White RP, Andrew RG (1990) Reduction of secondary tillage in mouldboard ploughed system for silage corn and spring cereals in medium textured soils. Can J Soil Sci 69:150–156

Chikowo R, Mapfumo P, Nyamugafata P, Giller KE (2004) Woody legume fallow productivity, biological N2 fixation and residual benefits to two successive maize crops in Zimbabwe. Plant Soils 262:303–315

Chivenge PP, Murwira HK, Giller KE, Mapfumo P, Six J (2007) Long term impact of reduced tillage and residue management on soil carbon stabilization: implications for conservation agriculture on contrasting soils. Soil Tillage Res 94:328–337

Elwell HA (1989) Soil structure under conservation tillage. In: Conservation tillage. Commercial Grain Producers Association handbook, Harare

GENSTAT (2003) GESTAT statistical package, 8th edn. VSN International, Oxford

Giller KE, Corbeels M, Nyamangara J, Triomphe B, Affholder F, Scopel E, Tittonell P (2011) A research agenda to explore the role of conservation agriculture in African smallholder farming systems. Field Crops Res. doi:10.1016/J.Fcr.2011.04.010

Govindarajan M, Rao MR, Mathuva MN, Nair PKR (1996) Soil–water and root dynamics under hedgerow intercropping in semiarid Kenya. Agron J 88:513–520

Grandy AS, Robertson GP (2006) Aggregation and organic matter protection following tillage of a previously uncultivated. Soil Sci Soc Am J 70:1398–1406

Hairiah K, van Noordiwick M, Santoso B, Syekhfani MS (1992) Biomass production and root distribution of eight trees and their potential for hedgerow intercropping on an ultisol in Southern Sumatra. Agrivita 15:54–68

Hillel D (1982) Introduction to soil physics, 2nd edn. Academic Press, Orlando

House GF, Stinner BR, Crosselt I, Odim EP, Langdale GW (1984) Nitrogen cycling in conventionally tilled and no till agroecosystems. J Soil Water Conserv 39:194–200

Hussein I, Olson KR, Elbar SA (1999) Impacts of tillage and no tillage on production of maize and soyabean on an eroded Illinois silt loam soil. Soil Tillage Res 52:37–49

Jackson NA, Wallace JS, Ong CK (2000) Tree pruning as a means of controlling water use in an agroforestry system in Kenya. For Ecol Manag 126:133–148

Jones M, Sinclair FL, Grime VL (1998) Effect of tree species and crown pruning on root length and soil water content in semi-arid agroforestry. Plant Soil 201:197–207

Jose S, Gillespie AR, Seifert JR, Mengel DB, Pope PE (2000a) Defining competition vectors in a temperate alley cropping system in the mid-western USA. 3. Competition for water. Agrofor Syst 48:41–59

Jose S, Gillespie AR, Seifert JR, Mengel DB, Pope PE (2000b) Defining competition vectors in a temperate alley cropping system in the mid-western USA. 3. Competition for nitrogen and litter decomposition dynamics. Agrofor Syst 48:61–77

Jose S, Gillespie AR, Pallardy SG (2004) Interspecific interactions in temperate agroforestry. Agrofor Syst 61:237–255

Kwesiga F, Beniest J (1998) Sesbania sesban for Eastern Zambia—an extension guideline. ICRAF, Nairobi

Kwesiga FR, Franzel S, Place F, Phiri D, Simwanza CP (1999) Sesbania sesban improved fallow in eastern Zambia: their conception, development and farmer enthusiasm. Agrofor Syst 47:49–66

Lal R (1976) No-tillage effects on soil properties under different crops in western Nigeria. Soil Sci Soc Am J 40:762–768

Lal R (1989) Agroforestry systems and soil management of a tropical alfisol. IV. Effects of soil physical and soil mechanical properties. Agrofor Syst 8:197–215

Lehmann J, Peter I, Steglich C, Gebauer G, Huwe B, Zech W (1998) Belowground interactions in dryland agroforestry. For Ecol Manag 111:157–169

Lindwall CW, Sawatzky B, Jensen T (1984) Zero tillage in Southern Alberta. In: Proceedings of Alta Soil Science Workshop, Faculty of Extension, University of Alberta, Edmonton, Alta, pp 128–136

Mafongoya PL, Dzowela BH (1999) Biomass production of tree fallows and their residual effect on maize in Zimbabwe. Agrofor Syst 47:139–151

Mafongoya PL, Kuntashula E, Sileshi G (2006) Managing soil fertility and nutrient cycles through fertilizer trees in southern Africa. In: Uphoff N, Ball AS, Fernandes E, Herren H, Husson O, Liang M, Palm C, Pretty J, Sanchez P, Sanginga N, Thies J (eds) Biological approaches to sustainable soil systems. Taylor & Francis, New York, pp 274–289

Mapfumo P, Mutambanengwe F, Giller KE, Mpepereki S (2005) Tapping indigenous herbaceous legumes for soil fertility management by resource-poor farmers in Zimbabwe. Agric Ecosyst Environ 109:221–233

Miller AW, Pallardy SG (2001) Resource competition across the crop–tree interface in a maize–silver maple temperate alley cropping stand in Missouri. Agrofor Syst 53:247–259

Moyo A (1997) Annual report on soil loss erosion assessment of different tillage systems; results of Makoholi on station trials 1993/94. Conservation Tillage Project, Institute of Agricultural Engineering, Harare

Mrabet R (2002) Stratification of soil aggregation and organic matter under conservation tillage systems in Africa. Soil Tillage Res 66(2):119–128

Muchow RC, Sinclair TR (1995) Effect of nitrogen supply on maize yield: II. Field and model analysis. Agron J 87:642–648

Mzezewa J, Van Rensburg LD (2011) Effects of tillage on runoff from bare clayey soil on a semi-arid ecotope in the Limpopo Province of South Africa. Water SA 37(2):165–172

Nyagumbo I (2002) Effects of three tillage systems on seasonal water budget and drainage of two Zimbabwean soils under maize. DPhil thesis, Department of Soils Science and Agricultural Engineering, University of Zimbabwe

Nyamadzawo G (2004) The effects of improved fallows and tillage management on soil and water conservation in a sandy soil. MPhil thesis, Department of Soil Science and Agricultural Engineering, Faculty of Agriculture, University of Zimbabwe

Nyamadzawo G, Nyamugafata P, Chikowo R, Giller KE (2007) Improved legume tree fallows and tillage effects on structural stability and infiltration rates of a kaolinitic sandy soil from central Zimbabwe. Soil Tillage Res 96(1–2):182–194

Nyamadzawo G, Nyamugafata P, Chikowo P, Giller KE (2008a) Residual effects of fallows on infiltration rates and hydraulic conductivities in a kaolinitic soil subjected to conventional tillage (CT) and no tillage (NT). Agrofor Syst 72:161–168

Nyamadzawo G, Chikowo R, Nyamugafata P, Nyamangara J, Giller KE (2008b) Soil organic carbon dynamics of improved fallow–maize rotation systems under conventional and no tillage in central Zimbabwe. Nutr Cycl Agroecosyst 81:85–93

Nyamadzawo G, Nyamangara J, Nyamugafata P, Mzulu A (2009) Soil microbial biomass and mineralization of aggregate protected carbon in fallow–maize systems under conventional and no-tillage in central Zimbabwe. Soil Tillage Res 102:151–157

Ong CK, Corlett JE, Singh RP, Black CR (1991) Above and belowground interactions in agroforestry systems. For Ecol Manage 45:45–57

Ong CK, Black CR, Muthuri CW (2006) Modifying forestry and agroforestry to increase water productivity in the semi-arid tropics. CAB reviews: perspectives in agriculture, veterinary science. Nutr Nat Resour 1(65):1–19

Ong CK, Anyango S, Muthuri CW, Black CR (2007) Water use and water productivity of agroforestry systems in the semi-arid tropics. Ann Arid Zone 46:255–284

Phillips RE (1981) Soil moisture. In: No tillage research. Research reports and reviews. University of Kentucky, Lexington, pp 23–42

Rao MR, Ong CK, Pathak P, Sharma MM (1992) Productivity of annual cropping and agroforestry systems on shallow alfisol in semi arid India. Agrofor Syst 15:51–64

Schillinger WF, Bolton FE (1993) Fallow water storage in tilled vs untilled soils in Pacific North West. J Prod Agric 6:267–269

Schroth G (1999) A review of below-ground interactions in agroforestry, focusing on mechanisms and management options. Agrofor Syst 43:5–34

Siriri D, Ong CK, Wilson J, Boffa JM, Black CR (2010) Tree species and pruning regime affect crop yield on bench terraces in SW Uganda. Agrofor Syst 78:65–77

Sun H, Tang Y, Xie J (2008) Contour hedgerow intercropping in the mountains of China: a review. Agrofor Syst 73:65–76

Vogel H, Nyagumbo I, Olsen K (1995) Effects of tied ridging and mulch ripping on water conservation in maize production on sand veld. Conservation Tillage Project, Institute of Agricultural Engineering, Harare

Wanvestraut R, Jose S, Nair PKR, Brecke BJ (2004) Competition for water in a pecan-cotton alley cropping system in the southern United States. Agrofor Syst 60:167–179

Young A (1997) Agroforestry for soil management. C.A.B. International in association with ICRAF, UK

Zotarelli L, Alves BJR, Urquiaga S, Torres E, Dos Santos HP, Paustain K, Boddey RM, Six J (2005) Impact of tillage and crop rotation on aggregate-associated carbon in two oxisols. Soil Sci Soc Am J 69:482–491
Acknowledgments
We thank ICRAF for the facilities at Domboshawa experimental site. We are grateful for funding given to the Department of Soil Science and Agricultural Engineering, University of Zimbabwe by the European Union (IMPALA Project No. ICA4-CT2000-30011) and ICRAF's ANAFE Scholarship fund.
About this article
Cite this article
Nyamadzawo, G., Nyamugafata, P., Wuta, M. et al. Maize yields under coppicing and non coppicing fallows in a fallow–maize rotation system in central Zimbabwe. Agroforest Syst 84, 273–286 (2012). https://doi.org/10.1007/s10457-011-9453-9
Received:

Accepted:

Published:

Issue Date:
Keywords
Fallows

Coppices

No tillage

Conventional tillage

Soil moisture